PREMIUM VIBRATING ANAL BEADS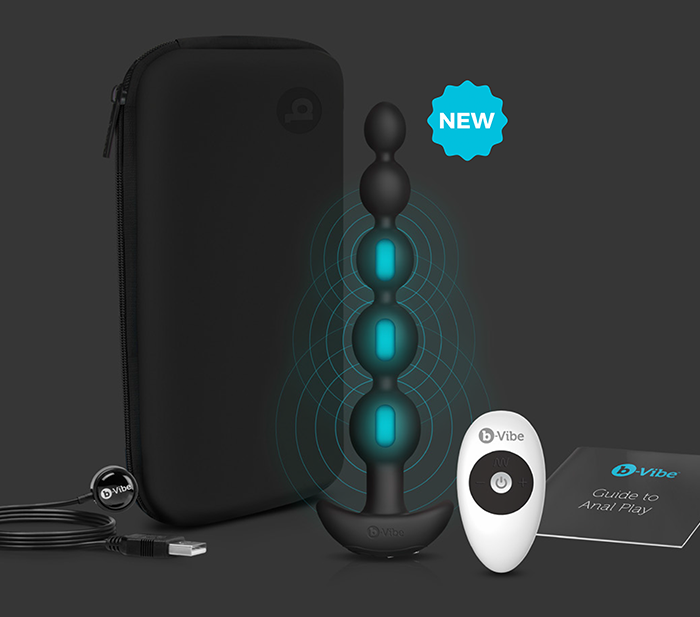 Premium set of vibrating anal beads featuring five flexible tapered beads, an easy grip handle, three powerful rumbly motors, and a remote control that works up to 30 feet away.
Available now,
only on bvibe.com
BUY NOW

Pleasure In, Pleasure Out
b-Vibe's Cinco Anal Beads sensually tease with insertion as well as deeply please with sensation and excitement as they are being removed. During removal, the beads arouse the sensitive nerve endings of the sphincter muscle.

Serious Satisfaction For All
The tapered beads allow beginners to start slow, with the just smallest bead, and then gradually work towards the medium and larger beads. While more experienced users can enjoy the feeling of fullness from inserting all five beads.

Made for Coupled Adventures
The anchored handle at the base and the remote control make the Cinco a grand slam for coupled play time. The beads are stiff enough to be easy to insert, but flexible enough to conform to the shape of the body once inside.

We've got your back
Like all of b-Vibe's vibrating anal toys, the Cinco arrives in a convenient, discreet travel case, and our warranty protects this product against defects in materials and workmanship for 1 year.

PREMIUM VIBRATING ANAL BEADS

5 flexible tapered beads with 3 powerful rumbly motors for deeply sensual anal play.
Available now,
only on bvibe.com
BUY NOW
You are receiving this newsletter with your email address *|EMAIL|*. To never miss our latest news and offers, add pr@bvibe.com to your address book. We protect your personal information, click here to view our privacy policy.
If you do not wish to receive any emails, Unsubscribe with us.
© 2018 b-Vibe™