choosing a body-safe sex toy
Since many sex toys are designed to be inserted into the body, one might assume that sex toys are made of body-safe materials, but that's not necessarily the case.
It might seem unfathomable, but sex toys, which, again, are coming in contact and going inside your most intimate, sensitive areas, do not need to be regulated by any reputable authority. Not by the Food and Drug Administration (FDA), nor the Consumer Product Safety Commission (CPSC).
That means a sex toy company can say whatever they want about the materials in their pleasure products and get away with it. As a result, many will do exactly that, manufacturing cheap knock-offs made with unregulated materials that can actually harm the body.
A study conducted back in 2005 tested the chemical composition of 16 randomly selected sex toys. The results were scary, and that found four of the 16 items contained phthalates, which are linked to birth defects and changes in hormone levels; five contained phenol, one contained trimethyltin, and 14 contained toluene; all of which are cancerous chemicals that can cause reproductive harm.
Admittedly, this study is dated, and one might assume that the industry has since smartened up. But one should never assume when it comes to your sexual health, so it's best to be certain that what you put in your body is completely body-safe.
WHAT TO LOOK FOR IN A BODY-SAFE SEX TOY
TOXICITY
First, you will want to make sure your toy isn't toxic (duh). If listed, steer clear of materials like phthalates, TPE, TPR, Cyberskin, jelly rubber, PVC, vinyl, and hard plastic, as these are the more common offenders.
POROSITY
A toy's porosity speaks to the tiny spaces or holes in which bacteria, mildew, and fungus can enter a material. While next to no research has been done on the effects of using a sex toy harboring these harmful toxins, it's safe to assume that you don't want mold spores entering your vagina or anus.
Something as simple as washing a non-porous sex toy and letting it air dry is enough to create an ecosystem of mould. It can also pass on STIs, yeast infections, and vaginitis, since these items can not be sanitized or cleaned entirely.
SHAPE
A sex toy's shape is important for bodily safety as well. For example, a flared base on an anal toy is paramount since, beyond the sphincter muscles, your ass behaves like a vacuum and will suck whatever is inserted into the anus deeper inside your body, which will require a medical professional to retrieve.
WHAT ARE THE BEST BODY-SAFE SEX TOY MATERIALS?
SILICONE
In order for silicone toys to be considered body-safe, they must be 100 percent pure silicone, since anything less might be porous or toxic. See that the silicone is "medical grade" as well since this means they are held to the same safety standards as hospital tools and are entirely body-safe.
PROS
: Soft, durable, easy to clean, can be sterilized, realistic feel, flexible.
CONS
: Expensive compared to other soft materials, shouldn't be used with silicone lubricant.
WHAT LUBES IS IT COMPATIBLE WITH
:
As mentioned above, silicone lubricant should not be used on silicone toys as it can warp the material and suddenly make it porous. All other lubricants are fine; even hybrid, which uses a mix of both water- and silicone-based lubes. Since there is normally only 10 percent silicone in hybrid lubes, it's safe to use on any silicone toy. Just clean it well after.
CLEANING
:
The most effective ways to clean silicone toys are by hand with soap and water, and by using a cleaning spray.

(See instructions on all cleaning methods at the end of the article.)
All of b-Vibe's silicone sex toys are made of body-safe silicone which can be explored here. But, we do have some suggestions for those indecisive about their anal adventures.
NOVICE PLUG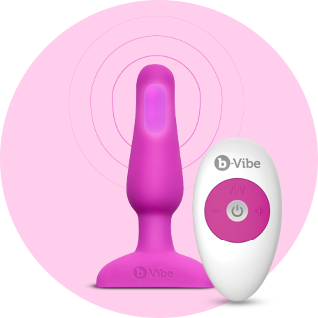 BEGINNER - This amazingly small, yet powerful, butt plug features 6 vibration intensity levels and 15 vibration patterns. The Novice Plug is about the size of a finger and features a slightly tapered design. This vibrating butt plug is ideal for anal play beginners because of its small size and easy-to-insert tip.
RIMMING PLUG 2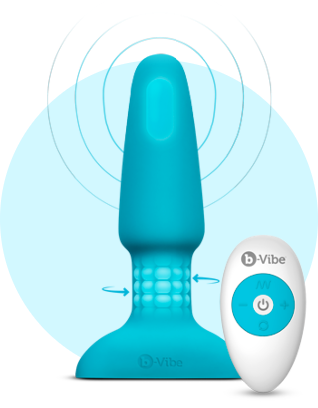 INTERMEDIATE - The only butt plug with rotating beads at the neck to mimic the sensation of rimming (that's getting your butt licked, FYI) and help relax the sphincter muscles.
SNUG PLUG 7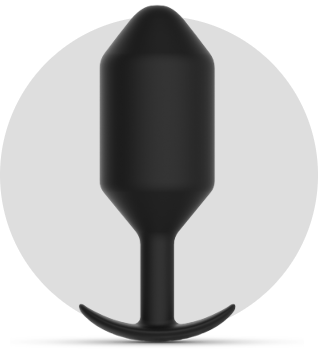 ADVANCED - Our heaviest, plug ever. Designed with 8" of girth with a comfortable, flexible, .75" neck to allow movement to fulfill prodding and weighty sensations. The plug also includes a wide tapered base and seamless, silky-smooth silicone for safe and comfortable insertion and removal.
METAL/STAINLESS STEEL
Stainless steel is arguably the most durable and weighty material of all body-safe pleasure products. It is also revered for its hardness and weight. Provided the metal is grade 316, the highest available (used on boats and medical devices), you can rest easy knowing the material is entirely body-safe and won't rust or corrode.
PROS
: Durable, hard, temperature play, heavy, easy to clean, can be sterilized.
CONS
: Not flexible.
WHAT LUBES IS IT COMPATIBLE WITH
:
Toys made from metal can be safely used with all lubricants.
CLEANING
:
As long as the toy isn't motorized, you can use all cleaning and sterilization methods with metal toys.

(See instructions on all cleaning methods at the end of the article.)
STAINLESS STEEL ANAL BEADS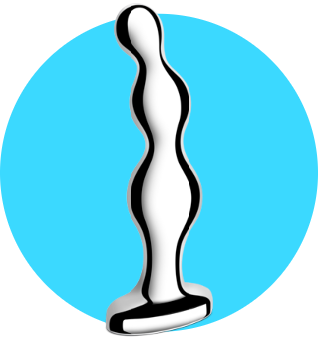 Featuring 3 graduated beads that increase in size, the stainless steel anal bead plug is perfect for slow expansion of your sphincter and massaging you from the inside while activating your prostate and expanding and contracting your anus. This plug is perfect for those looking to gradually size up while experiencing the pleasure of p-spot play.
STAINLESS STEEL PROSTATE PLUG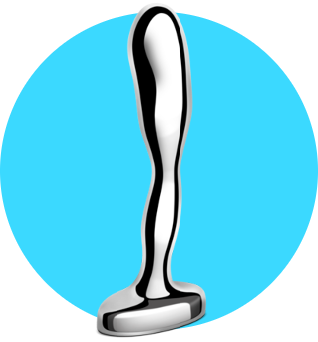 This stainless steel plug is designed with a delicate curve that is designed to pinpoint the prostate with smooth and simple precision. With a heavy tapered base, this plug is ideal for those looking to experiment with anal gravity play and start their anal training journey.
STAINLESS STEEL P-SPOT TRAINING SET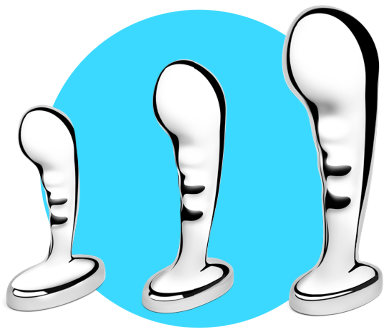 Assembled for true bussybuilders, our stainless steel P-Spot Training Set comes with three weighty, girthy plugs to train up your tushie capacity while pleasuring your prostate with a bulbous, smooth tip and a bumpy neck texture for massaging your sphincter. Size up or down in length and girth to find your comfort zone or to prepare for taking bigger loads.
GLASS (BOROSILICATE)
The most common concern regarding glass sex toys is whether they're going to break, which is certainly understandable because…ouch. However, most glass sex toys are made from borosilicate, which is exceptionally durable, shatter-proof, and can withstand extreme temperatures. It's the same type of glass used in laboratories and high-quality kitchenware, which means if cared for properly, they can last you a very long time.
PROS
: Durable, hard, temperature play, heavy, easy to clean, can be sterilized.
CONS
: Not flexible.
WHAT LUBES IS IT COMPATIBLE WITH
:
Toys made from glass can be safely used with all lubricants.
CLEANING
:
As long as the toy isn't motorized, you can use all cleaning and sterilization methods with glass toys.

(See instructions on all cleaning methods at the end of the article.)
GLASS ANAL DILATORS SET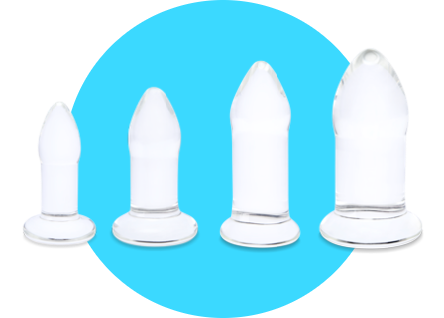 Ranging from small to large, the Glass Anal Dilators Set from b-Vibe is designed to make anal training comfortable. Each plug features a flared base and is tapered at the tip for easy insertion.
OTHER BODY-SAFE SEX TOY MATERIALS TO CONSIDER
WOOD
To start, no, you will not get splinters using wooden sex toys. Most wood sex toys are put through multiple sanding sessions to ensure that everything is exceptionally smooth. Sex toy reviewer Dangerous Lilly advises you steer clear of wooden toys with a "natural finish" as well as wood that has been stained. She also recommends you ask what is used to coat the toy, saying "Lubrosity" is the golden standard.
NATURAL STONE
Dangerous Lilly says that natural stone is "mostly safe" to use as a sex toy, but adds that "we're unclear on the porosity and safety levels of putting these minerals and rocks inside the body for longer periods of time."
CRYSTAL PLEASURE TOOLS
If one is looking for an all-natural alternative to silicone and rubber toys, or maybe enjoy their spiritual benefits, crystal is a fantastic and body-safe option for a sex toy. Crystal wands are hand-carved and polished to a silky smooth texture from semi-precious gemstones. Rose Quartz, Clear Quartz, and Amethyst are the most popular non-porous options. The Crystal Slim Wand and the Crystal G Wand are both fantastic options in the category.
CERAMIC
Similar to glass sex toys, ceramic toys are solid, body-safe, and great for temperature play, so long as the toy is glazed and kiln-fired.
WHICH SEX TOY MATERIALS SHOULD YOU AVOID?
It is difficult and damn near impossible to know exactly what is in all materials used in sex toys because there is no regulation. However, the following are–or have a higher propensity to be–more toxic and porous than other materials. As a general precaution, it's best to avoid them altogether.
TPE & TPR
Short for "thermoplastic elastomer" and "thermoplastic rubber", TPE and TPR are often used interchangeably, referring to mixes of plastic and rubber that can stretch and return to their original size and shape. TPE and TPR are also porous and can trap bacteria.
These thermoplastic materials also contain phthalates, which are used to make hard plastics soft and pliable. They have been banned from being used on toys with children, have been labeled a "probable human carcinogen" by the FDA, and studies have found they're linked to hormone disruption, reproductive issues, and cancer.
JELLY RUBBER
Jelly rubber has a soft and bouncy texture that contains phthalates and is porous.
PVC
PVC is an incredibly popular substance used in sex toys, especially dildos. It is naturally a hard substance, so if your PVC toy is squishy and pliable, it's likely softened by phthalates. It's porous as well.
VINYL
This material also contains phthalates and is porous. (Sensing a trend here?)
SAFETY PRECAUTIONS
USE A CONDOM
In the same way a condom can protect against STIs when engaging in sex with a partner, placing a condom on a sex toy will help avoid any possibly infectious or toxic materials on the toy.
CHECK FOR LUBE COMPATIBILITY
Another good idea is to know the material your toy is made with and, even if it's body-safe, ensure that it is compatible with the lubricant you are using. As mentioned prior, silicone lube should not be used with silicone toys as it can denigrate the material.
If you choose to use a condom with your toy, avoid oil-based lubricants as it can reduce the integrity of the latex and make it easier to break.
HOW TO CLEAN YOUR SEX TOY
There are a number of different ways to clean your sex toys. The degree to which you clean will depend on a few things, like if you're sharing, the material they are made of, and if they're motorized.
SURFACE CLEANING
Every kind of sex toy can be cleaned with a thorough scrub, but you should know this doesn't disinfect or sterilize the toy. But if you're the only one using the toy, this should be fine in most cases.
First, if your toy uses a motor or batteries, you're going to want to find out if it's splash-proof or water-proof. This is usually displayed on the toy's packaging and will determine how much water can come in contact with your toys. If your toy uses batteries, remove them before cleaning.
To surface clean, wash your toy with liquid soap and scrub. When it's all clean, wipe it with a damp cloth or paper towel and let it air dry.
BOILING
You can disinfect non-porous toys that do not have a motor (like those made from 100 percent silicone, stainless steel, and glass) by surface-cleaning them and then submerging them in a pot of boiling water for three minutes.
This is a great solution if more than one person is going to be using the toy. When the three minutes are up, remove your toy from the water with tongs, and allow it to air-dry on a clean towel.
DISHWASHER
You can also deep-clean quite a few non-porous and non-motorized toys in the dishwasher. Make sure you surface-clean them first, and then place them in the top rack, and run the dishwasher on the sanitize cycle without soap.
While this method will kill 99.9 percent of bacteria, it may not be as effective at eradicating more heat-tolerant viruses and fungi. For this reason, boiling is considered the more effective option.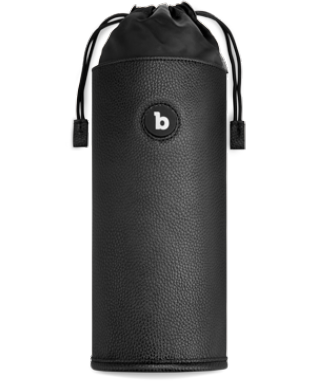 The b-Vibe UV Sterilizer Pouch sanitizes your toys while doubling as a sizable and discreet travel-friendly bag for your sex toys. The process is quite simple: Just place your toys inside, press the button, wait three minutes, and presto! Your toys are sterilized. Because ultraviolet light is able to completely destroy pathogens, it is incredibly effective on viruses, bacteria, and fungi — and much more effective than traditional disinfection.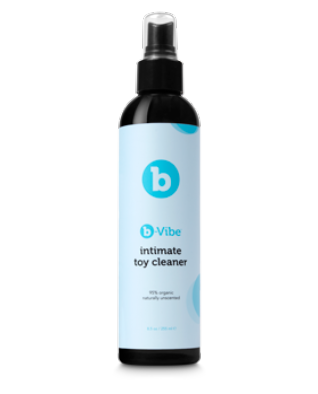 Where applicable, rinse your sex toy with water first. Apply a toy cleaner (like b-Vibe's Intimate Toy Cleaner) to the toy's surface or a soft cloth. Wipe the toy clean, and rinse with water again. Then dry the toy with a clean cloth and store it away for future use.
HOW TO SAFELY STORE YOUR SEX TOY
Make sure your sex toy is clean and dry before storing. Storing a damp or dirty toy will cause bacteria to develop which can lead to skin irritation, product malfunction, or even an infection if used. As a general rule, aim to keep toys separate from one another and stored in individual bags that allow airflow. All b-Vibe products come with a cloth bag that'll keep your toys fresh and clean.