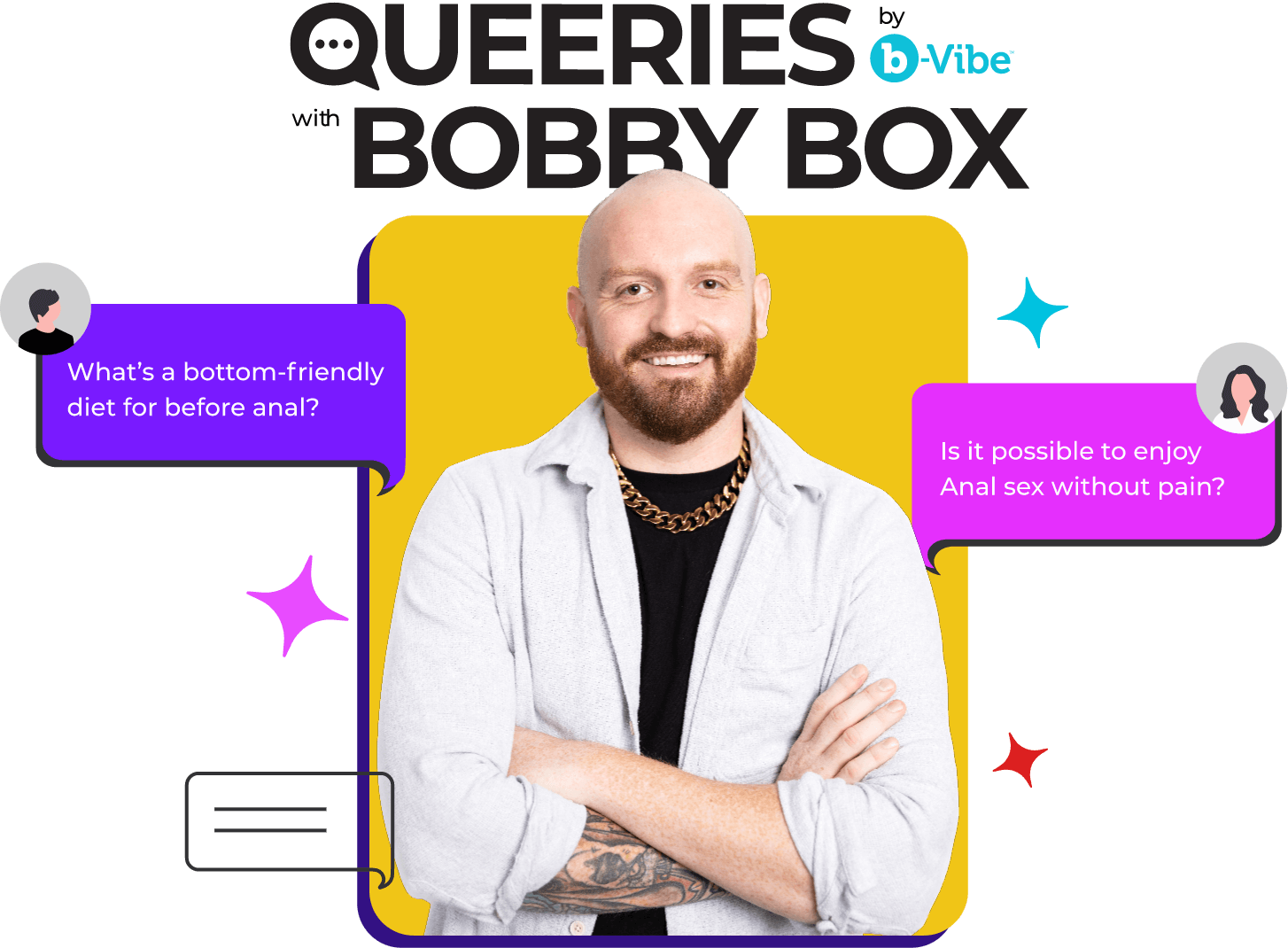 Too queer for class? b-Vibe is tackling the questions, quandaries, and qualms that were a little too gay for sex-ed. We've partnered with sexual educator and journalist, Bobby Box, to expand our Anal Academy with education on your most tantalizing topics."
Submit Your Queeries
Queeries AMA
Ask Bobby your questions and have them answered live! Tune into our Instagram Stories the 3rd Friday of each month for an AMA Queeries session with Bobby Box!
Follow our IG
We've Got Booty on the Brain!
Subscribe to our newsletter and get 20% off your first order.












"If you're using the new year as an excuse to explore the back door, you can't do better than b-Vibe's incredible products. The company's petite Rimming Plug is ideal for beginners. It offers the same technology as b-Vibe's original Rimming Plug, but with a smaller design for a gentler fit."
"If you're "been there, done that" with most anal toys on the market, b-Vibe's latest Snug Plugs are just the thing for you. These silicone butt plugs come in five different sizes, so they're perfect for beginners and pros. Made of seamless, body-safe silicone, the plugs feature a smooth handle and come with their own carrying case."
"Men may find that having their prostate stimulated triggers earth-shattering orgasms, and women might find anal insertion pleasurable as well. With that in mind, consider the Rimming Plug 2, an upgrade of the original b-Vibe, which is fast becoming a leading name in anal play."
"Founded by sex educator Alicia Sinclair, b-Vibe's a new sex toy company offering an innovative take on anal pleasure—and betting that a combination of high quality toys and anal education will put them in the position to be the Apple of butt sex. Will butt plugs ever go fully mainstream? It's about time."
"Alicia Sinclair knows all about sex toys, as she invented the b-Vibe, a collection of vibrators made exclusively for anal play. Incorporating toys into your sex life is also a great way to achieve orgasm through anal. And who wouldn't want to have an insane anal orgasm?!"
"Talk about next-level! The Rimming Plug 2 has rotating beads in the neck of the toy, which mimic the sensation of "rimming" and help relax the sphincter. This toy is a great choice for those who are already familiar with butt plugs and are looking for a unique new toy for their collection."
Get Your Derrière Diploma
Videos, podcasts, articles, blogs and guides to answer all of your queries. Head over to Anal Academy for all of our educational content.
Complete Anal Play Guides
Queeries is b-Vibe's monthly Sex Ed column curated by Bobby Box. Tune in every two weeks for answers to your queerest questions on sex and pleasure.
Have a general inquiry on your product or purchase? Send us an email at customerservice@bvibe.com and our team will assist you as soon as possible.
Go Back
Close