or 4 Interest-Free Payments of USD $40.00
Shop online now, pay over time.
Zero interest
You pay using your credit or debit card and ZIP automatically splits the purchase amount into 4 interest-free payments, every 2 weeks.
Payment Schedule
Today
Installment 1
2 Weeks
Installment 2
4 Weeks
Installment 3
6 Weeks
Installment 4
Checkout
4 interest free installments

Payment Schedule
4 payments of 25%
charged over 6 weeks
CHOOSE ZIP AT CHECKOUT
Choose ZIP at checkout
Use your credit or debit card.
Complete your checkout
No long forms and instant approval.
Pay over 4 equal payments
Enjoy your purchase straight away.
The Rimming Plug Petite is a smaller version of our best-selling vibrating butt plug, the Rimming Plug 2.
Hailed by many publications as the Best Anal Sex Toy for Solo & Couples, the Rimming Plug Petite can introduce anyone to anal play because anal pleasure knows no gender. Those who are new to anal play can experience rimming (getting your butt licked) with the rotating beads located at the base of the plug.
Made from 100% body-safe silicone, the Rimming Plug Petite introduces the perfect amount of vibration to your anal play. Vibration helps to relax the anal sphincter, which is often the most difficult part of the butt to prepare for anal sex.
The Rimming Plug Petite is USB rechargeable and can be used with or without the one-touch, wireless remote control that works up to 30 feet away.
READ MORE
introducing a petite version of our best
selling vibrating butt plug, the rimming plug 2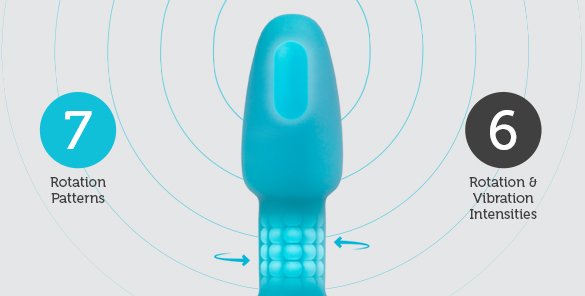 7 ways to rim & 6 ways to vibe
A versatile vibrating butt plug that's compact, certified body-safe and includes rotating beads to help relax and stimulate the anal sphincter.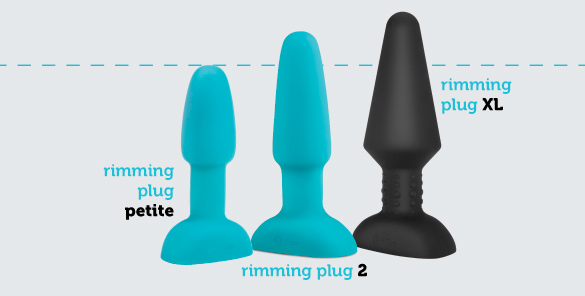 ideal for anal play beginners
A beginner-friendly edition that holds the same powerful tip vibrations as our award-winning butt plug, the Rimming Plug 2.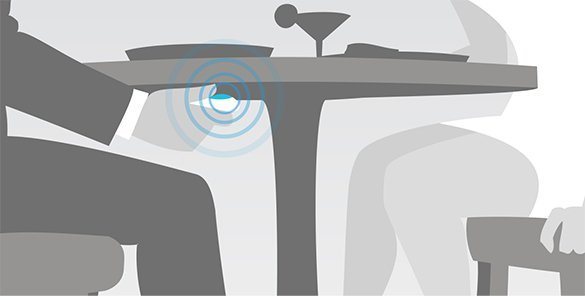 remote or manual control modes
The Rimming Plug Petite can be used with or without the wireless remote control. With effectiveness up to 30 feet away, amp up the kink and make it a fun couples' activity.
Soft Seamless Silicone
Unique beaded neck
Hypoallergenic & Body-Safe
Splash Proof & Shower-Friendly
Easy To Clean

"b-Vibe's incredible products are the best way to get started with butt stuff. And now is as a good a time as any to get a bit sexually explorative. The Rimming Plug Petite is ideal for a novice—the vibrating base stimulates the nerve-rich opening of the anus without being too overwhelming."

"This new product is a petite version of their popular original Rimming Plug. There's a motor in the tip of the plug, as well as rotating beads in the flared base to simulate a rim job. Why not, right? There's also a remote and a handy-dandy carrying case, so you don't have to keep your butt plug out in the open like an animal."

"Once you start feeling comfortable with how a butt plug feels, then you might want to add another sensation to the mix: vibration. Still just as beginner-friendly as the b-Vibe Novice Plug, the Rimming Plug Petite introduces the perfect amount of vibration to your anal play."
A great toy for beginners, the Rimming Plug Petite is the smaller edition of our signature anal sex toy, the Rimming Plug 2.
Learn why the Rimming Plug Petite is being lauded as one of the best vibrating butt plugs for anal play:


Medium Size with Maximum Pleasure — Just like the Rimming Plug 2, the Rimming Plug Petite features rotating beads at the neck to simulate the feel of a rim job.


7 Ways to Rim + 6 Ways to Vibe — The Rimming Plug Petite includes 7 modes in the rotating beads & 6 vibration patterns in the interval vibe to give you more ways to enjoy anal play.


Ideal for Beginners — Vibrations from the Rimming Plug Petite not only provide a pleasurable sensation but they help to relax the anal sphincter muscles- which is super helpful when you're first starting off with anal play.


Dual Pleasure Stimulation — Did you know that you also experience incredible pleasure from the shared wall between the anal canal and the prostate (if you have a penis) or A-Spot (if you have a vagina)? This is achieved through the powerful tip located at the top of this vibrating butt plug.


100% Body Safe — All b-Vibe butt plugs are hypoallergenic and made from premium, silky smooth silicone. The Rimming Plug Petite is phthalate-free, latex-free, and completely non-porous.


Wireless Technology — Feeling kinky? Explore dominant and submissive roles or go solo with our one-touch, wireless remote control that works up to 30 feet away.


USB Rechargeable Battery — A 2-hour charge provides an hour of sensual anal play. The smart battery level indicator flashes when charging is required.


Splashproof — Thoughtfully designed to be shower-friendly, the Rimming Plug Petite is splashproof which makes cleaning a breeze.


Travel Ready — Need a fun travel buddy to keep you company? The Rimming Plug Petite arrives with a convenient case & travel lock to prevent accidental turn on.


1-Year Warranty — Our limited warranty protects the Rimming Plug 2 against all defects in materials and workmanship for 1 year. Put your mind at ease by registering your b-Vibe on our website.


Overall, the Rimming Plug Petite is a gentler fit and comes with a Guide to Anal Play, which makes it the perfect butt plug if you're looking to explore backdoor pleasure.
Need something larger? Check out the original version of this vibrating butt plug, the Rimming Plug 2.
Customer Reviews (9 Reviews)
Dee M..

Verified Buyer

Tried the petite for the first time tonight and WOW. The lower settings were great for a nice tease in preparation for the higher vibration. Perfect for a little exhibitionism, it's effectively silent--the trick is matching that quiet. I couldn't stop shaking the whole time it was in, and after about an hour I had a hard time walking around.

It's been out for a hour and I still can't feel my leg. I'd give it more stars if I could.

Chris.

Verified Buyer

This anal toy is really nice quality! But in my opinion, it's not for beginners. As a male, I'm totally into receiving anal play and my wife is really experienced at inserting the toys. I am a very experienced receiving Male P Spot toys and I'd say that even though this is called the Petite, it was one of the more difficult toys for her to insert. It's fairly large and took a lot of time for full insertion. Although, once it was fully inserted, it was definitely worth the effort. It caused a very intense P Spot orgasm.

Ben.

Verified Buyer

This is an outstanding toy. I love the super silky material. The ability to control the rotating beads separately from the vibration is really nice. There's a lot of substance and complexity here that makes it possible to have a new experience every time. I will say, though, don't let the fact that it has "petite" in the name make you think it's small. I'm fairly new to anal play and had to get a succession of smaller toys to work up to this one. Worth the wait, though!

Bad Doktor.

Verified Buyer

Best butt toy I've ever felt. Period. My sphincters have never been happier.

Forget the vibrator, that just runs the battery down too quickly and... Oh hell, I always end up using it anyway. 8D

Wish-list:
Bigger battery
User programmable
Even better, fully controllable by a smartphone or computer.
Curved to touch the prostate better.
Bigger battery.

Happy Bottom.

Verified Buyer

Got this about 6 months ago and it instantly became my favorite toy! The rimming beads may be the best sexual sensation I've felt in my life! My orgasms with this are some of the best I've ever had too! 11/10, best sex toy ever.

Eli.

Verified Buyer

At first, as I wasn't very experienced with anal play, I was intimidated by the size of this. I'm so glad I tried it tho! Hands down the best orgasms I've ever had have come from using this toy! The combo of the rimming beads and the vibration is just AMAZING! I've been wanting something larger and I just ordered the medium. Just be aware while the toy is water proof, the remote appears to not be, I used this in the shower and then the battery in the remote rusted, but it's possible I didn't close the battery door correctly. It's not worth knocking a star off tho. Overall this is still an awesome toy!

Melissa .

Verified Buyer

I've been selling this toy at my shop for the past 2 years and recently invested in it and I found myself asking one huge question: why oh why did I wait so long to get it? Out of all my anal toys this is my favorite by far!

Gwynne.

Verified Buyer

My boyfriend and I aren't beginners when it comes to anal play, and I wouldn't necessarily recommend this if you're still getting used to fingers and smaller plugs, but if you're in this space, keep trying because this will shake you from the inside out.

After a good amount of foreplay with lube, rim jobs and fingers (1 then 2), slowly insert while your partner takes a deep breathe. Once it's in, the pleasure begins.

Experiment with the settings as the toy is deep inside you and every setting provides a different level of stimulation. I was bent over and am normally keen to move through positions but this toy's different settings provided that excitement for me. I made my boyfriend stay in the same position the entire time. The toy provided deep pressure, a lovely rim job and having vaginal sex while it stayed in led to my mind reaching different levels of pleasure until it all came at once. This orgasm was one where you realize what matters in life and provided a reset to my mind, body and soul. My vagina was tingling for an hour afterwards. On certain settings, your partner can enjoy the vibration with you.

We used it on him this morning for prostate stimulation and he laid there speechless for a half hour afterwards and only said, "Just how you described. 10/10."

Cough and breathe deeply to get it out. Definitely purchase, take it slowly and enjoy the ride.

Jason.

Verified Buyer

Simply put, this is the best prostate toy I've ever used. Takes a little time and patience to get it in place, but once it gets going, it's just amazing. I'm consistently able to have completely hands-free orgasms in a matter of minutes. Love it. 3.9" / 10 cm

1.4" / 3.5 cm

128.8 g

1" / 2.5 cm

4.4" / 11.2 cm

Rotation & Vibration

2

Seamless Silicone
Discreet Shipping
Your privacy is of the utmost importance to us and with our discreet packaging you can shop in confidence. With totally plain packaging, the only person getting excited by your delivery is you. Read how we discreetly deliver your goods.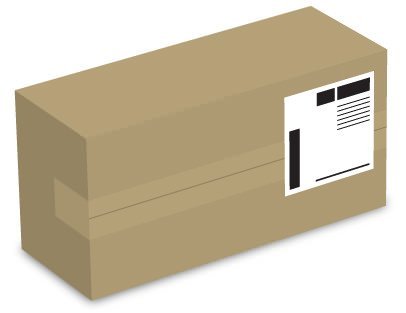 Product Warranty & Registration
We stand behind our products with easy to understand, hassle-free warranties. To help us serve you better, we strongly encourage you to keep a copy or picture of the receipt and register your product with us if you purchased it from elsewhere, other than bvibe.com — Register your b-Vibe here.
I received the wrong order. What should I do?
We apologise for the inconvenience caused. To receive the right item, simply process a return by contacting us.
How do I return or exchange my b-Vibe product(s)?
All b-Vibe products are covered by our one (1) year limited warranty, from the date of original purchase, against defects due to faulty workmanship or materials.
If you discover a defect and notify us via customerservice@bvibe.com, b-Vibe will, at its own discretion, replace the product free of charge.

Please note that due to nature of pleasure products:


• b-Vibe cannot accept non-defective exchanges on items that have been opened.
• As per industry standards, pleasure products may not be returned unless they are defective.
• A shipping charge will only be refunded in cases where our error caused the return.
• All returns and exchanges require pre-authorisation in the form of a receipt of purchase.
My product was damaged / already opened upon delivery. What should I do?
If you find that your product has been damaged or opened, or that its contents are missing, please ensure that you take a photograph of the packaging and email it to customerservice@bvibe.com with the appropriate subject title - Damaged / Opened / Missing Product when delivered by UPS / USPS.