At b-Vibe, we know there are all sorts of anal toys to bring the pleasure of erotic stimulation into your solo or coupled love life. Whether you're brand new to butt sex or can't live without a little booty play in the bedroom, it can get a little confusing.
So, we've crafted this handy-dandy guide to walk you through everything you need to know about choosing the right butt toy for you and how to use it for maximum orgasmic awesomeness. In this guide, we will cover the following topics: -
Types of anal toys
-
How to choose materials
-
Toy features
-
Which lube to use in anal play
-
How to clean your butt and your toys
-
Sharing your anal toys
What are the different types of anal toys?
Anal beads
Anal beads are some of the most versatile butt toys around! They're often small to medium in size and easy to use, making them perfect for beginners. For more advanced users, it's also very simple to try different techniques to step up your stimulation game.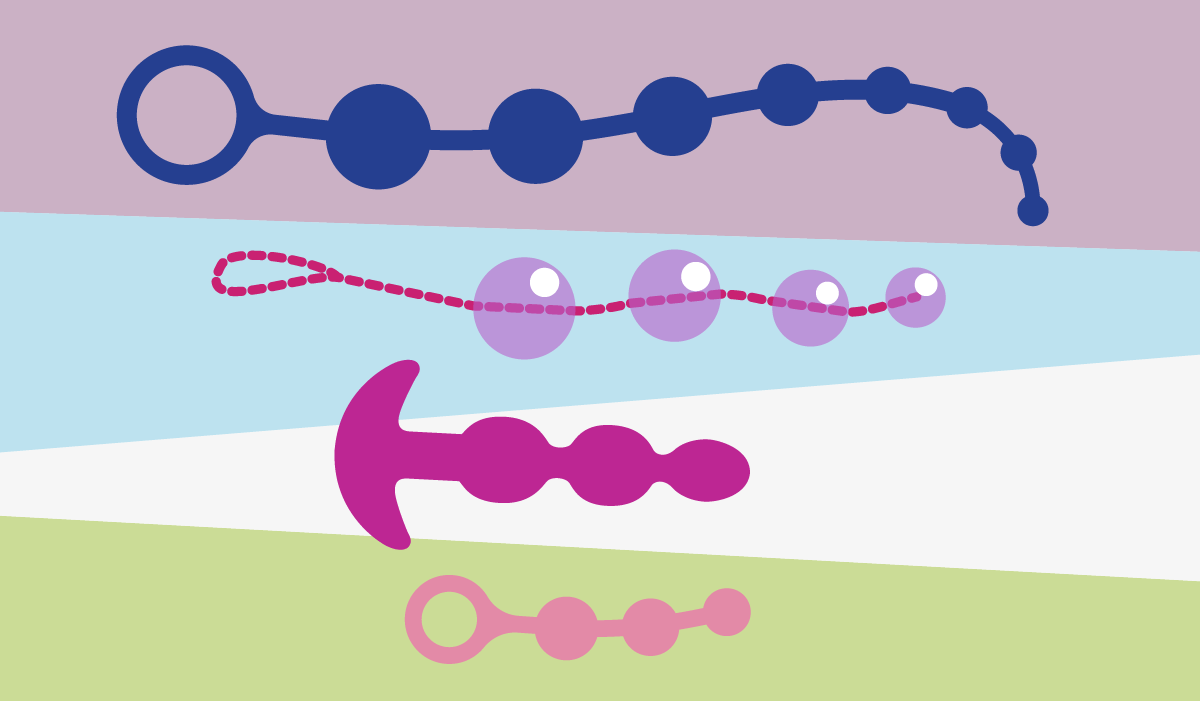 Q. What are anal beads? A. A series of beads for your butt's pleasure.
If you've never seen a set of anal beads before, they're exactly what their name suggests: a row of graduated ABS plastic or silicone beads, held together with either nylon string, thin pieces of silicone, or silicone moulded into a base. The beads start very small at the insertion point and grow slightly larger and larger as you get closer to the end. You'll always want to choose anal beads that have an easily graspable loop or a T-shaped piece of plastic at the very end so they can be easily removed and don't get stuck in your anal cavity.
Q. What do vibrating anal beads do? A. Give you added sensations.
The b-Vibe Triplet is a great beaded toy for newbies and experienced users alike! Triplet's three silicone beads vibrate for extra sensations during partnered or solo anal play. Douse the beads with a water-based lube and start by slowly inserting them one at a time.
Anal beads for vagina-owners
When you've gotten used to the feeling of fullness the beads provide, turn on the vibrations and try wearing them during sex while a partner penetrates your vagina.
Anal beads for penis-owners
Play with Triplet's multiple vibration settings while your partner strokes or sucks your member. You'll both love the shared pleasure and new sensations!
b-Vibe Recommends
Continue Reading
Butt plugs - Vibrating, non-vibrating, weighted
When it comes to butt plugs, there's literally something for everybody – and every booty! A traditional butt plug usually looks a bit like the letter T and is shaped like a cone to make insertion comfortable and simple. Typical butt plugs come in varying sizes and work great for solo or couples play.
3 common types of anal plugs
1. Vibrating
2. Non-vibrating
3. Weighted plugs
These are usually what come to mind when most people hear the term "butt plugs."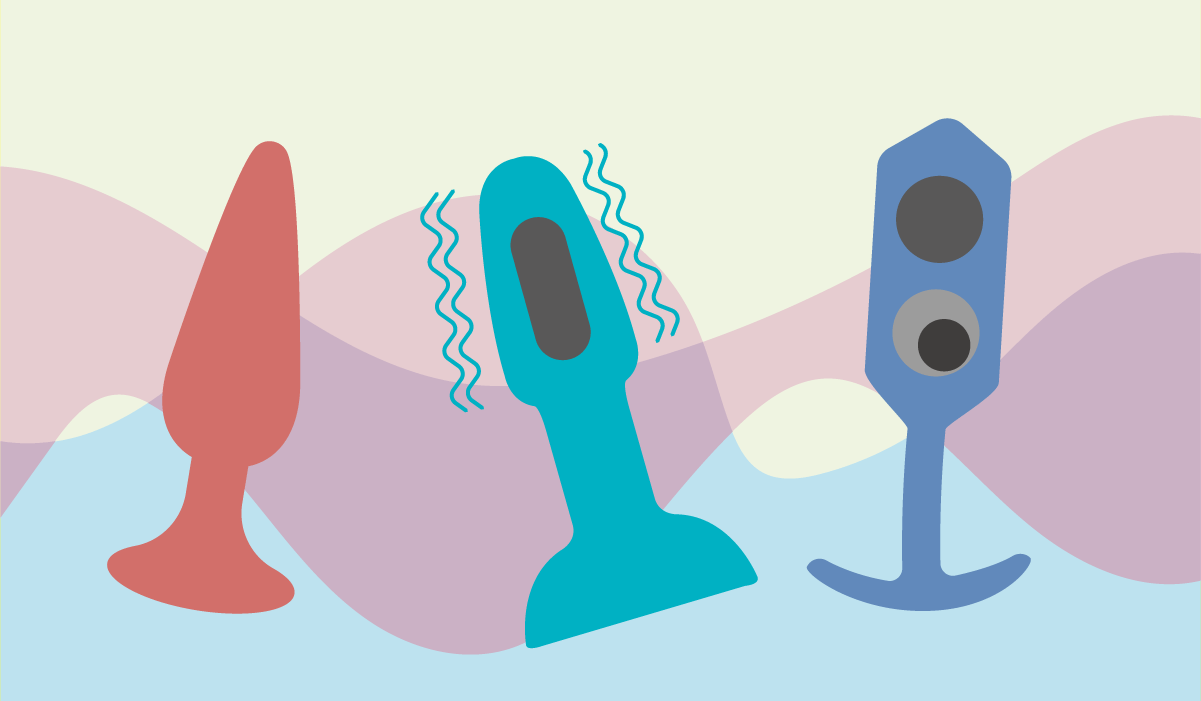 Vibrating butt plugs
Vibrating butt plugs help relax the sphincter muscles and stimulate the G-spot or P-spot. This type of plugs is especially great for beginners because the vibrations massage away muscle tightness while providing extra pleasure to the sensitive nerves in and around the anus. The Novice Plug is a good example of a beginner-friendly vibrating butt plug. If vibrations are too intense at first, you can always use your plug with the motor turned off until you're used to the feeling of anal stimulation.
Non-vibrating butt plugs
Other types of butt plugs don't have a vibrating motor and provide stimulation as you move the toy with your hand, or while wearing the plug during sex. 
Weighted butt plugs
Weighted butt plugs also don't vibrate and are great to wear during sex or even while taking a walk or during a date. Weighted plugs use a small set of internal weights to create a feeling of fullness and movement while having sex or simply moving around. They're often shaped like a torpedo, like the Snug Plugs, to make them more comfortable while you're being penetrated vaginally or bending your body to please your partner. Weighted plugs also come in different sizes and weights so all kinds of booty sex lovers can enjoy them.
Prostate-specific anal toys
For those of us with vaginas, you might have heard of the G-spot, but did you know penis owners also have a sweet spot that can make butt sex even better? If you were born with a penis, then you'll have a P-spot, or prostate, inside your b-hole. This organ lies about 3 inches up into the anal cavity on the front wall, towards the penis. When the walnut-sized prostate is stimulated, the orgasms are more explosive than ever!
Q. How do I use a prostate-specific anal toy? A. Angle it up to target the P-spot.
The Rimming Plug 2 and the Trio Plug are perfect for exploring prostate play, even if you've never tried it before. Once you've comfortably inserted your anal toy of choice, gently angle it up, as if you're reaching toward your penis through the pelvis. You'll feel extra full inside, or the slight urge to pee or even orgasm. Some also enjoy masturbation or partnered stroking while exploring prostate play. When you're ready to finish, turn on the vibrations and let the power of the P-spot lead you to ecstasy!
Inflatable anal toys
Inflatable anal toys start off like most other toys for your butt, but they work just like a balloon. They can be inserted while small and in their original size, and then pumped up with air to gently stretch the sphincters and muscles of the anal cavity. Inflatable anal toys are great if size turns you on and you want to safely experiment with stretching and fullness.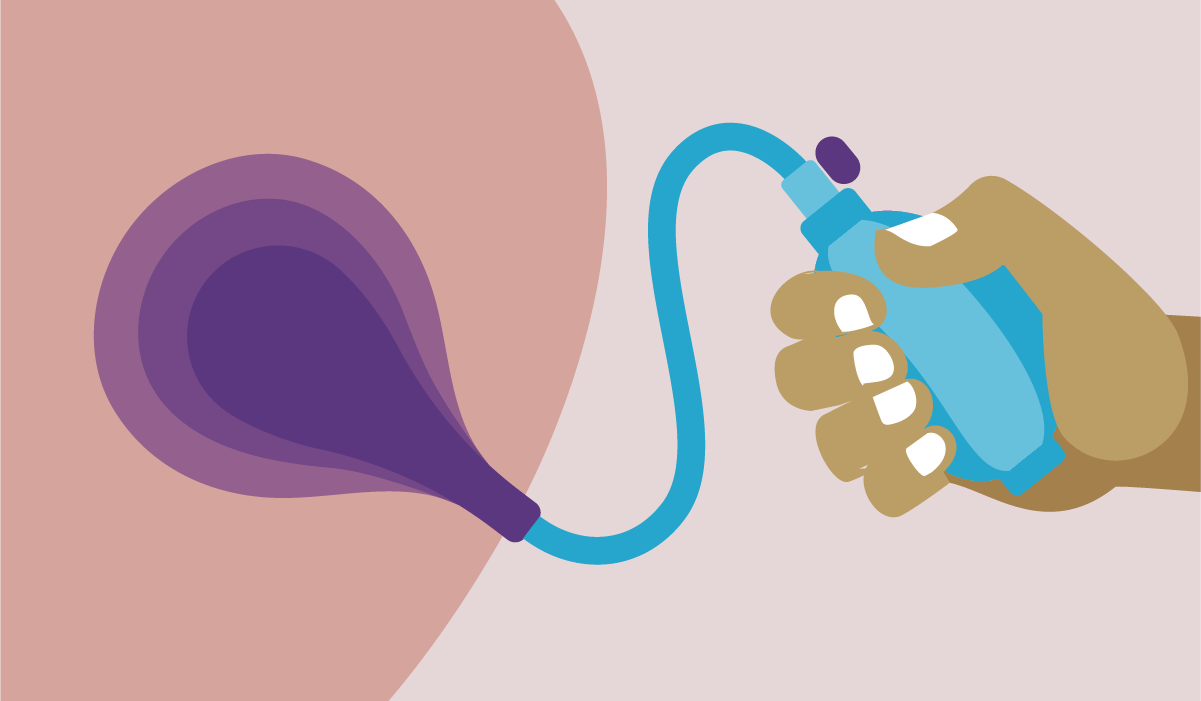 Q. How do I use an inflatable anal toy? A. Start off by pumping slowly.
When playing with inflatable anal toys, always pump slowly, squeezing a little at a time. You never want to force the anus open with quick, hard pumps that fill the toy with air too rapidly. If you've pumped your toy just a little too large, turn the tiny dial on the side to release the air and return the toy to its' original size.
How should I choose materials for my anal toys?
Butt plugs come in all sorts of materials, but which ones should you choose for all the ways you play, and how do you know they're safe for your body? Here we'll talk about how to pick the best materials for anal toys.
Softer materials - PVC, rubber, latex, jelly, silicone etc.
Soft butt plugs work great for all types of play – partnered or solo, worn during sex or out on a date, or combined with masturbation or partnered genital stimulation. Some are super flexible and move with your body, while others are completely stiff in the core and covered with a squishy material around the outside.
Q. What soft materials are there for anal toys? 
You'll find many cheap butt toys made of PVC, rubber, latex, or jelly that feel super bendable and amazing to the touch, almost like one of those office desk stress balls, but beware. These materials are NOT safe for your body because the chemical compounds used to make them are unstable and can leak toxic substances, causing painful chemical burns when used internally.
FYI: Covering cheap anal toys with condoms, contrary to popular belief, doesn't stop nasty chemicals from seeping into your skin.
Cheap anal toys are porous
They're also extremely porous, which means that all the bacteria inside your bum will begin to grow in the microscopic pores throughout the toy. Even thorough cleaning with antibacterial soap or specialized toy cleaner can't go deep enough to fully sterilize the toy for future use.
Q. So what anal toys are body-safe? A. Silicone.
The ONLY soft or bendable material that is fully body-safe for butt play or penetration in general is silicone, and luckily for b-Vibe fans, all of our flexible toys are never made of anything short of medical-grade, brand-spanking-new first-generation silicone. (And we'll tell you why just a few paragraphs down!)
Stay away from phthalates!
Cheap anal toys that are soft often contain phthalates — a chemical that's believed to have adverse effects on the reproductive system. It is used to soften the plastic in sex toys and can make a sex toy porous. Anal toys containing phthalates will usually have a plastic scent, so it's important to read the packaging and pay attention to the safety icons, or ask the store's staff.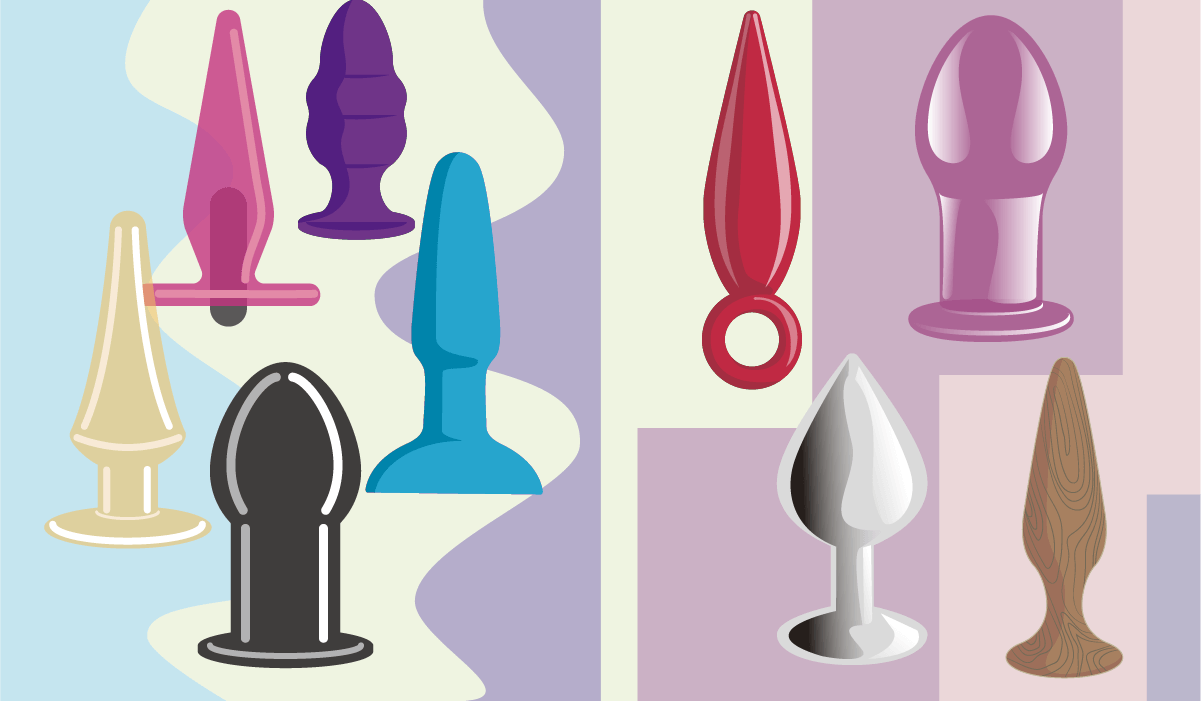 Firmer materials - ABS plastic, metals, glass, wood, etc.
If you're looking for more direct, pinpoint stimulation of the P or G-spots, or you crave something hard and extra smooth, non-porous materials like ABS plastic, borosilicate glass, polished and coated wood, and stainless steel or aluminum are an excellent alternative to silicone. When made with care by an ethical toy manufacturer, these materials are all body-safe and pleasurable.
Q. It's my first time using a hard anal toy. How should I go about it?
All the same rules apply, plus a few extras to ensure safety. Always use lube, even if the toy feels slick and smooth on its' own, and make sure the toy has a flared or T-shaped base or a looped handle to it doesn't wiggle its' way up your rectum where you can't reach it. When using hard toys in conjunction with vaginal penetration, ask your partner to go extra slow when inserting themselves or another toy until you're comfortable with this stiffer feeling of fullness. It's also much easier to knock the anal toy against the tailbone or ram it uncomfortably into a muscle wall, so turn down the pace until you've both become accustomed to this more advanced type of anal play.
Toy features
Body-safe anal toys - Hypoallergenic, non-porous, phthalate-free, etc.
Remember how much we praised silicone earlier? There are some darn good reasons why we at b-Vibe love this magical material.
Like toys made with firmer materials, silicone anal toys have several benefits:
- More hygienic because they are easy to clean
Silicone is one of the safest forms of rubber that you can actually insert into your body. It's commonly used in the medical field (hello, silicone boobies!) and when manufactured properly, it contains teeny tiny pores that are even too small to harbor bacteria. Silicone IS porous, but the pores in medical-grade silicone are so small that bacteria can't fit inside them to grow and reproduce.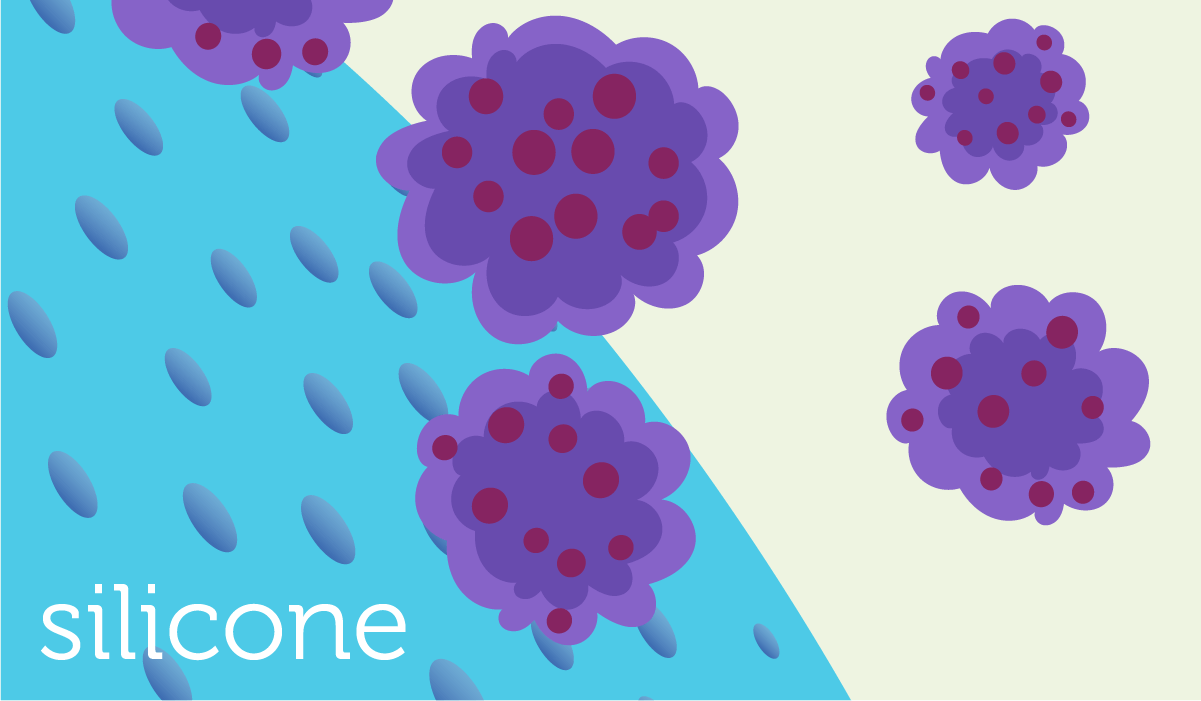 - Hypoallergenic so everyone can enjoy them
This doctor-approved material is also unable to cause any allergic reactions – hence the "hypoallergenic" label on your b-Vibe toy - and it's definitely free of those nasty, plastic-softening phthalates that are often found in icky PVC and other types of rubber.
- Give you a real feel
The supple, skin-like texture of silicone allows it to offer a truly life-like sexual experience. Additionally, silicone can be heated or cooled by placing the toy in warm or cold water for stimulating temperature play. The material also quickly warms to body temperature and retains heat.
- Transmit vibration well
Another excellent quality of silicone is its superb ability to transmit vibration. Silicone sex toys are made to transmit powerful vibration and pulsation to the clitoris, G-Spot or the prostate.
- Last longer, increasing the value of your investment and keeping them out of landfills
Silicone anal toys also come in a wide range of colors and shapes to ensure that you find a toy in your favorite shade.
Flared base on anal toys is a must!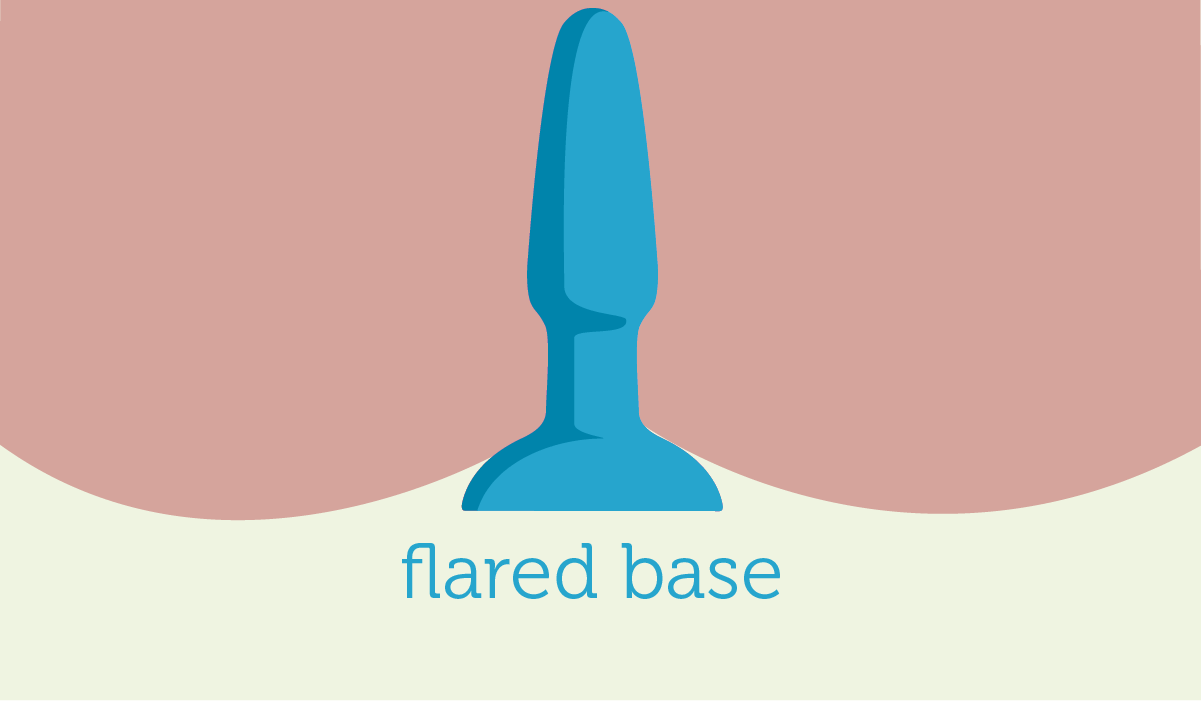 On top of healthy materials, you've probably noticed another theme to our tips and tricks for anal play. We always recommend  - nay, demand – that anything that goes up your butt has a flared base or loop handle to prevent it from getting sucked inside your anus. Yep, that's right! Your anal muscles have a way of sucking things up and into your intestines if they don't have a flared base to keep them in place.  If you pop something into your booty that doesn't have a loop or a T-shaped base to hold it on the outside, well – get ready for a trip to the Emergency Room!
What lube should I use for my anal toys?
Your booty doesn't create its own lubricant no matter how turned-on you are from anal play. Safe butt sex always, always, always requires lube!
Lube that goes well with most anal toys: water-based lube
Water-based lubricant that's free of stinging chemicals like parabens and glycerin is always a great go-to. It's compatible with all types of toy materials, and totally safe since, after all, our bodies are 96% water.
Lube for firm anal toys: silicone lube
Although not compatible with silicone toys, silicone lube is another great choice for anal sex with a partner or a glass, metal, or wood toy. Silicone lubricant is extra slick and doesn't dry out as quickly as water-based lube, so it works well for first-timers.
Q. What about other kinds of anal play? A. Water-based and silicone lubes aren't your only options!
Anal play can feel amazing with the right lube. Learn more by reading our guide to
choosing the right lube for anal
!
How do I clean my butt and my anal toys?
You've picked your perfect butt toy, got the right lube and had your way with it. Now, it's time to get cleaned up. Regular antibacterial soap and warm water works just fine if that's all you've got on hand, but if you really want a squeaky-clean anal toy – and who doesn't? – we recommend a specialty toy cleaner. Spray some on your toy, give it a thorough wipe-down with a warm wash rag, and then dry it off with a clean towel before stashing it in a cool, dry place until your next booty romp.
Q. Can I boil my anal toy to sterilize it? A. It depends.
Heat-resistant anal toys can be sterilized through boiling. Submerge your toy in a pot of boiling water for 3 minutes and it's good as gold again. And when it comes to vibrating toys, always read the manufacturers manual guide as a precursor. b-Vibe's vibrating toys has a motor, so you should not boil them.

Douches & Enemas
If you're still wondering about how all this booty stuff stays clean, it's all thanks to the wonder of the human body. It's highly unlikely that you'll encounter any poop during play if you've got a normally functioning digestive system, as faecal matter doesn't usually hang around in the lower part of your rectum. However, if a regular ol' trip to the toilet isn't enough to quell your nervousness, a rinse with water is a surefire way for you to feel 100% certain that you're clean as a whistle.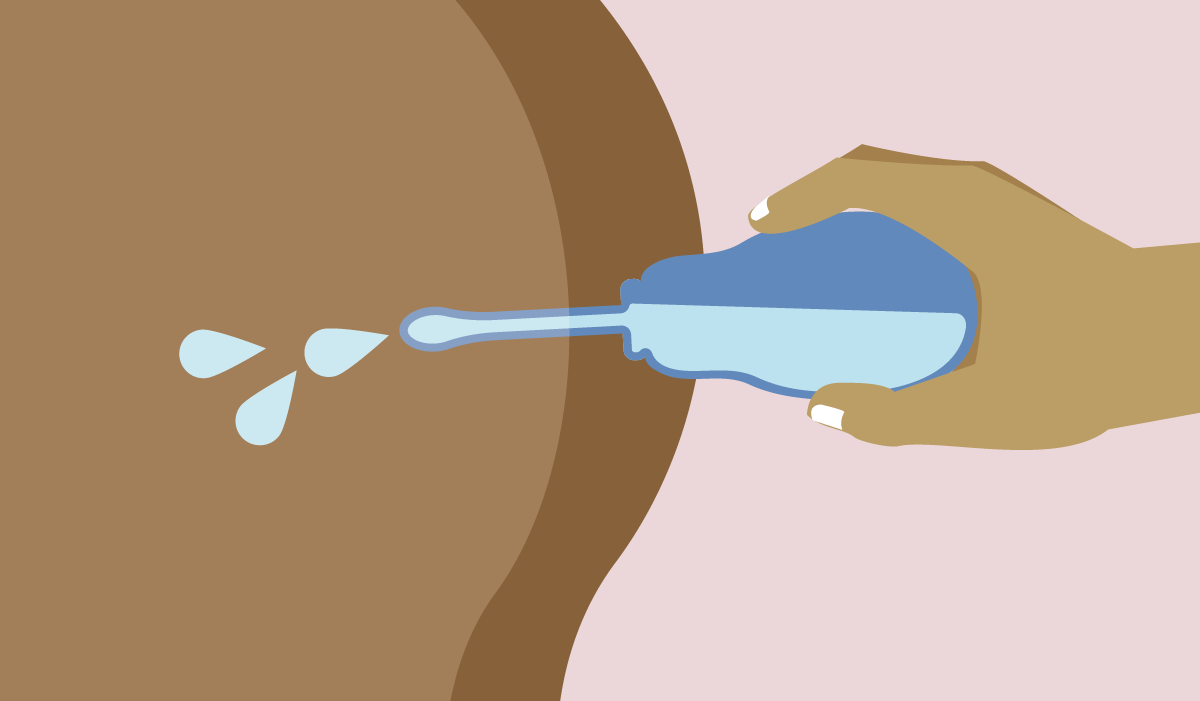 Q. How do I rinse with a douche or enema?
Enemas and douches work in the same way, only with more or less liquid. In short, you fill them up with lukewarm water, gently squirt the water into your bum, and then sit down on the nearest toilet and let nature take its' course.
A douche holds around a cup's worth of water, so this option is easier for a quick rinse of the area immediately inside your anus. An enema bag holds anywhere from 1 cup to around a half gallon. The more water you flush into your body, the more faecal matter will be loosened, so take your time and let your intestines work.
Practise, practise, practise
Regardless of which option you choose, always practise on a day when you don't plan on having anal sex at all. It often takes a few hours for your body to fully flush itself from an anal water cleanse. Once you get the hang of it, use a small amount of water in a douche about 45 minutes to 1 hour before you have sex if you're feeling the need to get extra fresh.
Can I share my anal toys?
Whilst sharing with your partner (or friend) might seem like caring, this isn't necessarily true when it comes to sex toys, and particularly for anal.
Better safe than sorry
Bacteria like E.coli, parasites, and STIs can easily be transmitted from one person to another when sharing toys. And that's okay if you and your partner are clean and in a monogamous relationship, or your toy is made of silicone. We still recommend using a fresh condom when sharing anal toys because there's always a risk.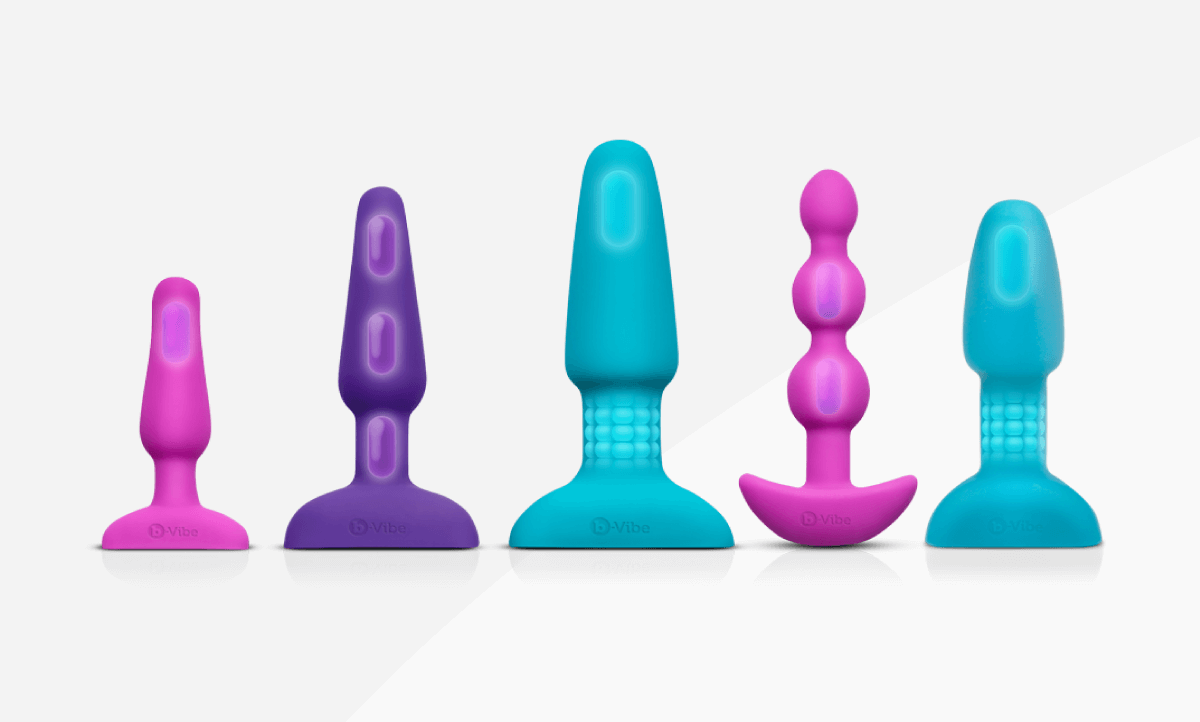 We at b-Vibe take immense pride in being one of the few, and completely body safe, sex toy brands. All our 
butt plugs
are made of certified seamless silicone that's enhanced by powerful vibrations, swirling beads or comfortable weights that take anal play to new heights!