What is pegging? What does it feel like? How do I get started? Sex educator Gigi Engle reveals the best pegging positions for first-timers and answers everything there is to know about using a strap-on for anal penetration.
If you haven't heard of pegging yet, it's time you got familiar with this (still pretty) fringe sex act. Why? Because it's 2023, and it's about time we had some exciting, gender-stereotype defying sex acts to stick in our proverbial sexual pockets.
From bringing up the *novel idea* of anal sex with a dildo in casual conversation to anal sex positions for the newbies, here is some important information to start you on your journey into pegging. Or, at the very least, make you the most awkward guest at the dinner party when you decide to share your newfound ideas over cocktails.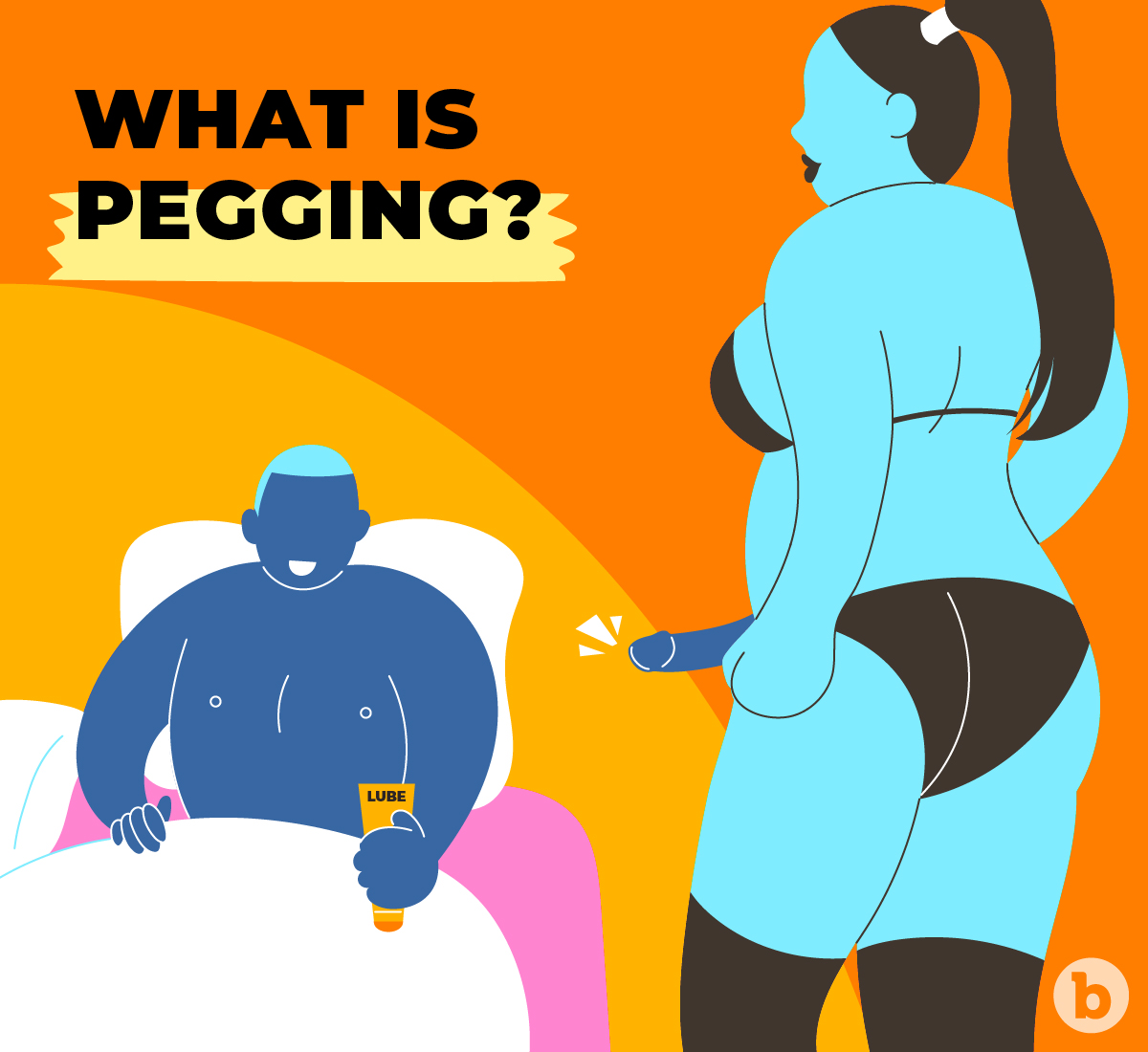 What is pegging?
Let's start at the very beginning. It is, after all, a very good place to start and definitions are our friends! Pegging is anally penetrating someone with a strap-on.
A strap-on is a dildo secured in place by a harness. A strap-on gives a person without a penis a chance to see what's it's like to have a penis. I don't know you, but that was certainly the appeal for me.
The person on the receiving end gets a chance to explore anal penetration while both people get a chance to get curious about power dynamics, anal pleasure, and newfound sexual terrain.
Where did pegging come from?
The term "pegging" first gained its permanent place in our cultural vocabulary in a poll conducted by sexpert and podcast host, Dan Savage, wherein he asked listeners what the sexually ascribed word should be for getting it up the bum with a strap-on.
While people were definitely pegging before it was called pegging, this is how the act found its way into the cultural zeitgeist. The rest, as they say, is history. So...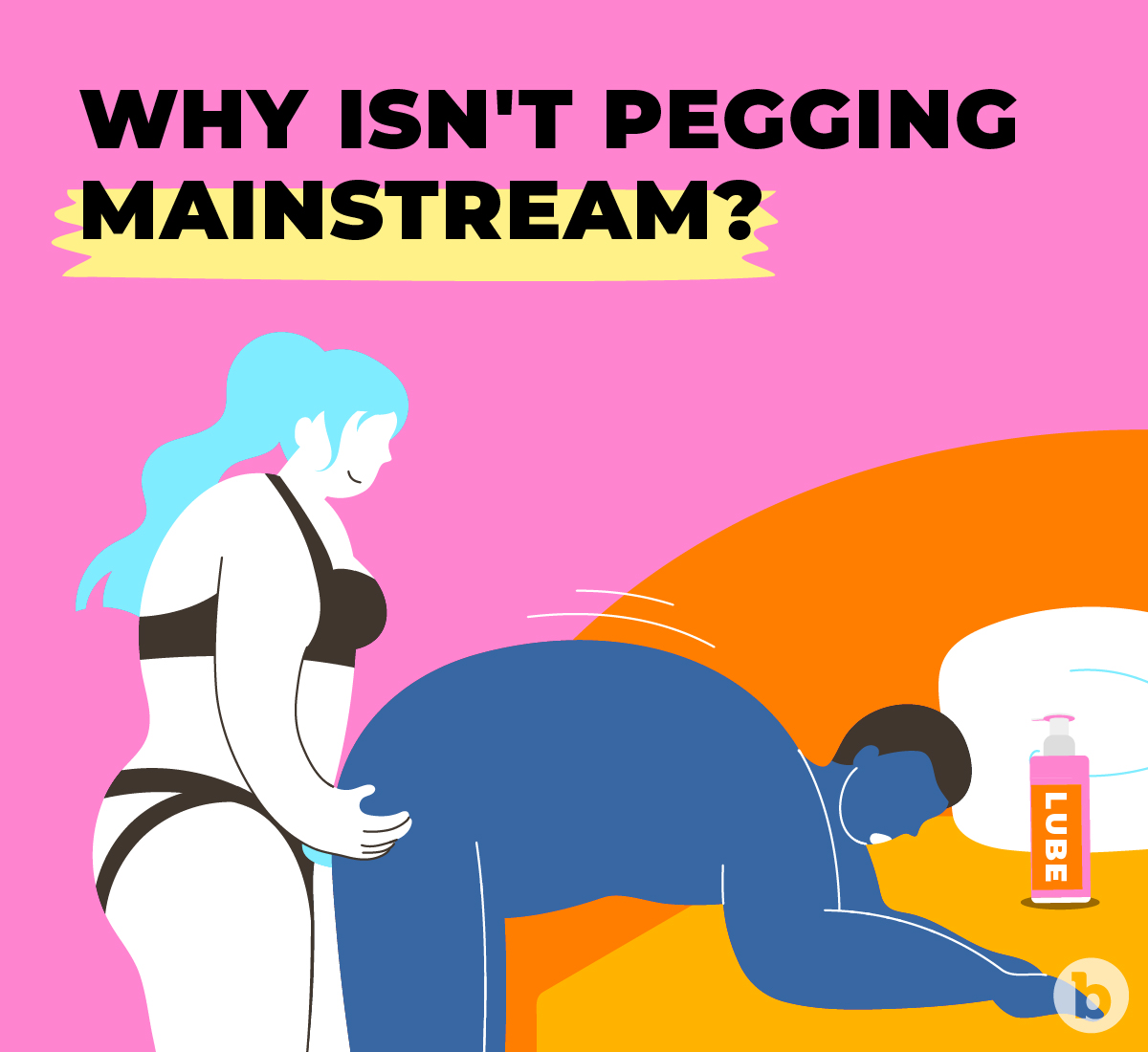 Why isn't pegging mainstream?
While pegging is beginning to make its way into our cultural lexicon (lookin' at you, Broad City), people, in general, are still pretty... well... f-ing weird about it. Why? Why else? STIGMA. Ugh.
While many women are hopping on the chance to experience the "giving" portion of anal sex and play, a lot of (mostly) cis-dudes are still freaked out about you "compromising their manhood."
There's also this idea that trying pegging could make you less of a man (or weak or gay or whatever). We're super tired of hearing that (and pegging is WIRED). Like all sex acts, pegging is only something to explore if both you and your partner are interested in trying it. Enthusiastic consent is the root of all pleasure.
Who can try pegging?
Now, don't be in here thinking that pegging is only for heterosexual cis-gender couples. Pegging is accessible for one and all, regardless of gender or body parts. After all, Every Body Has A Butt! It is the universally shared sex organ for one and all humans on this, the Planet Earth. But then...
Does pegging make you gay?
Ah, the question so many people seem to ask: Does pegging (or anal play) make my boyfriend or partner gay?
To be frank: No. Enjoying anal penetration does not make you gay. If you get it up the butt and then decide, "Hey, I'm gay now!", let us reassure you, it was not because you were anally penetrated.
If your partner wants to try pegging, it has nothing to do with their sexual preferences with regard to their gender. So, let's leave that nonsense at the (back)door, OK?
Pegging is about power dynamics and pleasure, not gayness. "I find the role reversal very sexy," says Danny, 25. "When my wife pegs me, it gives me an opportunity to see her as the dominant one. Since I'm usually in that role, giving up control and letting her take the lead is a huge turn on."
Michael, 32, agrees: "I get so much pleasure from having my ass stimulated. I don't care if society wants to call it weird. I'm not gay. I'm a man with a prostate and I like receiving anal sex, too.
In short, anal penetration is something we can all enjoy and explore. It's sort of like the ultimate equalizer, giving every person a chance to experience the role of giver and receiver. What could be more beautiful than that?
What does pegging feel like?
"It's overwhelming in a good way," Danny tells us. "It may feel unusual because if you're straight man, you're probably not used to having things inside of you. It's a very new feeling."
Pegging is often described as a feeling of fullness or intense pressure. For those who enjoy it, it can ignite the anal opening, a nerve-rich pleasure center for male and female bodies alike.
Another thing pegging is great for — prostate orgasms. If you're not quite ready for penetration yet, you can get started with something as simple as an anal massage or analingus.
As cis-males and trans-women have prostates, pegging can be a great way to get the prostate involved. The P-spot is a walnut-shaped gland a few inches inside of the anal opening. Its primary function is to create prostate fluid, a key component in semen. For whatever reason, prostate stimulation can really up the ante on male-bodied pleasure. It's like a secret hot-zone that society is super afraid of!
The goddesses of the universe decided to put the male G-spot inside of the butthole and then we all decided that it wasn't OK to go up there. If you ask us, that makes no sense whatsoever.
How do I get started with pegging?
Here's your pegging 101 masterclass:
1. Communication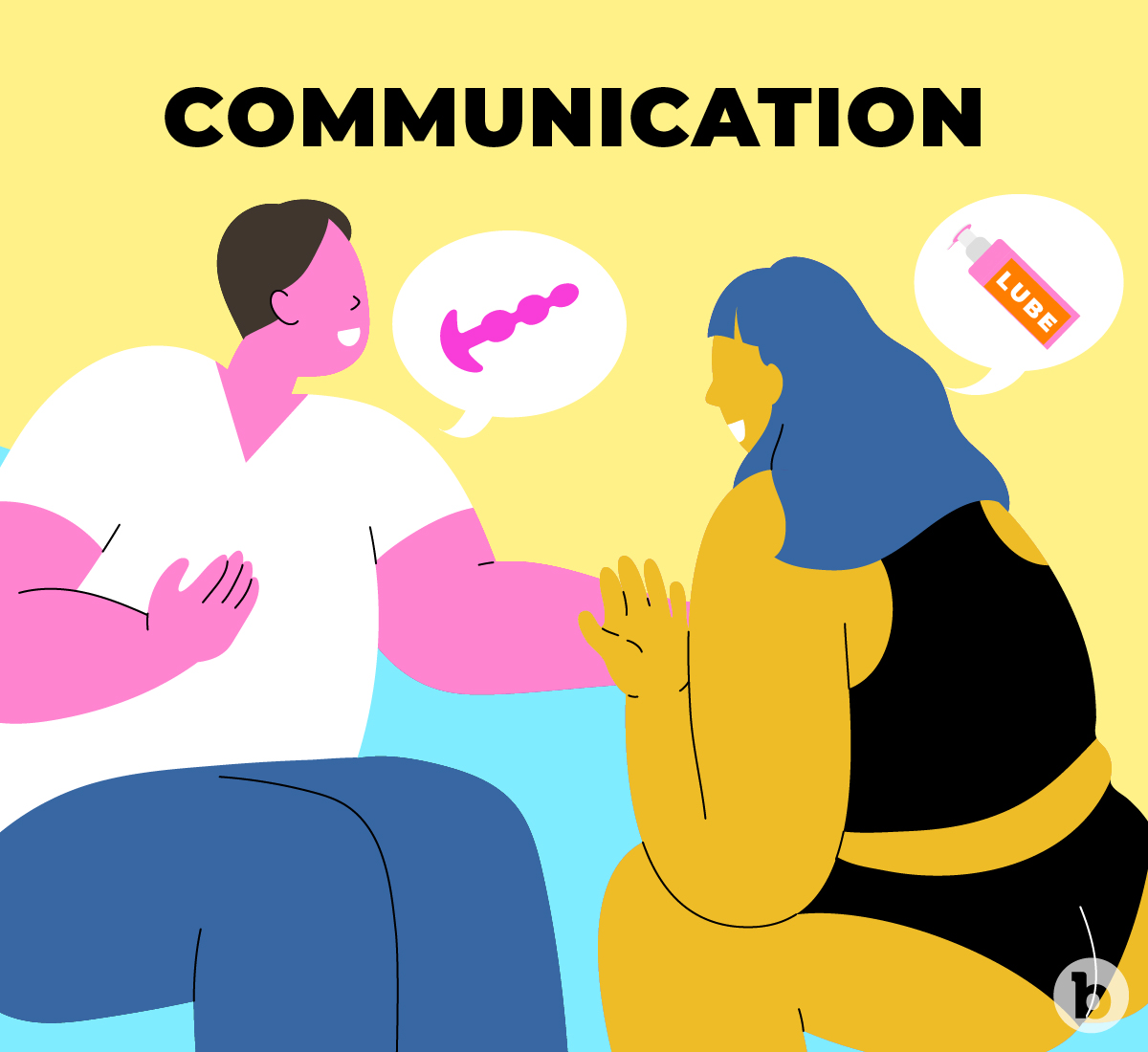 Make the conversation about the two of you. This isn't about "you", it's about "we." You should want to explore pegging as both someone that is interested in being the giver, and also as someone that is excited to have their partner be the receiver.
LEARN: The complete guide on how to talk about anal sex with your partner!
If your partner says no, then you need to be OK with that. Good sexual experiences are built on pleasure, trust, and communication not solely based upon one person's desires.
2. Know the essentials of anal play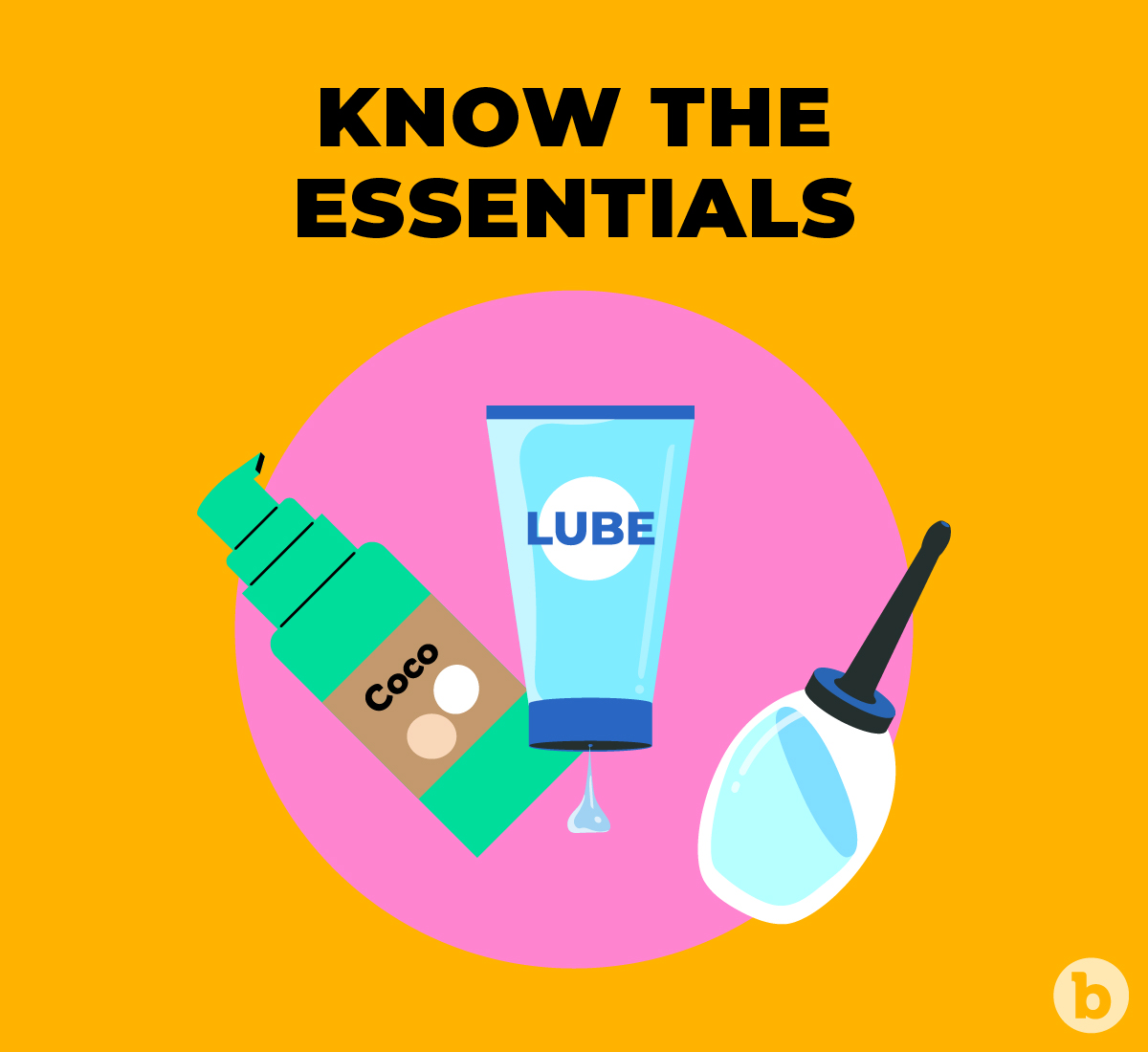 Before you go jumping into anal play, be sure you know the basics. Start with hygiene. You don't have to douche in order to try pegging, but some people prefer it. If you want to douche beforehand, use a classic bulb enema like this one. If this doesn't appeal to you, just be sure to take a shower beforehand and have a solid before movement one or two hours before receiving anal.
MASTER: How to prepare for anal sex like a pro!
Now, keep in mind that there will likely be some poop. Come to terms with this. You're dealing with a butt hole after all and poop comes out of butt holes. This is a normal and totally OK thing. Expecting to put something up a butt and having it be as clean as a whistle is unrealistic. Seeing some poop while participating in anal can be a little traumatizing. It's just a little poop. Move on and go forth.
Get yourself some reliable, water-based lubricant. Silicone lube is more slippery, but if you use it with a silicone dildo, you can do some serious damage to the toy. We recommend this natural water-based lubricant and lube shooter. We're also big fans of using coconut oil as lube as a whole.
If you're practicing pegging with multiple partners, be sure to use condoms on your dildo. This will help with both hygiene and to avoid spreading STIs.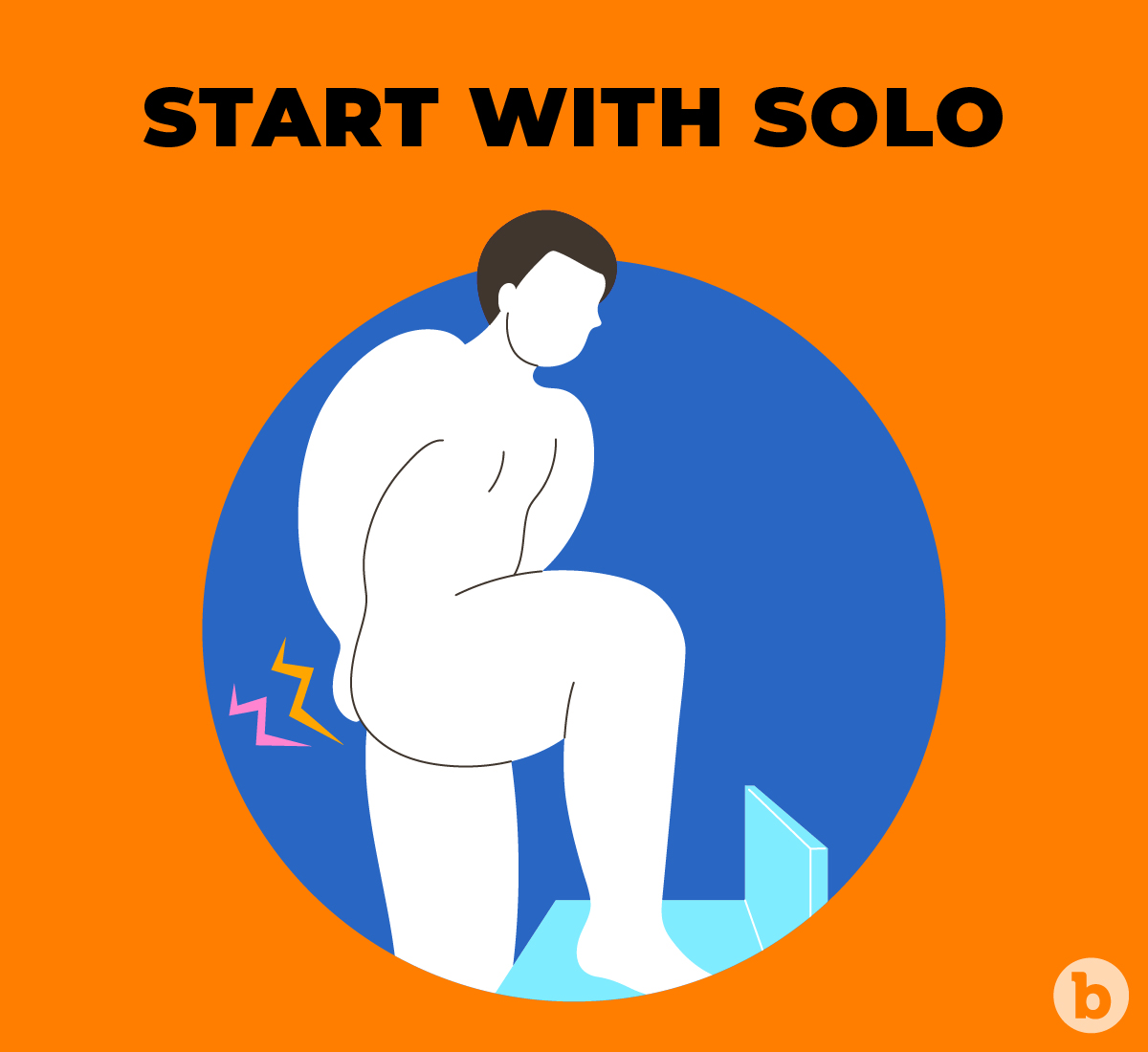 Now that you have your lube and have had the consenting conversation with your partner, you are ready to try anal pleasure. Start SLOWLY. The anus is a set of muscles. It doesn't naturally stretch or lubricate the way a vagina does. So you'll need to work up to full-on anal sex.
If you haven't tried anal penetration before, we recommend getting started with anal training. There are specialized kits that include dildos that gradually increase in size to help you to take larger objects in a safe, comfortable way.
You can try anal play alone or with a partner, depending on your preference. It can be easier for some people to try it alone at first in order to remove some of the nervousness of being with someone else in a vulnerable state, but this is subjective. Do what works for you!
4. Buy the right gear for pegging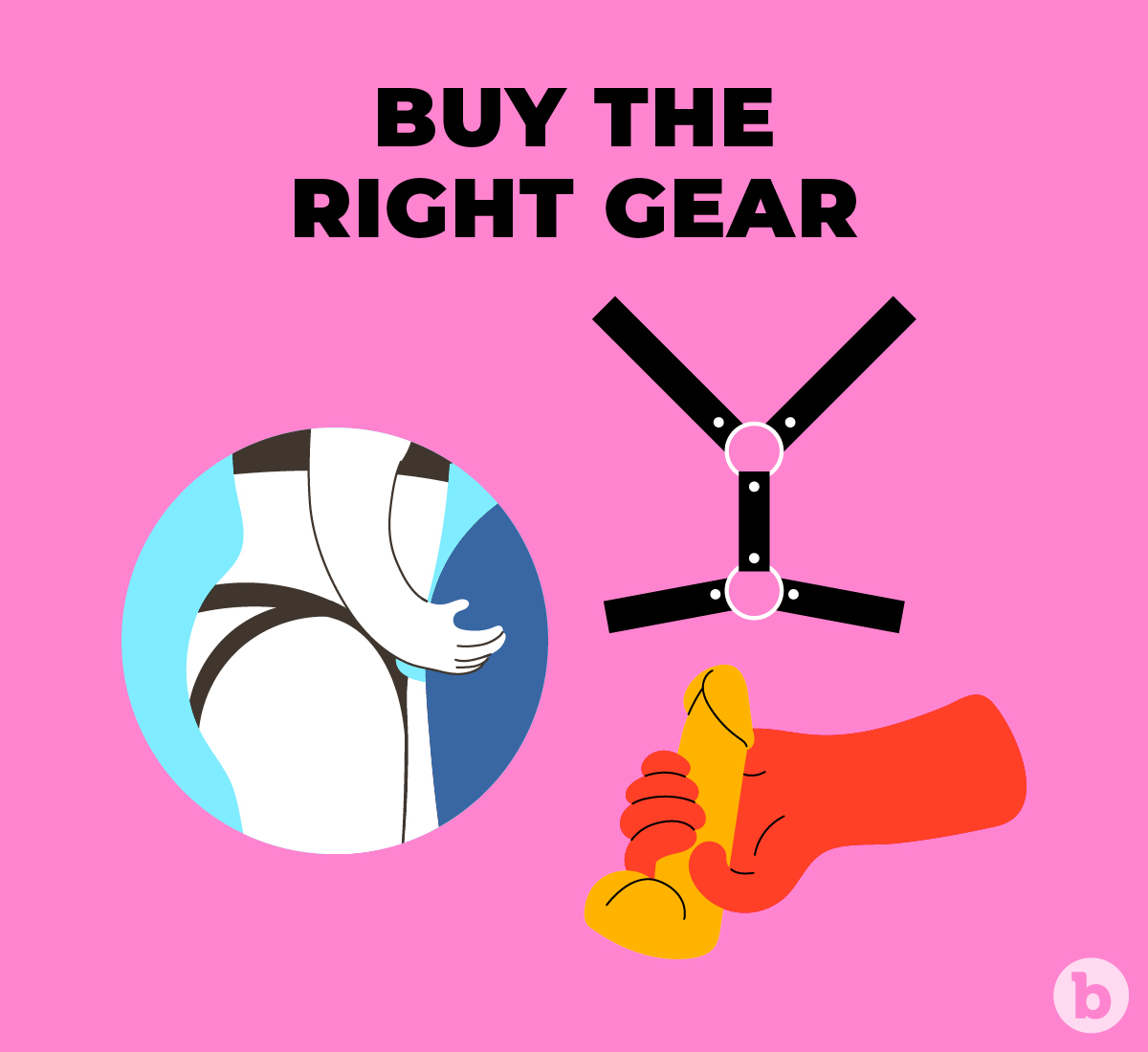 Once you're ready for pegging, you'll need the right stuff. Luckily, we've taken all the guessing out of the process. Check out these 'Strap-On Anal Sets.' — These pegging sets come with everything you'll need: a strap-on, a harness, and a dildo.
FIRST-TIMER? Read our beginner's guide to every type of anal sex toy!
Sometimes getting the right gear can be the most intimidating part of trying something new. There's no room for being nervous when you're off exploring new ways to experience sexual pleasure!
Best pegging positions for beginners
We asked our readers to share their favorite pegging positions (when they first started), and here are the three best pegging positions that came out on top:
1. Spooning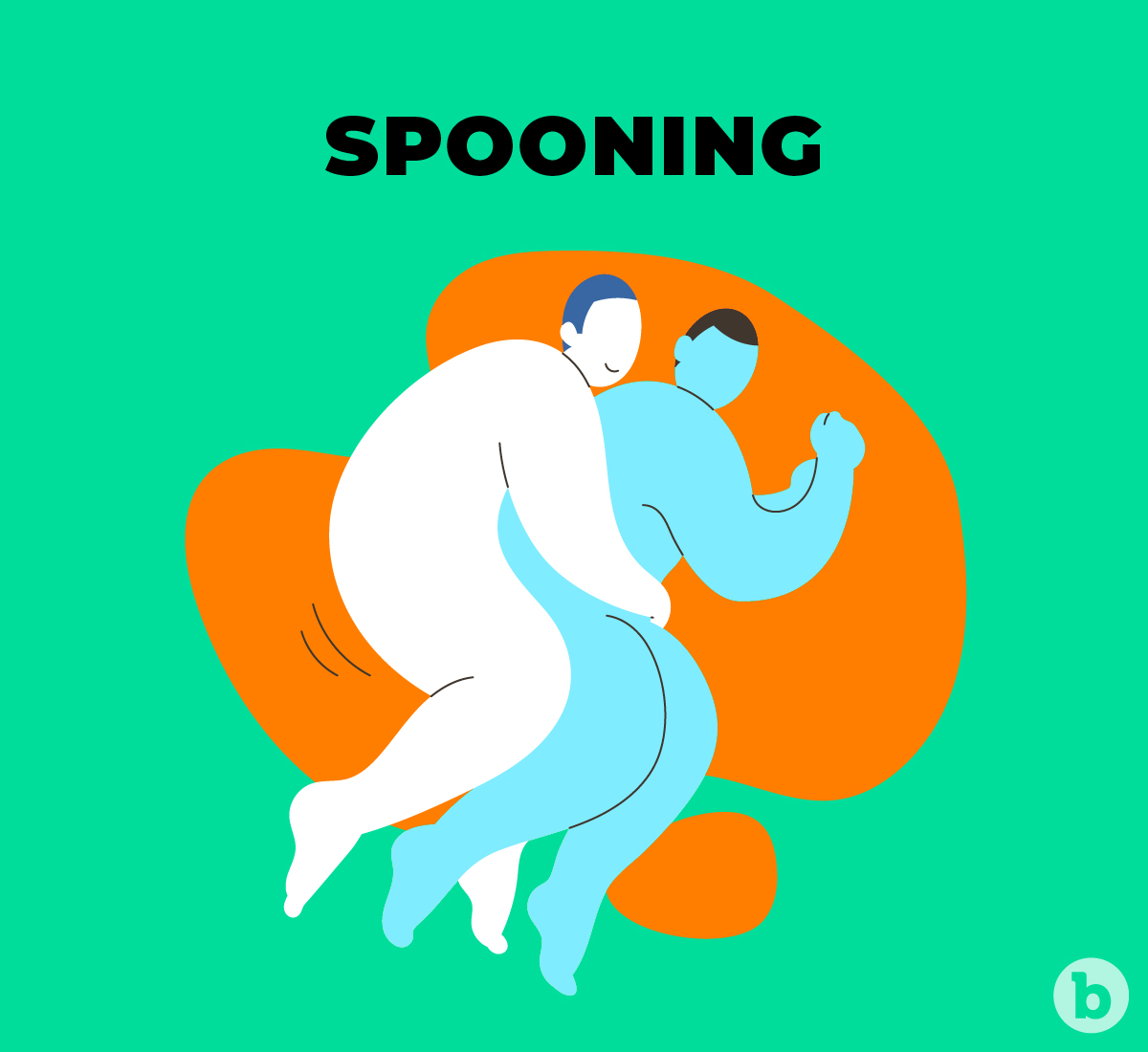 Lay behind your partner and enter them from the spoon position. Depending on your height difference, you can put a pillow or two under their hips to elevate them for easy access on their side. Remember: TAKE IT SLOW.
They can back into you or you can give it to them. Allow the receiver to be the one in control of the speed and depth of penetration. Even though you might be "topping," it's the person taking the dildo that needs to control this aspect of pegging, as they are the one who has the potential for pain if something is done incorrectly.
2. Flat doggy style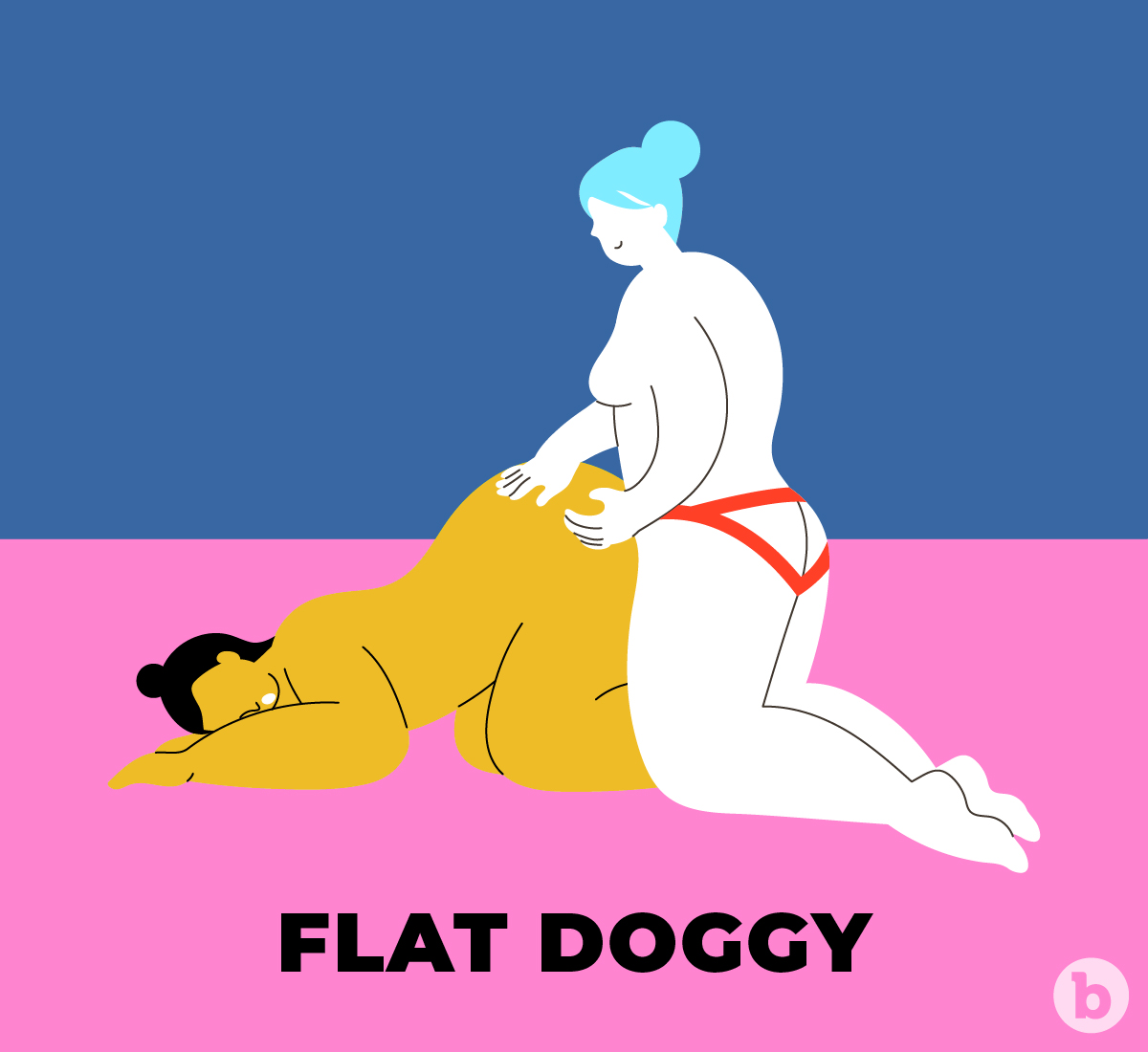 Regular doggy style can seem like the "given," but it's actually a difficult position to maneuver if you're not a practiced pegging. Have your partner lie on their stomach. Enter them from behind. You'll almost be lying on top of them. This makes deeper penetration easier and more comfortable. This position can be a bit of an upper arm workout, but it's very hot.
3. Cowboy/Cowperson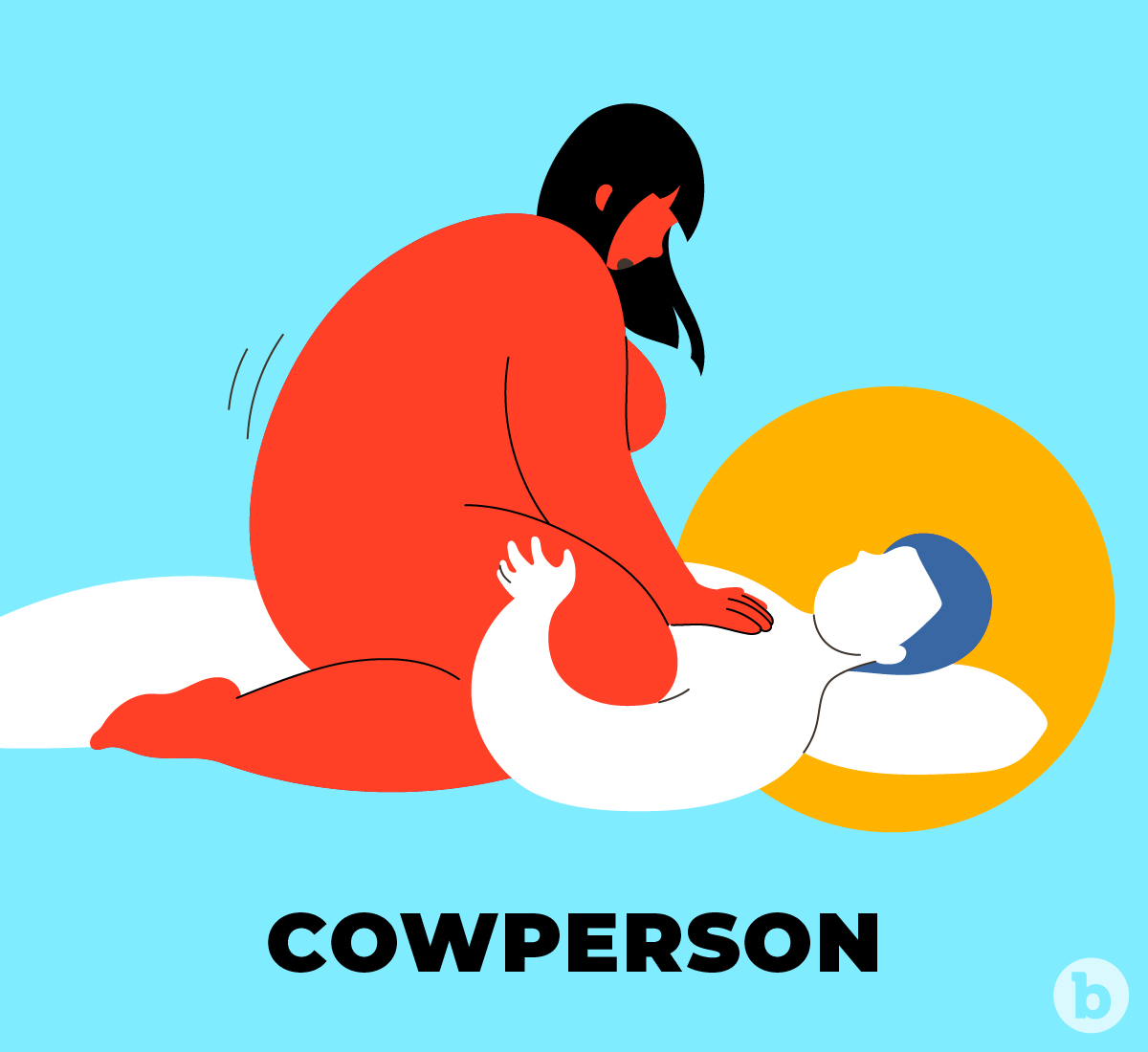 If your partner would prefer to be on top, lie on your back and have them climb on top. They can lower themselves onto the dildo at their own speed, which can help with the control of depth and speed. This position is super interesting because it gives you a whole new appreciation of having your partner on top. Go ahead and explore with your own pegging positions!
Anal sex aftercare
As with all sexual experiences, aftercare is important. What is anal aftercare? This is when you and your partner have a chance to cuddle, talk, and recap everything that happened.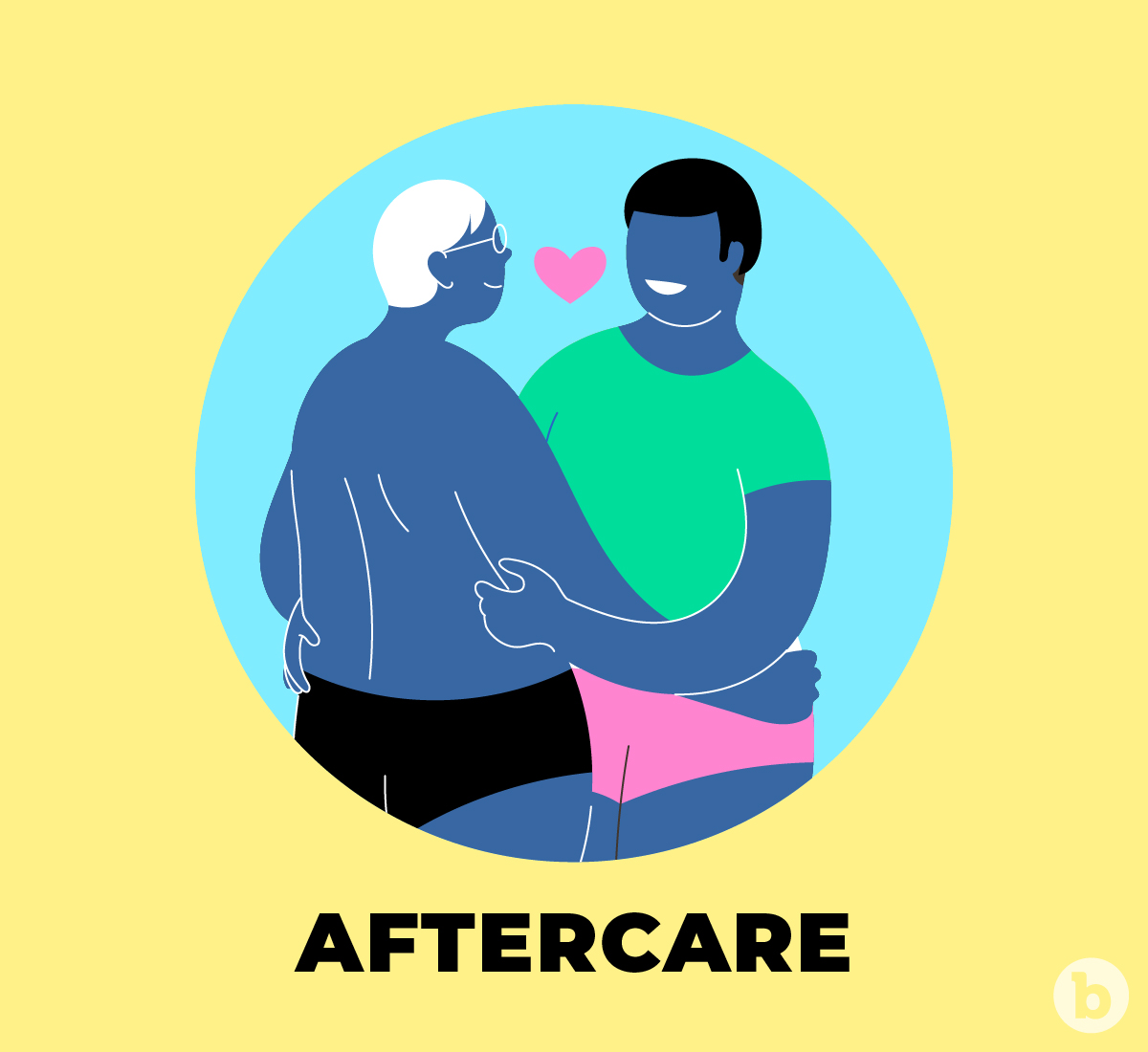 Aftercare is important because it allows us to get a good understanding of our partner's headspace. Sex can be beautiful, confusing, hot, scary, and very emotionally raw. Communication and checking-in is a vital part of the process.
When it comes to pegging, this is especially vital. This was a new experience for both of you and you want to get a clear understanding of how your partner felt about it, how you felt about it, and what you both want to do (or not to do) on your next pegging experience. This is a time for love and tenderness, not judgment.
Remember, you're in this together and you want your sexual experiences together to be positive. Take time to connect and care for each other emotionally. This is how we all have better, more fulfilling sexual experiences.
.
Not quite ready to give pegging a try? Well, there's always anal fingering (for beginners) and anal fisting (for pros!). Check out Butt Stuff Basics — A video series highlighting the best anal play tips by world-renowned sex educators.