Butt plugs are one of the most popular sex toys for anal play. The simple, yet a rather genius, design of a butt plug helps people to enjoy hands-free anal stimulation for prolonged periods of time. Butt plugs accomplish a basic task very effectively - they stay in place. Find out why this anal play product is becoming everyone's favorite toy.
Butt Plug Benefits
There's a common misconception that a butt plug is solely used as a tool to prepare for anal sex. However, butt plugs are an amazing sex toy because they allow you to focus on other pleasure centers, while they simply stay in. In fact, a comfortably positioned butt plug should not be pushed in or pulled out until plug play is over.
Butt plugs leave both partners' hands and attention free to roam elsewhere. For instance, wearing a butt plug is a fantastic way of enhancing the experience while giving and receiving oral sex or while enjoying a sensual massage. Butt plugs can be combined with all kinds of genital play, including vaginal intercourse.
Butt plugs facilitate sexual pleasure because they apply pressure to erogenous zones and create the feeling of "fullness". When it comes to sex, pressure is greatly underestimated and overshadowed by the "in and out motion". In fact, pressure is what enables many people to climax and experience great pleasure, both vaginally and anally.
Butt Plug Safety
Since butt plugs can be enjoyed hands-free, they should always have a flared base. Otherwise, there's a significant risk of the product slipping too far into the anal canal and traveling up the colon – which may cause serious bodily harm. A flared base prevents the toy from being inserted entirely and makes retrieval not only easy but possible.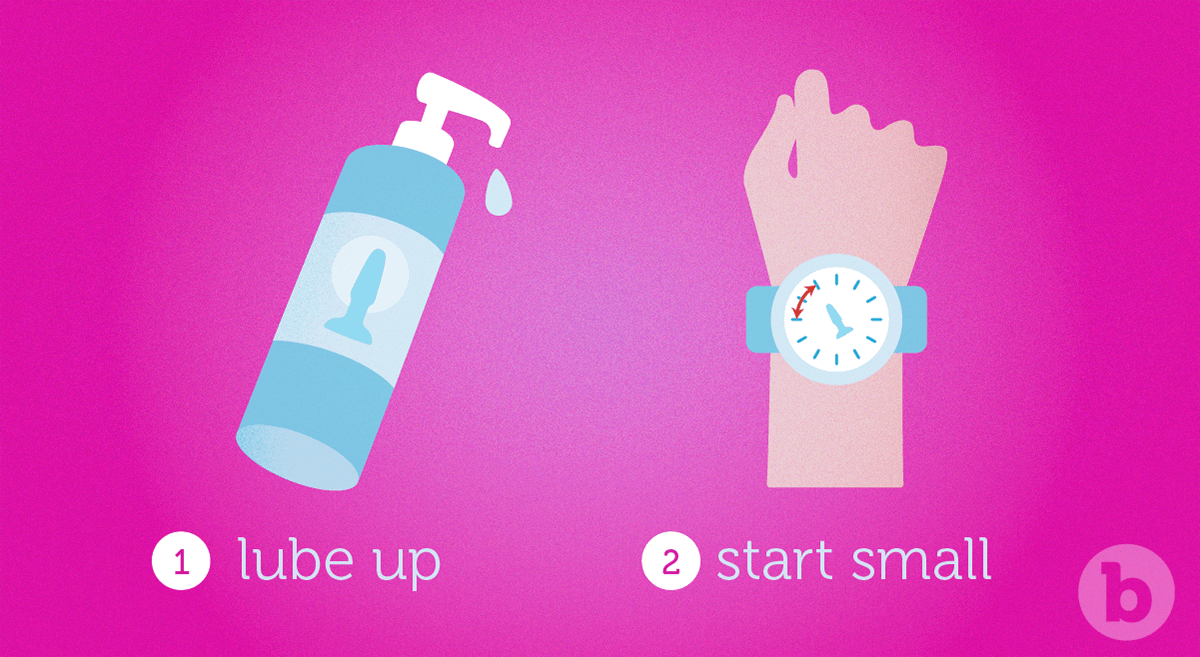 When it comes to butt plugs or any kind of anal play, choosing the right anal lube is essential. Since a butt plug can stay in the body for long periods of time, you should always apply enough lubricant to ensure the easy and pleasurable removal of the plug. Our motto is "Slow and Slippery". 
B-VIBE RECOMMENDS
Continue Reading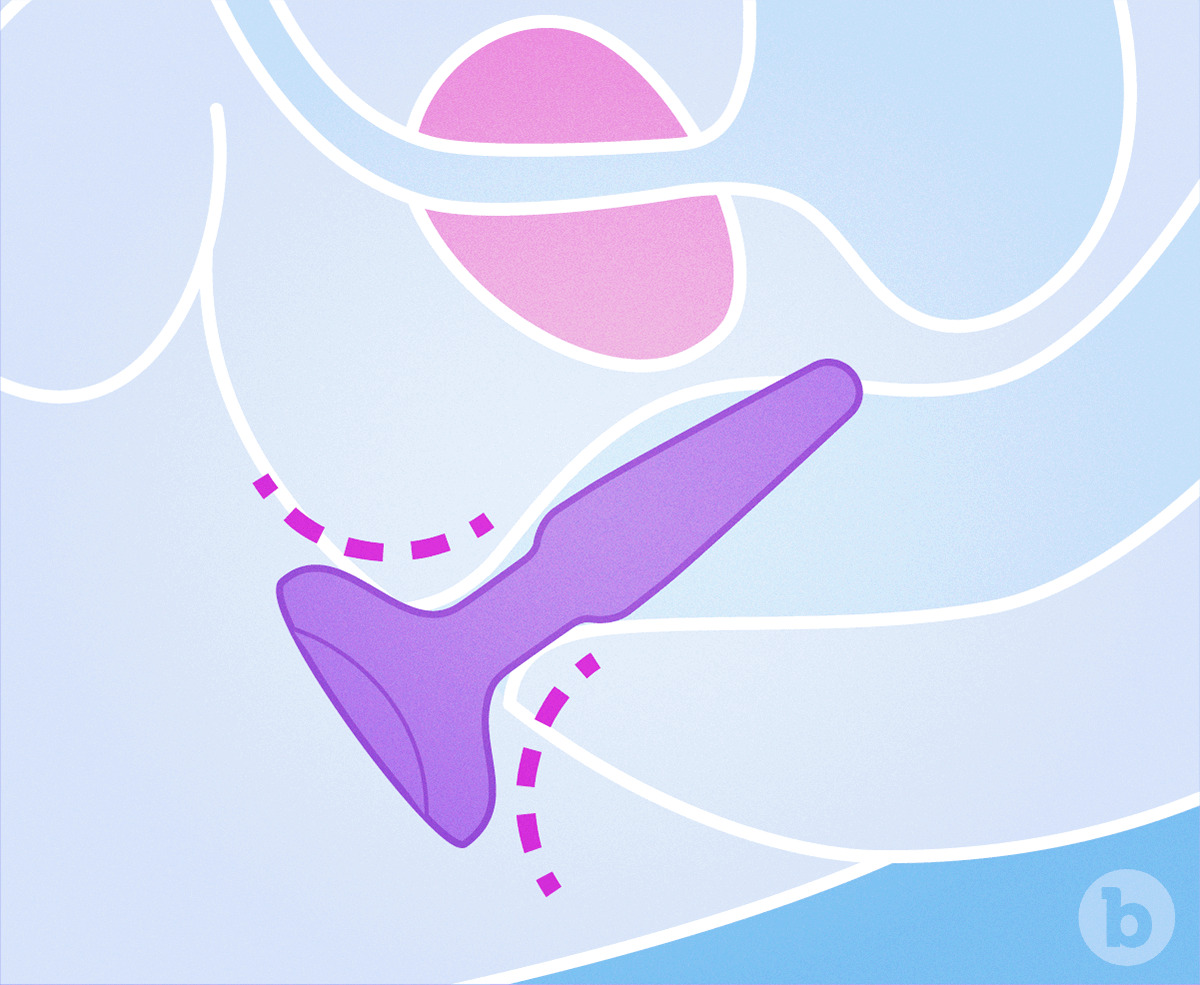 If you are new to butt plugs in general, or even just unaccustomed to a particular toy – start off by wearing it for short periods of time. It's never a good idea to take a brand new toy for a spin outside in public, say during a long dinner or a concert.
Shape of a Butt Plug
Butt plugs come in various shapes and sizes, but generally, they all follow a similar pattern; A teardrop shape or "bulb",  a "neck", and a flared base. Most plugs are round and narrow at the tip of the bulb, while gradually progressing in size until it reaches its widest point. Below the widest point, the plug begins to narrow and is then followed by the "neck" which is the slimmest point and also where the anal sphincter will hug the plug after full insertion. The base of the plug is generally either round (similar to the base of a dildo) or a narrow flared base.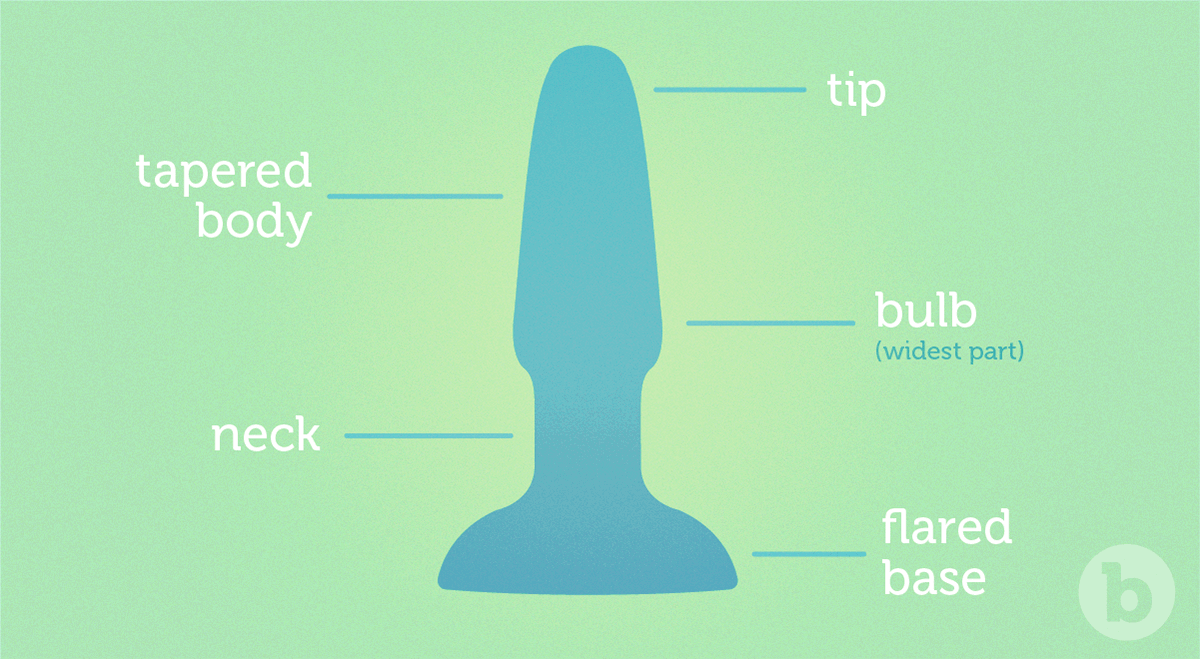 Many folks find that the narrow flared base is a more comfortable fit between the butt cheeks. The genius of the flared base is that it allows the anal sphincters to relax and squeeze around the neck, keeping the plug securely in place, even while you walk, dance or sit down.
Butt Plug Sizes
Butt plugs vary hugely in sizes, and this is one of the greatest things about them – one can use the size that fits their own experience level and needs.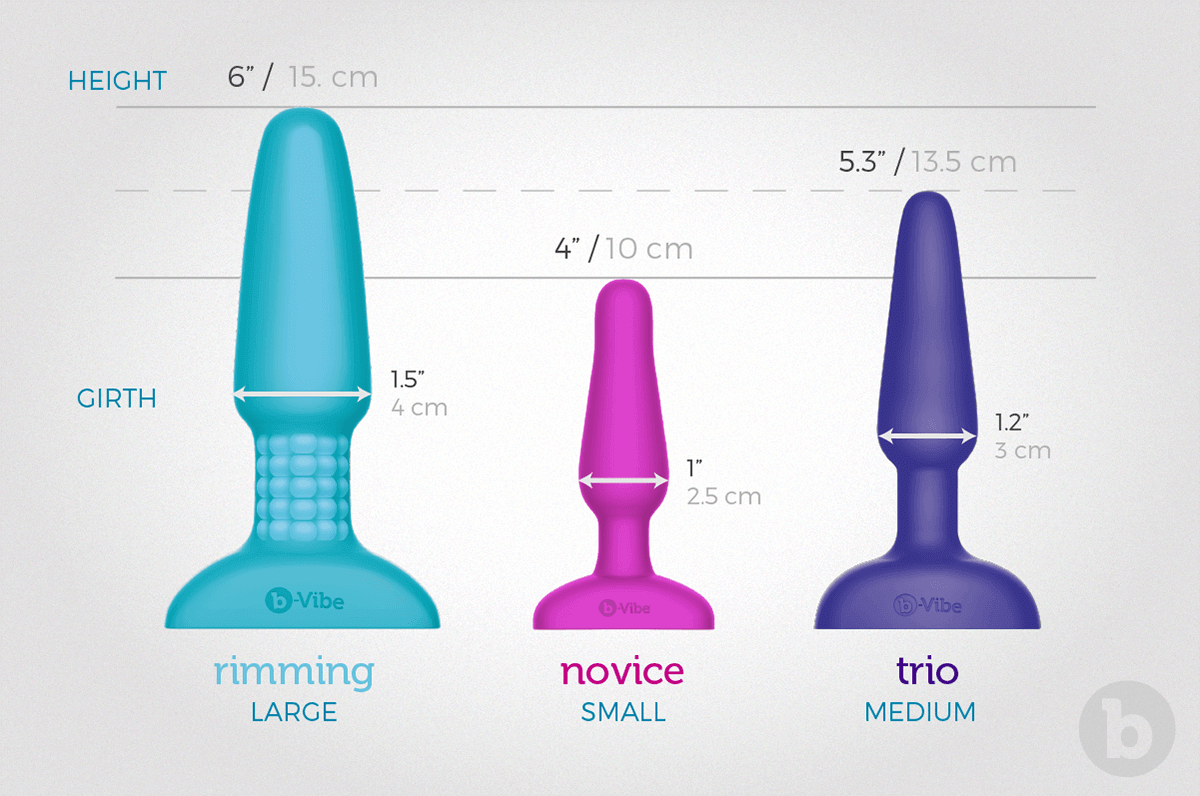 A beginners butt plug usually has the widest point that is no more than 1" in diameter and an insertable portion of 2" to 3.5" in length, such as our Novice Plug. The Trio Plug is medium size and the new and improved Rimming Plug 2 is a large plug. 
Materials
Different materials can bring really unique sensations since each one of them has its signature properties.
Stainless steel and other body-safe metals can be used for temperature play, feel really smooth and don't drag the skin, but are heavier and are completely non-flexible.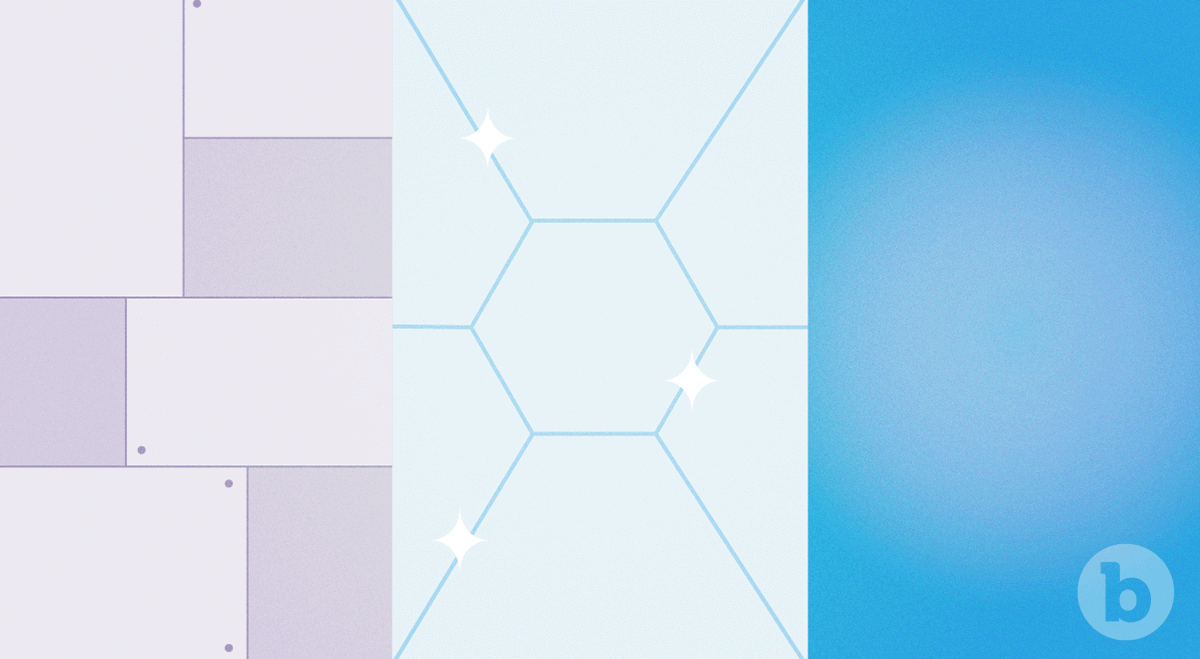 Glass or crystal butt plugs are really beautiful and usually lighter in weight than metal toys, but it's important to make sure that they're made by responsible brands and that they're reinforced enough to stay intact and not break at their weakest point – the neck of the toy.
Silicone is one of the most common materials when it comes to butt plugs. Silicone butt plugs are body-safe, can easily be sanitized and they have a good amount of flexibility, which is particularly important for beginners to anal play.
Vibrating butt plug or not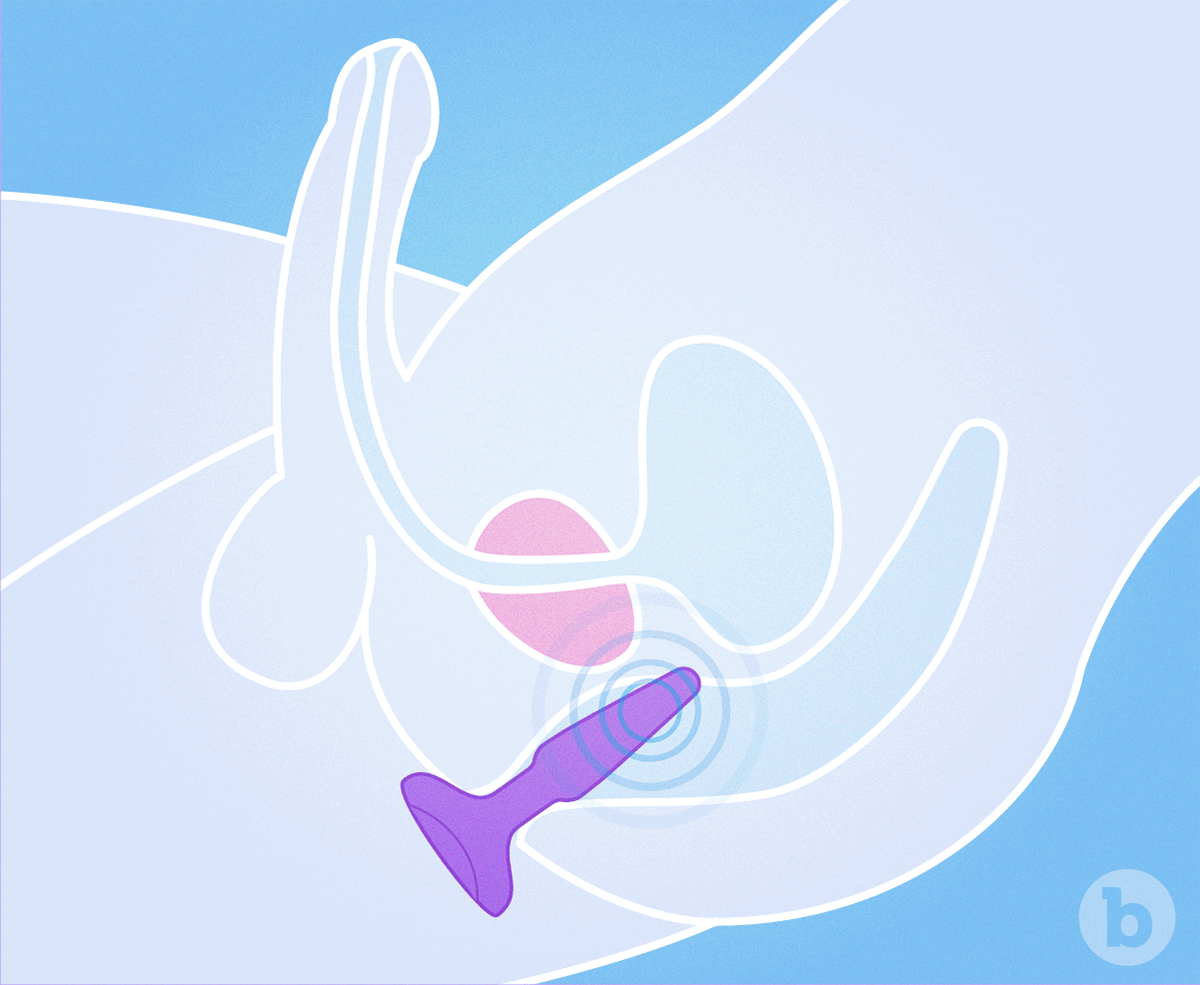 Vibration is a feature of butt plugs that can bring new dimensions to anal pleasure. Some vibrating butt plug options simply have a hole at the base of the toy, where one can place a bullet vibrator. These vibrations often can't travel far enough to stimulate erogenous zones deeper inside the body. This is why vibrating anal toys, like the Trio or the Rimming plug, have a motor at the tip of the plug, that can transfer vibration to the prostate in men, or the perineal sponge and the anterior fornix erogenous zone (also known as the a-spot) in women.
Ways to enjoy a butt plug
It's a common misconception that butt plugs are just a warm-up for anal intercourse. Of course, they can be, but they can also be the main course. You can wear them for solo pleasure, as part of your masturbation routine, just because they make you feel naughty, or even during a date in public. Each partner can be wearing them during vaginal sex, or during the entire intimate time together. However, what we like most about butt plugs, is that can be enjoyed by everyone, regardless of age, gender or sexual orientation.