How did they gain popularity? Are they safe? In our latest Queeries, Bobby Box dips into this undulating BDSM kink on golden showers to help you explore and get started with pee play.
A golden shower, the act of urinating on another person for sexual pleasure, is one of many steamy practices under the urophilia fetish (aka: watersports, pee kink, piss play), meaning someone is sexually aroused by urine.
While a golden shower may be the act most commonly associated with the fetish, there are many ways one can explore arousal with urine. Some examples include: wetting or witnessing somebody wet themselves, peeing inside of somebody's genitals or anus, and drinking urine.
Some folks also derive a sadomasochist-type of arousal from the pain and discomfort of having a full bladder and having someone give them "permission" to urinate. Those with paraphilic infantilism, role-playing as an infant, may also draw urine fetishists since they may wet their diapers, need changing, and so on.
And yet, despite the many ways one can explore urophilia, the limited research available on the subject suggests it's not all that popular. In a study of over 400 adults on their biggest sexual fantasy, urine was mentioned by only 1.4 percent of male participants and none of the females. Another study found that while 23 percent of college students in a survey had witnessed urophilia porn, they rated the content 1.2 out of 10 in terms of sexual excitement.
These skeptically low numbers may be due to the taboo associated with the act and the unwillingness of participants to be completely honest during the study. These figures are confusing, given the fact that golden showers have been having some major moments in the last decade.
HOW DID GOLDEN SHOWERS BECOME POPULAR?
The golden shower's most culturally significant moment in the spotlight is likely in 2016 when a report from Vox documenting Donald Trump's possible collusion with the Russian government revealed the existence of a tape showing the former president watching two sex workers urinating on a bed in a hotel room while visiting Moscow for the Miss Universe pageant.
On the day the story broke, Pornhub reported that searches for 'golden shower' increased by 289 percent, and searches like 'watersports' and 'pissing' saw similarly significant increases.
According to this data, men are 24 percent more likely to search these terms than women, and Pornhub visitors over the age of 65 were 75 percent more likely to browse the category compared to other age groups.
Despite its recent boost in the zeitgeist, golden showers date as far back as 1943, according to The New Partridge Dictionary of Slang and Unconventional English. Back then, golden showers were more or less fodder among sex workers and discussed behind closed doors.
In the '70s, golden showers made appearances in popular literature, with mentions in both the best-selling memoir The Happy Hooker by Xaveria Hollander and Stephen Zillow's Filmmaker's Guide to Pornography. A few years later, the act would be commemorated in popular music like "Bobby Brown Goes Down" by Frank Zappa and "Bust a Nut" by Luke and The Notorious B.I.G.
Eventually, golden showers would make their most significant debut to date in season three of Sex and the City (2000). In the episode, a politician (interestingly enough) requests that Carrie pee on him. Spoiler alert: she doesn't. More recently, golden showers made a cameo in Netflix's You, where actor Lukas Cage is peed on with great enthusiam in a surprisingly graphic and steamy scene.
WHY DO PEOPLE ENJOY GOLDEN SHOWERS?
There are many reasons people are aroused and derive pleasure from urine play. Some people are aroused by the taste, smell, and warmth of urine. People may also like the messy nature of the act. Others are more excited about the taboo and the degradation and humiliation aspect, which goes hand-in-hand with those who enjoy BDSM.
ARE GOLDEN SHOWERS SAFE?
There is a misconception that urine is sterile, meaning golden showers come with no risk. But urine is only considered sterile if the person urinating is completely healthy, as the fluid can spread bacterial, fungal, and viral infections.
These are most often spread when the urine comes in contact with the mouth or an open wound. However, it should be noted that urine is far less risky than blood or semen when it comes to STI transmission.
You can reduce risk by asking when the partner who's urinating was last tested for STIs (this is good safe sex practice with any sexual encounter), keeping the urine away from the mouth, and making sure theer are no open wounds on the person being urinated on.
GETTING STARTED WITH PEE PLAY
1. Get consent
The best thing to do when getting started with urination play or any sexual act is to ask for consent. So talk to your partner about your interest in golden showers, and see how they respond. If they're into it, proceed to step two.
If they aren't, have a discussion to better understand their reservations, and perhaps agree on another way you can explore the fetish in a way that all parties are enthusiastic about. Maybe they are open to exploring something with urine, just not being urinated on.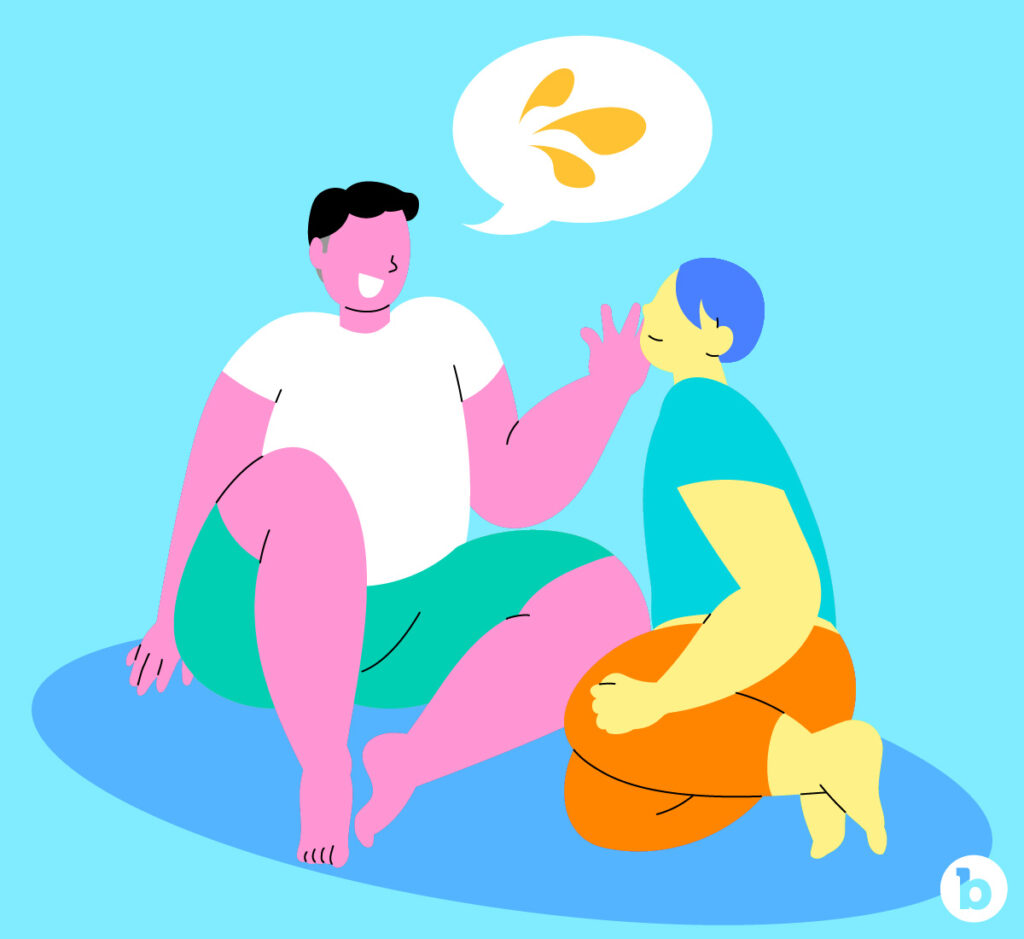 Yes/No/Maybe checklists present a great opportunity to better understand what you and your partner are open to exploring. It also provides the opportunity for a frank and open discussion around sex.
Depending on your relationship status or style, you may also want to consider getting involved in kink/fetish scenes in your area to build community with folks who share your fetish. Perhaps being among like-minded people that enjoy fetish sex will normalize the act to an apprehensive partner and make it seem more exciting.
2. Preparing for golden showers
Once the fetish is addressed and consent is given, you may want to plan ahead by at least an hour by drinking a whole lot of water and urinating frequently. That way, when it's time for the golden shower, the urine's contents are mostly water, making it less offensive to the senses. If that's your preference, of course.
Next, you'll want to plan where the golden shower will take place. While many may opt for a shower or bathtub since it's easy to clean, rinse, and is in the name of the act itself, but these spaces can get a little cramped. Not to mention, for some, making a mess is part of the fun.
Fortunatley, there are vinyl bed sheets created for this very purpose (as well as other potential messes, such as squirting, feces, and lube) that fit any bed up to King size make cleanup a breeze.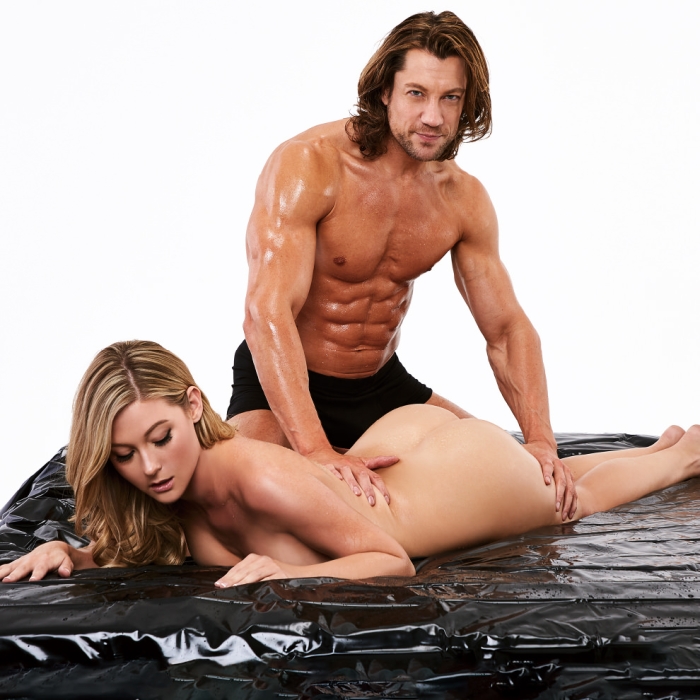 Other ways to pre-emptively minimize mess include: choosing an area with a non-carpeted floor or going outside, using an inflatable kiddie pool, laying down towels, urinating into and drinking from a glass, urinating into a funnel, and using bed pads or shower curtains.
3. First golden shower
Some people may be uncomfortable with a full-blown golden shower from the start, so you may want to ease into things.
You can do this by urinating on the feet to start and work your way up the body until you're being urinated on entirely. You could also try urinating on a partner with the shower on so the urine is washed away immediately.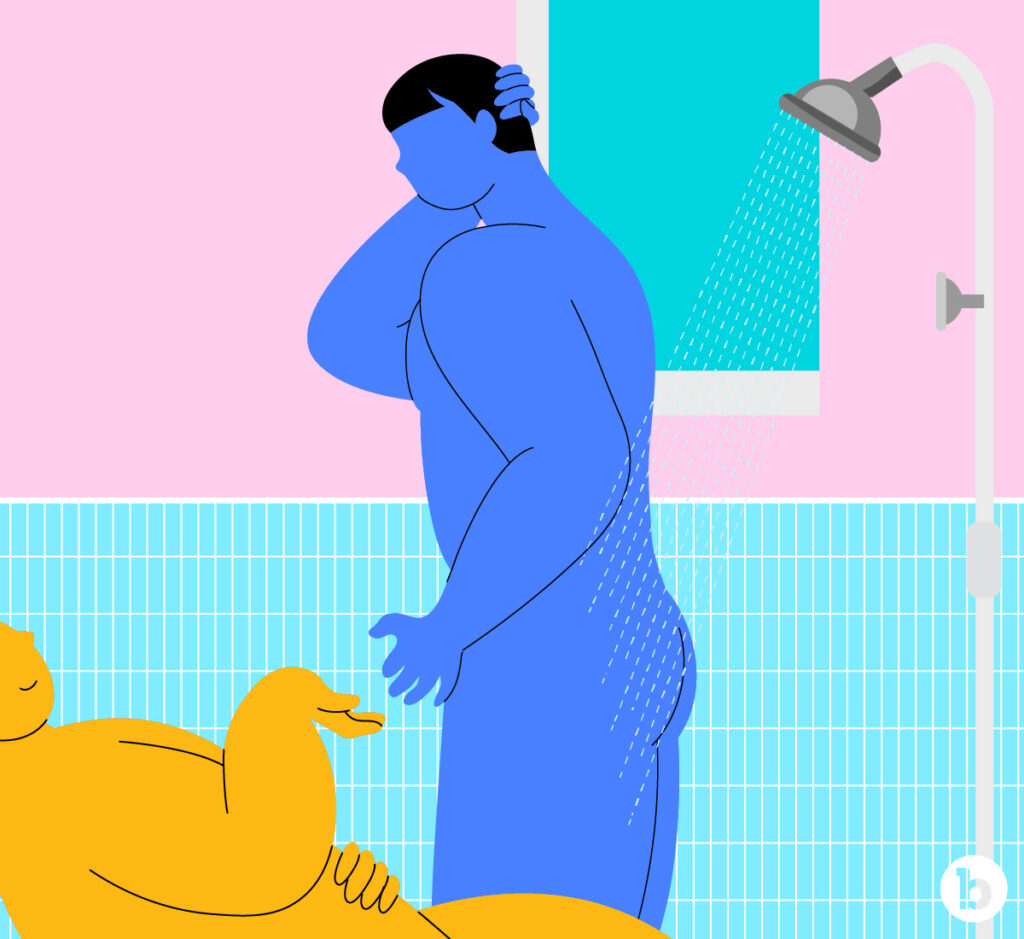 Your partner could also begin by watching you urinate, or perform oral sex after they've urinated. You could also send photos or videos of you urinating before getting into the act itself.
Solo experimentation is another option. Start by touching your urine while you're peeing, or even try urinating on yourself in the bathtub. You can also drink your own urine to test if you have a taste for it.
HOW TO MAKE YOUR URINE TASTE BETTER
According to watersports fetishists on FetLife, the easiest way to make your urine more palatable is to eat and drink properly in the hours leading to the act.
As mentioned prior, the most universal tip is to consume plenty of water. This will dilute the urine by flushing the remaining fluids from your body. Generally speaking: the lighter the urine, the more subtle the taste.
Entries advise that on the days or hours leading to a golden shower, you should eat fruits like pineapple, watermelon, and peaches; drink tea, sports drinks, beer, and eat wheat-heavy products like bread, all of which reportedly alter the taste in a more palatable way. Since artificial sweeteners remain present in urine, consuming products with the ingredient will make the urine sweeter as well.
As a general rule: you don't want your golden shower to be the first pee of your day, since you are likely dehydrated and the smell and taste of the urine may be stronger as a result. Of course, some people are aroused by the more distinctive smell and taste.
If this is the case, items like coffee, asparagus, garlic, and alcohol will give urine a much stronger taste.
OTHER WAYS TO PLAY
If you've found that golden showers are right up your alley and are looking to explore further, you can try mixing cocktails with urine (according to FetLife, mimosas are a fantastic option), you can have a "golden bath" where you lay in bathwater that others have urinated in, you can make urine ice cubes and run them over each other's bodies or suck on them, you can urinate into a vagina or anus, or you can fill spray bottles or squirt guns with urine and spray each other, to make things a little more playful.
GOING BEYOND WATERSPORTS
Roman Shower
The act of vomiting on someone or watching someone vomit for sexual gratification. Also known as "rainbow showers" and "emetophilia," the term "Roman shower" is derived from the misconception that ancient Romans would binge and purge in designated spaces called vomitoriums.
Brown shower
Deriving sexual gratification from fantasies or acts involving feces. More commonly known as "scat play" or "skat play." As is true with golden showers, people are drawn to the scat fetish for the smooth, warm feeling of feces and the taboo surrounding it. The word scat is derived from the Greek "skat," which means "dung" or "excrement."