Rimming, also known as analingus, tossing salad, and eating groceries, is the act of orally pleasuring the anus by licking, sucking, kissing, etcetera. Basically, any pleasurable act that involves anal to oral contact.
While folks across all gender and sexuality spectrums enjoy indulging in the sensations provided by rimming, some get a bit squeamish over the whole anus-to-mouth situation. This is where rimming toys like the Rimming Plug Petite, Rimming Plug 2, and Rimming Plug XL come in handy.
What are Rimming Plugs?
These plugs don't just vibrate; they rotate. All of b-Vibe's Rimming Plugs feature a series of rotating beads in the neck that, once inserted, are nestled right against the sphincter. Providing the wearer with the same knee-buckling pleasure only a good rim job can provide.
In addition to this delicious motion, you also get a 100% body-safe silicone butt toy that is USB-rechargeable and travel-friendly. So whether you LOVE rimming or you're just curious about it and want to explore it on your own before trying it with a partner, b-Vibe's Rimming Plug collection has something for you.
Rimming Plug Petite
Let's begin with the Rimming Plug Petite. The baby of the Rimming Plug family is perfect for beginner booties. It only has 3.9 inches of insertable length, but this little plug packs a pleasure punch.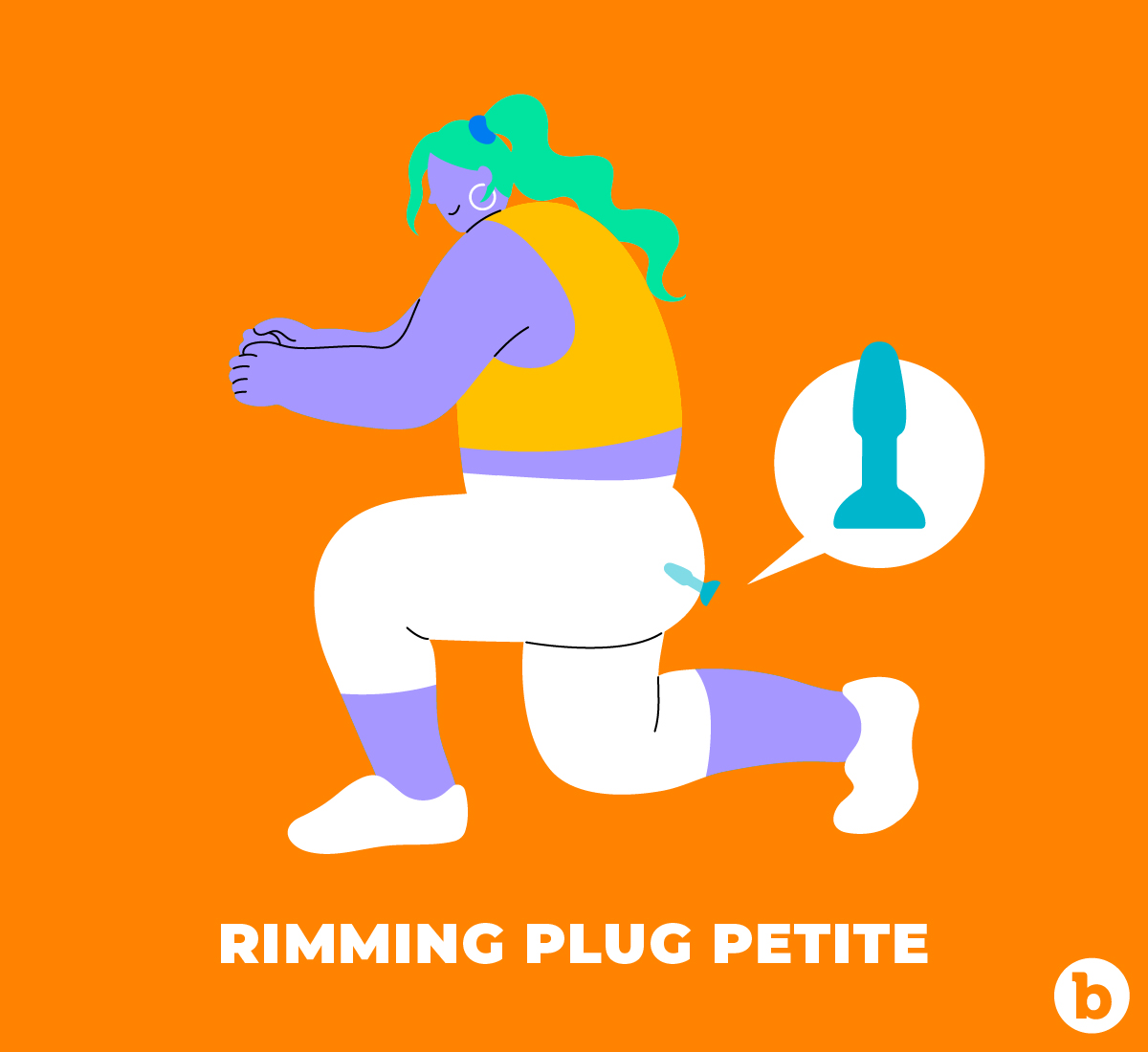 The Petite features a rounded, easy to insert tip, a powerful vibrator, and rotating beads in the neck with six rotation and vibration intensities. There are also seven unique rotation patterns that can be controlled by a wireless remote that works indoors or outdoors from up to 30-feet away. It makes solo anal masturbation less stressful (no contorting into weird positions to reach the controls), and it can spice up partner play.
Rimming Plug 2
For those of you looking for a little more girth, we have the Rimming Plug 2. You get all the power, rotation skills, and remote capabilities as the Petite wrapped in a larger package.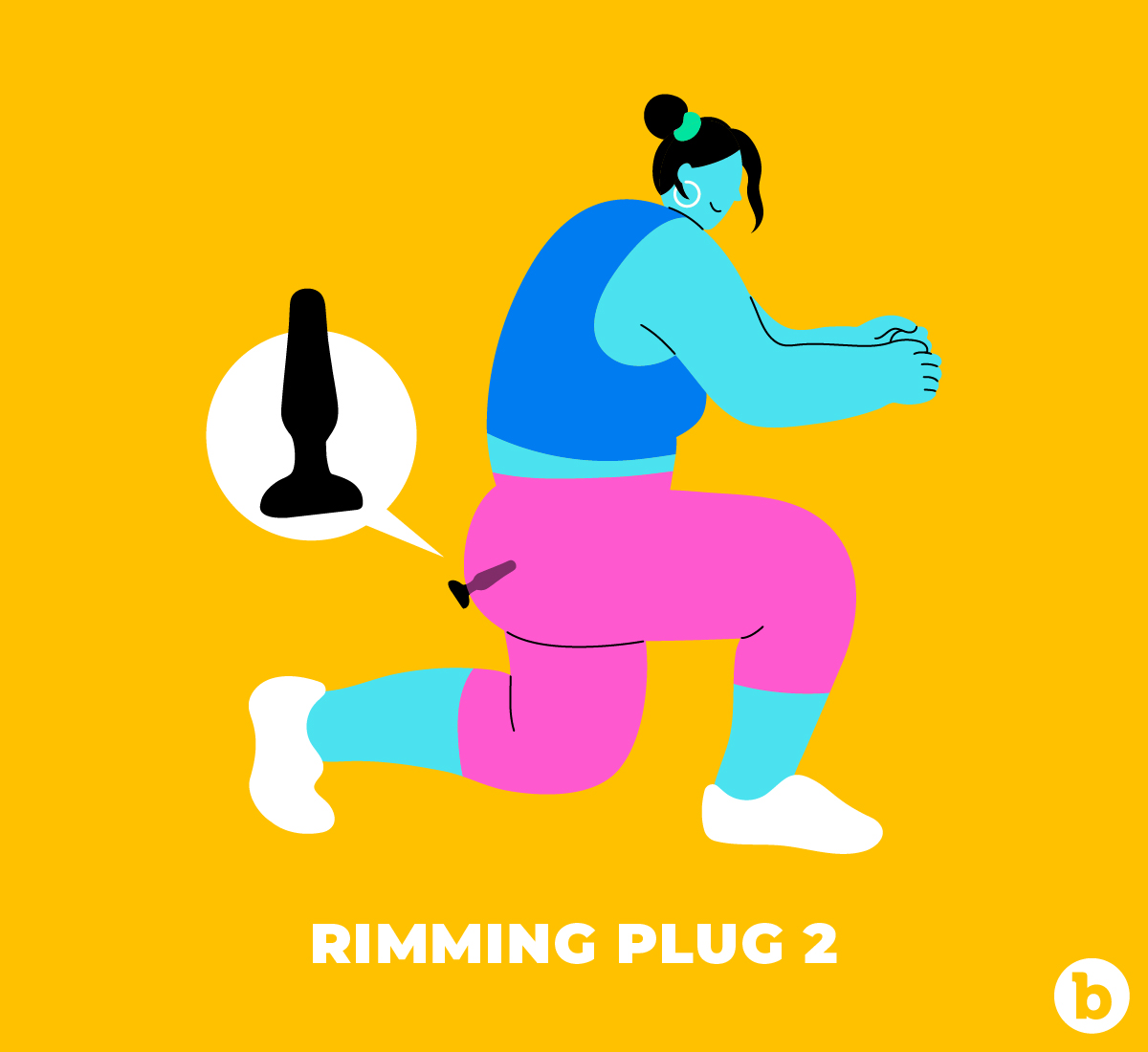 At 4.9 inches, it's ideal for G-spot and prostate orgasms (depending on the angle), doubling your pleasure possibilities. This plug is excellent for experienced butt toy players, but its size is not suitable for beginner butt stuff.
Rimming Plug XL
Now a little something for you advanced butt stuff aficionados who love toys of size. The Rimming Plug XL features 5.3 inches of insertable length, 2.2 inches in circumference, and a studded silicone neck. Couple that with six vibration intensities and seven unique rotation patterns, and you get a sensation bonanza.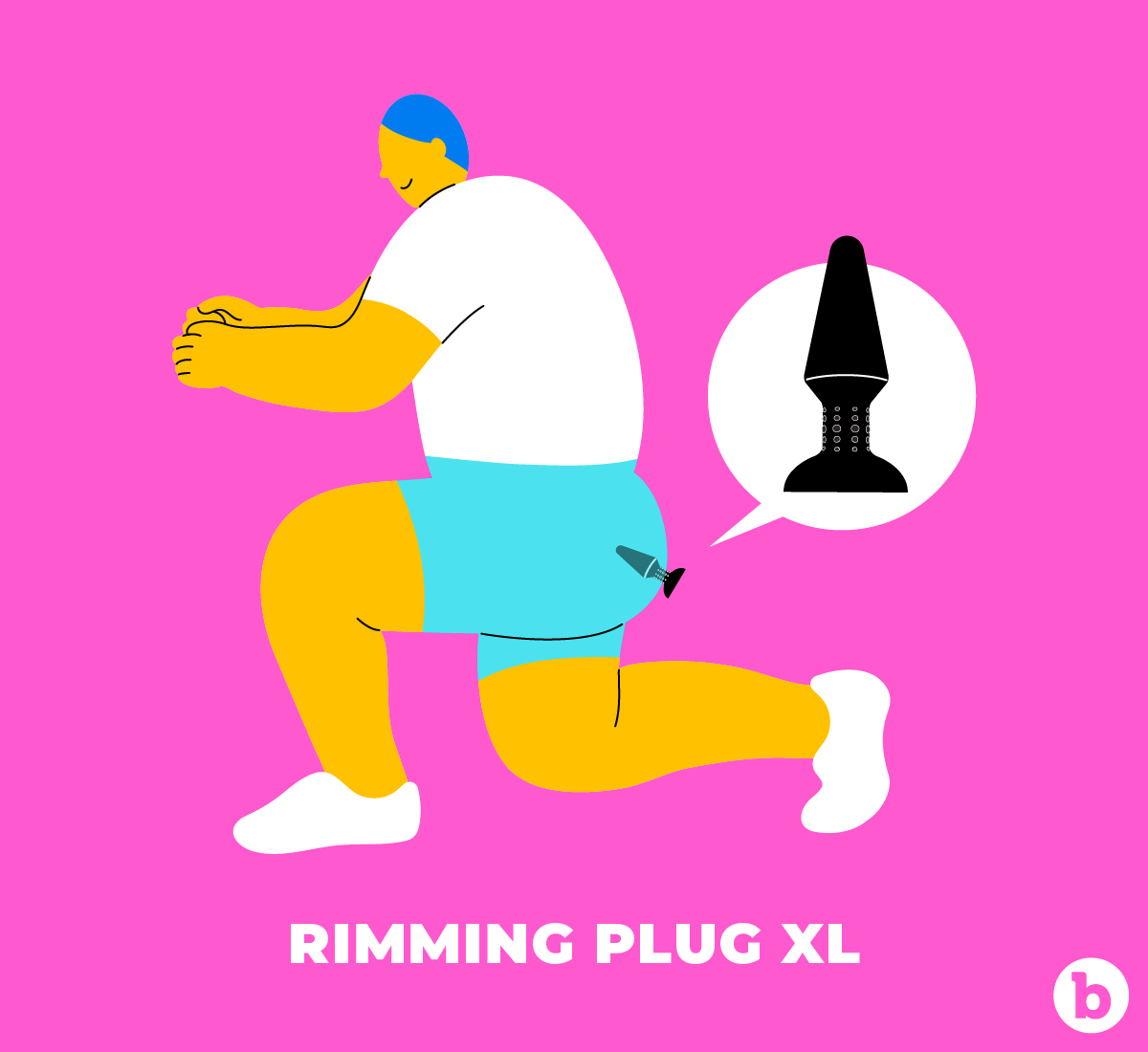 Like the other Rimming Plugs, the XL has a tapered tip for easy incremental insertion and a wireless remote.
How to Use a Rimming Plug
No matter which size Rimming Plug you choose, you'll get a butt toy shaped for ease of use. Tapered tips allow you to take your time when inserting the plug. The gradual increase in size stretches and massages the sphincter, allowing you time to adjust to the feeling of fullness and any mild discomfort you may experience.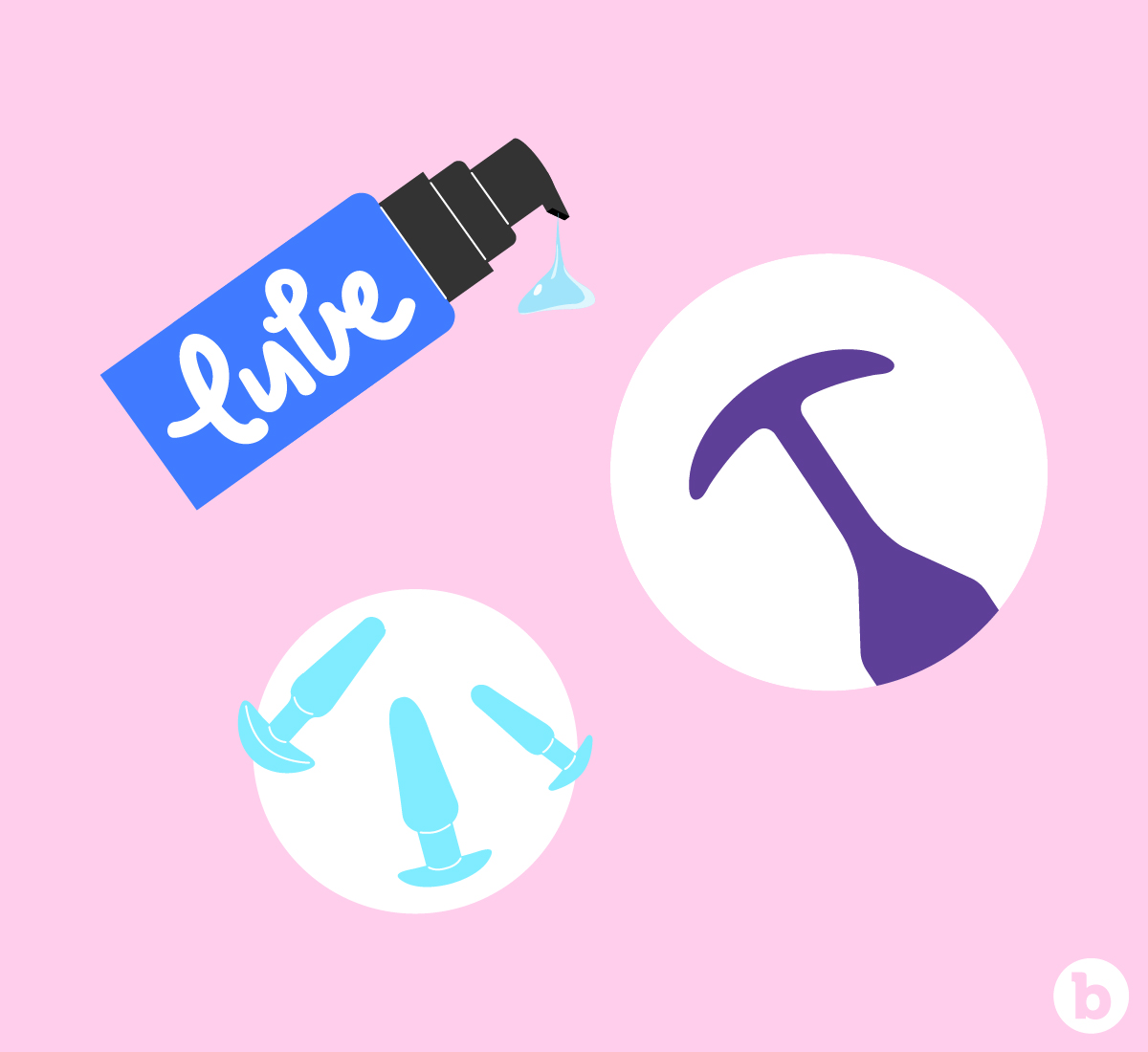 As with all sex acts, if at any point you experience pain beyond mild discomfort, stop and take a moment to regroup and assess the issue. Adding a thick cushy water-based lube like the b-Vibe Natural Water-Based Lubricant to your play will help cut down on friction that could lead to pain and make butt play not so enjoyable.
Remote-Controlled Pleasure
Rimming Plugs are super multi-faceted because you can use them for so many types of play. Are you excited for a little solo sex adventure? The Rimming Plug's remote makes hands-free butt fun possible. No bending over backward to press the buttons, so you can use your hands for other important things like wielding a second toy or groping yourself.
Are you looking for ways to spice up your D/S dynamic? A remote-controlled toy can turn mundane chores like sweeping the floor or washing the dishes into lessons on focus, and any of the Rimming Plugs would be a great addition to your sensation play arsenal. Are you feeling daring? Take your Rimming Plug for a spin outdoors with a partner. Hand over the remote and prepare for more than just dessert at the end of your meal.
Caring for Your Rimming Plugs
When the fun is all done, it's time for your Rimming Plug to hit the showers. All of the Rimming Plugs are splashproof and shower friendly, making post-sex wash-up a breeze.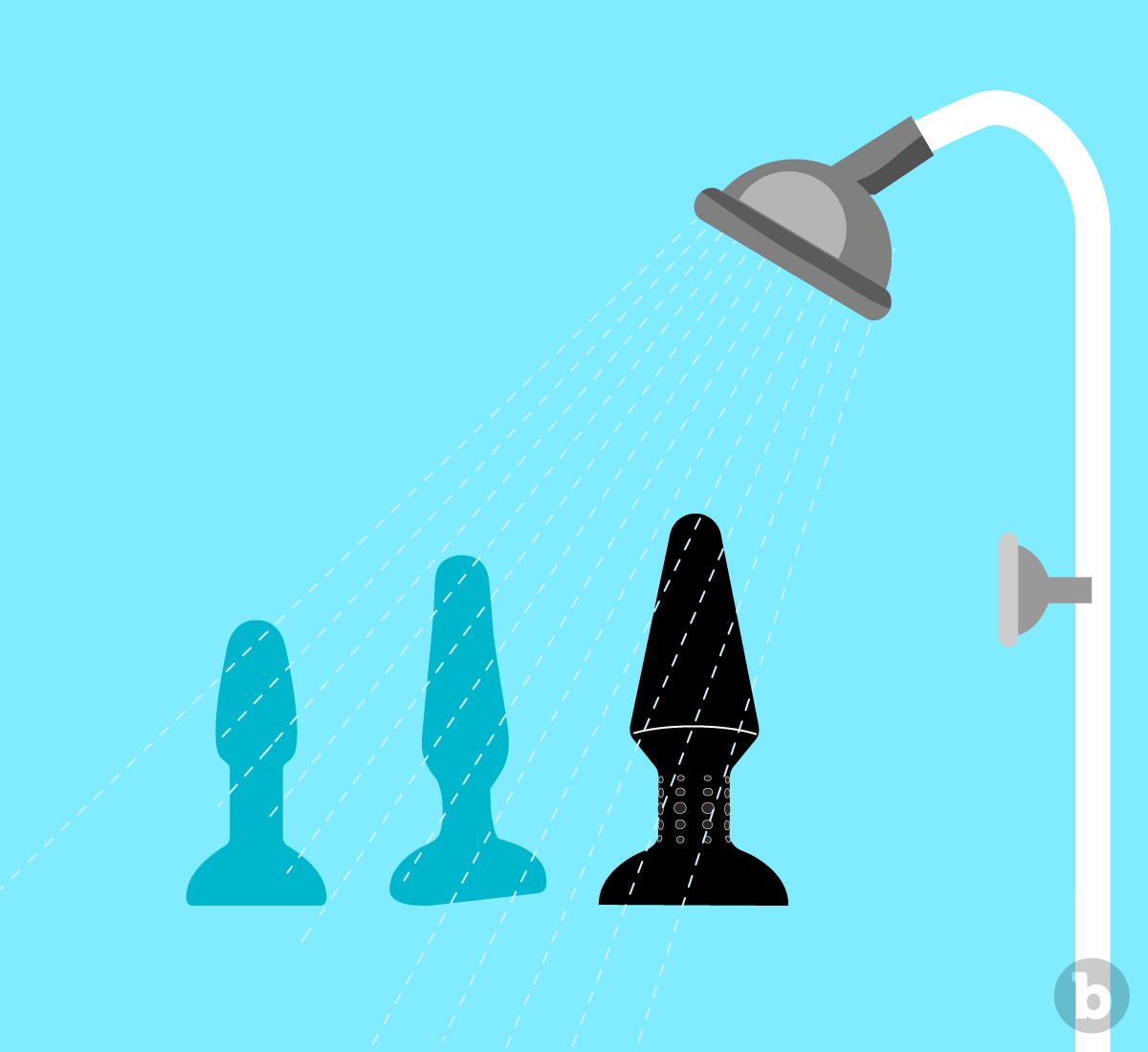 Start by washing the plug with warm water and soap. I use unscented Castille soap for all of my toy washing. If you aren't too keen on using your hands to clean up a butt toy, you can always wear gloves or use a soft cloth to give your toys a good scrub. Once the plug is dry, give it a generous spray with a toy cleaner like the b-Vibe Organic Toy Cleaner and let it sit for a few minutes before you rinse it off.
Once your toy is clean, you can take it a step further and sanitize it. Because the Rimming Plugs are motorized, you can't sanitize them using boiling water or by submerging them in 10% bleach solution. You can, however, use a UV system like b-Vibe's UV Sterilizer Pouch. Three minutes a pop and say bye-bye to germs and bacteria!
Once your plug has been thoroughly cleaned and sterilized, place it inside its case or zippered pouch to keep it dust-free until your next butt stuff adventure.