The ever-popular Snugs Plugs are b-Vibe's torpedo-shaped answers to the weighted butt plug!
Each Snug Plug is shaped and weighted to provide the wearer with feelings of fullness and motion. While the thin, flexible neck and smooth grip handle make them ideal for long-term wear. If you've been eyeing b-Vibe's collection of uniquely shaped silicone plugs, here are some tips to make choosing one a little easier.
Before we get started, let's get it out of the way. Why is the Snug Plug shaped the way it is? Let's break the torpedo shape down from top to bottom. First, we have the graduated tip for easier insertion. The tip flows into a cylindrical body that serves two purposes. The barrel shape fills the anal cavity entirely upon insertion, and it houses the weights that add to the feeling of fullness you get while wearing a Snug Plug. The top and bottom of the plug's body are highlighted by ridges that, at first glance, don't look booty friendly but are actually soft, flexible silicone ridges that provide stimulation whenever you move. The base of this uniquely shaped plug consists of a think, flexible neck, and a smooth crescent-shaped handle that looks a little off next to the beefy body of the Snug Plug, but makes wearing the plug for long periods a comfortable endeavor.
Now that you know more about the Snug Plug, it's time to choose the plug that best fits your body and needs.
Choosing the right size adventure
Snug Plugs come in 6 different sizes ranging from 3.4 inches to 6.3 inches in length and weighing 55 grams (Size 1) to 515 grams (Size 6). Vibrating Snug Plugs only come in two sizes, Medium (comparable to the Size 2 plug) and XL (comparable to the Size 4), weighing 112 grams and 247 grams, respectively.
With such an extensive range of sizes and weights to choose from, picking the right size can feel overwhelming. Luckily, the answer is already in your toy bag. Grab your current favorite butt plug and measure the length and circumference. Once you have those numbers, check out the handy sizing chart on the b-Vibe website to see which Snug Plug is closest in size to yours.
If you don't have a plug to compare to, you'll want to go with the plug that fits your skill level. Size 1 plugs are GREAT for butt stuff newbies, while sizes 2-3 and the Medium Vibrating Snug Plug are suitable for experienced folks who are looking into sizing up from a beginner plug but aren't ready for BIG butt toy territory. If you're a fan of big butt toy play, then sizes 4-6 and the XL Vibrating Snug Plug will be perfect for you. If you're unsure of what size to go with at your skill level, opt for the smaller one. Trust me; our eyes are always bigger than our buttholes.
To vibrate or not to vibrate, that is the question
The easiest way to decide this is to ask yourself how much sensation you need in your life. The soft, flexible ridges and the weights inside the plug will provide you with a fair amount of manual stimulation.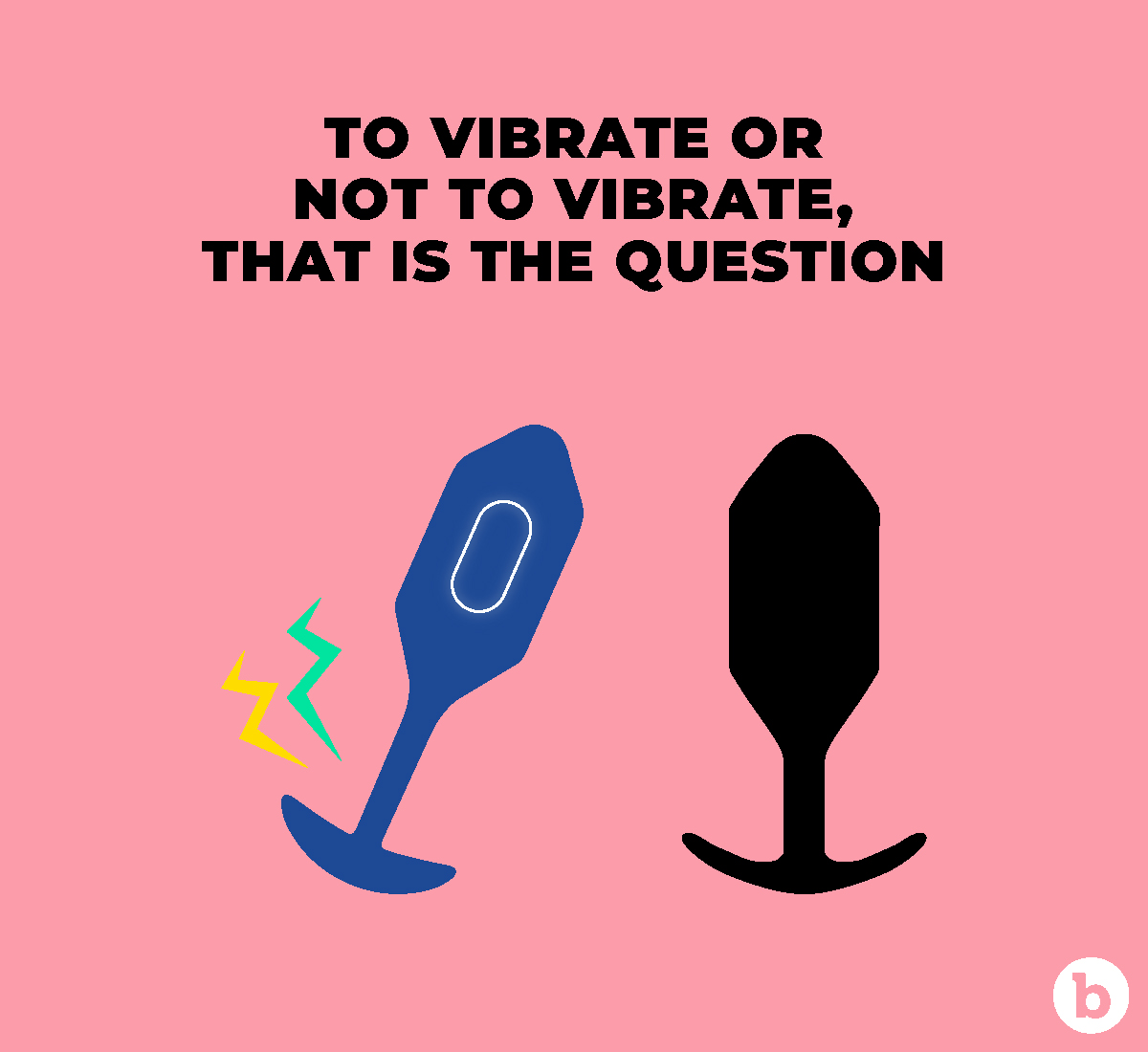 If you're sensitive to sensations adding then adding a layer of vibration will feel like torture, but if you LOVE lots of sensation, adding six vibration patterns to your life is a great idea—unless you're a newbie. The Vibrating Snug Plug is only available in Medium and XL right now, so you'll need to wait until you're ready to size up to try out a vibrating plug.
Getting started
Once you've chosen your plug and you're ready to give it a whirl inserting, it is no different from inserting any other plug. Start with your anal prep routine, then relax, lube up the outside and inside of your anus, and the plug with a cushy water-based lube, and take your time gently inserting the plug. If you're still a little worried about comfortably inserting the torpedo shape, you can always warm up using a plug your butt is already familiar with.
MASTER: Learn how to prepare for anal sex like a pro!
Snug Plugs are perfect for both solo and partnered play. The added pressure and sensation of having something in your butt during sex can amplify your pleasure leading to toe-curling orgasms. I've also found Snug Plugs stay in place during vigorous partner play and masturbation sessions better than classically shaped plugs. No more plugs suddenly popping out when things get FRISKY! Also handy if you decide to be adventurous and wear your Snug Plug outside the house. The last thing you need is your plug dropping down while you're running errands.
Cleaning and caring for your Snug Plug
You should care for your Snug Plug like the rest of your butt toys. Immediately after use, rinse the plug with warm water and use a mild soap to wash it thoroughly. Next, give the plug a generous spray of toy cleaner like b-Vibe's Organic Toy Cleaner, wipe it down, rinse it and dry it thoroughly before putting it away.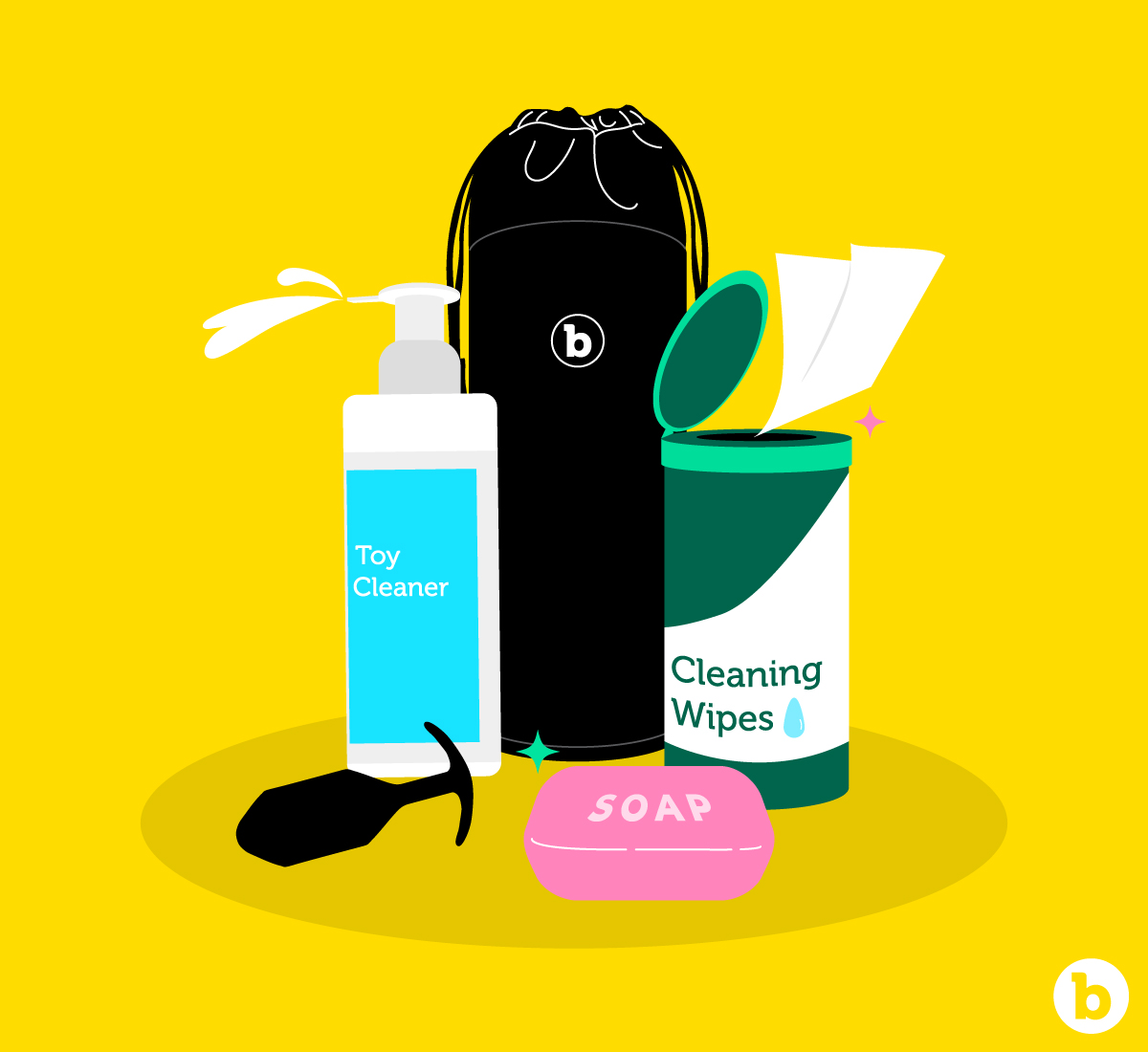 If you want to sterilize your plugs, you can go the traditional route and boil them (non-vibrating toys ONLY), or you can step into the future and use b-Vibe's UV Sterilizer Pouch (for both vibrating and non-vibrating toys). I suggest sterilizing the toys you regularly use at least once a month.