Struggling to find the perfect gift to treat yourself or your special someone? Look no further than the b-Vibe holiday gift guide. Get ready to keep things hot and steamy this winter with gifts that keep on giving. Be sure to order before
December 17
to ensure that your toy arrives before Christmas!
---
Shop Our Best-Seller
Rimming Plug 2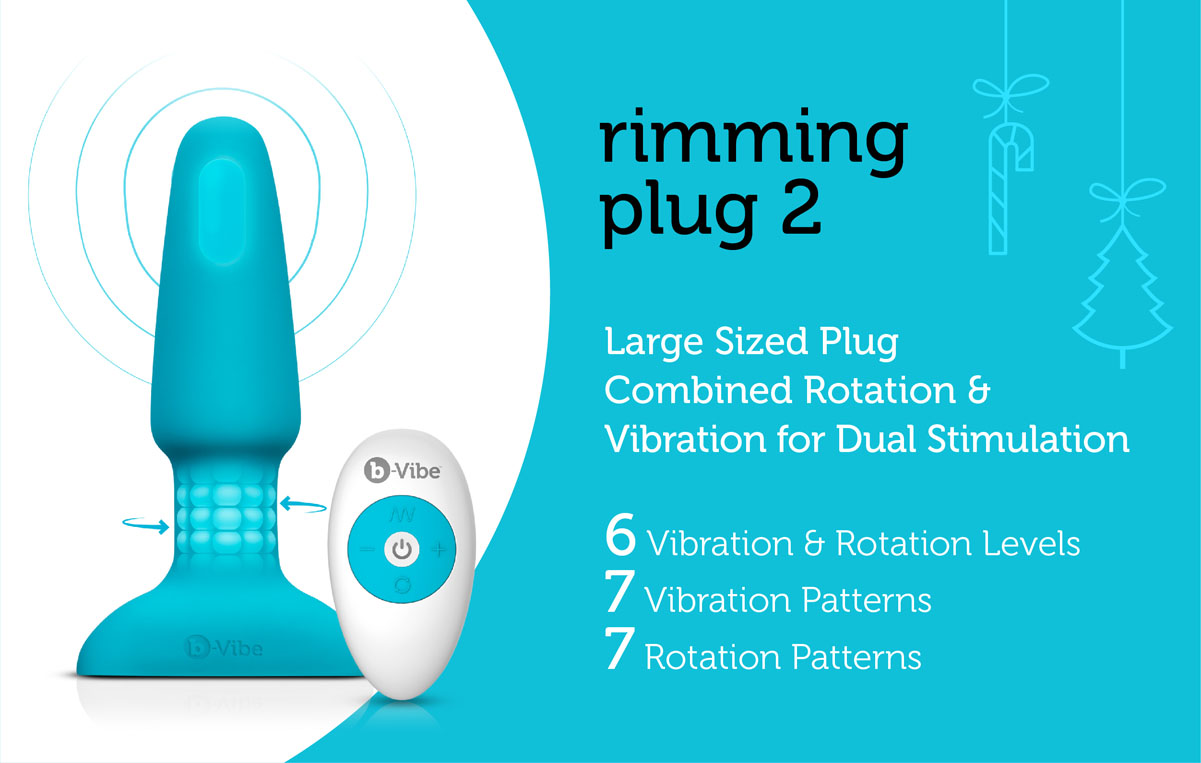 Anal enthusiasts rejoiced when we released the world's first Rimming Plug — A vibrating butt plug with rotating beads that mimic the feeling of
analingus
a.k.a. getting your butt licked. What's more? The new & improved
Rimming Plug 2
features a powerful motor in the tip that's perfect for
prostate play
or
G-spot stimulation
. An easy-to-use remote makes it just as fun to use with a partner as you would using solo.
The Rimming Plug 2 will definitely be loved by:
- experienced anal enthusiasts who are looking to add a unique toy to their collection
- someone who enjoys oral stimulation of the booty
- couples who want to explore & reap the benefits of dominant/ submissive play
Shop Best Plugs for Beginners
Rimming Plug Petite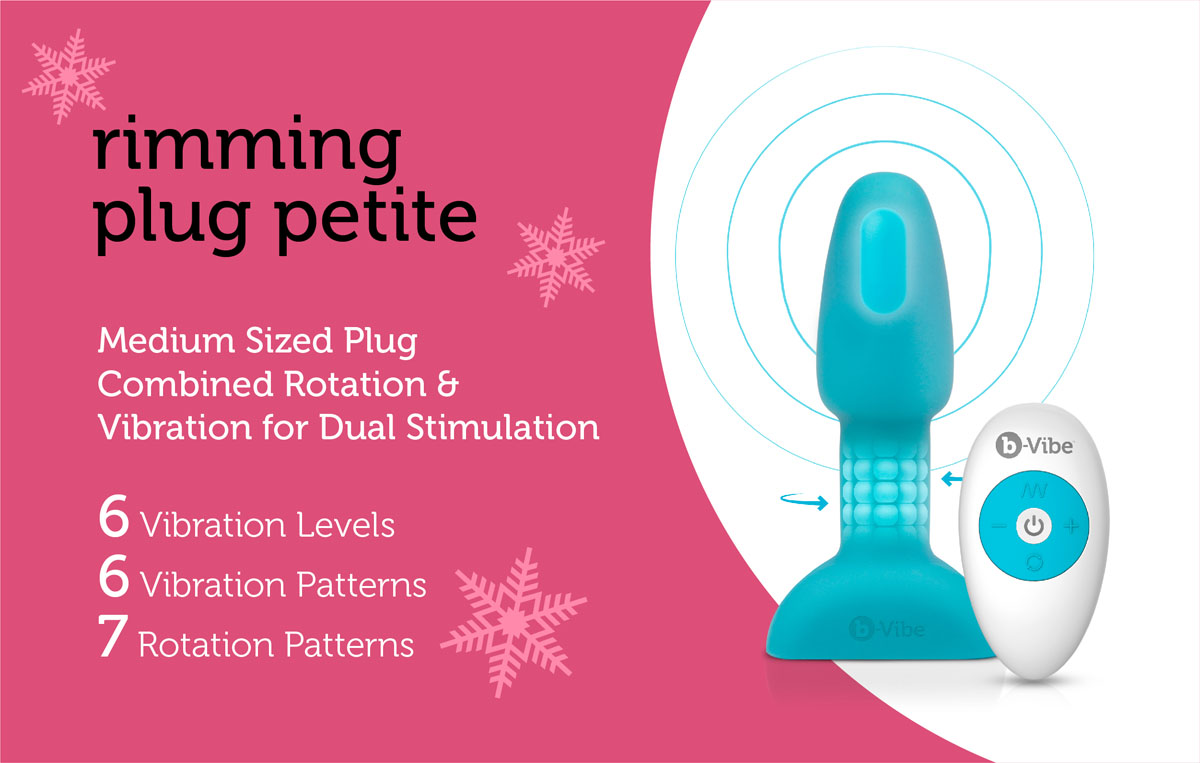 You guessed it! The
Rimming Plug Petite
is a smaller version of our award-winning and most popular vibrating butt plug. The Petite offers the same perks as the Rimming Plug 2 — rotating beads to mimic a rim job and a vibrating tip to hit the P-Spot or G-Spot — in a more 'new-to-anal' fashion. It includes a one-touch remote for easy access and customizable control.
The Rimming Plug Petite will be a great gift for:
- a beginner who's interested to explore some anal play - someone who enjoys having their butt licked - someone who wants to ease into anal sex
Novice Plug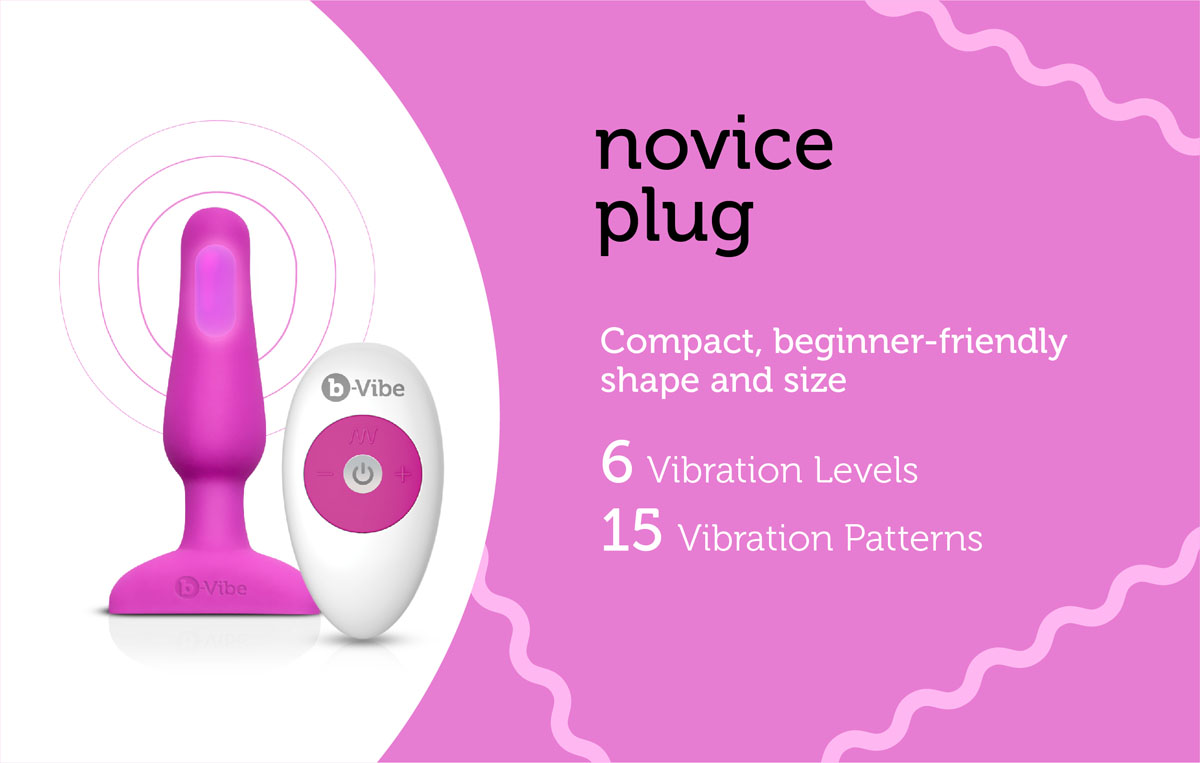 The
Novice Plug
boasts all the vibrating power that you could ask for in a butt plug, without being too large or intimidating for first-timers. True to its name, this finger-sized butt plug is flexible, easy to insert, and comes with a flared base for a comfortable fit between the butt cheeks. The remote-control feature adds a fun dynamic to sex play around the house or even a romantic dinner.
The Novice Plug is perfect for:
- someone who is trying 'butt stuff' for the first time - anal play lovers who want to transition from fingers to a toy or penis - extended (public) wear and couples play
Shop Classic Anal Toys
B-VIBE RECOMMENDS
Continue Reading
Snug Plugs 1- 4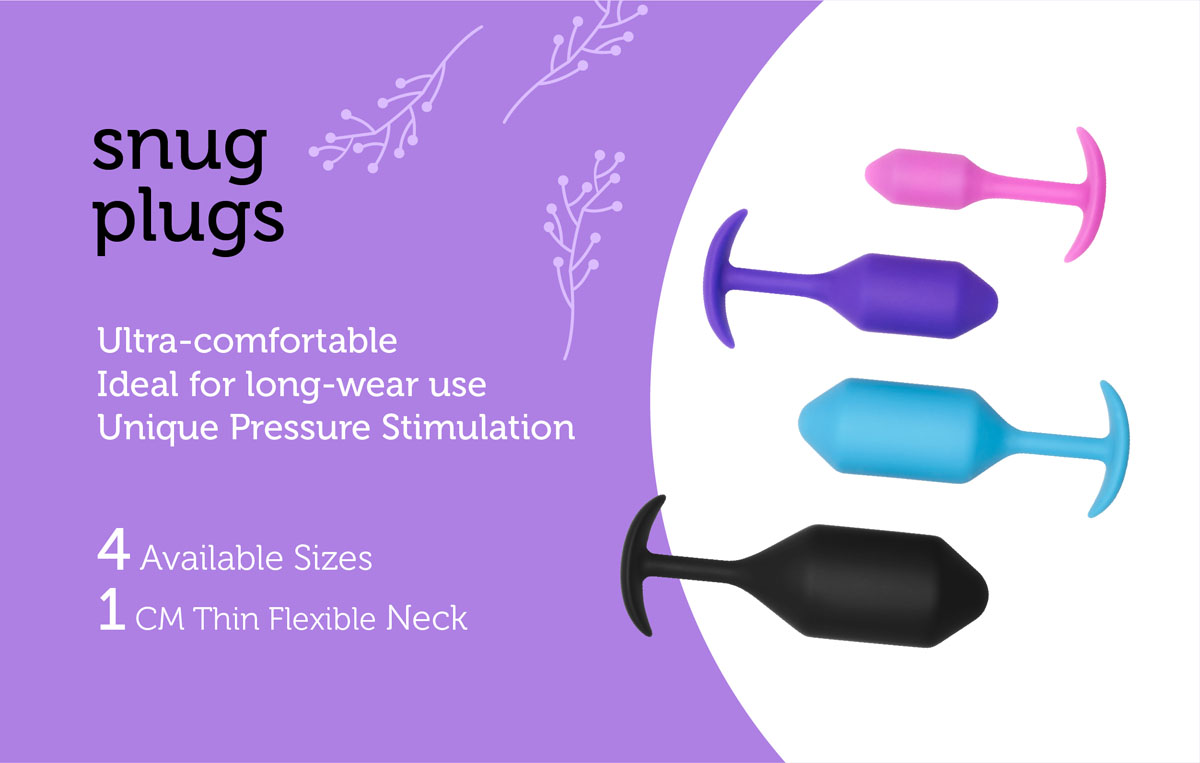 Craving that sensual feeling of fullness? Meet the '
Snug Plugs
' — A collection of weighted butt plugs that get bigger & heavier as you get more daring in your anal play. Ultra-comfortable to wear, the Snug Plugs feature a flared base that's suited for extended wear. They're also great to ease yourself into anal sex, step by step.
The Snug Plugs are ideal for:
- beginners and advanced anal enthusiasts (
Pssst… we've even got a Snug Plug 5
) - someone who is adventures and loves public play - someone who enjoys discreet stimulation for an extended period of time
Triplet Anal Beads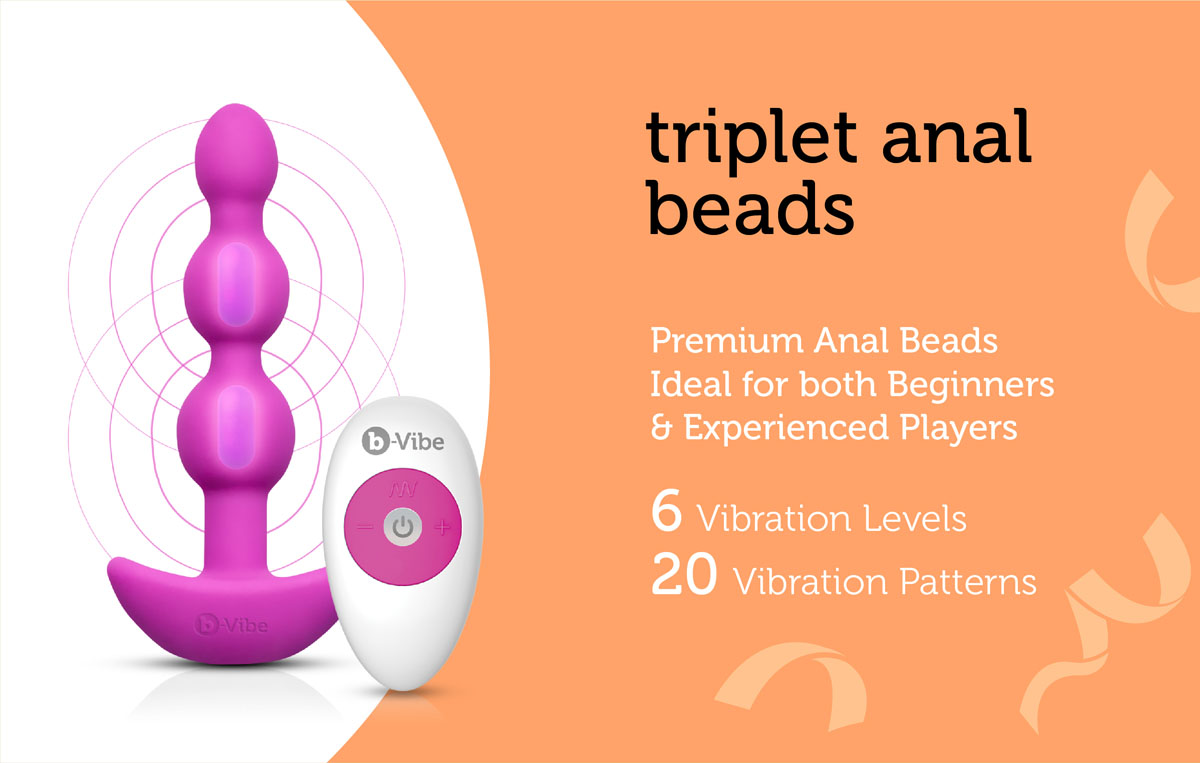 The
Triplet Anal Beads
are the only rechargeable, remote-controlled anal beads out on the market — and no sex toy collection would ever be complete without them! Designed for beginners, these tapered beads get progressively larger and facilitate easy anal training. What makes the Triplet extra special are the two powerful motors that offer 6 intensity levels and 15 vibration patterns.
The Triplet Anal Beads are perfect for:
- beginners who want to work their way up to full anal penetration - someone who likes the added sensation of vibrations - someone who wants to enjoy a hands-free orgasm
Trio Plug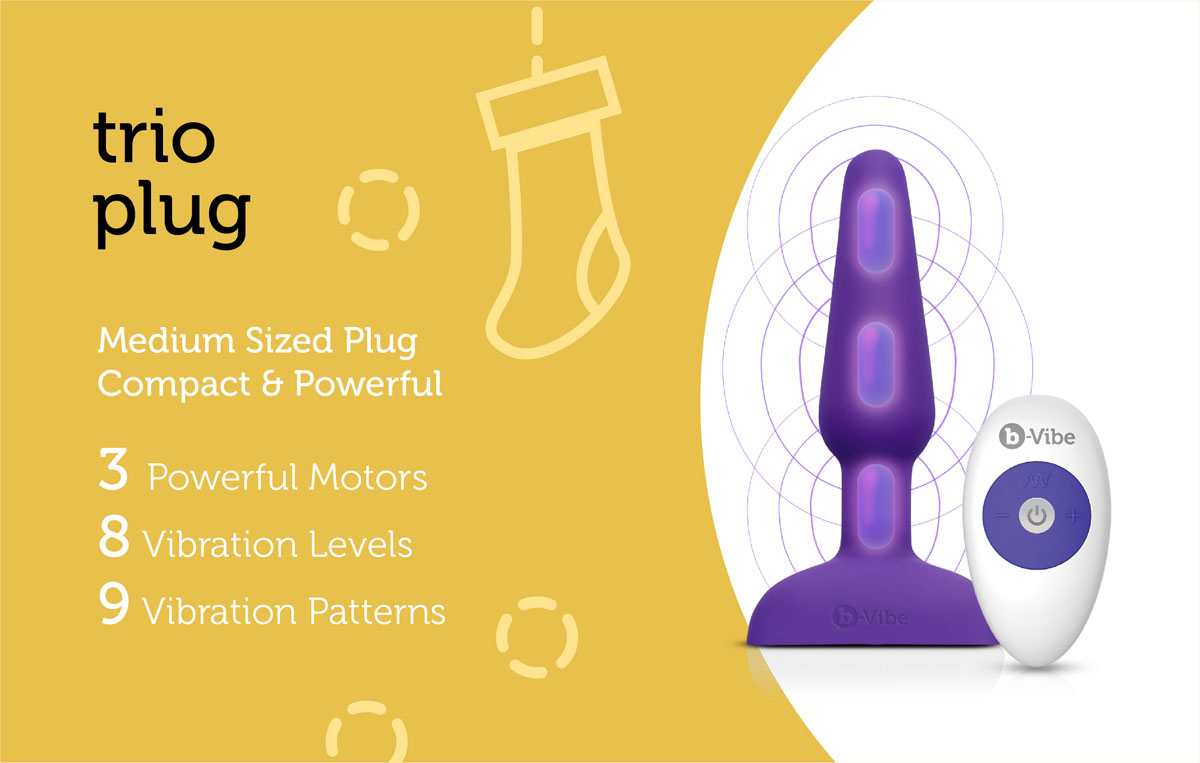 If you're already past fingers and want something slightly larger, try our
Trio Plug
. A medium-sized, vibrating butt plug that's built for pure power. The Trio has three powerful motors throughout the entire toy that features 8 vibration intensity levels & 9 vibration patterns. And the amazing thing about vibration is that it's not only a pleasurable sensation, but it also relaxes the sphincter muscle.
The Trio Plug is a great fit for:
- someone who's seeking ultra-powerful vibrations in a compact toy - seasoned anal aficionados - solo or couples who want to elevate their plug play to the next-level
Shop Advanced Anal Toys
Cinco Anal Beads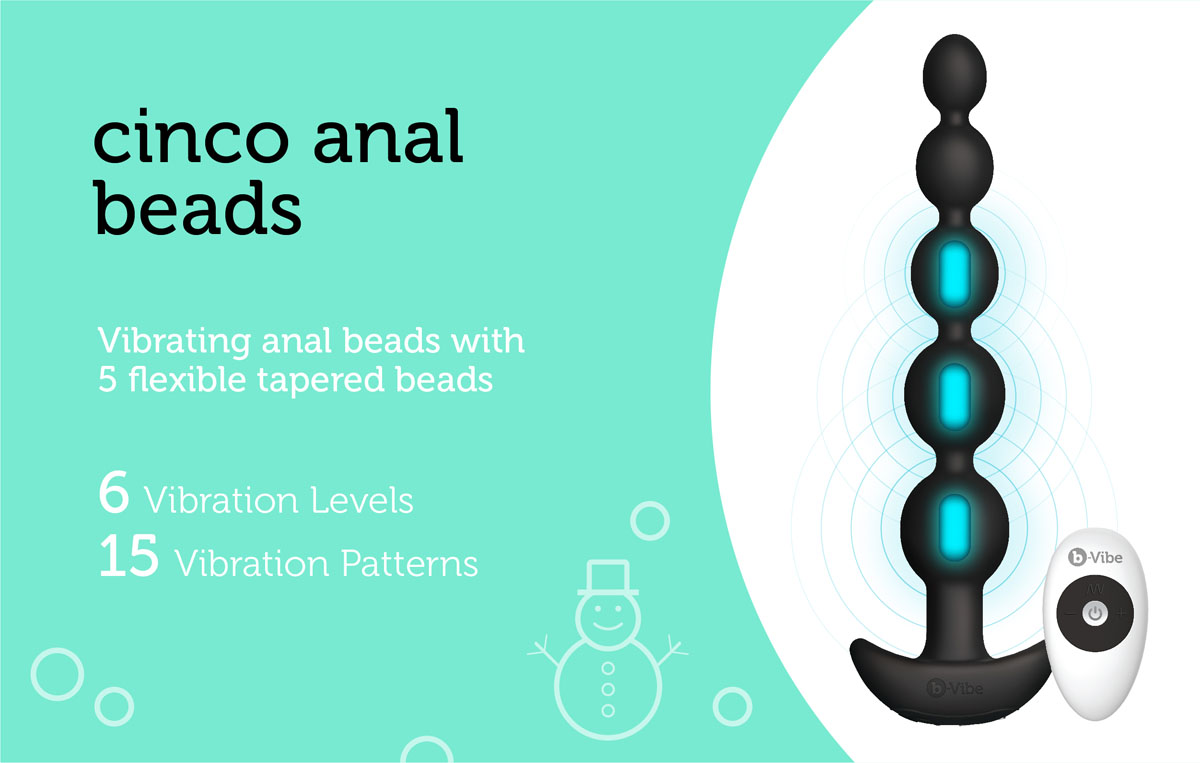 Experience game changing orgasms with our latest masterpiece, the
Cinco Anal Beads
. We took our award-winning
Triplet Anal Beads
and added two more. Because why not? Featuring 5 tapered beads that are flexible and easy-to-insert, the Cinco is a must-have for anal enthusiasts who enjoy deep, powerful sensations. Pull out the beads during climax for a heightened orgasm!
The Cinco Anal Beads are the ultimate gift for:
- advanced anal players - someone who love strong vibrations and the feeling of fullness during anal - someone who's interested in a toy that offers diverse couple play possibilities
Snug Plug 5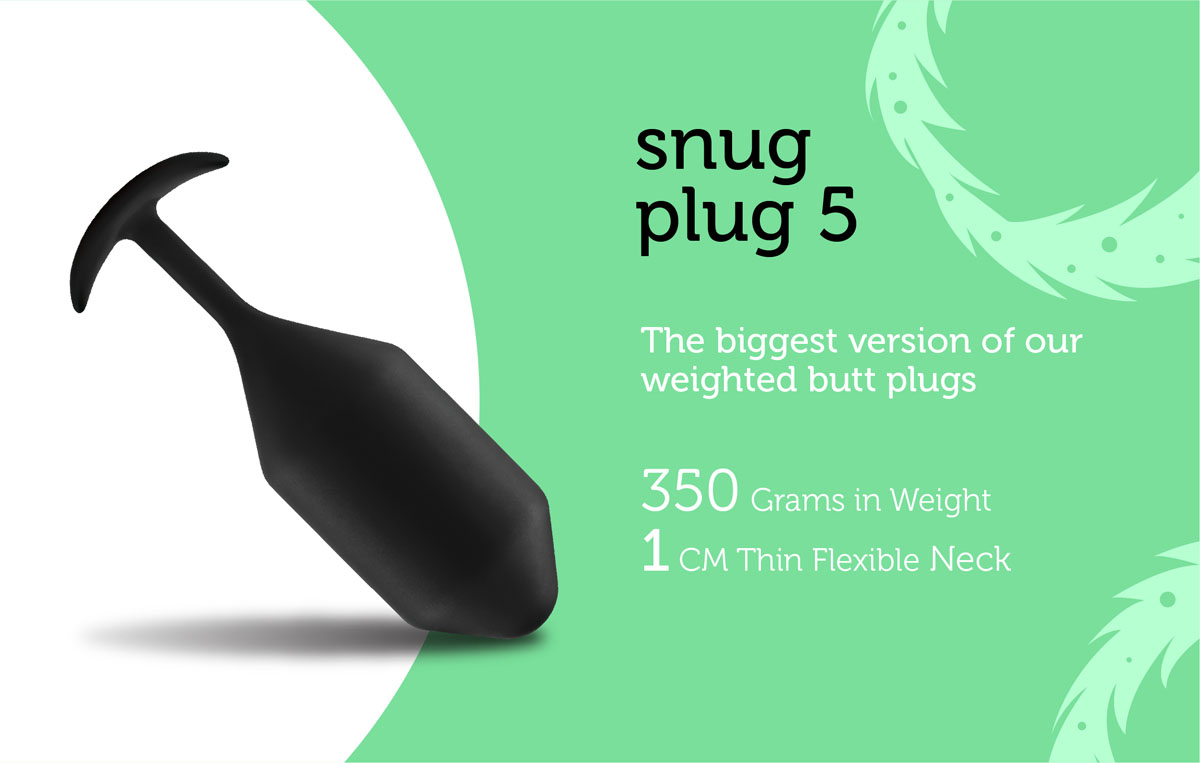 Gift yourself or your partner our latest and largest weighted butt plug, the Snug Plug 5. Weighing in at 350 grams, the
Snug Plug 5
is designed to create an incredible feeling of fullness and pressure during anal play. Grab the lube and get ready to have bigger and better orgasms this winter.
The Snug Plug 5 is the best choice for:
- seasoned pros and size queens - those who crave the feeling of being filled and stretched to the max - someone who enjoys extended wear