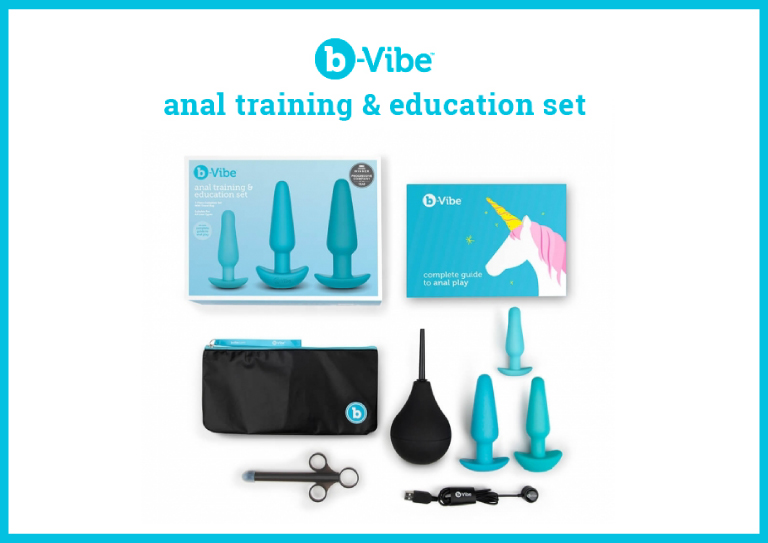 The Ultimate 7-Piece Set Delivers Best of b-Vibe With Premium Selection of Plugs, Accessories and Complete Guide to Anal Play.
b-Vibe's comprehensive collection of anal pleasure products is expanding with the addition of the 7-Piece Anal Training & Education Set, a one-of-kind compilation of must-have b-Vibe plugs along with essential accessories and more.
"Like all b-Vibe products, we specifically had the customer experience in mind when creating this set," COTR founder and CEO Alicia Sinclair said. "We aimed to create a set that anyone can use throughout their entire anal training journey — each plug provides a unique sensation, plus we've included useful accessories such as a reusable enema for hygiene, a lubricant launcher for comfortable lube insertion, an antibacterial travel bag, and last -but certainly not least- our new 60+ page Complete Guide to Anal Play."
The Complete Guide to Anal Play reflects b-Vibe's unwavering dedication to pleasure-focused sex education. The comprehensive full-color book covers a wide variety of topics, ranging from hygiene, understanding and overcoming the stigmas associated with anal play to the basic of why and how we experience pleasure. The guide dispels common myths an rumors, while also providing a step-by-step guidance on how to use the include products.
"We've crafted this book to really guide users — regardless of gender or orientation — through their anal play journey," Sinclair said. "We want to ensure that we provide the support that our customers want and need, to have an enjoyable experience."
The elevated customer experience begins before the contents of the set are even revealed. The Anal Training and Education Set comes in sleek box packaging in b-Vibe's signature vibrant teal color that's warm and inviting to all curious customers.
The Anal Training & Education Set includes:
Small Silicone Plug: Non-vibrating beginners size with flexible neck and curved base
Medium Vibrating Rechargeable Plug: Premium, vibrating, medium-sized butt plug with one powerful motor and magnetic charging pins
Large Weighted Plug: 180g weighted plug for the sensual sensation of pressure in a wearable silicone plug
Complete Guide to Anal Play: Comprehensive how-to guides and easy step-by-step advice
Reusable Anal Enema
Lubricant Launcher
Travel/Storage Bag
b-Vibe™ is a premium, certified body-safe collection of healthy anal sex products founded by Certified Sex Expert, Alicia Sinclair. b-Vibe™'s high-end designs are combined with engaging branding and marketing, which is focused on conveying sex positive education with a fun, friendly approach.
For sales, email customerservice@bvibe.com.