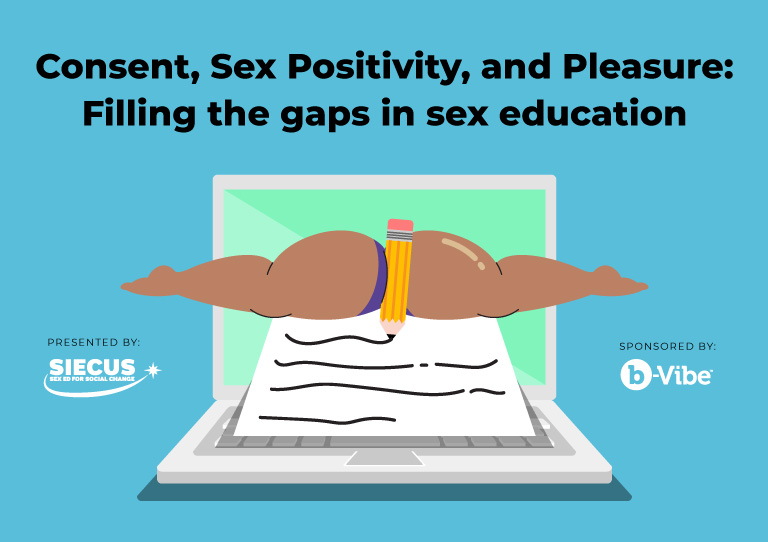 As part of their ongoing Sex Ed Initiative, b-Vibe has joined forces with seminal sex education organization SIECUS: Sex Ed for Social Change to serve as the lead sponsor for "SIECUS ONLINE." This new webinar series features virtual armchair discussions exploring the latest topics in sex education with leading experts in the field.
Slated for September 17 at 7 p.m., ET/4 p.m., PT, the latest installment of the webinar series will focus on "Consent, Sex Positivity, and Pleasure: Filling the Gaps in Sex Education."
The session will feature a panel of sexual wellness experts that will discuss "what we mean when we say, 'consent,' 'sex positive,' and how these topics can transform relationships with ourselves and others. We'll also dive into why we need to cover both positivity and pleasure within sex education."
To register for the webinar, click here. All proceeds from SIECUS ONLINE events support invited speakers and SIECUS' work advancing sex-ed across the United States.
"We're thrilled to partner with the historic SIECUS organization to present this groundbreaking series of webinars focusing on topics that are so important as part of b-Vibe's mission to make sex-positive education available to everyone," said Alicia Sinclair, the Founder and CEO of b-Vibe. "We can't wait to participate in this month's event, and learn from the esteemed panel of experts — we encourage everybody to attend! As sex nerds at heart, the entire b-Vibe team is totally geeking out!"
SIECUS has been advocating for everyone's right to accurate and comprehensive sexuality information, education and related health services since 1964. b-Vibe's core mission echoes that of SIECUS, with the brand's aim to empower exploration through education. By offering a constant array of accessible content, carefully written guides, and real-world information, b-Vibe unceasingly promotes inclusivity and informed play to the brand's diverse legion of supporters.
"SIECUS couldn't have found a more compatible partner than b-Vibe to present our webinar series," Christine Soyong Harley, President and CEO said. "We are proud to partner with a brand that so closely aligns with our mission, and also acknowledges that sex education is a powerful vehicle for social change. SEICUS is grateful for the support of b-Vibe as the lead sponsor of the SIECUS ONLINE webinar series."
SIECUS: Sex Ed for Social Change has served as the national voice for sex education for over 55 years, asserting that sexuality is a fundamental part of being human, one worthy of dignity and respect. For more information about the organization, visit siecus.org.