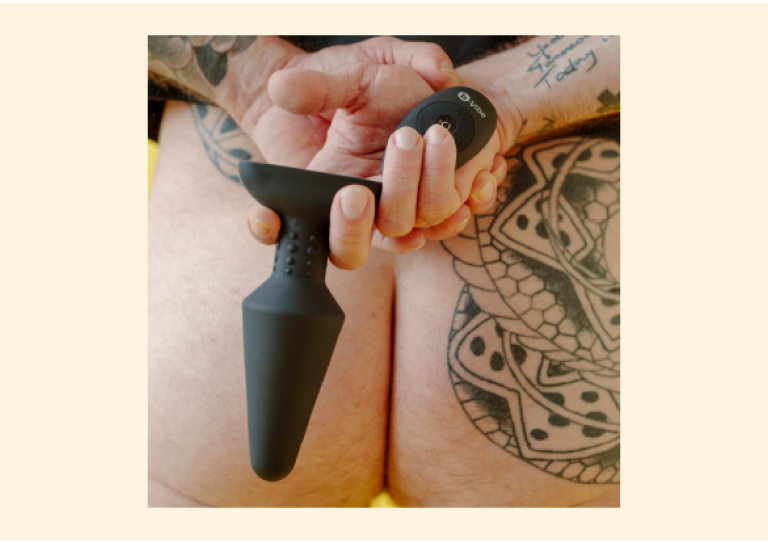 By Popular Demand, Bestselling Rimming Plug Arrives in Extra-Large Size.
Just in time for Anal August, premium anal sex products brand b-Vibe has introduced the Rimming Plug XL — the first-ever extra-large remote-controlled premium vibrating butt plug that combines the sensation of rimming through rotating beads and texture in the neck of the plug.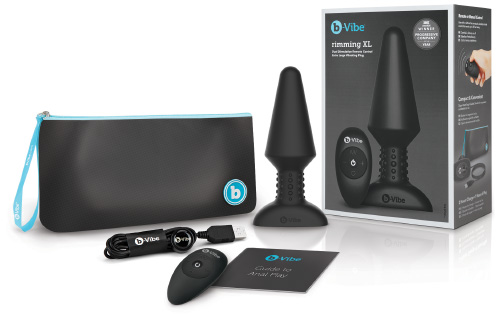 By popular demand, b-Vibe has introduced a larger version of its groundbreaking flagship product, the Rimming Plug. Designed for deeply satisfying orgasmic stimulation, and made from 100% body-safe silicone, the rimming plug XL is a super-sized vibrating butt plug geared for experienced anal enthusiasts looking for explosive dual stimulation.
The b-Vibe Rimming Plug XL features 7 rimming patterns and 6 vibration patterns, combined with 6 levels of power — the perfect variety for advanced anal users looking for mind-blowing pleasure. Designed with experienced anal players in mind, Rimming Plug XL offers a fulfilling 5.3" of insertible length and its neck features a bumpy texture for an extra thrilling sensation.
"b-Vibe is committed to enhancing anal play for everybody and with the addition of the Rimming Plug XL, we're catering to the vast amount of experienced anal play thrill-seekers around the world," b-Vibe founder and CEO Alicia Sinclair said. "As the first-ever of its kind, we're confident that Rimming Plug XL will introduce users to new levels of powerful stimulation."
The addition of the XL brings the Rimming Plug collection to three sizes, which also includes the Rimming Plug 2 (the original) and Rimming Plug Petite. From anal play novice to seasoned professional, the Rimming Plug collection offers something for everyone.
Like all b-Vibe vibrating butt plugs, the Rimming Plug XL can be operated with or without the wireless remote control, which works up to 30 feet away. Perfect for enhancing couples' play with remote-controlled fun, this feature also makes solo stimulation convenient and fun. The butt plug is USB rechargeable and comes in discreet travel case for easy storage.
b-Vibe's Rimming Plug XL also comes with a Guide to Anal Play, a booklet filled with the best tips from our trusted team of sex educators. The popular resource for anal play beginners offers tips for making exploration non-intimidating and fun, and serves as a stepping stone for becoming a master at anal play.
Sign up for b-Vibe's newsletter to stay on top of the brand's latest and upcoming releases, along with Anal August deals and promos. For sales, email customerservice@bvibe.com.
b-Vibe is a premium, certified body-safe collection of healthy anal sex products founded by Certified Sex Expert, Alicia Sinclair. b-Vibe's high-end designs are combined with engaging branding and marketing, which is focused on conveying sex positive education with a fun, friendly approach.