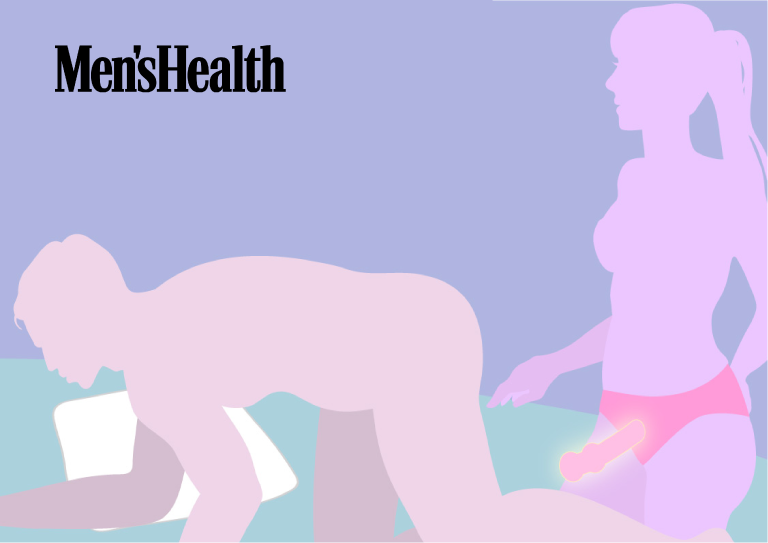 This article on pegging, featuring b-Vibe founder Alicia Sinclair, was first published on Men's Health.
If we told you that a certain sex act could give you the most intense orgasm of your life, you'd probably jump at the chance to try it!
But for whatever reason, guys have historically been resistant to experimenting with prostate play — even though many sexual health experts say it can be a source of tremendous pleasure.
That's changing, however, with the rise of pegging, a sex act that has officially entered the cultural zeitgeist. Alicia Sinclair, a certified sex educator and CEO of toy brands, b-Vibe & Le Wand, points out that "pegging" has popped up on the TV show Broad City, as well as a scene in Deadpool.
So, what does pegging mean, and should dudes give it a go? Here is your 101 breakdown on pegging.
What is pegging?
Put simply, pegging is a practice in which a woman anally penetrates a man with a strap-on. Yup — it's a thing, and many guys are here for it.
So, why do many guys enjoy pegging? The prostate, a.k.a. the small, walnut-shaped gland located a few inches inside of the rectum, is jam-packed with nerve endings, and sexual health experts say that stimulating it can be the source of tremendous pleasure for men.
"The prostate is an erogenous zone that's often overlooked," says Sinclair. In fact, evidence suggests that prostate stimulation can help you stay harder for longer and increase orgasm intensity by a large margin.
"If you like regular orgasms, you're going to like these even better," sex educator Lola Jean tells Men's Health. Many guys swear that prostate stimulation has led them to have the best orgasms of their lives. And while you don't necessarily need to try pegging to reach the prostate (any anal play will suffice), it sure does do the trick.
Am I normal if I like to be pegged?
Yes. Yes. A thousand times yes.
Let's just name the thing that is holding you back and get it over, shall we?
Anal play for men – Does this make me gay? No, putting things in your butt does not make you "gay."
"You're not going to press a button that makes you 'gay.' Anal penetration is a physical stimulation that many find enjoyable," Lola Jean tells Men's Health.
Plus, lots of guys are trying it: while there's no hard data as to how many men are dabbling in prostate play, prostate massager sales have exploded over the past five years, indicating that at the very least, men are becoming increasingly open to the idea. In fact, many guys are turned on by the gender role reversal that pegging entails.
"There is a vulnerability that is necessary for a man to be penetrated and a new feeling of 'giving', dominance and control experienced by a woman," says Sinclair. "Pegging allows a woman to actually be inside a man, navigating the pleasure (which is a thrill in itself). It's often one of the few times in sexual play that women get to do that."
How do I try pegging?
1. Communicate every step of the way.
Before doing anything, you and your partner should have a serious conversation about giving this a try. You're not a freak for wanting to be pegged, but it is a departure from vanilla PIV sex, so you guys should talk it through thoroughly. Everyone should be enthusiastically on board with this type of play before moving forward.
Learn — 5 Easy Steps on How to Talk About Anal
2. Build up to it.
As exciting as it may be to try something new in the bedroom, you have to crawl before you can walk. You shouldn't jump into receptive anal penetration right away. You have to work up to it first. "Anal training is a really important part of anal play," says Sinclair. Have your partner massage or stroke the area around the anus and perineum (the patch of skin between your scrotum and your rectum) before you graduate to inserting a finger or toy.
3. Shop for the right stuff.
Pegging comes with four pieces of equipment: The dildo, a strap-on, an o-ring, and lube. Never heard of an o-ring? No worries. An o-ring goes around the base of the toy and holds the dildo or toy in place so it doesn't slide in the strap-on. You don't always need separate o-rings for every hardness, but if you're planning to use toys in multiple sizes, you'll want them.
For harnesses, we suggest letting your partner take the lead. She may find that one turns her on more than others. If she's into comfort and utility, we're partial to the nylon Theo from SpareParts, which is compatible with most sex toys. Setting up a strap-on is relatively intuitive, but following the directions is key.
Choose a toy made with medical-grade or FDA approved, body-safe silicone. If possible, buy a dildo that has a "slicker" feeling. This will make penetration easier, and it won't require a frequent application of lube. Sinclair suggests choosing a basic dildo: "Sticking to a simple shape that is non-phallic can be a good way to start."
4. Use a lot of lube.
You should use a ton of lube no matter what kind of anal play you're trying, but it is especially important when you're pegging.
Choose a lube that is safe for your dildo. Silicone lube, while amazing for anal play, is not compatible with silicone sex toys, so we suggest choosing a water-based lube or a hybrid silicone/water-based lubricant.
If you simply cannot live without your trusty silicone lube, just be sure to wash your dildo with soap and water immediately after use. You can also put a latex condom over the dildo to protect it.
When in doubt, the more lube the better. If you think you have enough, use more. The anus does not naturally lubricate in the same way a vagina does, so lube is essential. And if you're looking for some guidance, learn how to choose the best lube anal.