Go on, be selfish! Masturbation (May) is your one-way ticket to self-love, and it's the healthiest route to learning exactly what your body craves in bed. It's also the best way to show your booty what butt-gasms are all about.
Whether you're a fresh-off-the-butt-plug beginner or an anal aficionado, self-pleasure sessions provide the perfect opportunity to experiment with anal play. Because after all, no one knows your butt better than you!
Want to turn up the heat in your fantasy factory the next time you get down and dirty with your bad self? Look towards your hottest sex organ — your brain!
Our readers sent in their favorite anal play-inspired fantasies, and our team of sex educators gave their expert tips on how to amp it up.
Spin these 4 sexy anal fantasies in your head the next time you're alone and horny- or turn them into your next real-life sexual adventure, be it by yourself or with a partner.
Anal Fantasy #1 — Wearing A Butt Plug to Work
I've always wanted to secretly wear a butt plug to work! I love the idea of a little kinky anal play that no one knows about. It's so hot to imagine myself feeling wet and turned-on while I go about my business in the office - all without anyone else knowing my secret! — Samantha*, 36.
We interrupt this anal fantasy to bring you an invaluable piece of advice: If you're secretly incorporating your workplace into your sex life, please do so with common sense.
Not only will it be insanely embarrassing if you get caught, but there's nothing that will kill your sex drive faster like getting fired - or even getting accused of sexual harassment!
If you want to wear a butt plug to work, practice with it at home first so that you know your plan is foolproof. Got it? Great - now back to anal play!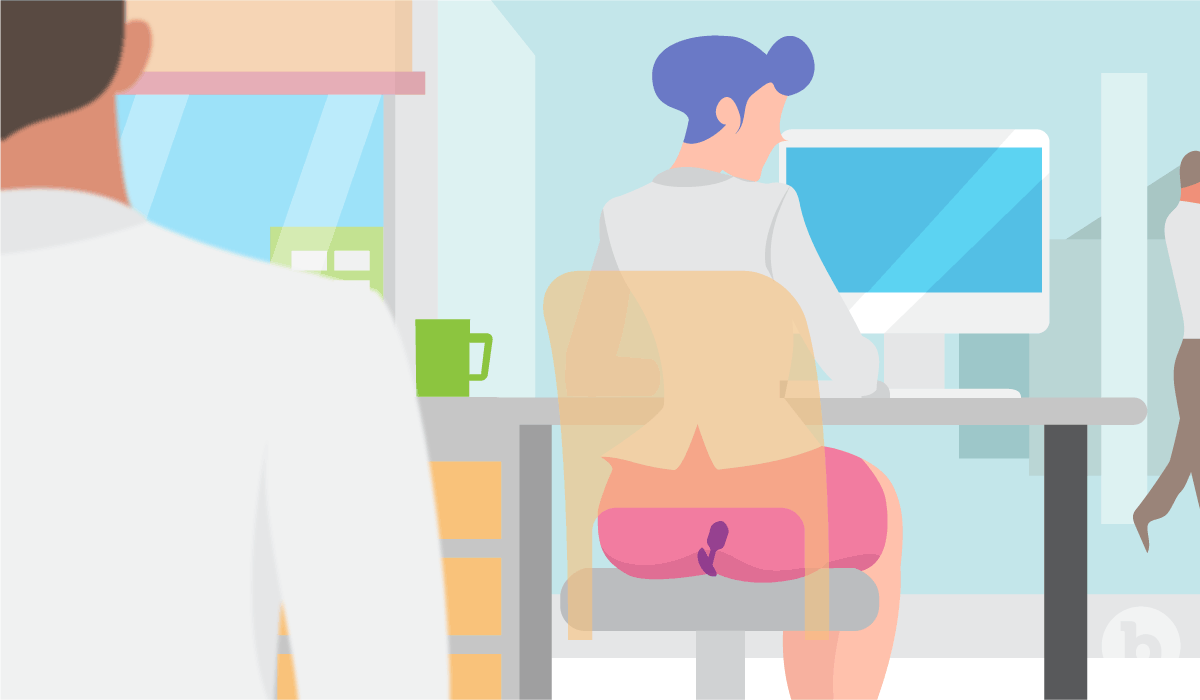 What's the best butt plug to wear at work?
We've got just the remedy for safe, comfortable, and sexy public play — the b-Vibe Snug Plugs.
These weighted butt plugs - available in 4 sizes - are perfect to start experimenting on your hush-hush public anal fantasies. The elongated torpedo shape means that they're super comfortable to wear for hours at a time.
Combined with the Snug Plugs' flexible neck and small t-shaped base, you won't feel like you're waddling around, feeling like you're about to give birth to a tennis ball via your bum (because that just sounds like the opposite of sexy!)
The Snug Plug series starts super small, so if you've never worn sex toys outside the bedroom, we recommend beginning with our Snug Plug 1. One you've got the hang of your new kink, you can step things up with the Snug Plugs 2, 3, and 4.
Pro tip: Carry a small bottle of lube to prolong your anal fantasy & some hypoallergenic baby wipes if you're ready to take them out.
B-VIBE RECOMMENDS
Continue Reading
Anal Fantasy #2 — Climaxing With Anal Beads
So I've heard that removing anal beads at the moment of climax can create the most mind-blowing orgasms ever. Is this true? I can imagine myself being pleasured by a love using only their mouth and a sex of anal beads, pulling them out slowly one at a time as I melt onto their warm tongue. — Tom*, 28.
Well, we can confirm that you're on the money! Right at the moment of climax, using graduated anal beads to gently open and close the out sphincter can make for an incredible pleasure experience.
There are thousands of nerve endings at the opening to your b-hole, and if you enjoy (or are excited to try!) the sensation of a toy or finger going in and out, you've got to try the next level in penetrative play.
Our Triplet Anal Beads will bring the best of both butt play worlds — anal beads and vibrations — to your solo or couples' experience.
How do I start with vibrating anal beads?
The best way to begin is by getting yourself hot and bothered so that your bum hole gets nice and relaxed. It's the key to anal play!
Next, apply some lube and slowly work the smallest bead into your butt while stroking your penis or clitoris at the same time. When you're ready, gently push the second bead in, and eventually work your way to the third.
Turn on the vibrations, and then work backwards, letting your anus comfortably expel each bead until you're back at the beginning.
Pro tip: Experiment with variations and speed while you stimulate yourself to the edge. Right as you're about to "reach the point of no return", try inserting or expelling the anal beads. We guarantee your orgasms will never be the same!
Anal Fantasy #3 — Wearing A Butt Plug in Public
My dream date is to experiment with public anal play. I'll start the night by putting in a vibrating butt plug before we get to our restaurant. Then during dinner, I'll hand the remote control to my partner and allow them to turn it on and control my pleasure, teasing me until we get somewhere private where we can rip each others' clothes off... — James, 24.
Sneaking foreplay into fancy dinners is one of the most popular anal fantasies amongst our readers, and you can make this one a reality in a snap.
Like we mentioned in the first anal fantasy, always experiment with your chosen sex toy at home before taking your play into the public.
It will definitely be a night to remember if you have to half-run, half-waddle to the nearest restroom to remove that new-purchased toy that you swore would be totally perfect for wearing out- said nobody ever.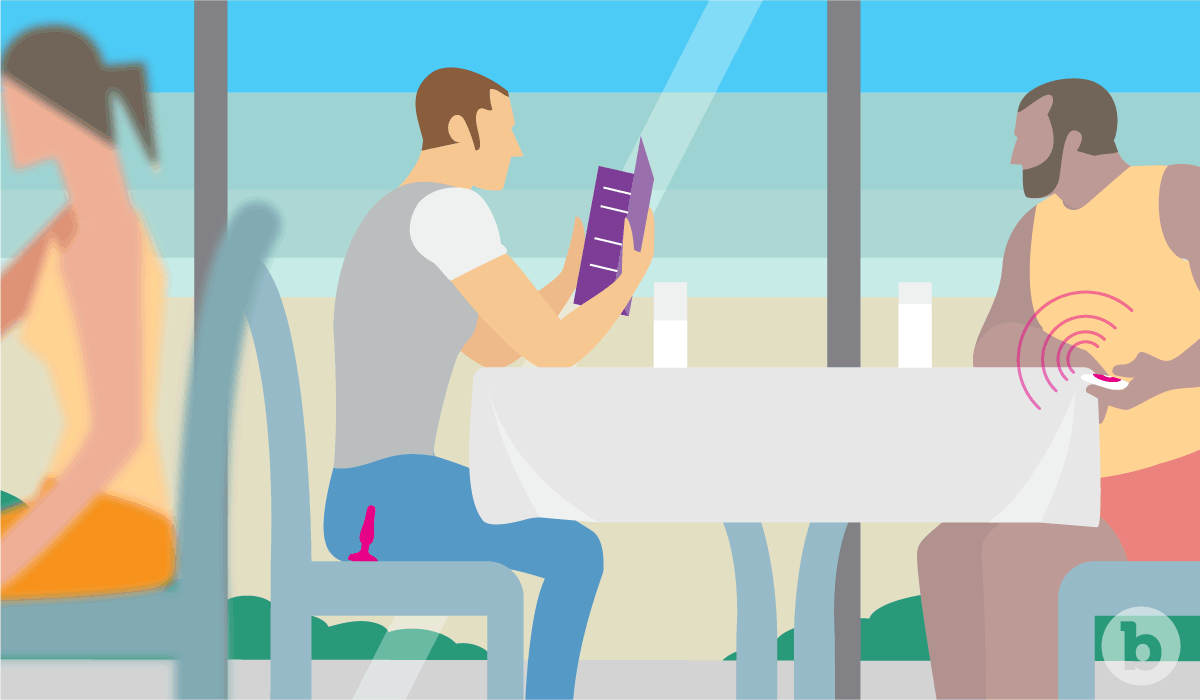 Which butt plug would you recommend to wear out in public?
If you're looking for the ideal date night companion (besides your, you know, actual date!), we recommend trying the b-Vibe Novice Plug.
This beginner-sized vibrating butt plug is strong enough to rumble your booty into a frenzy under the dinner table without making the walk to your late-night movie super uncomfortable.
Insert this little butt plug at home with some lube so you can wipe off the excess before wiggling into your best date night duds (because lube stains on your dress or nice slacks are a sure-fire way to end the night early).
Hand the remote to your partner and let them cycle through the Novice Plug's 6 vibration intensity levels and 15 vibration patterns as you work your way from meals to movies to back to your bedroom.
Challenge your date to get through all 15 patterns before the end of the night. Who knows, you might end up skipping that movie and heading straight back to your place!
Anal Fantasy #4 — I Want To Try A Vibrating Butt Plug
As an anal enthusiast for over two decades, I love the idea of a girth-y vibrating butt plug- it makes me shiver to think about the combination of internal vibrations and a feeling of fullness inside from the plug. Do you have any suggestions for me, b-Vibe? — Laura*, 45.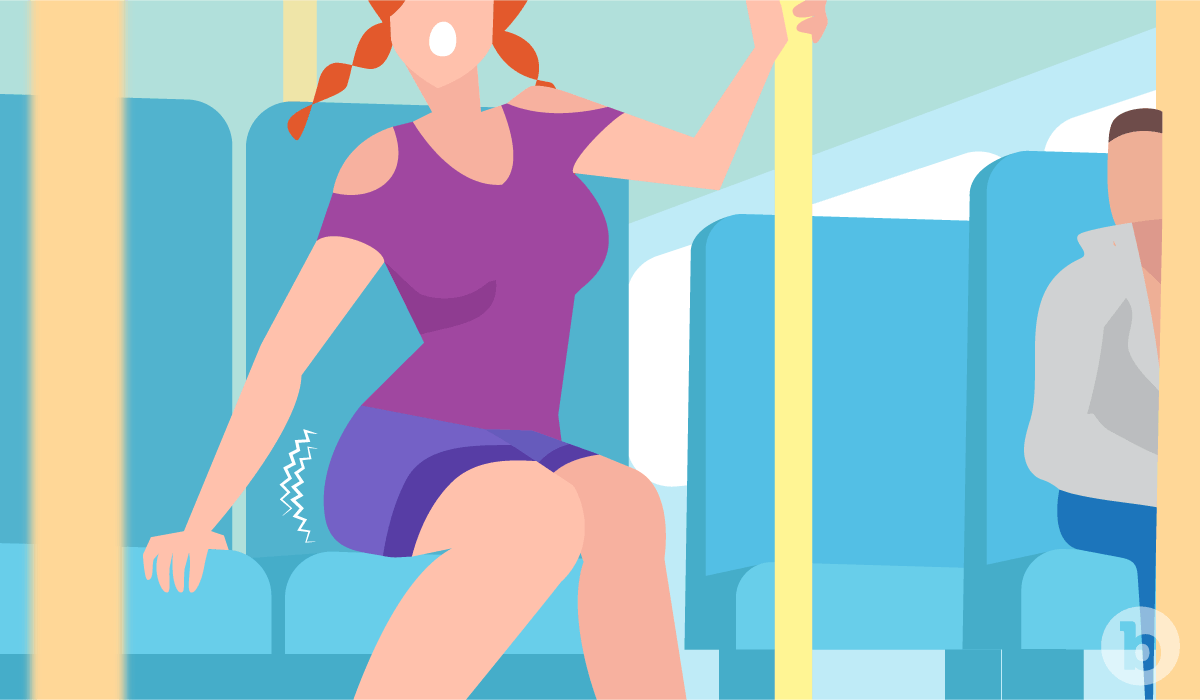 As a matter of fact, we totally do! If you already know that you adore anal play and are dreaming up some seriously hot anal fantasies on the regular, then it's time you tried the ultimate in butt plug pleasure - the b-Vibe Rimming Plug 2.
This award-winning vibrating butt plug is the OG b-Vibe sex toy that started it all. The external spinning beads that mimic the sensation of rimming will satisfy all your anal play urges.
With an insertable length of 4.8 inches, the Rimming Plug 2 reaches far enough to tease the prostate and g-spot with powerful pin-point vibrations concentrated in the plug's tip.
If it's girth you're after, this large butt plug fills you up with a thick 1.5 inches of hole-pleasin' diameter.
What's more? Click on the Rimming Plug's one-touch remote to start the elect action. Send the buzz all the way up your b-hole with the vibrations, and then see how long you can last while switching through all 7 rimming functions. Yep, that's right — those rows of beads can swirl and twirl in 7 different patterns! Your rim job just traveled light years into the future.
Hint hint: If you want to try all the spinning and vibrating action of the Rimming Plug 2 without having your certificate in advance anal play, try our new Rimming Plug Petite. It's got all the battery-powered goodness of the original, but in a smaller size for beginners.
And that just about wraps up our readers' anal fantasies for Masturbation May. Want to know the best part? It's all down to your erotic imagination! Don't just take our word for it. Add your own exotic touch to these masturbation daydreams and discover your butt-gasmic potential.
*Names have been changed.