From a sensational perspective, people tend to prefer bareback sex. The primary reason being that barrier methods, like condoms, can lessen the deeply carnal and coveted sensation of sex.
Though this belief is more prevalent among people with penises than people with vulvas (75 and 40 percent, respectively, according to this study), this lack of sensation has actually been verified by research that measured "penile vibrotactile sensitivity" on 141 individual penises. Anecdotal research has found condoms likely have a similar effect on vulvas.
At b-Vibe, we're advocates for barrier methods as prevention, but we also support those who choose to go condomless and engage in bareback sex, provided everyone has consented, knows their status, and are regularly tested for STIs and HIV. Any judgment one way or the other, however, is something we don't support.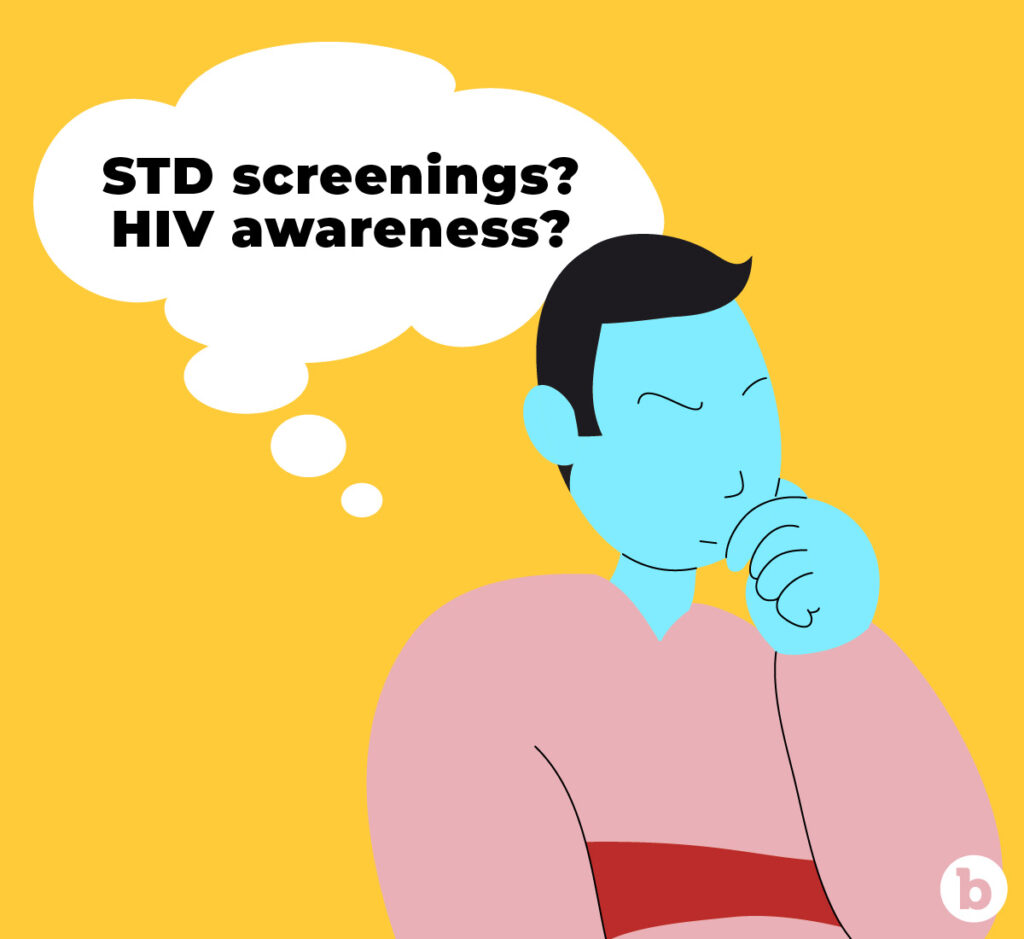 "It's perfectly normal for people to want to engage in all kinds of sex, and it's important to know how to protect yourself and others when you engage in all sexual activities," Quinton Raspberry, president and founder of virtual PrEP provider and sexual health resource, QCarePlus, says. "Others may have a different opinion on your sexual activities and how you engage in sex, but it's your body and your choice. It's also an opportunity to educate those people and possibly reduce stigma."
To help all of us better understand bareback sex, from its risks and benefits to alternatives and safer practices, continue reading.
What is bareback sex?
Bareback sex (BB for short) is simply having penetrative anal sex without a barrier. While its etymology is lighthearted: riding a horse without a saddle is known as riding bareback, its origin had a darker purpose: to generalize and label gay men living with HIV as having intentional condomless sex.
In 2003, the new edition of the classic guide, The Joy of Gay Sex, extracted the term's stigma by simply labeling it condomless gay sex. This newer definition became a topic of debate among the gay community, who thought, given two key factors: risk and intention, that "bareback sex" wasn't descriptive enough. Still, the term has largely stuck, and it remains popular on LGBTQ+ apps like Grindr.
The term bareback sex has since been co-opted by the general public to refer to any kind of penetrative sex without a barrier.
Why might people enjoy bareback sex?
The biggest reason people enjoy bareback sex is that they get to enjoy all the sensations — the heat, wetness, and friction — that come with penetrative sex.
Bareback sex can also build trust and intimacy between sexual partners. For example, "fluid bonding" is a mutual decision to forgo barrier methods. For many, the choice signifies that all partners are comfortable and confident in their bond and want to make things more intimate.
Although it's a very small percentage (less than one percent of the American population, to be more specific), some people do have a latex allergy, and wearing a condom can make their genitals swollen, irritated, and itchy, making condomless sex a preferable option. However, there are other options available, such as condoms made from lambskin, polyurethane, and polyisoprene.
Some people with penises have difficulty maintaining an erection with condoms on. In fact, studies have found that between 14 and 28 percent of men lose their erections when putting on a condom, and 10 to 20 percent lose their erections when wearing a condom due to intercourse. So over the course of a sexual session, the odds of it occurring are actually quite considerable.
People may also find condoms uncomfortable and ill-fitting. This makes sense, since the average condom is 6.69 inches long, and the average penis is more than an inch shorter.
"Condoms are a great tool in the sexual health toolbox, but they aren't for everyone," Raspberry says. "As long as the person is taking actions to protect themselves from STIs and HIV, then they should explore every sexual option that feels right for them."
What are the risks of having unprotected sex?
During sex, bodily fluids like blood and semen are exchanged. In combination with skin-to-skin contact, it's through these channels that sexually transmitted infections (STIs) like gonorrhea, chlamydia, and syphilis, as well as certain types of hepatitis and HIV, can be exchanged.
The World Health Organization estimates that over one million STIs are acquired every hour across the world. Understandably, when you have bareback sex, there is an increased risk of infection. Additionally, the more partners you have bareback sex with, the more risk that's associated. It's also worth noting that certain STIs like syphilis, herpes, and gonorrhea can increase the risk of contracting HIV, as the resulting inflammation can activate the same immune cells that HIV is prone to attack.
HIV is most likely to be transmitted through bareback anal sex. That's because the skin is thinner, which makes it more susceptible to rips and tears. This is the reason bottoms carry a higher risk than the insertive partner. Vaginal sex carries significant risk as well, despite the vaginal wall being stronger than the anus.
Unplanned pregnancy is another potential risk of having unprotected sex. According to Planned Parenthood, 85 out of the 100 women who do not use any type of birth control, including condoms, will become pregnant over the course of a year. And despite the pullout method's social popularity, Planned Parenthood says "about 22 out of 100 people who use withdrawal get pregnant every year."
To break it down further, that's about one in five.
How to have safer bareback sex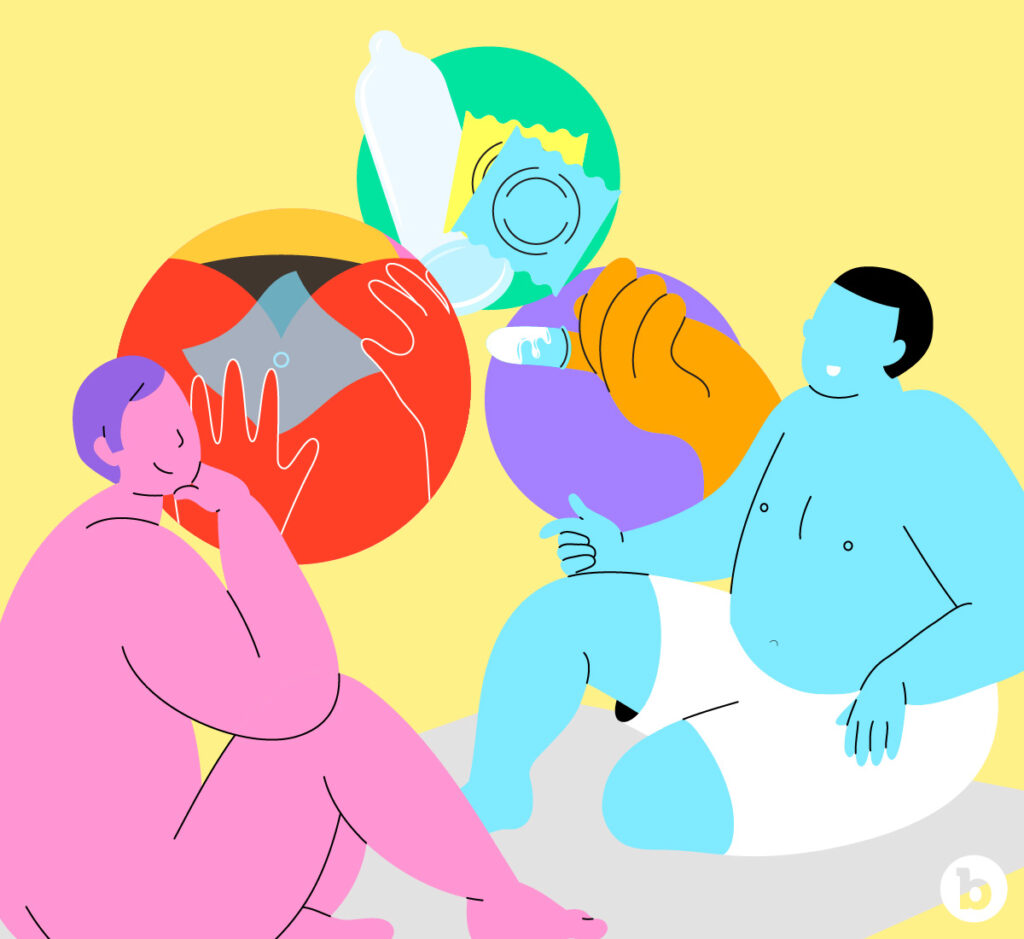 1. Communicate
Before engaging in bareback sex, talk with your partner(s) about the last time you were each tested for STIs. Also feel free to discuss risks, expectations, and boundaries, whatever it takes so that you feel assured and confident. Feel free to discuss these things during and after sex as well. If you do test positive for an STI, you should try reaching out and notifying past partners so that they can also get tested and prevent possible spread.
2. Get tested regularly
The CDC recommends everyone get tested for syphilis, chlamydia, and gonorrhea at least once a year. Those who have multiple or anonymous sexual partners should aim to get tested most often, every three to six months. This same frequency should be applied to HIV testing.
3. Preventative medications
In addition to medications like Antiretroviral Therapy that prevent the spread of HIV in people who are HIV positive through an undetectable status, PrEP is an effective medication for HIV prevention in folks who do not have HIV, reducing the risk by roughly 99 percent when taken as prescribed.
While PrEP only protects from HIV, there are other medications that can protect from STIs, such as Doxy-PEP. "Doxy-PEP consists of taking a dose of doxycycline after potential exposure to an STI such as Gonorrhea or Chlamydia," Raspberry says. According to the San Francisco Department of Public Health, Doxy-PEP can reduce syphilis by 87 percent, chlamydia by 88 percent, and gonorrhea by 57 percent.
4. Exposure to STIs
Many times, people don't know that they have an STI because they aren't experiencing symptoms, which is why it is important to be tested regularly. But if you think you might have been exposed to an STI, visit your doctor or local sexual health clinic as soon as possible, since most STIs can be successfully treated. Do not engage in bareback sex until you've received a negative result.
5. Use lube!
Decreasing friction lessens the likelihood of tearing and potential bleeding, which is why lubrication is a fantastic tool. Besides, you should be using lube anyway, especially during anal sex. If you want to be extra careful, use a lube shooter to ensure everything, including inside your body, is sufficiently lubricated. Generally speaking, silicone-based lubricants (like the JO Premium Anal) are thicker, slicker, and longer lasting than water-based, but ultimately choose what works best for you.
6. Warm yourself up
If you haven't had sex in a while or if your partner has a big dick size for anal, you might benefit from training for anal and dilating before sex, especially if you're engaging in anal sex. Dilating is simply using a toy (or an anal dilating kit) to help open up and relax your vagina or anus so that you are more comfortable and less prone to injury.
Alternatives to bareback sex
1. Use a sex toy
Provided the toy you're using is non-porous and thoroughly cleaned, sex with a toy allows you to experience the full sensations of bareback anal and vaginal penetration without the risk. Cleaning your toy is easy, just use a mild antibacterial soap and warm water, wash them for at least 20 seconds, and dry them with a clean towel. Or, you can make the process even easier with our b-Vibe UV Sterilizer Pouch. (For more information, see our guide to anal masturbation here.)
2. Anal fingering
Based on your comfort level and budget, you might prefer to have yourself an anal fingering session, either by yourself or with a partner. Provided the fingers and hands being inserted are washed, there's relatively no risk involved. Just make sure your fingernails are trimmed and filed, or that you're wearing a finger cot, which also keeps your fingers clean.
.
New to bareback sex or anal play in general? We highly recommend starting with our most popular guide on how to prep your ass for anal!