After everything we've been through over the year, we all know how crucial good hygiene is, but that's the last thing on anyone's mind when things are getting hot and heavy. That being said, sex is messy, and creating health-centered rituals before, during, and after sex can go a long way to keeping yourself and those you have sex with healthy. Here are some tips that will help you keep germs away from your sensitive bits, your toys clean, and most importantly, create your own sexual health rituals.
Wash Your Hands!
The germs we pick up on our hands throughout the day can introduce icky bacteria to the urethra and vagina, throwing off sensitive vaginal flora causing yeast infections and UTIs.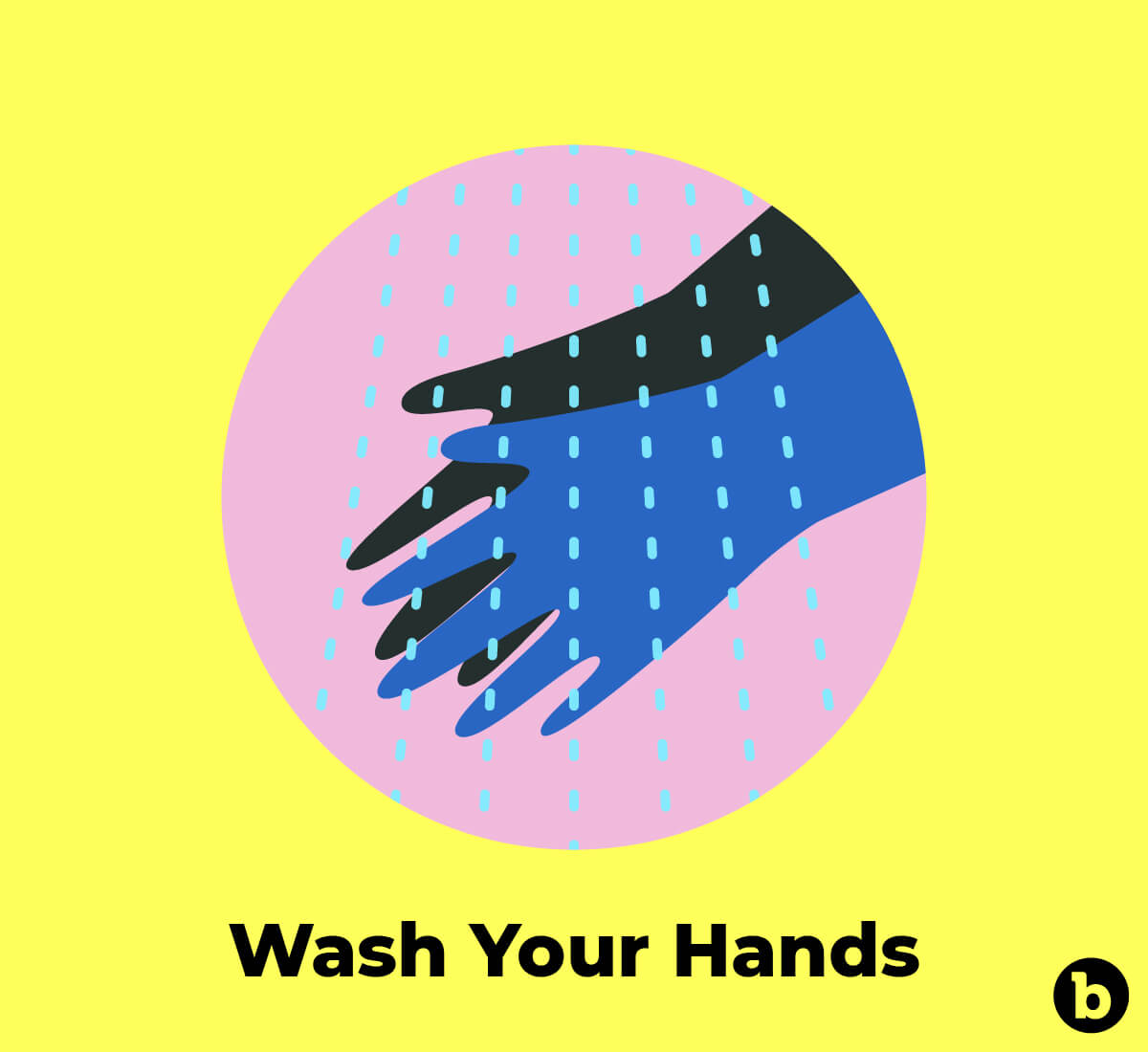 If it's the only thing you do to prep before sex or a masturbation session, it's to WASH YOUR HANDS!
Condoms, Gloves, Fingercots, and Dental Dams
Condoms, gloves, fingercots (small single finger coverings that resemble tiny condoms), and dental dams aren't just safe sex supplies. They're also sexual hygiene supplies.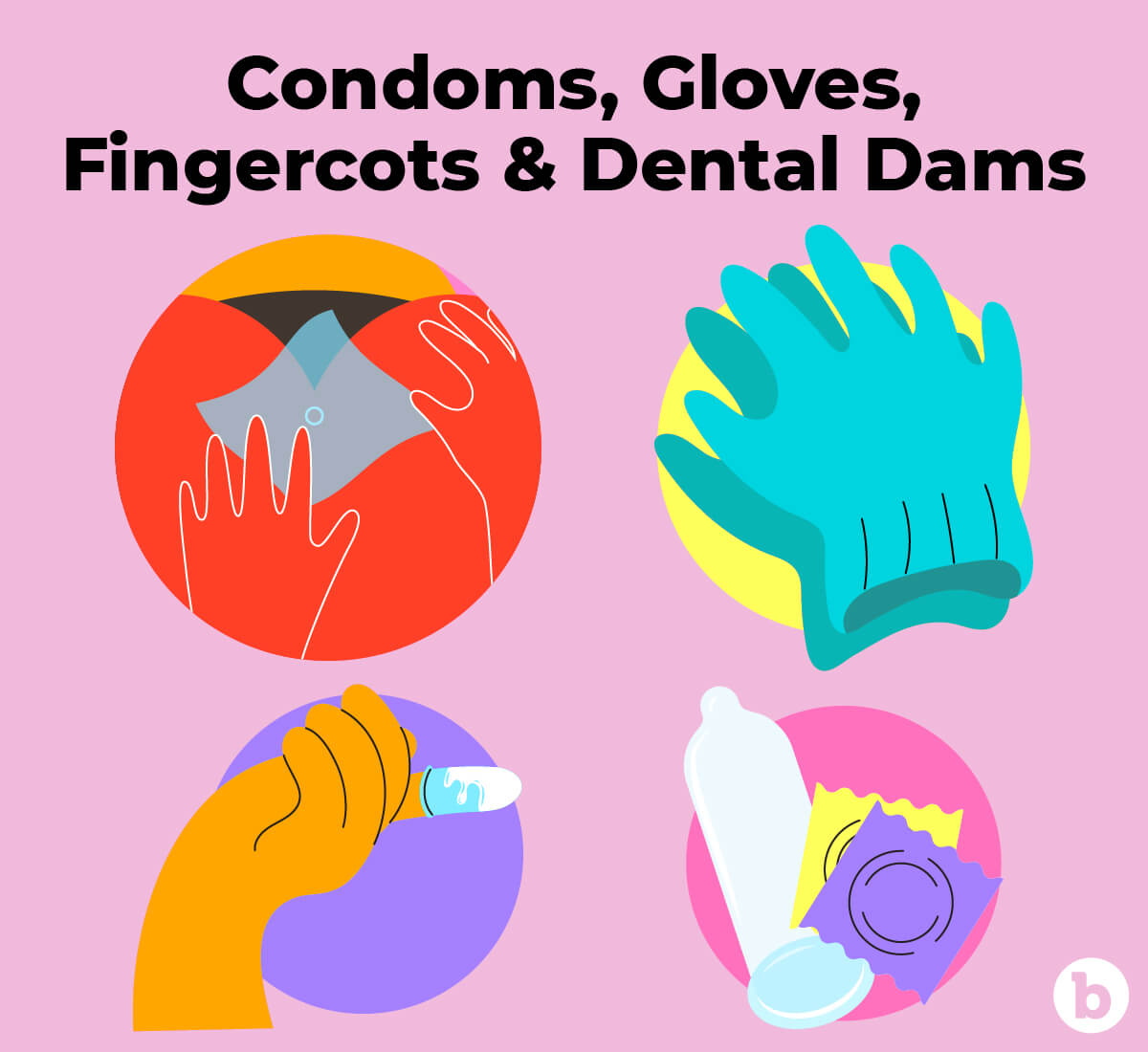 Gloves, finger cots, and dental dams come in handy when handwashing isn't possible or when you have cuts on your hands or fingers that need to be protected. You can wear/use all three when using your hands for external stimulation AKA 
anal massaging
. However, only gloves and finger cots should be used for penetrative hand stimulation (
anal fingering
). Condoms can, of course, be worn to cover a penis for stimulation with your hands when gloves and the like aren't available, but they can also be used to cover toys. you want to share with others that can't be sterilized.
To Douche or Not to Douche
Vaginal douching of any kind should be avoided because vaginas are self-cleaning, and douching washes away the good vaginal bacteria. However, while it's not a necessary part of sexual hygiene, anal douching is an option for those seeking a deeper clean.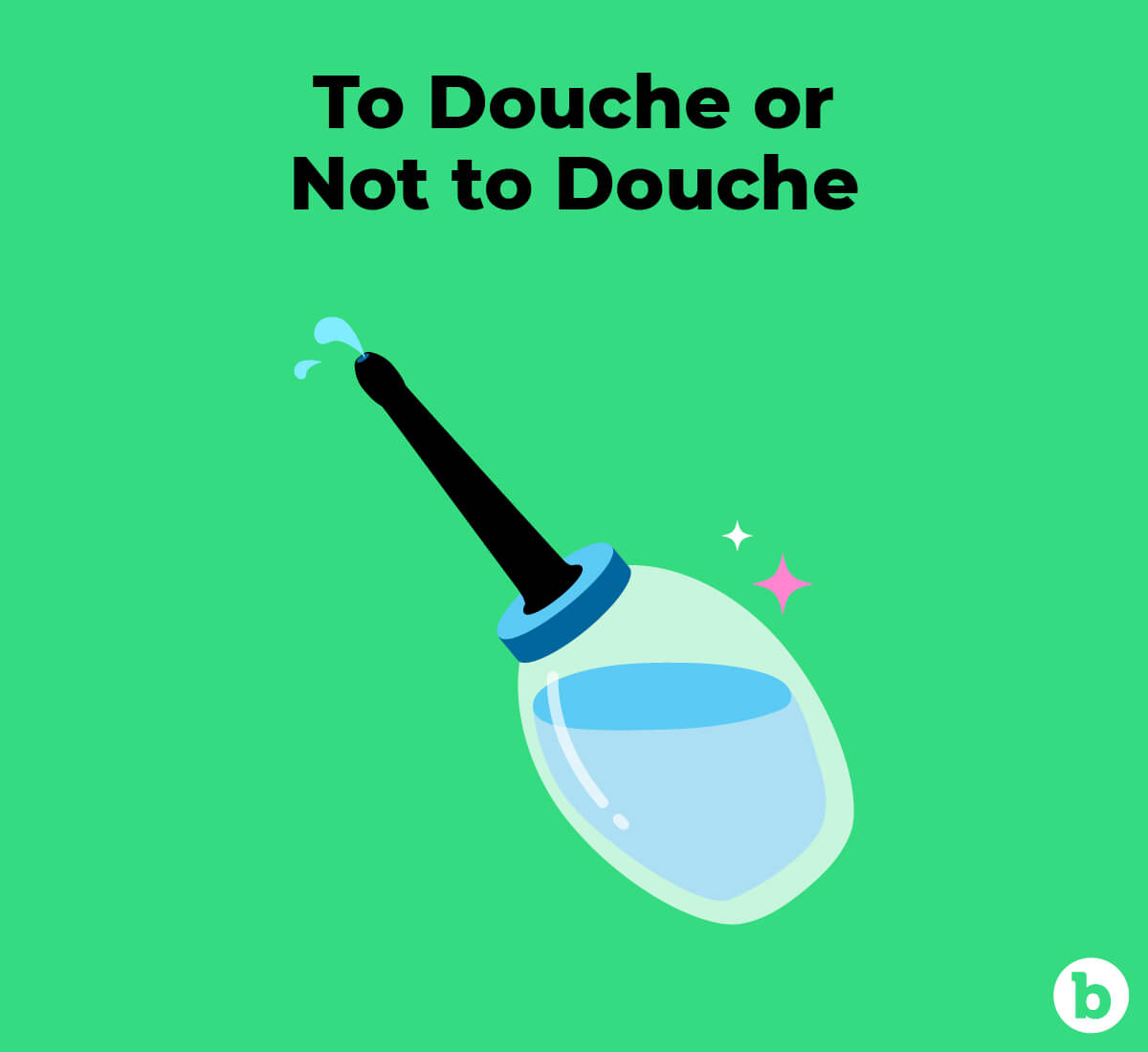 If you choose to do so, I suggest avoiding store-bought enemas that contain laxatives and can cause irritations and discomfort. Instead, go with a reusable enema bulb that's easy to use and you can fill with warm water, like b-Vibe's 
Classic Enema Bulb Set
.
Washing Your Sex Toys
Properly cleaning your toys is just as important as washing your hands and body. Not washing your toys can damage their finish and affect their quality. Unwashed toys can also lead to a risk of infection of you and your partner(s) due to bacterial buildup.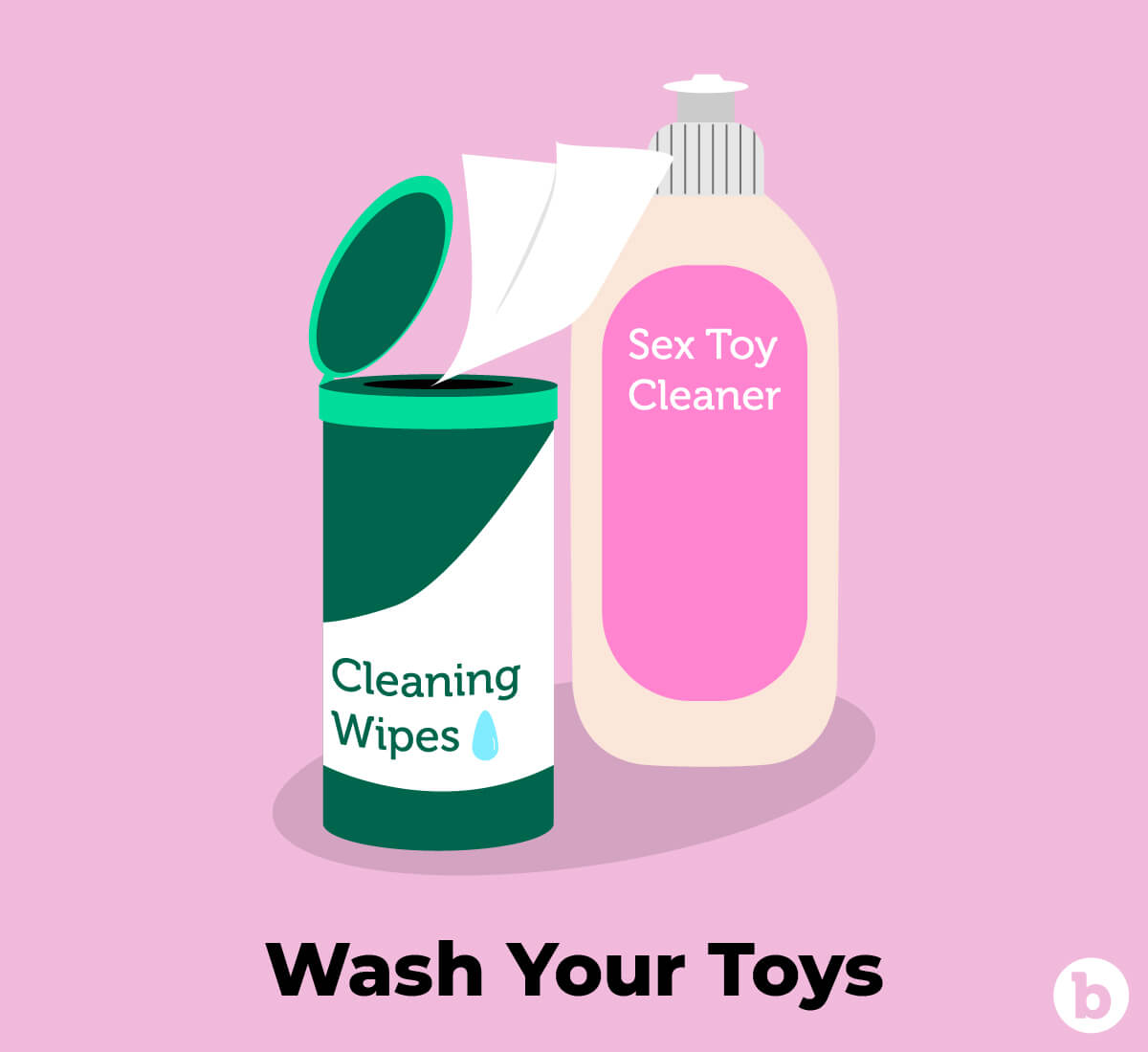 Before cleaning your toys, you have to assess; their susceptibility to water damage and what materials they are made of. Toys with motors require a bit more care around water. If your toy isn't marked as waterproof or submersible (you'll usually find this info on the packaging or in the instruction booklet), you'll want to avoid placing them under running water and wipe them down with a damp cloth instead. Non-porous materials such as silicon, glass, metal, and ABS hard plastic can be cleaned and sterilized, while porous materials such as Cyberskin, elastomers, and jelly rubber can be cleaned but not sterilized. Porous materials hold tight to bacteria and infectious fluids. So if you're prone to get yeast infections or UTIs, you'll want to steer clear of products made of these materials; otherwise, you risk reinfecting yourself whenever you use the toy. When cleansing your toys after use, start by washing off any fluids and residual lube with warm water and mild unscented soap. Next, apply a toy cleaner like b-Vibe's 
Organic Toy Cleaner
 with a clean, soft cloth. After thoroughly wiping down the toy with the cleaner fluid, rinse with water and dry completely before putting it away. While these steps will sufficiently clean your toys, they will not sterilize them.
Sterilizing Your Sex Toys
Sterilizing sex toys isn't necessary after each use unless you plan to share your toys with a partner or they've been exposed to infectious fluids. Otherwise, you can sterilize the toys you regularly use every month or so. After washing them, nonmotorized toys made of non-porous materials like silicone, 
stainless steel sex toys
, and glass can be sterilized by placing them in boiling water for 5 to 10 minutes. It's important to note that not all non-porous materials are suitable for the boiling method, like soda glass and ABS plastic.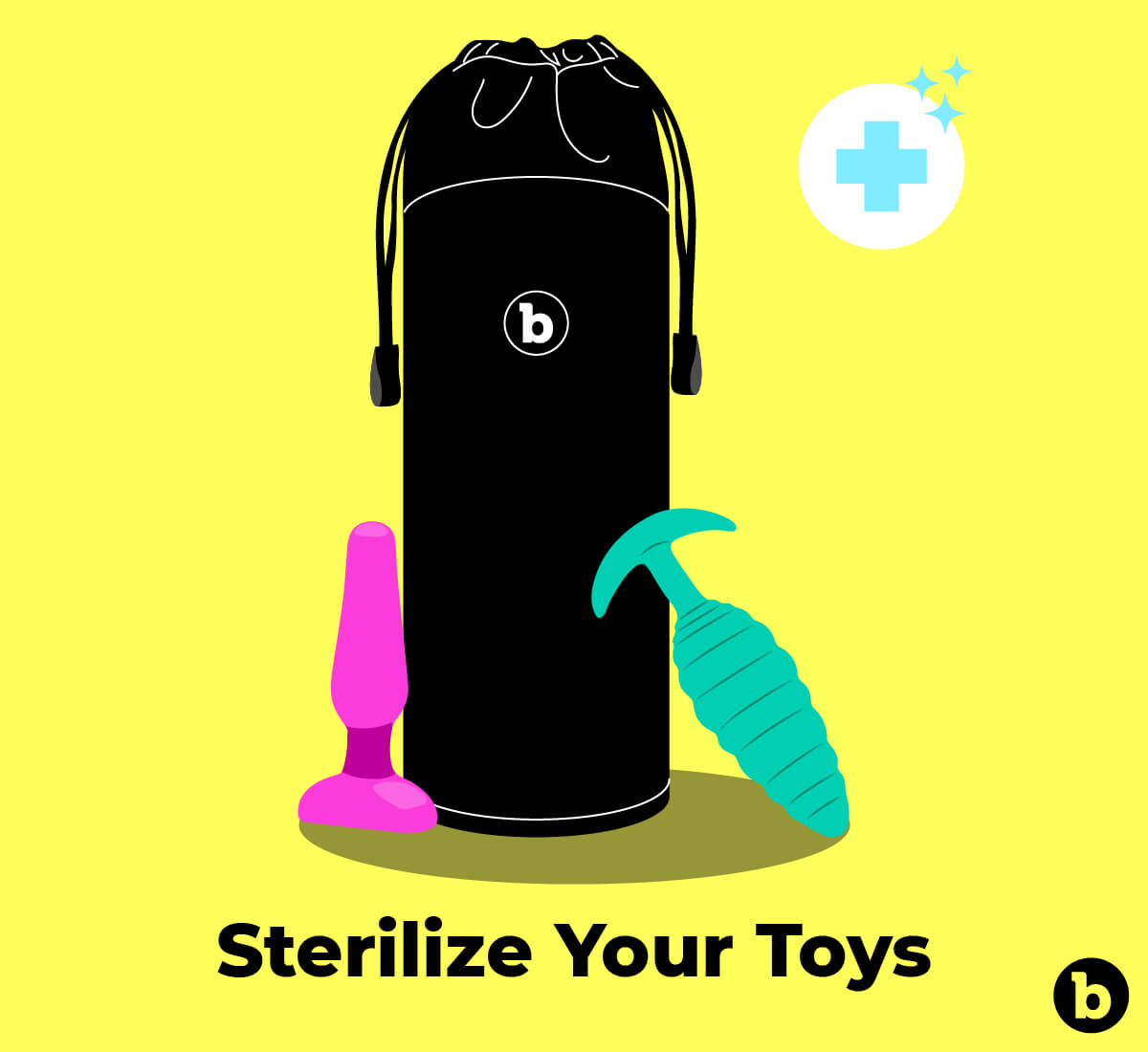 In these instances, and when you need to sanitize motorized sex toys, a 
UV Sterilizer Pouch
 comes in handy. UV light has been shown to eliminate 99% of the pathogens, spores, fungi, viruses, and bacteria that lead to STIs in just one three-minute cycle. To use a UV Sterilizer, you place the items you would like to sterilize inside the unit, turn it on, and let it run until the sterilization cycle is over. UV sterilizers come in lots of different styles and sizes, but I love b-Vibe's UV Sterilizer Pouch because it can accommodate most of my toys (up to 10 inches), and it's small enough to take with me when I travel. .
Found this guide on hygiene useful? You'll love our most complete guides on analingus, anal training, and prostate play!