When you think of penis pumps, you likely think of Austin Powers, who famously brought them to mainstream culture. However, they are a real thing that people can, and in many circumstances, should use. It all depends on what you're hoping to achieve from the penis pump. (I'm letting you know now, it's not going to add another two inches to your cock, so don't get too excited.)
Below, we break down what a penis pump is, how to use it, penis pump benefits, and potential risks.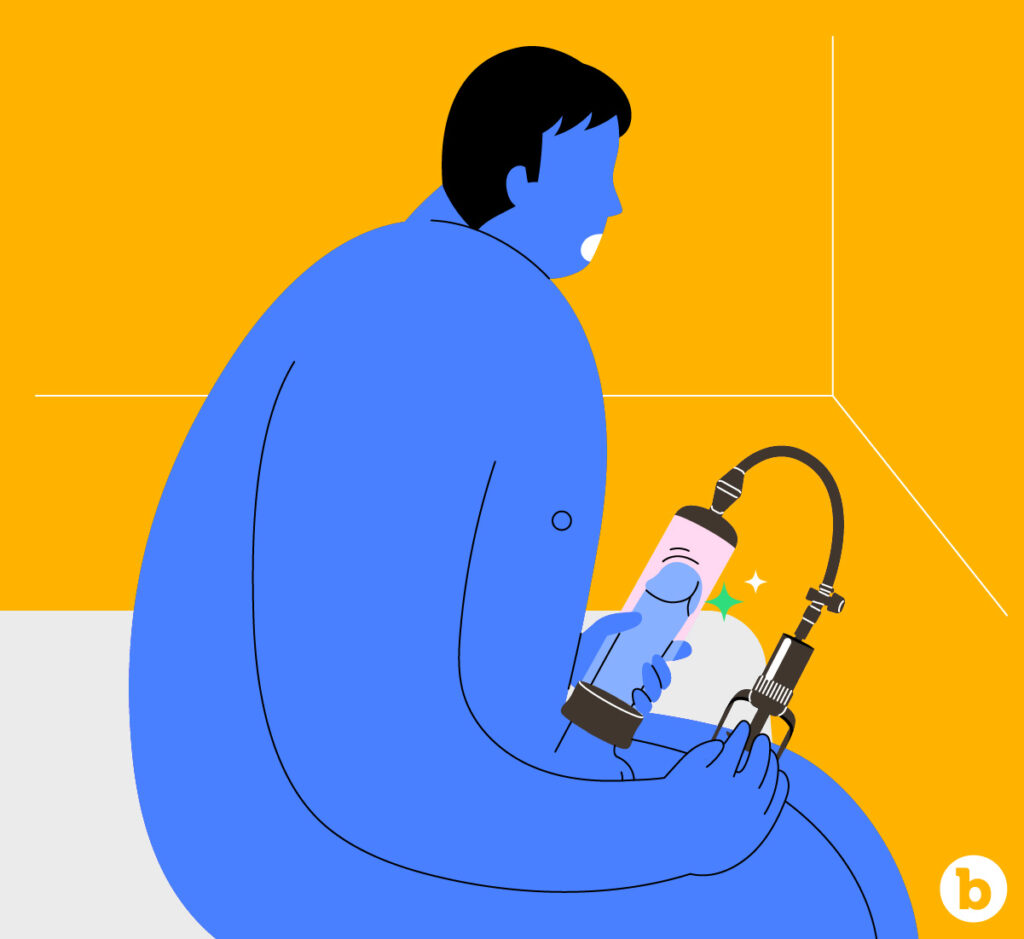 What is a penis pump?
"A penis pump is a vacuum device with a canister that fits over and seals around the penis," explains Jessie Cheung, M.D., a board-certified dermatologist who has vast experience treating men with various penis issues. "As the pump is activated, the air surrounding the penis is removed, with the suction increasing blood flow to the penis to create an erection. Penis pumps can be powered by electricity, hand, and even water pressure."
What's the purpose of a penis pump?
To help get an erection and maintain overall penis health, Cheung explains. As men age and testosterone levels fall, many men lose erectile function. "The penis actually shrinks because the tissue isn't getting regular blood flow," Cheung says. "A penis pump can stimulate the repetitive stretching and shrinking of the blood vessels to keep the tissue elastic and nourished." So if you aren't getting a regular morning erection, it may be time to get your testosterone levels checked and start using a penis pump.
How do you use a penis pump?
Cheung recommends sitting in a semi-upright position, placing the canister over the penis at a 45-degree angle to the body, and then turning the pump on slowly, making sure the testicles don't accidentally get pulled into the canister. "It's helpful to shave the pubic hair around the base of the penis to encourage a better seal and alleviate tugging," Cheung says.
Once on firmly, go ahead and start pumping. "Once you achieve a satisfactory erection, you can remove the canister and put on a cock ring to keep the blood in the penis," Cheung says. If you like a little prostate stimulation during sex, you should consider using a Snug & Tug (butt plug & cock ring combo) or the Vibrating Snug & Tug.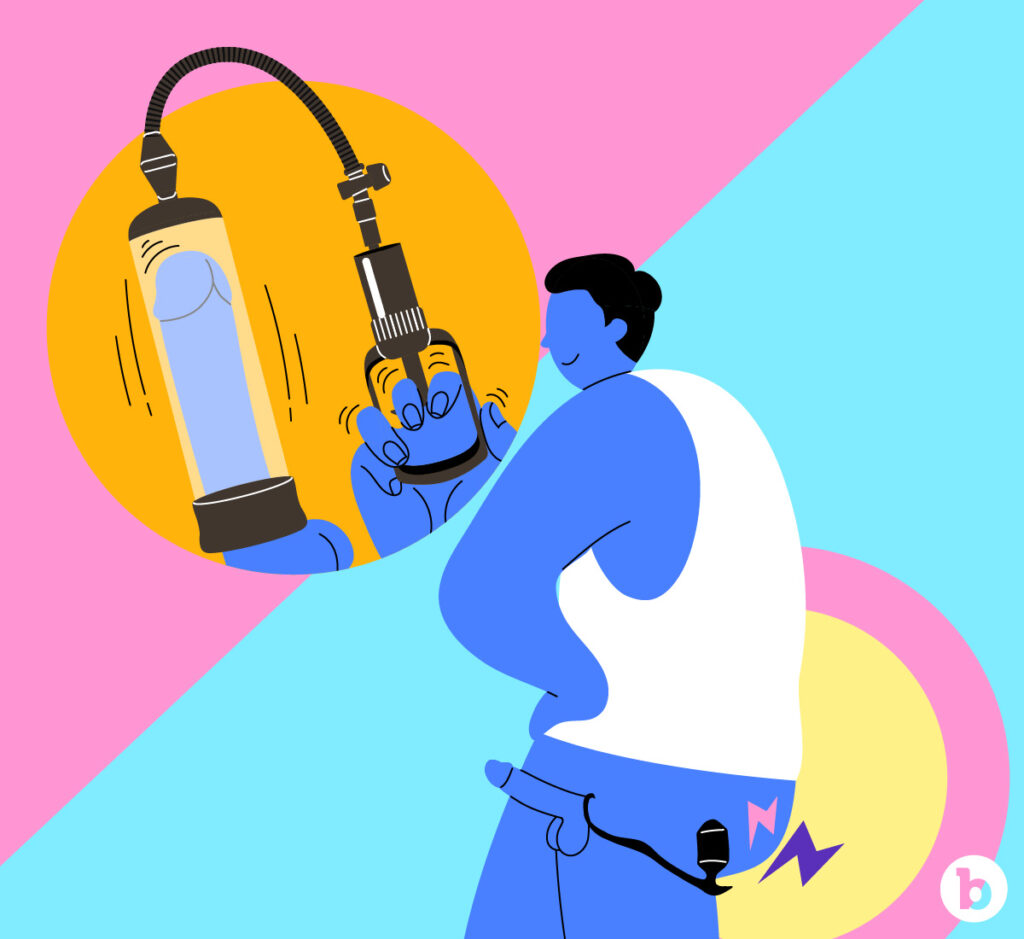 How often and when should you use a penis pump?
Typically, penis pumps come with specific instructions. They involve placing the device on and pumping, which can take a few seconds to a few minutes. Once the desired effect is complete (i.e., a hard erection), a band (i.e., cock ring) can be placed around the penis. "Penis rings should not be left on for too long, as they can further constrict blood flow, and men can get permanent penile damage. Generally, we recommend most penis rings not be used for more than 30 minutes," says Michael Ingber, M.D., a urologist and urogynecologist at Garden State Urology.
What are the benefits of using a penis pump?
"In urology, we use these devices commonly when men have difficulty achieving or maintaining an erection," Ingber says. "Other times after certain surgeries (e.g., prostate cancer surgery), when there may be a risk of injury to the erectile nerves, penile pumps can be used as a form of 'penile rehabilitation.'"
Does a pump make your penis bigger?
Let's be real; this is what you really want to know. "While studies have shown that penis pumps can cause a slight increase in length or girth of the penis, these effects are typically not permanent," Ingber says. The duration of the effects depends on your baseline health and testosterone levels, adds Cheung. So if you want to use a penis pump, do so to help facilitate erections, not because you're hoping to pack on an extra two inches.
RELATED: The best ball sucking tips for beginners.
How long do the effects last?
The initial effects of penis pumps (e.g. temporary length/girth increases and the ability to achieve an erection) are temporary and typically last minutes. "However, penis pumps are often used in our field as part of a multimodal strategy with other therapies such as medical therapies (e.g., Viagra), pelvic floor therapy, electromagnetic therapies, stem cells, and more," Ingber says. "So in this sense, penis pumps can be part of a strategy, which can have long-lasting effects."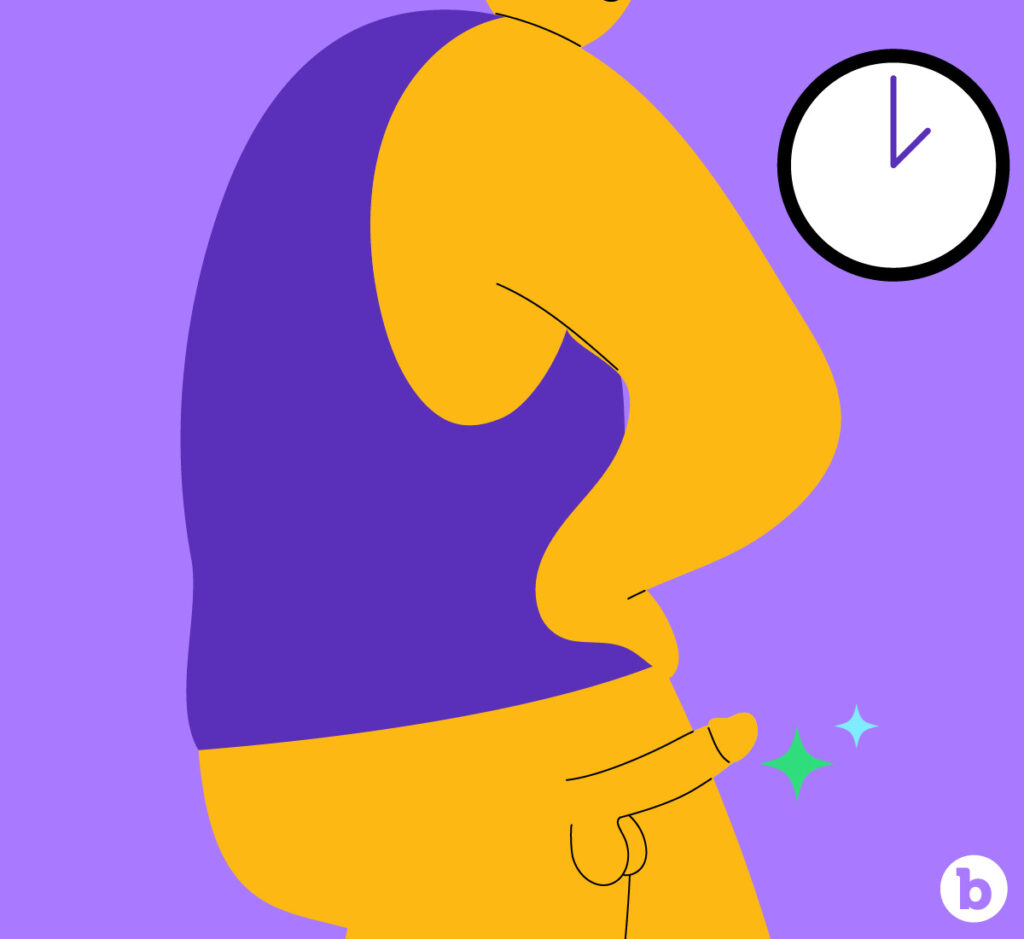 Are penis pumps safe to use?
"Generally, penis pumps are quite safe, as long as you follow the manufacturer's instructions," Ingber says. "Obviously, nothing is 100% safe, so contact your doctor immediately or go to the ER if you have any acute injuries or problems."
Can you get a prescription for a penis pump?
Yes, and prescription pumps tend to be of a higher quality with quieter motors and sensitive gauges. Most prescription pumps are also available over-the-counter but at a higher price. "The benefit of a prescription pump is really only that insurance may cover some of the cost, and your doctor will be more familiar with it. It also went through a selection and approval process," Cheung says. "The drawbacks of holding out for a prescription pump is that since technology improves all the time and insurance companies are notoriously slow, you may be getting an older version, but you don't really need too many bells and whistles."
What should you look for in a penis pump?
Cheung prefers to recommend electric pumps, as many men find a manual pump tedious to use. "You want a pump with a vacuum limiter to avoid any injury," she says. Since you don't want a penis pump too big or too small, you'll need to measure the length and girth of your erect penis to buy the correct size.
"I highly recommend anything from the Bathmate Hydromax (the Bathmate Hydromax5 and Bathmate Hydromax7)," Cheung says.
The final verdict:
If you struggle to maintain or sustain an erection, using a penis pump in conjunction with other erectile dysfunction therapies like cock rings, pelvic floor therapy, Viagra, or Cialis might be exactly what you need.
.
RELATED: Learn how to use a penis ring during partnered anal play, and find out why everyone is raving about the pussy pump?!