One of the easier ways to amp up your partnered anal play is by adding a penis ring into the mix.
What are the benefits of using a penis ring?
Penis rings, AKA cock rings AKA p-rings, are worn around the base of the penis or the base and testicles depending on how much you want to constrict the blood flow.
Their primary function is to trap blood flowing into the penis, making it firmer and more sensitive. Trapping the blood flow can also help maintain an erection. However, if you are already hyper-sensitive or dealing with premature ejaculation issues, they may not be suitable for you.
Vibrating penis ring & butt plug
Penis rings are excellent for folks who love sensation or want to explore heightened sensitivity during anal sex/play. While penis rings come in many styles, the most versatile p-rings for partners seeking a sensory overload is a penis ring butt plug combo like the Vibrating Snug & Tug.
For a limited time, enjoy 25% off the Vibrating Snug & Tug or the regular Snug & Tug with the coupon code TUG25 — enter the code at checkout.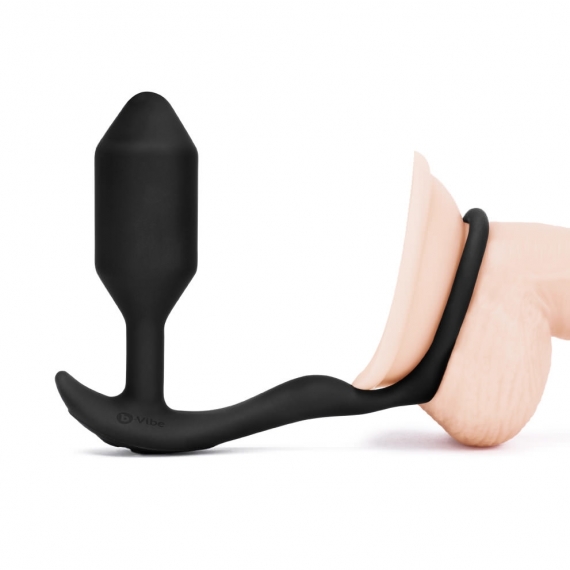 The Vibrating Snug & Tug combines a stretchy silicone p-ring with b-Vibe's popular Snug Plug design, then throws four vibration intensities and six patterns into the mix. If this sounds like an overwhelming amount of sensation, that's because it is, but isn't that the point?
Here are some ways to incorporate the Vibrating Snug & Tug into your partnered anal play.
Up your hand and mouth game
Adding a Vibrating Snug & Tug to your hand, ball sucking, or ass eating sessions is like adding another set of hands. While you work your magic with your mouth or hands, the weighted barrel-shaped Snug Plug will give the wearer a feeling of fullness while its soft silicone edges rub against the good spots.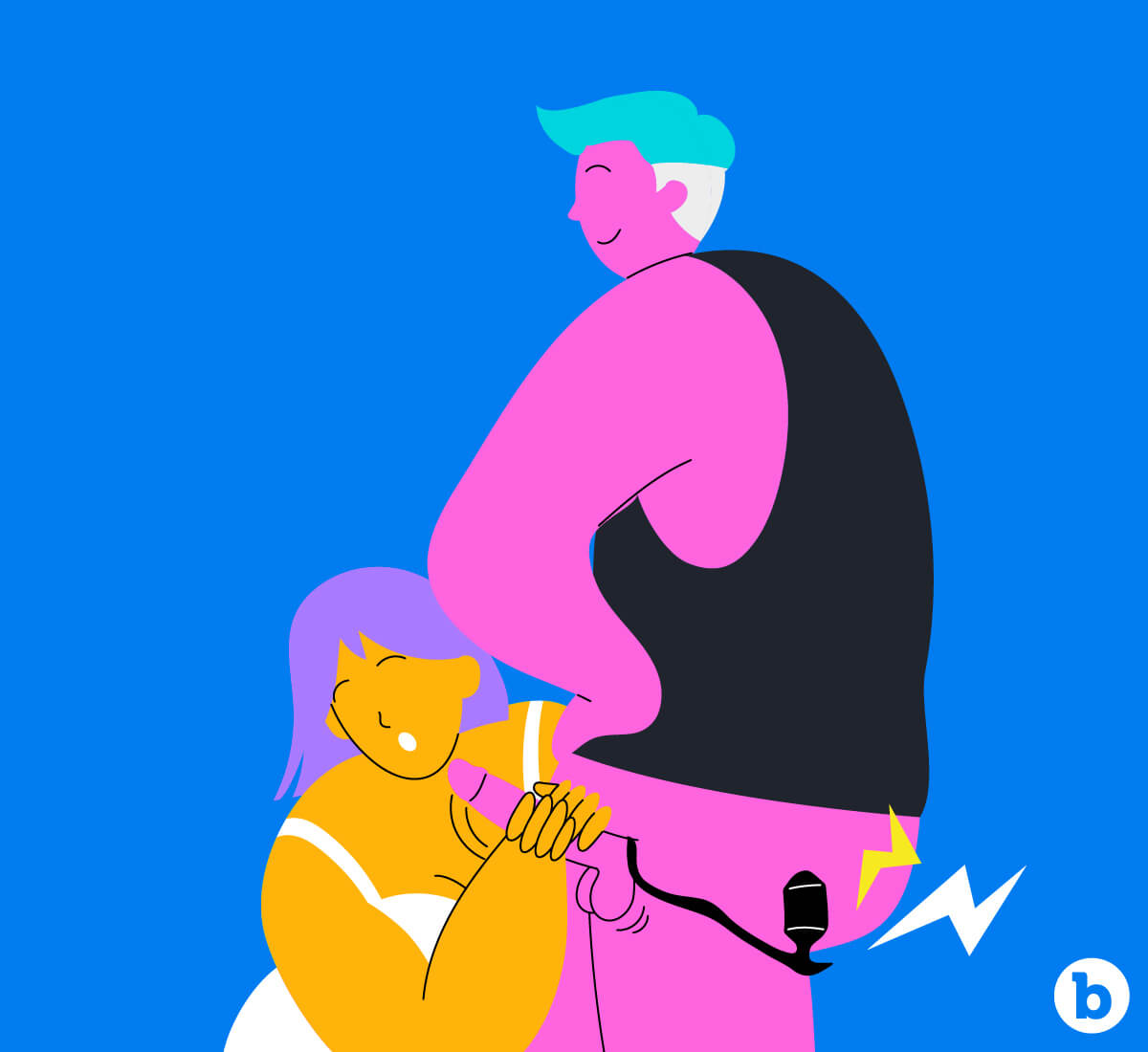 The penis ring pumps up the sensation in the shaft, while the silicone bar that connects them runs along the perineum. Switch on the vibration to push everything up a notch.
RELATED: 5 Amazing Tips on How to Use A Vibrator On A Penis!
Use the vibrating snug & tug for p-spot stimulation
The Vibrating Snug & Tug is the perfect shape for prostate orgasms. The vibration combines with the weighted balls inside the plug to create ripples of pleasure that massage the prostate.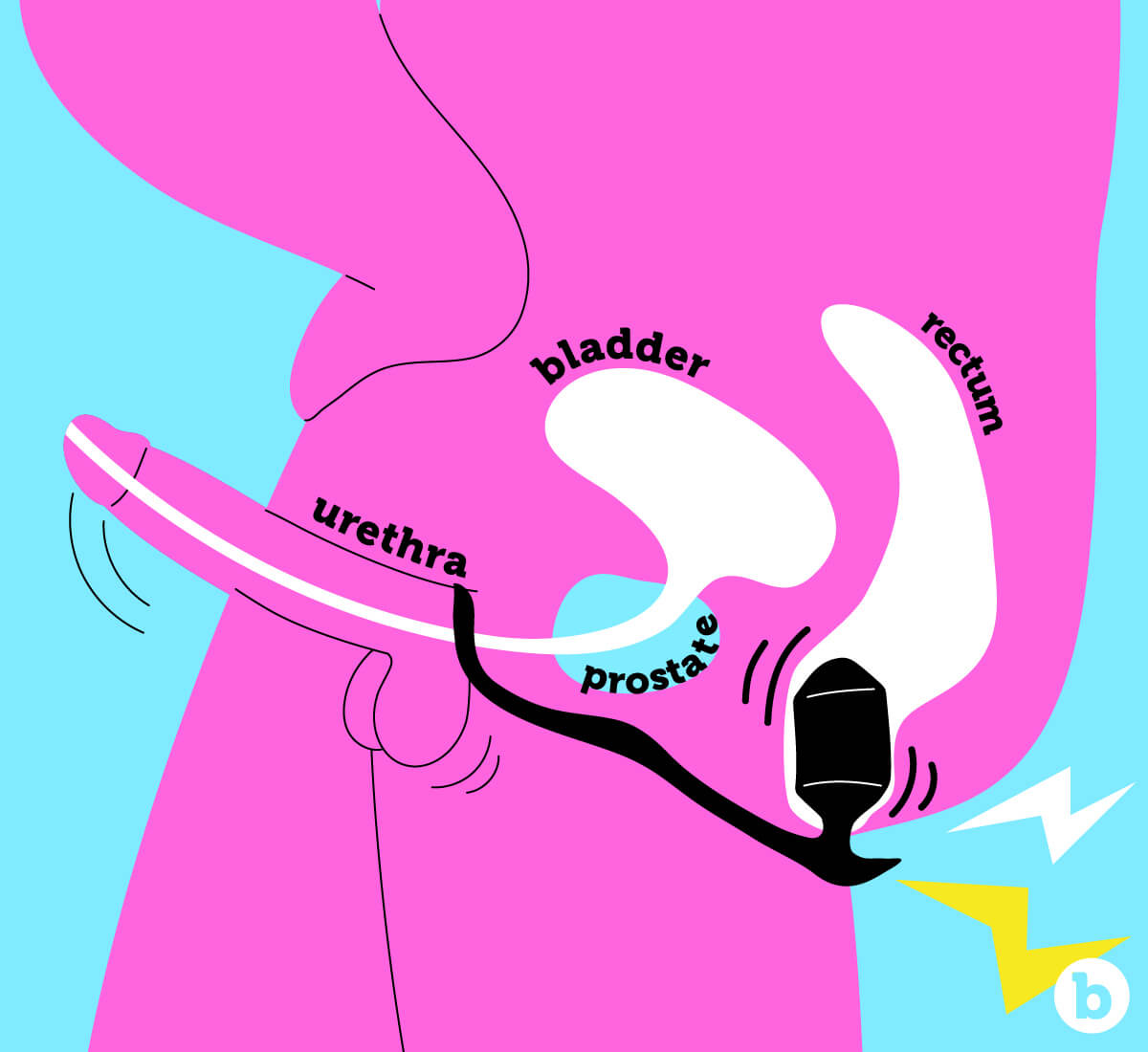 Turn on the vibrations from the powerful four-speed motor, and you'll be on your way to experiencing a prostate orgasm in no time!
Wear it with your strap!
Vibrating Snug & Tugs aren't just for bio penises. You can wear them around silicone penises too. Adding a Snug & Tug to your strap-on toy allows you to experience anal stimulation from a vibrating plug. At the same time, the penis ring will transfer that vibration to the dildo adding to your partner's pleasure.
MASTER: The best pegging positions to try with your partner right now!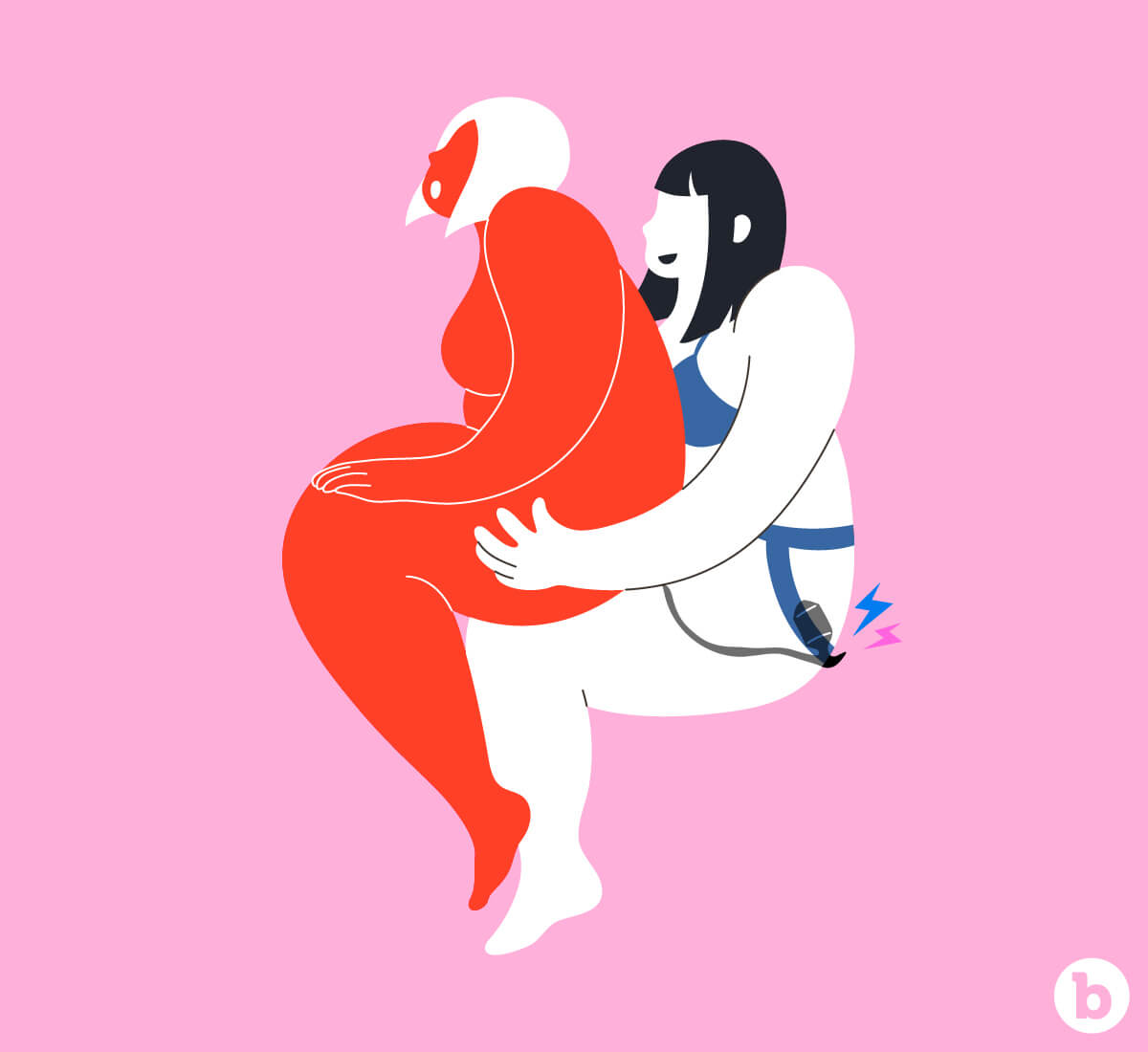 And a bonus for those who have a G-spot, the thickness of the Snug & Tug makes it ideal for massaging the G-spot through the thin walls that separate the vaginal and anal canals.
Add in some mutual masturbation fun
What's better than one Vibrating Snug & Tug? Two of them! You and your partner can both enjoy the plethora of stimulation the toy has to offer while giving each other a show. If that's not hot, I don't know what is.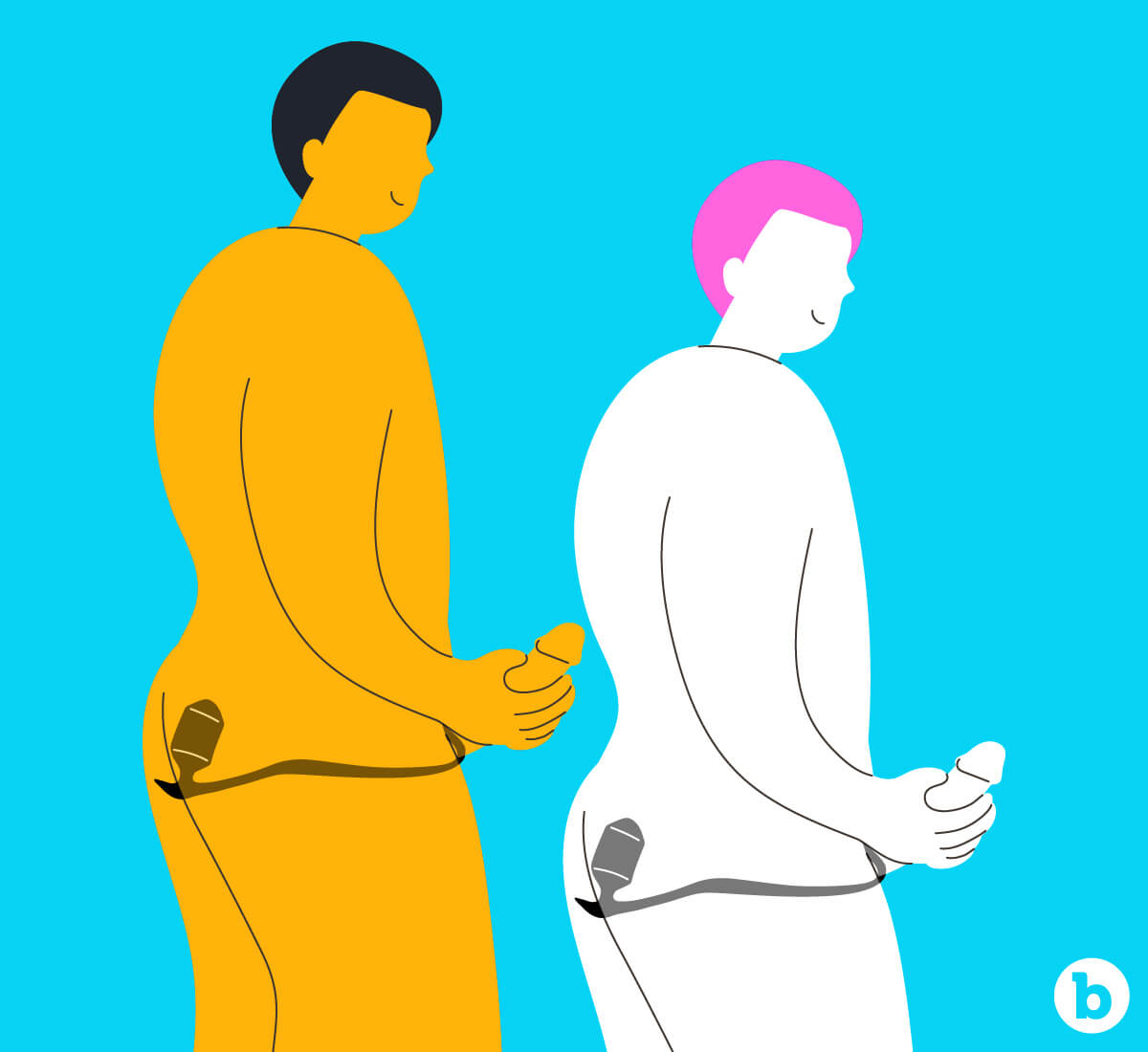 1) The Vibrating Snug & Tug is not for newbies. Even though it comes in two sizes, Medium and XL, neither of those are beginner-friendly. To achieve a similar sensation, you can start with a small plug like the Novice Plug and use a separate p-ring.
2) Lube is doubly important when using the Vibrating Snug & Tug. Both the penis ring and the plug need to be thoroughly coated in a thick water-based lube, such as the b-Vibe Natural Water-Based Lubricant. Avoid using silicone-based lube with silicone toys.
3) Although the Vibrating Snug & Tug is meant for experienced anal players, it's still a good idea to take it slow as you explore different sensation combinations.
4) If you and your partner(s) share anal toys, be sure to wash and sterilize them between uses. Unfortunately, boiling isn't an option for vibrating plugs. However, you can use a UV Sterilizer Pouch for motorized silicone toys.
.
New around here? Be sure to check out our most popular guides on analingus, anal cleaning, and anal sex training. Not a fan of reading? Well, we've got anal sex podcasts, anal sex education videos, and more in our Anal Academy!