b-Vibe's new brand ambassador and resident sex expert, Bobby Box, shares his teabag testimonial on how to master The Art of Ball Sucking in his first Anal Academy lesson. Read on!
When you're giving oral sex, balls, they're just kind of hanging there, observing. So what are you supposed to do with them? Give them a tug? Pop them in your mouth? Ignore them? Each of these answers can be correct, depending on the individual, but many people seem to be into it. According to a survey from MysteryVibe, an overwhelming 87 percent of men and penis-havers like it when a partner plays with their balls, and 50 percent incorporate testicle play when they masturbate.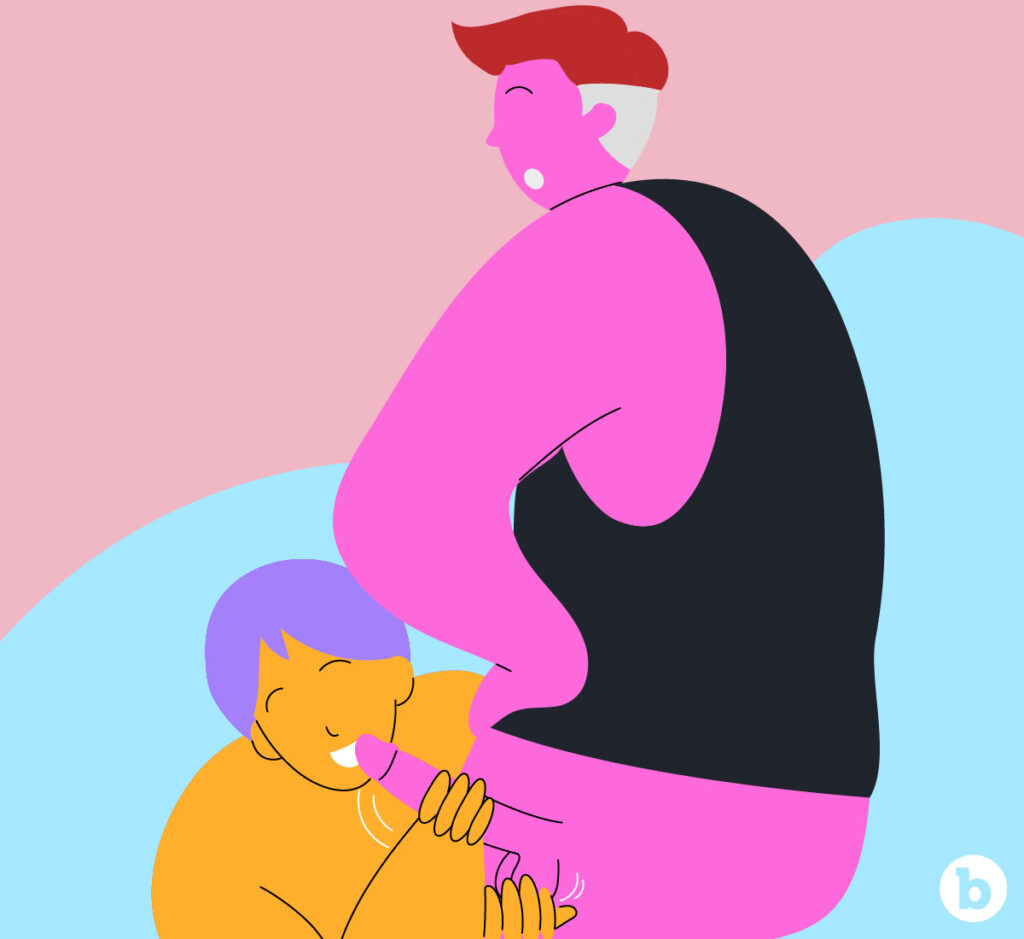 But testicles can be tricky. For starters, they can be very sensitive- unbearably sensitive for some. So it's important you proceed with caution, especially since you're putting them in your mouth and sucking them. Teeth are scary! However, mouths are fantastic for pleasuring more sensitive areas of the body since our lips and tongue are well adept at providing gentle stimulation.
Unlike blowjobs, the act of ball sucking is exactly what it sounds like: you're putting someone's balls in your mouth and sucking on them. This isn't rocket science. But because testicles are so sensitive, you need to be careful. The key is to be not too rough, not too gentle, just as Goldilocks would have it. The difference between a good and a bad ball sucking experience largely lies in nuance and communication.
It should also be mentioned that ball sucking is good for your health. Stimulating the testicles promotes ejaculatory production and can improve blood circulation to the region, making erections firm and the genitals more sensitive. Ball play can also help identify irregularities like lumps and swelling, so there's no reason you shouldn't at least try it, right? OK then, let's get the balls rolling.
Why does sucking balls feel so good?
Testicles are a fascinating thing. If licked, you can experience immense pleasure. If kicked, you can experience intolerable pain. The reason for these stark outcomes is the same: testicles possess a ton of nerve endings in a relatively small area. These nerve endings are so densely populated that pleasure and pain can feel nearly analogous. That's why it's important that you be especially careful when handling someone's balls. It can be a delicate dance: You have to be gentle so you don't hurt your partner, but also firm enough so that they actually feel something.
Before you start sucking testicles
Before you engage with the testicles in any way, shape, or form, get consent. "If you and your partner are new to ball play or have experimented for some time, you know that communication is key," sex and relationship therapist Dr. Joe Kort says. "Afterall, the safety of their crown jewels are in your hands...and mouth."
Some people love having their balls played with, while it can make others uncomfortable. For instance, some people hold more tension in their pelvis than others, which can make the area too sensitive to enjoy and feels unbearably ticklish. On the other hand, some may not experience much sensation in and around their testicles. Others may just have mental hangups.
That's why, as with all forms of sexual activity, it's important to ask consent prior. This can be done before or during sex. Something as simple as, "Do you like having your balls played with?" should do the trick, just keep it casual. If you're coy, try asking during a steamy sexting session.
Related: How to introduce your partner to butt stuff by having an anal sex talk.
Since the testicles are external and don't lubricate, you may want to proactively mosten your mouth, so put a bottle of water or edible lube next to the night stand, and if you want to be a real pro, you can preemptively stimulate saliva production by chewing gum, sucking on a sour candy, gargling with a Xylitol-based mouthwash, or downing a shot or two of pickle juice -- which, fun fact -- is also quite hydrating.
As the person getting their balls sucked on, be courteous and give your testes a nice trim and a generous wash in the shower. Scrotums can become pungent, what with spending the day sweating in your undies and all. Of course, if your sexual partner likes a sweaty sack, keep it as is. Many do!
Ball sucking for beginners
Because the balls get so little attention, this could be the first time someone is having their testicles stimulated; so in addition to communicating, you're going to want to start slow and gentle. You won't even really be sucking at the beginning, more licking, kissing, and housing the balls in your warm, wet mouth. (Sounds hot, doesn't it?)
A great way to ease your partner into ball play is by getting them aroused first. Kiss them, play with their nipples, tease their penis with your hand and mouth, massaging around the area.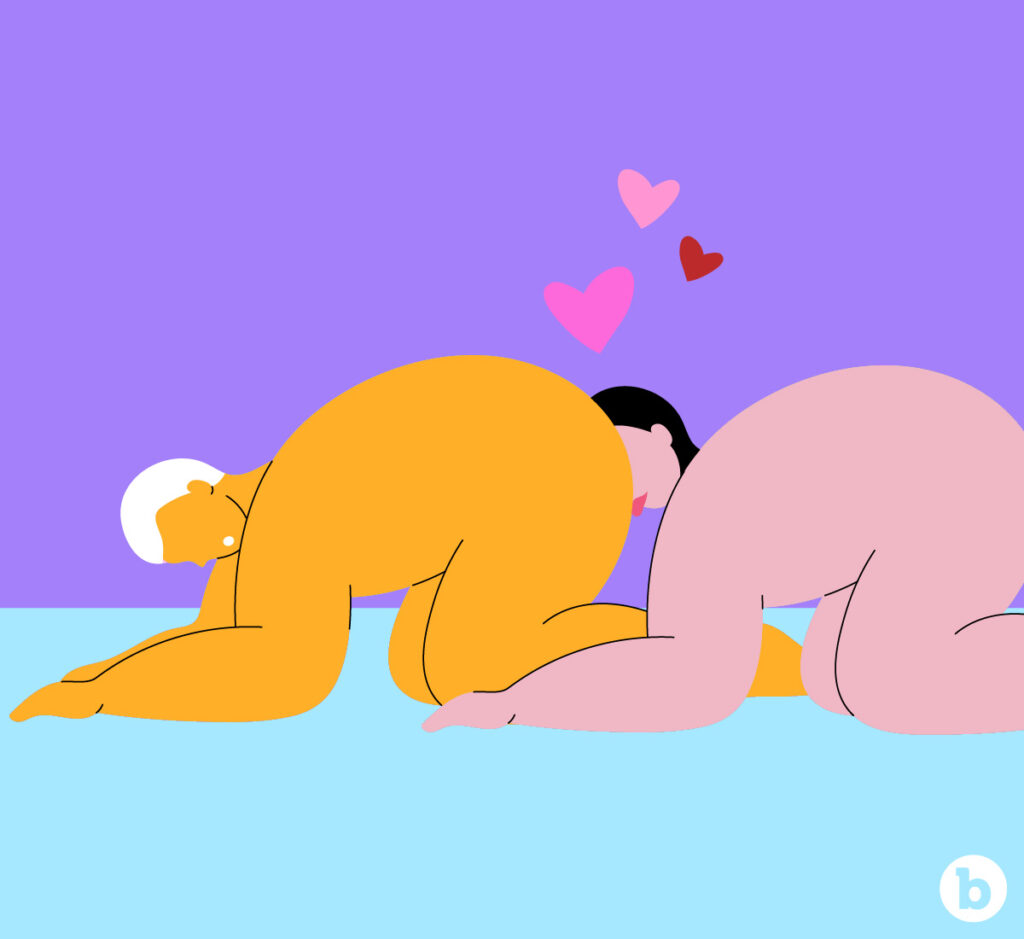 Balls and scrotums come in all shapes and sizes, and each one is beautiful, it just might change your stimulation approach. If the scrotum is taut and close to the body, you might want to start with slow licks and kisses, working along the perineal raphe, the fleshy seam that runs through the centre of the scrotum, which is particularly responsive to stimulation. If they have low-hangers, place the testicles in your mouth, swirling your tongue around each testicle in combination with some gentle lip pressure.
Don't be afraid to get handsy either. Stroke the penis while you play with their balls. Gently brush and caress the scrotum with your finger tips. Rest the sack in the palm of your hand and roll them around a little. Make a human cock ring grabbing around the balls with a slight pull while you're giving oral.
When it comes to the literal sucking of the balls, you can do so one at a time, taking one ball into your mouth, gently sucking in your mouth, or slowly and gently popping it in and out of your mouth. If you've got the real estate, you can try fitting both ball into your mouth, using the same techniques. Think of it like you're massaging their balls with your mouth and tongue.
As a general rule: While there's often two, it's smart to think of your balls as a singular unit. Since each testicle has a spermatic cord attached to the body, any twisting or excessive pulling or tugging can be painful, even dangerous. So keep that in mind.
Best positions for sucking balls
Scrotums aren't the most accessible part of the anatomy, so it can be tricky figuring out a way to position your bodies so you're both feeling comfortable. Fortunately, some of your favorite sex positions can be easily modified to allow for easier access to the crown jewels. See below:
Missionary
Have your partner lay on their back with their hips propped up with a pillow or sex furniture like the Liberator Ramp. The testicles can be accessed easier when their legs are spread open. If they're comfortable, they can lift their knees toward their chest as well. Lie on your stomach between their legs (prop yourself up on your elbows) and position yourself in a way that can be comfortable and not strain your neck or head.
On Your Knees
Get on your knees and have your partner lean back or sit on the edge of a bed or chair.
Saddle Straddle
"Have your partner straddle your chest and move forward far enough so that their balls can easily be placed in your mouth. This position gives you less freedom to move around, however it's an excellent position for facesitting or for them to teabag you while you pleasure them," Kort says.
Doggystyle
We're all about butt stuff, so why not approach their balls from behind? Besides being one of the best positions for anal sex, this position allows you to easily lick the perineum and anus as well.
69
Have your partner lay on their back and hop on top. Position your head on top of their genitals and position your genitals above their face.
Advanced ball sucking tips
Once your partner has gotten more comfortable with having their balls sucked and stimulated, you can start being a little more aggressive with your techniques, gradually increasing speed and pressure. You can also introduce some new techniques as well, like nibbling, or sucking a testicle into your mouth and pulling away to give a little tug. If you have facial hair, gently brush it along the raphe. Humming and blowing can feel fantastic as well. Of course, you're going to need consent before taking things up a notch.
Sex toys are another addition to ball sucking that you and your partner can explore together. We've selected a few of our favorites below.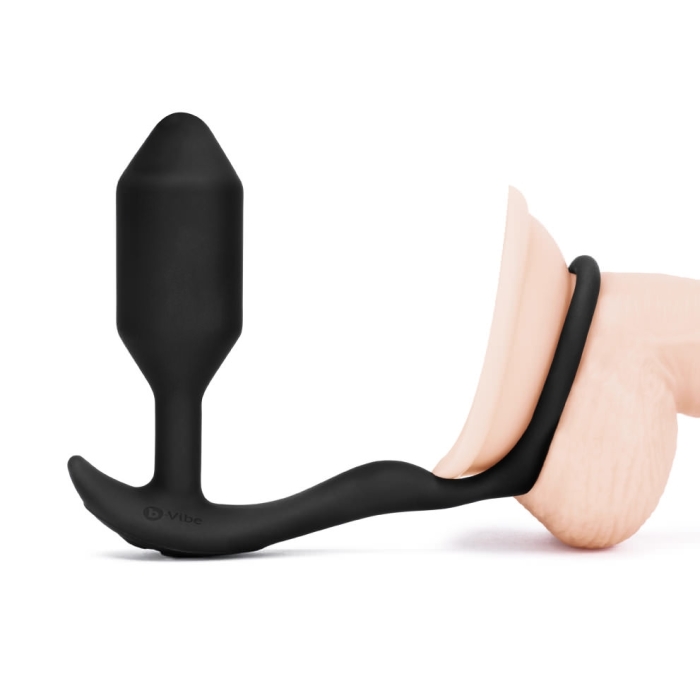 One part penis ring and one part weighted butt plug with powerful vibrating settings, this hybrid sex toy not only fills and stimulates your anus and rectum, but the cock ring wraps around both the penis and testicles, which welcomes bloodflow and prevents it from escaping. This makes your genitals more responsive to stimulation, your erections more firm, and your orgasms more intense. It's a win-win-win.
This butt plug is as beautiful to look at while you ball suck as it is satisfying. The toy boasts six vibration intensities and 15 patterns for a climax more intense than your standard genital orgasm. The Vibrating Jewel Plug is available in four sizes for all experience levels, so there's something for everyone.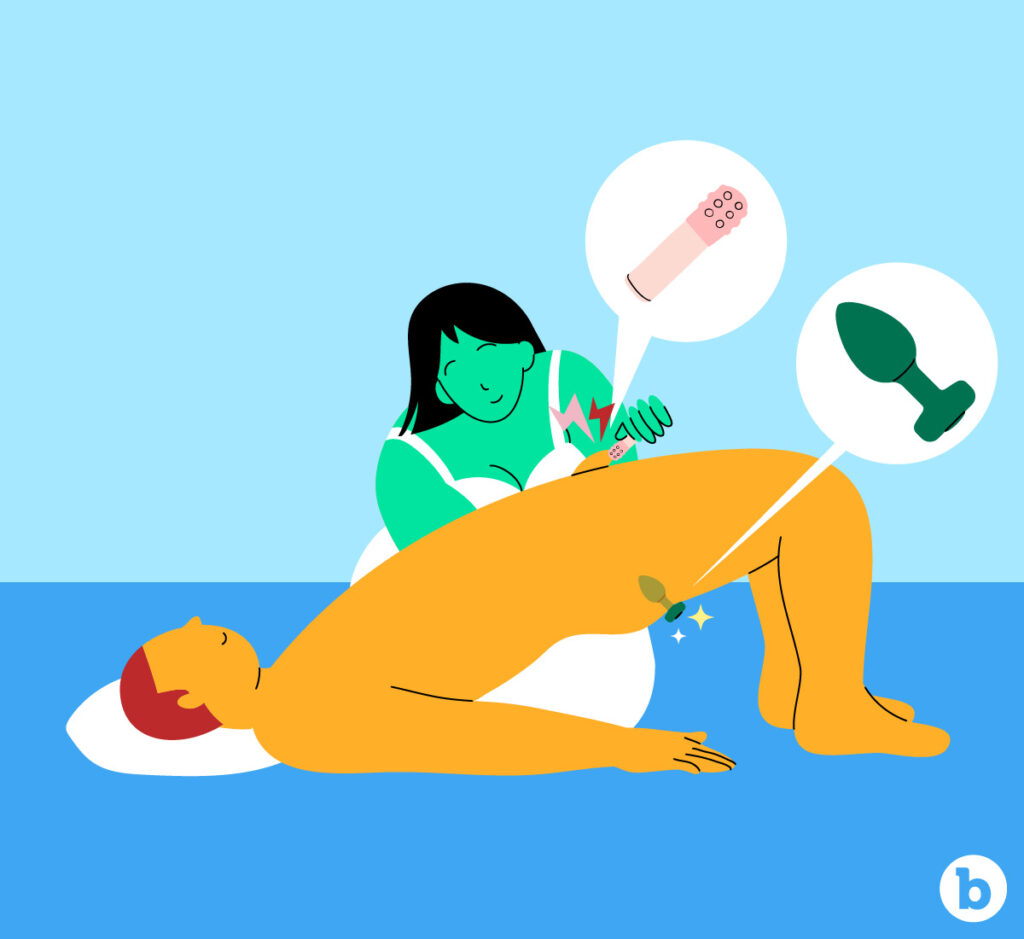 The Bullet by Le Wand is an incredible option for testicle stimulation, offering direct and pinpointed stimulation in four vibration intensities and 11 pulsating patterns. It's also whisper quiet and small, making it a fantastic and inconspicuous travel companion.
Even smaller than the Bullet, the Necklace Vibe also doubles as a chic piece of sex positive jewellery with eight vibration modes and a super silent motor for discretion. The dainty yet powerful vibe is linked to a stylish stainless steel chain so you can take it with you for ball play adventures on the go and look damn good doing it.
For beginners, soft touch can be quite erotic in addition to sucking and nothing provides a softer touch than a fluffy feather. "Allow the feather to travel down to the taint and inner thighs as well," Kort says. "They will squeal with excitement!"
Being a butt-centric brand, we're all about the liberal use of lube, and this philosophy is true of ball sucking as well. Lubricant reduces friction (which is important, since balls can have hair and the skin is thin) and it heightens sensation. While you can use saliva, it dries quite quickly and we simply don't produce enough of it to keep things wet enough, long enough. If you're not fond of the taste of balls, use a flavored lube, like our deliciously decadent cherry vanilla lubricant.
If you're a fan of temperature play, use a cooling or warming sensation lube. Or if you 're so bold, use an ice cube or hold an ice cube for 30 seconds and touch it with chilled fingers. Just make sure you rub your hands together to warm the lube up before applying, lube can be chilly and shock the body.
Hard ball sucking and ball slapping
If you or your partner are well-versed in ball play, here are few suggestions from Kort to take things to the next level.
Cock Rings
Try a dual loop cock ring that is made to go around the shaft of the penis and around the scrotum separately. "There are varying sizes, so depending on the restriction and pressure your partner enjoys, you may want to experiment here," Kort suggests. "The added pressure around the scrotum will enhance everything you try." If you've never used a cock ring before, Kort suggests starting with a pliable vibrating ring. As you become more experienced with cock rings, you may want to try one of the many variations available that constrict your scrotum even further.
Revealed: Why you should use a butt plug with cock ring during your next play session!
Get Toothy
"Unlike a blow job, dragging your teeth lightly across their scrotum might feel good," Kort says. "Nibble on the skin or lightly bite their testicles - just don't bite too hard!"
Testicle Pumps
Testicle pumps are pretty intense and should only be used by folks who are experienced or have done extensive research. "Not only do many (penis-havers) find the pressure and sensation erotic, it engorges the testicles to make them appear bigger and more plump for the picking," Kort says.
Always approach more extreme sexual acts with caution. "I tell all of my clients to start slow, you don't have to go from A to Z during one sexual encounter," Kort says. "If you are considering more extreme play, please do your research first. Understand the pros and cons before your first encounter. Afterall, the family jewels are at stake!"
.
Enjoyed this guide on ball sucking? You'll love this guide to analingus and our most read articles on anal sex training, massaging the anus, and how to have a prostate orgasm.