Sure, you probably know your birthstone... but do you know your Butt Stone?!
Do you know what your birthstone is? My birthstone is a ruby. I've grown to love it, but it wouldn't have been my first choice. Unfortunately, that's how it works.
Birthstones are assigned to you according to the month you were born. So you don't get to choose the sparkle that best suits you. Fortunately for you, that's not how Butt Stones work!
Butt Stones, AKA b-Vibe's Vibrating Jewel Plugs, are a collection of 4 powerful vibrating remote-controlled silicone butt plugs. Each plug features a sparkling jewel in either Aquamarine, Pink Ruby, Emerald, or Black Diamond. So with Butt Stones, you get to choose the Vibrating Jewel Plug whose sparkle suits you best, and you can have more than one!
Choosing Your Butt Stone
All four Vibrating Jewel Plugs are made from body-safe silicone and come fully equipped with a powerful motor, six vibration levels, fifteen vibration patterns ranging from soft pulsations to deep and powerful, a flexible neck, and remote control.
When you combine these luxe details mentioned above with sparkling gems, you get one of the most versatile jeweled plugs on the market. That being said, you're going to choose your Butt Stone the same way you'd choose any other butt plug, by picking the size that works best for where you are in your butt stuff journey. I know you may have your heart set on a particular color but trust me, you're going to want to start by choosing the correct size.
Vibrating Jewel Plugs come in two sizes — Small / Medium (Aquamarine and Pink Ruby) and Medium / Large (Emerald and Black Diamond).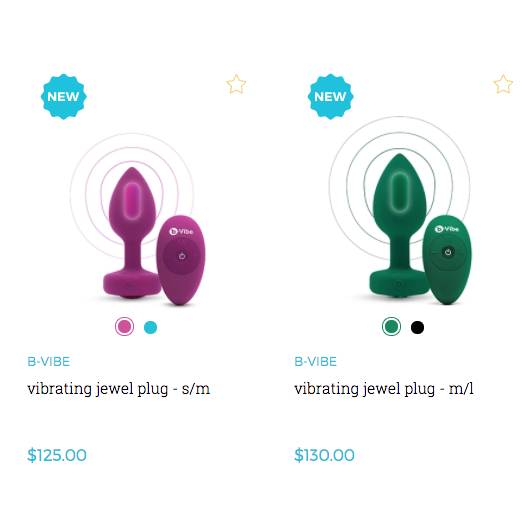 Neither of these sizes is beginner-friendly. So if you have zero experience with anal play and butt toys, I suggest starting off with the Novice Plug and then work your way up to the sparkly vibrating goodness. The Small / Medium plug is suitable for those who have moved beyond their beginner plugs or have experience with penetrative butt play. The Medium / Large plugs are big but not huge, so while they may not satisfy the size royalty in the room (like the Rimming Plug XL), they will definitely satisfy those of you looking to stretch your limits (and your buttholes).
How to Use Your Butt Stone
Now that you know about all the bells and whistles, here are some ways you can get your booty sparkle on:
Add a little UNFFF to your anal training. The Vibrating Jeweled Plug's flexible neck allows for comfort during extended anal play or training sessions.
Jeweled plugs not only feel good, but they also look good. Show off during partner play. Use the Vibrating Jewel Plug as an excuse to try out positions that will show off your gem. Here are a few of my favorites.
Reverse Cowgirl
Your partner lies on their back; you straddle them, facing their feet.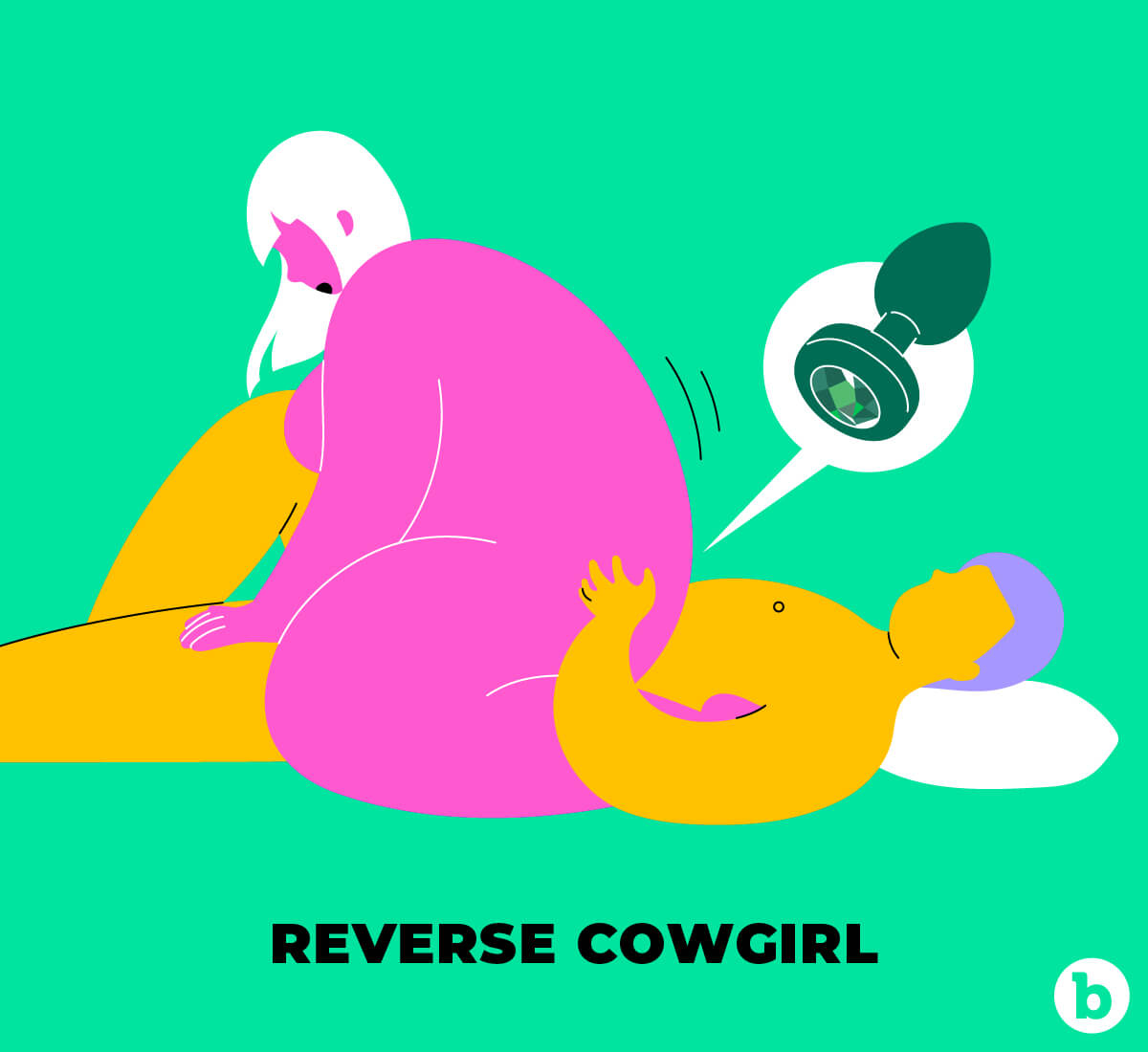 The Corkscrew
Lay near the edge of a bed or bench, rest on your hip and forearm and press your thighs together. Your partner stands and straddles you, entering or grinding from behind.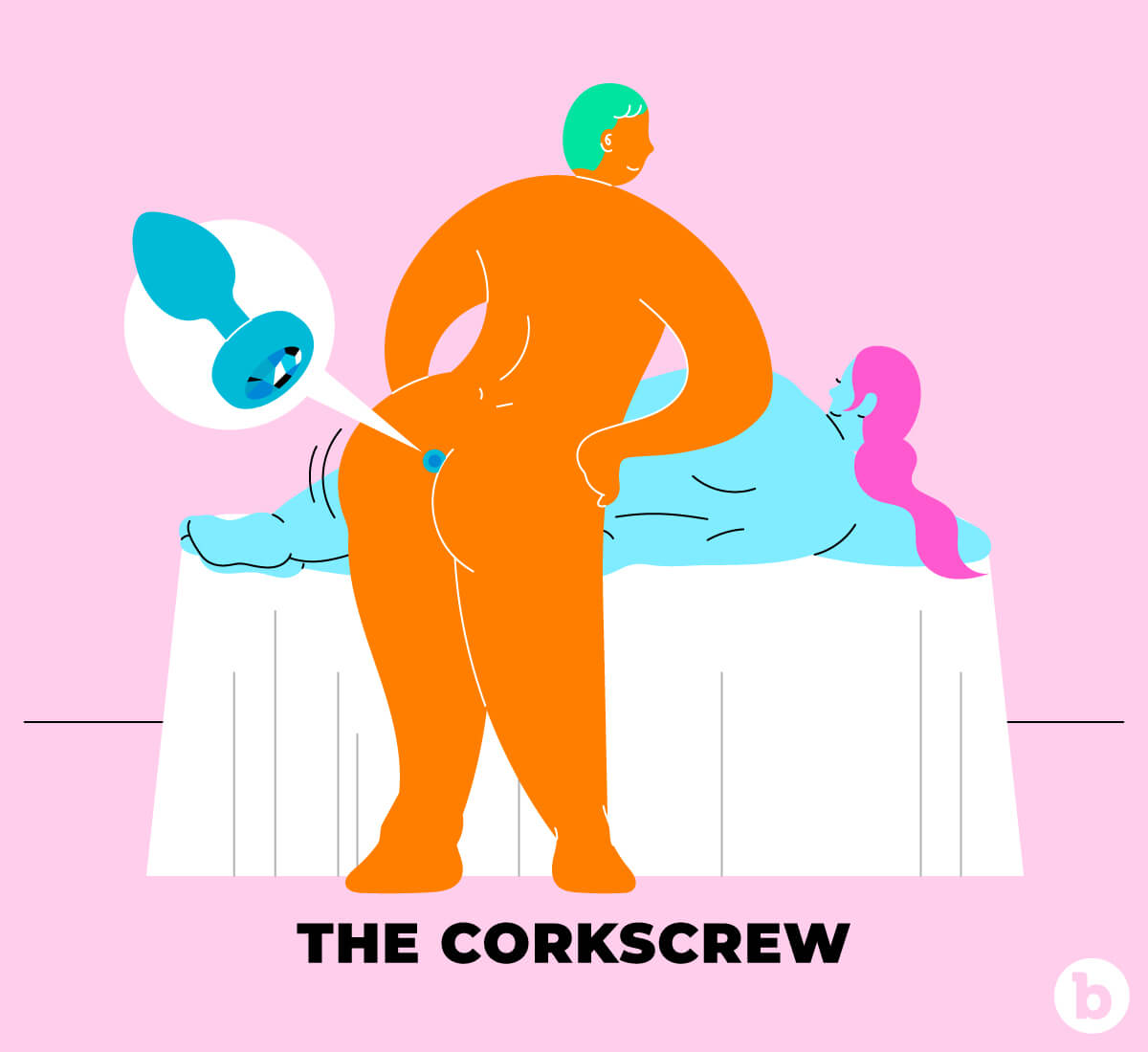 The Wheelbarrow
Get on your hands and feet and have them pick you up by the pelvis. Then grip their waist with your thighs.
Give yourself the old Razzle Dazzle when using a Vibrating Jewel Plug to amp up your solo play. A butt plug can add an extra layer of sensation to your masturbation sessions that will have you shining bright like a diamond. The best part is the remote control can free up your hands for other pleasurable tasks. You deserve fancy orgasms.
RELATED: The best positions for anal sex to try in 2022!
Caring for Your Butt Stone
When all your play is over and it's time to clean up, make sure you treat your Jeweled Plug with care!
Vibrating Jewel Plugs are splash-proof, so it's OK to wash them with warm soapy water, but you'll want to avoid submerging the plug entirely in water. After you've washed and dried the plug, you can go a step further and use a toy cleaner like's b-Vibe's organic sex toy cleaner. Spray the toy down entirely and let it sit for a moment before rinsing it off.
After you've dried the Vibrating Jewel Plug, store it away for future use in its anti-bacterial storage bag. If you need to sterilize the plug, I recommend b-Vibe's UV Sterilizer Pouch.
What you do, DO NOT BOIL IT! Boiling will destroy the mechanisms inside, and it could cause the gem to fall out.
If you're still wondering why anyone would want a jewel plug, the simple answer is that they're cute, fun, and they make you feel LUXURIOUS. Everyone deserves a little whimsy in their sex lives.
.