If you're curious about how to stimulate the prostate without penetration, carry on reading this guide on how to give an external prostate massage.
At b-Vibe, we're all about putting total pleasure into anal play! Trying butt stuff for the first time can feel scary or uncomfortable if you're not in the right mindset, especially if you're working through all those silly taboos about having a penis and enjoying booty penetration.
There's absolutely nothing weird about having a penis and liking butt sex, and putting a toy or finger in dat booty definitely won't change your sexual orientation.
But if you've been reading along with b-Vibe's series of anal play advice and you're kind of, sort-of freaking out about the idea of exit-only hole turning into a temporary entrance, chill out! We've got a solution so you can experience the awesomeness of prostate play without going all the way up your poop chute. Hint: It's called an external prostate massage.
Get to Know Your Pleasure Parts First — The Prostate
If you're a b-Vibe blog fan, you've already heard us sing the praises of anal sex for men.
There are thousands of ultra-sensitive nerve endings around the entry of your butt, both inside and out, which makes stuff like analingus or butt plug play feel amazing – especially while playing a penis at the same time. But did you know that you've also got an extra special spot just a short way up your rectum that can be teased and tantalized to build an explosive orgasm?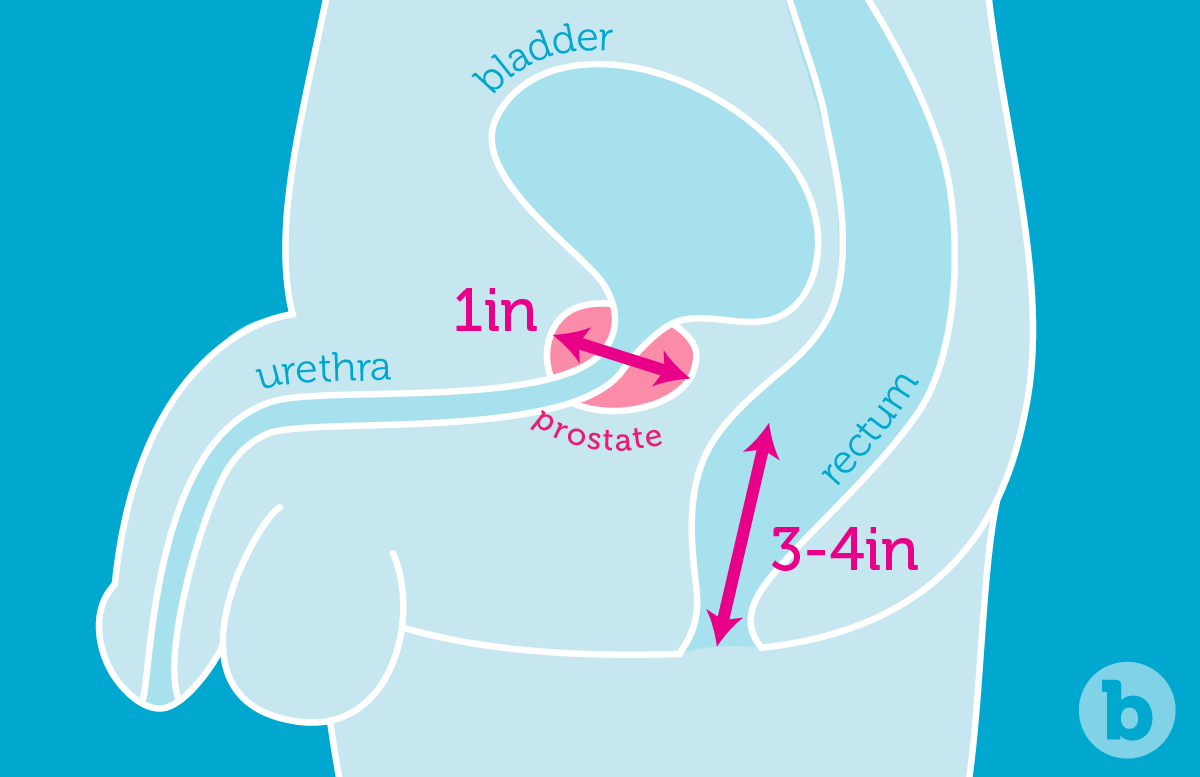 Your prostate gland is located just in front of your rectum - about a few inches up, just behind the bladder. The prostate is responsible for producing part of the fluid that shoots out when you ejaculate. In fact, the seminal fluid that accompanies sperm during ejaculation actually protects sperm from being seared by the acidic pH inside the vagina, acting as a shield while they swim to the egg.
Reproduction aside, playing with your prostate - also known as the p-spot - triggers that same heavenly ejaculatory release, which is often compared to the epicness of a G-spot orgasm.
LBH- if you've ever heard a vulva-owner talk about the G-spot, you know what's in store when you give your P-spot a shot!
Press P (Prostate) to Play
Woah, oh, oh, it's magic! Using a toy or a finger insider your booty, you can gently stimulate your prostate into orgasm without touching your penis or even maintaining an erection. Since your prostate has no refractory period (unlike the penis) you can come again and again - or at least until you're too tuckered out for another go.
Like we mentioned earlier, internal anal play can be a bit intimidating at first, but you can still experience this special sex without taking things inside.
C'mon, you know you've probably made a taint joke or two at some point - or maybe you called it the "gooch." Better known as the perineum, the area of skin between your butt and testicles is the key to accessing your prostate from outside. We'll guide you through the steps of prepping and pleasuring your perineum for prostate bliss.
Get Your External Prostate Massage On
Grab your favorite lube or massage oil (we're BIG fans of using coconut oil for sex) that's safe for use around the genitals, and slather your perineum with a healthy dose.
Next, lube up your penis and around your anus as well if you'd like to bring extra stimulation into the mix. If you've got a partner, consider inviting them too. It'll be twice as fun, and some of the anal massage techniques work better from a partner's opposing perspective.
LEARN: The complete guide on how to choose the best anal lube
Using the soft pads of your pointer and index fingers, gently press into the fleshy tissue of the taint. You can also take those same fingers, curl them up, and use your knuckles. Press inward with a slight upward angle, like you're trying to reach between the rectum and bladder from the outside. The prostate feels a bit harder than the surrounding tissue, and when you reach it, your body might mistakenly tell you that you've got to pee.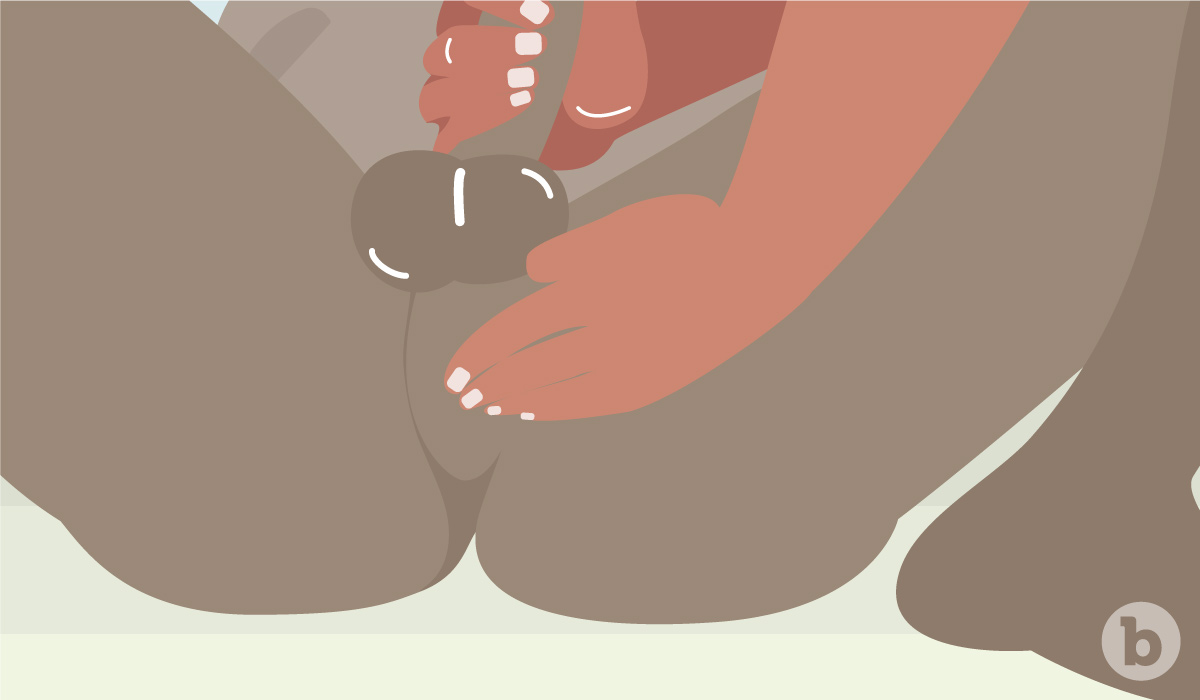 Keep massaging with a firm but gentle motion until the need for a bathroom break turns into the ooohs and aaaahs of a fantastic hand job. This is obviously a great time to stroke your penis, fondle your balls or run a lubed finger around the outside (rim) of your butt hole. Whatever normally gets there — do that!
Accelerate the Pleasure Pace
Experiment with different massage rhythms with your hands, or bring in a buzzy toy to change up the pace. You can use a b-Vibe vibrating butt plug to press into your perineum, adding tantalizing vibrations and multiple vibe modes to your P-spot session.
For broader stimulation that rumbles your testicles and booty hole, too, a wand vibrator like Le Wand works wonders.
RELATED: A sex educator's guide on how to use a vibrator on your dick!
If it's your first time experiencing an external prostate massage, you might need to stroke your penis to help push you over the edge. As you learn the ropes, challenge yourself to orgasm without including penis stimulation, and then amaze your partner while showing off the magic of a hands-free climax.
During penis-centric partner sex, popping one off too early can be a buzzkill, but not with prostate play! If all that prostate massage action brings you to a quick climax, just shrug it off and start all over again.
Keep On Comin'
In time, you might even be ready to stimulate your prostate from the inside. An external prostate massage is a fantastic way to warm up for anal penetration. If you thought your big O was amazing from the outside, just wait until you've got a set of anal beads or a butt plug buzzin' right next to your bum's best hot spot.
Loving your prostate is a healthy way to get in touch with your inner workings. After all, you've got to mess around under the hood to know how the car works, right? Get comfortable with your body's magic buttons and dials and you'll understand your sexuality in a whole new way — and what could be sexier than that?
.