Bedroom butt stuff just not enough? Zachary Zane talks us through how to make your world a little more booty-ful with the do's & don'ts of wearing a butt plug in public!
My ex-boyfriend used to wear a butt plug every single time he worked out. He'd pop that bad boy in before heading to the gym and then hit the squat rack. I had no idea he did this regularly until about eight months into our relationship. We had just worked out together and he interrupted me mid-sentence to say, "Hold on, I got to take out my butt plug."
"Excuse me?" I replied. I was in shock that I never knew that this was his "thing." When I asked why he did it, he replied, "I don't know. It feels good."
Reason enough!
This gave me the idea to start wearing around a butt plug in public, but unlike my ex-partner, I didn't want to use one just because it feels good; I wanted to use one as a form of anal training. That's why I decided to wear a butt plug all day after I set up a sex date with this man who was hung like a bull. I was afraid I'd be too tight for the impending impaling I desperately craved and hoped that wearing one around town would loosen me up.
So I lubed up a plug, gently nuzzled that sucker inside me, put on my underwear and a pair of shorts, and carried on with my day. I went to the gym. (My ex is a genius. Squatting does feel spectacular with a butt plug in.) I biked down Commercial St. (I was spending the summer in Provincetown.) I got lunch with my uncles. I had a merry afternoon in public. Then I got railed in the evening, and it was fabulous. Following that day's success, I've worn a butt plug in public when I know I'm going to get pounded by a meaty shvantz.
Here's what I've learned from the many times I've worn one while out and about. (Oh, and even though I'm writing this from my experience as a cisgender man, please note that these tips are universal. They pertain to vulva-owners along with all genders and sexual orientations, regardless of whether you have a prostate!)
RELATED: A vulva owner's guide on how to masturbate in public (without getting caught!)
1. There are better ways to prepare for big penises/dildos.
Even though I use a butt plug to help stretch myself out, honestly, that's not the best way to prepare yourself for a well-endowed fella or strap-on. That's because you don't move the plug once it's inside you. It simply rests in your rectum. As you likely know, a penis doesn't just "sit" inside of you. You get penetrated (the in and out motion) with a penis or strap-on.
So if you really want to prepare, you should get an anal training kit and work yourself up to the bigger toys. You should repeatedly insert and remove the toy from your anus. That's how to prepare for a big penis or dildo properly. That said, wearing a butt plug for a few hours beforehand still does something. It's still better than no preparation at all.
2. Use lube when you insert your plug (and carry a bottle with you).
Of course, you should use lube when inserting your butt plug, as you do during solo anal masturbation or partnered play. "I recommend silicone butt plugs for comfort and safety, so be sure to use a thick water-based lube or hybrid lube," says Daya Dare, an NYC-based kink and anal sex expert.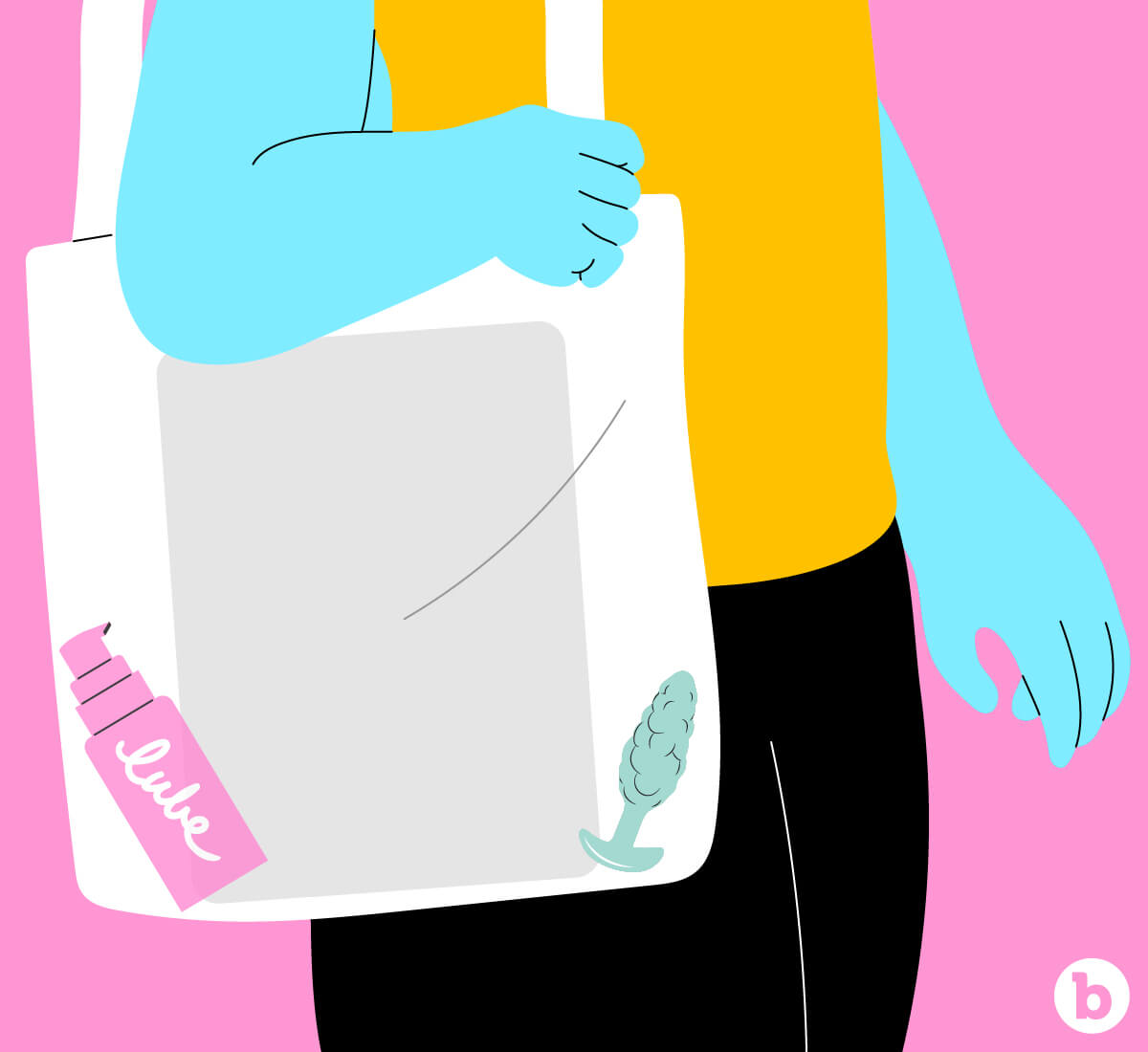 "I also like carrying around a travel-sized lube in my purse in case I need to reapply!" That's clutch! Over time, the plug may feel a little rough or dry, so it's good to have a little bottle of lube or lube shooter on you in case you want to reapply!
RELATED: Find out why sex educators love using coconut oil lube!
3. It's not going to fall out (most likely).
But boy, does it feel like it will! That's because you're not used to the sensation of having something inside your rectum while walking around. (Remember, feces aren't stored in your rectum; it's stored in your intestines and simply passes through your rectum.)
If you notice that your butt plug is falling out, that can mean it's too small, at which point, size-up. Or, it could be due to the shape. If it's shaped more like a dildo and has the same girth at the top and bottom, it's more like to fall out.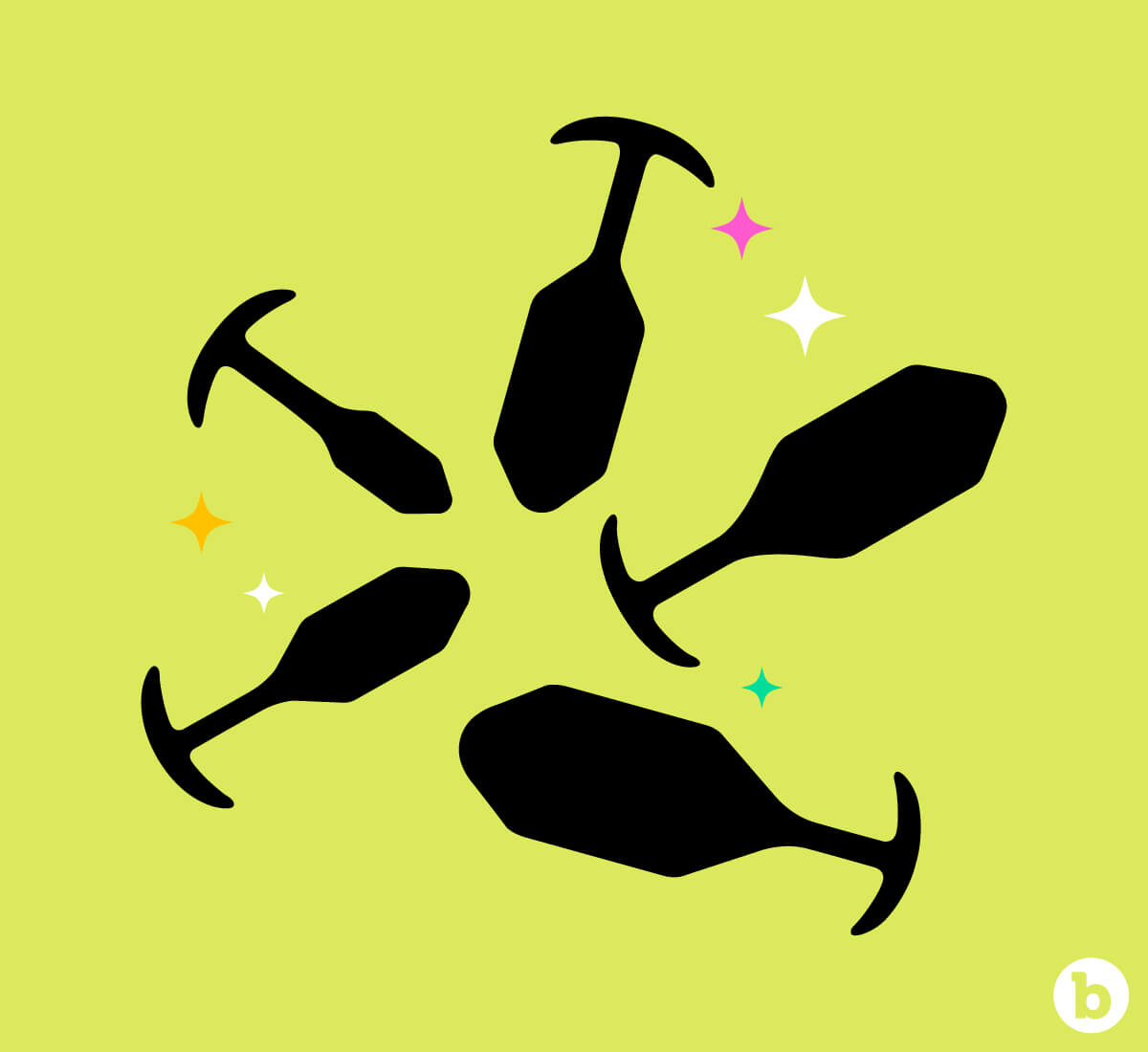 For public use, you want a butt plug that's tear dropped-shaped. It should start small, get wider, and then get back to being narrow as it reaches its flared base. "A tapered, countered base like the Snug Plug series keeps the plug securely between my cheeks and is virtually invisible even in my tightest skinny jeans," Dare says.
4. People won't know you're wearing one.
Dare just hit on this, but it's important to restate. No one can tell that you have a plug in. Some folks think, "OMG, everyone knows." First off, everyone isn't looking at your butt all day. Alright, I take that back; I know some of you have incredibly sexy butts and are probably getting checked out constantly.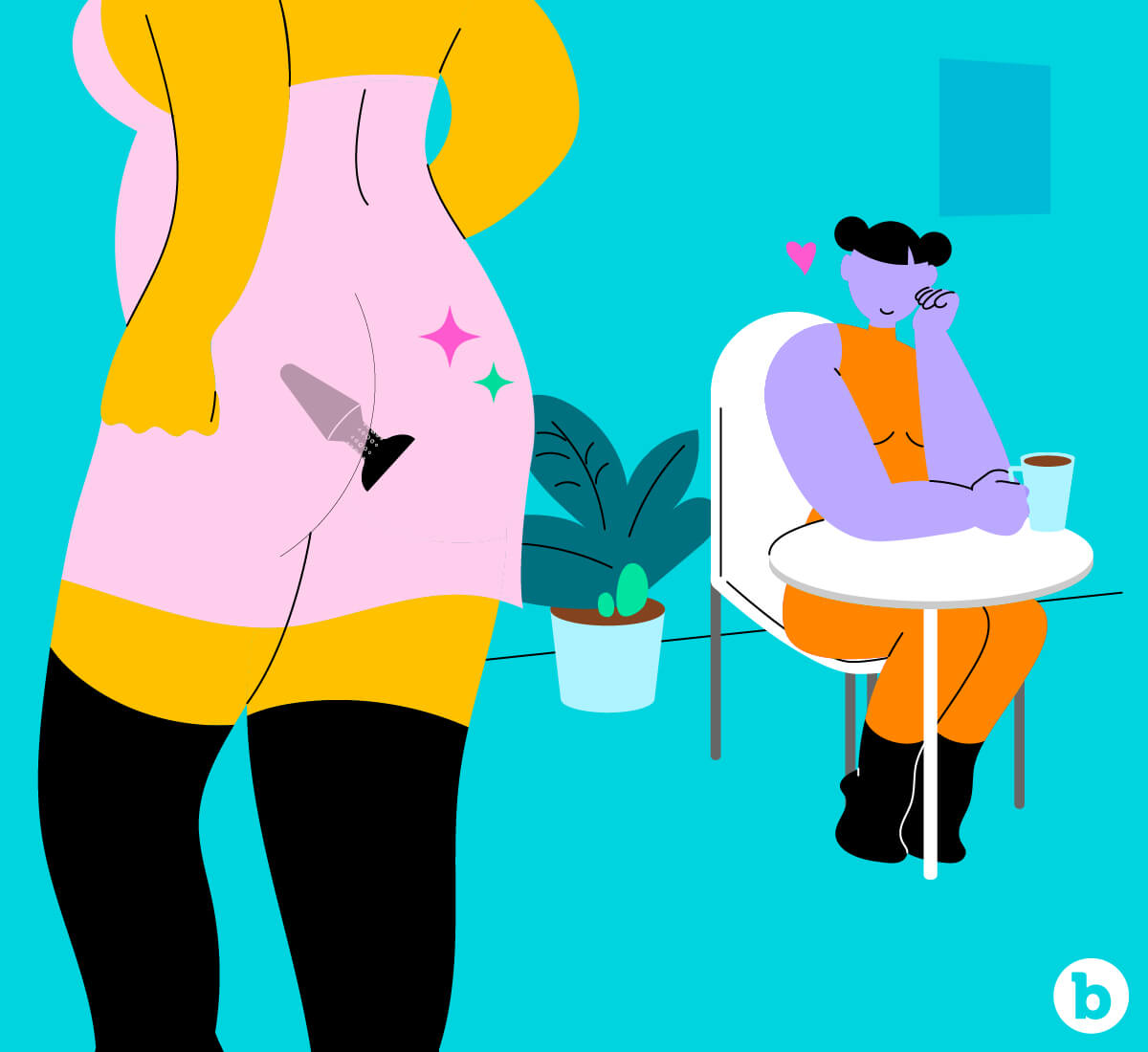 But just know that no one can notice that you have a plug in, especially if you're wearing looser track pants or sweatpants. If you're wearing a skirt or dress, as long as the garment fully covers your behind, you'll be totally fine! (And if someone does notice you wearing one, who freakin' cares?)
5. Don't wear a butt plug all day.
"Your butt is made of muscles that need to be trained," Dare says. You can't just expect to wear it for eight hours your first time around. (If you do, you'll likely end up pretty damn sore.) You need to work your way up. "Try wearing a butt plug inside your house for an hour while you do chores and gradually build up to your desired duration," Dare recommends.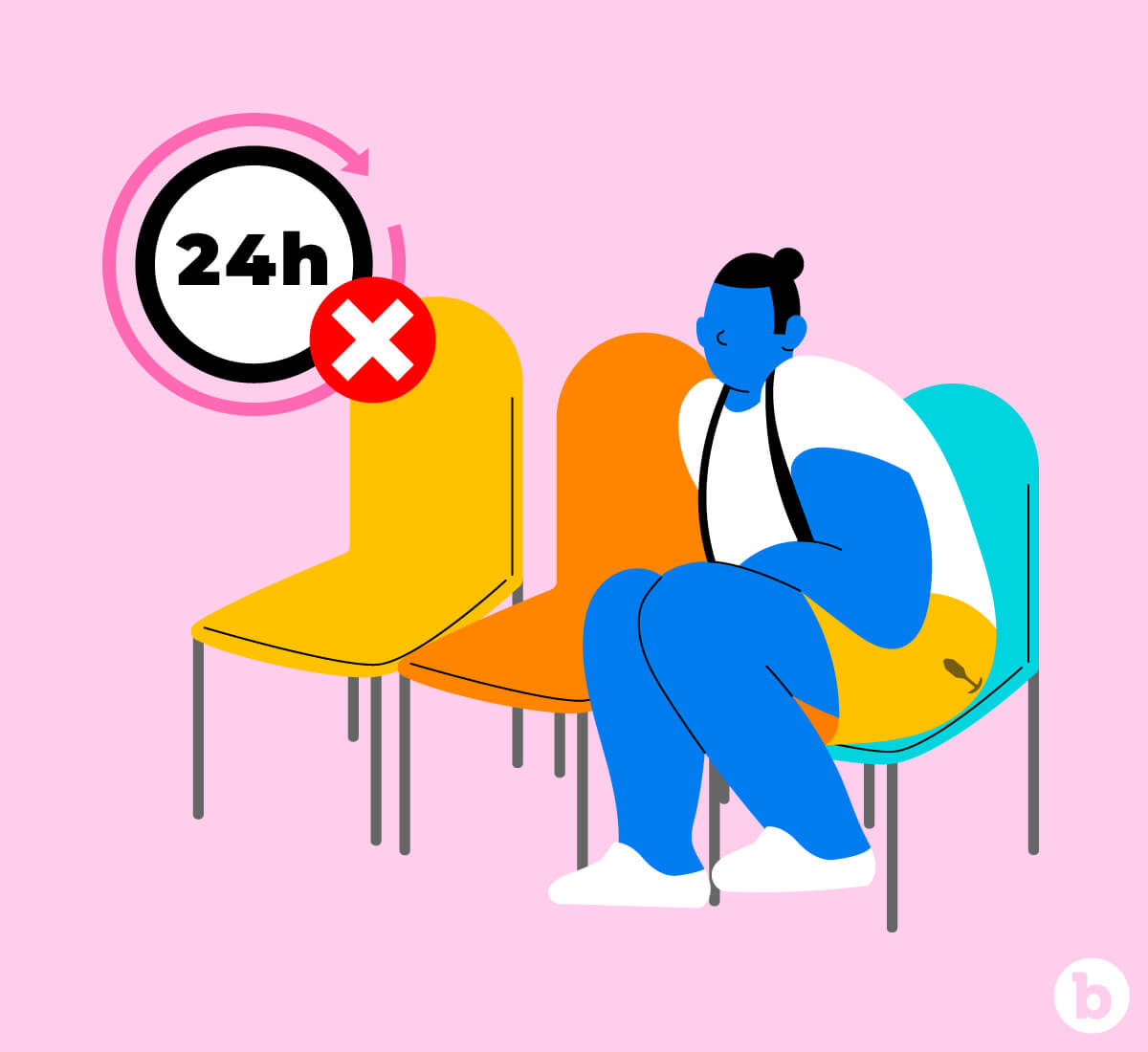 Also, on a slightly grosser note, it's tough to tell when you have to poop when you have a butt plug in that long. And if you have it in for ten hours (and didn't poop that morning), you'll likely have to use the facilities. One time I pulled out my plug after a long day, and an avalanche followed. It was a goddamn mess and something to avoid at all costs!
So go forth, my bootyful friends! Live your best life with a butt plug in. It feels great. It's kinda kinky, and it's just plain fun!
Ready to test out your butt plug in public? You might want to read this on anal hygiene first. Oh, and don't forget to check out our most popular guides on anal fingering, how to have a prostate orgasm, and analingus a.k.a oral sex on the anus!