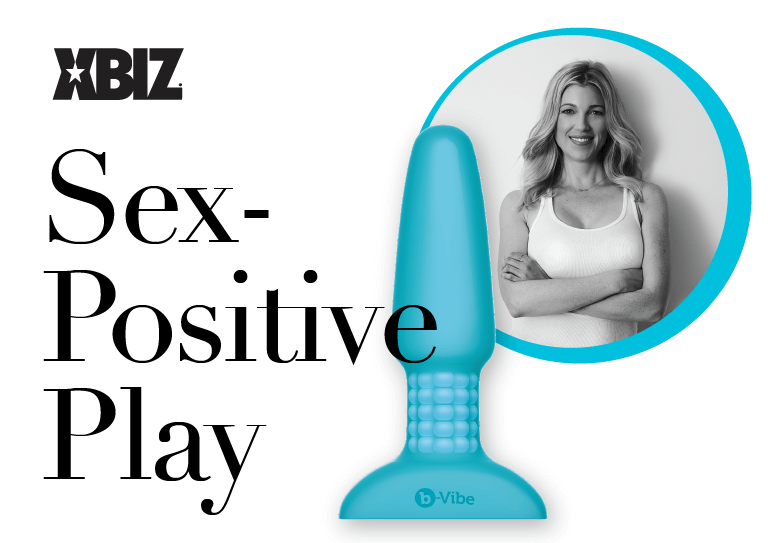 The article 'Industry Vet Alicia Sinclair Obtains Sexologist Certification; Set to Unveil b-Vibe' first appeared in the Winter 2016 edition of XBIZ Sensuals.
For more than 10 years, industry vet Alicia Sinclair has educated colleagues, customers, and consumers about several of the industry's top premium brands. With an impressive background in sales and marketing, Sinclair recently decided to take her sexual health and wellness education to the next level.
Over the last year, Sinclair began training with nationally board-certified clinical sexologist and world-renowned sex coach, Dr. Patti Britton. Following intensive training, Sinclair is now a certified sexpert and clinical sexologist, earning her qualification for the World Association of Sexologists.
Sinclair said she was inspired by sex-positive industry trailblazers and the evolution of the marketplace to further her career in sex education. "I feel that there is a gap between the sexology and educator community and the development and manufacturing of sex products," Sinclair said, "I personally felt like I didn't have enough information after being in industry 10-plus years and that it was important to become better educated."
"When marketing and selling sexual products you should know how those products work with a person's body," Sinclair continued. "Sex education is essential."
Sinclair is preparing to introduce the market to a new premium brand called b-Vibe this month. Focusing on innovative design and consumer-friendly marketing, Sinclair is taking the reigns as the company's director. In her new role, Sinclair will oversee the product development of future products, as well as create the company's branding and marketing initiatives.
"I am involved in each step of the product development process from the shape and size to the product videos and messaging," she said. Sinclair will also focus on new business development and expanding retail partnerships globally.
b-Vibe is set to make its U.S. debut this month during the XBIZ 2016 show. The new brand enters the pleasure products marketplace with sexual wellness-minded design concepts and contemporary branding and marketing, Sinclair said.
The Rimming Plug is b-Vibe's first product — a splash proof, remote-controlled vibrating plug with unique features. According to the company, it is the first premium plug to incorporate rotating beads for a rimming sensation and tip vibration for orgasmic stimulation. This compact, body-safe, seamless, silicone plug is powerfully charged to stimulate all the right spots.
The Rimming Plug caters to fans of oral stimulation of the anus, a.k.a analingus or rimming, and the company reports that it's more popular than one would think.
"The highest level of nerve endings is at the entry of the anus," Sinclair said. "The idea was to create something to stimulate that exact area. In addition to nerve endings, pleasure from anal play occurs due to the shared wall between the anus and the prostate for males and vagina/G-Spot for females. Its design combines the best of both worlds pleasuring from the inside-out — it's like a bullet inside a rabbit, the perfect combination to amp up anal play."
With high-end features such as remote control functionality, USB cord rechargeability and an included storage case, the b-Vibe Rimming Plug fulfills a void within the anal toy category.
"The b-Vibe Rimming Plug features all of the bells and whistles of a high-end pleasure product — patented design, certified safety, a rechargeable lithium battery and the remote control works from up to 30 feet away. The included travel case adds value and the hard box packaging is eye-catching and durable — both of which are irresistible to consumers," Sinclair said. "Everything from the design to the branding and packaging was all very well thought out."
B-Vibe's high-end design is combined with engaging branding and marketing, which is focused on conveying sex education with a fun, friendly approach. B-Vibe will be providing retailers with eye-catching displays packed with information that consumers are seeking, Sinclair said.
The b-Vibe Rimming Plug's packaging echoes the sophistication and style of today's most popular electronics. The consumer-friendly aesthetic engages today's shoppers with a familiar, welcoming feel.
"Our goal is to be the go-to resource for retailers," Sinclair said. "We want to help provide more information to enable retail staff to speak better to the consumer."
Leading distributors and retailers that have previewed the b-Vibe Rimming Plug have given it excellent reviews and are gearing up for the product's official release, Sinclair said.
The first product from b-Vibe debuts this month. Stay tuned to www.bvibe.com for the latest company news. For sales, email customerservice@bvibe.com.