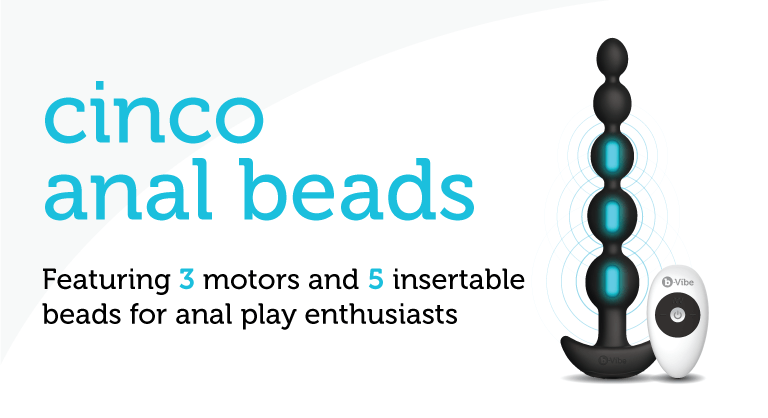 Premium Item for Anal Play Enthusiasts Features 3 Motors, 5 Insertable Beads
Leading premium anal toys manufacturer b-Vibe is now shipping the latest addition to its collection of premium toys for anal play, the b-Vibe Cinco.
Featuring five beads in graduated sizes, the b-Vibe Cinco is a bigger, more powerful version of the popular three-beaded b-Vibe Triplet.
"The market is ripe with experienced anal enthusiasts that want to invest in pleasure products that cater to their sophisticated tastes," b-Vibe Founder and CEO Alicia Sinclair says. "We hear the demand for larger anal toys all the time from b-Vibe fans and we're happy to continue to bring new and improved designs for every level of anal play."
b-Vibe has quickly risen to become the go-to trusted brand for premium-quality anal play toys. Hailed as the "Apple of butt sex" by Vice, b-Vibe's selection of innovative products continues to grow to empower consumers' exploration of anal play.
The b-Vibe Cinco features flexible tapered size beads, an easy-grip handle and three powerful motors that offer six vibration levels and 15 vibration patterns. Made of sleek, body-safe silicone, the b-Vibe Cinco is rechargeable and operated by remote control, making it perfect for couples, as well as for effortless, hands-free solo play.
b-Vibe's Cinco and Triplet Anal Beads are pleasurably stimulating as they are inserted as well as during their removal when they arouse the sensitive nerve endings of the double ringed sphincter muscle. Anal beads can also be worn during sex for added stimulation to the G-Spot and/or P-Spot.
As with all other b-Vibe products, the b-Vibe Cinco come with a travel-friendly case for easy and discreet storage, as well as the b-Vibe Guide to Anal Play, which is packed with expert information to guide users through a pleasurable experience.
b-Vibe also offers comprehensive, sex-positive tips and information regarding all thing anal in the Anal Play Advice section of bvibe.com. The information-packed section aims to decrease negative stigmas surrounding anal play with a wide range of advice, product knowledge and support for retailers.
b-Vibe™ is a premium, certified body-safe collection of healthy anal sex products founded by Certified Sex Expert, Alicia Sinclair. b-Vibe™'s high-end designs are combined with engaging branding and marketing, which is focused on conveying sex positive education with a fun, friendly approach.
Stay tuned to http://bvibe.com/ for the latest company news! For sales, email customerservice@bvibe.com.