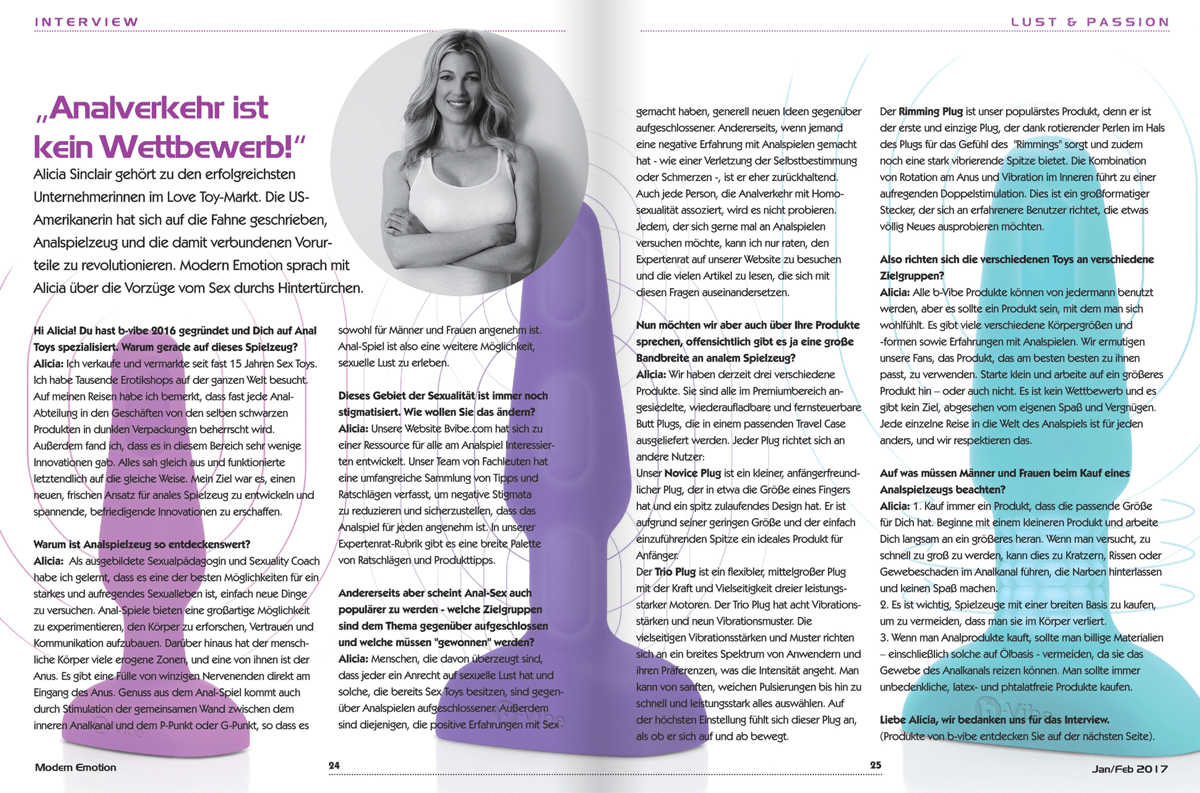 The interview with Alicia Sinclair titled 'Anal Play is not a Competition!' was first published in the January/February 2017 issue of Modern Emotion. Read it in German via the link above or in English as follows. 
Alicia Sinclair is one of the most successful businesswomen in the pleasure industry. The American entrepreneur has pioneered to revolutionize and destigmatize anal toys. Modern Emotion speaks to her about some of the benefits of sex through the back door.
Hi Alicia! You founded b-Vibe in 2016 with a focus on anal toys. Why did you specialize in this area?
I've been selling, marketing, and branding pleasure products for almost 15 years. I've visited thousands of adult stores all over the world. During my travels, I noticed that the anal play section of almost every store is the same- black products in dark packaging. I also found that there was very little innovation in the products created for anal play. Everything looked and operated in the same basic manner. This inspired me to rethink the category. My goal was to create a new, fresh approach to anal toys and to also offer exciting innovations that create a truly satisfying user experience. 
What are your goals? What would you say are good reasons for wanting to try anal?
The mission of b-Vibe is to provide sex positive education, decrease social stigmas, and elevate the anal play category.
As a Certified Sex Educator and Sexuality Coach, I have learned that one of the best ways to create a strong and exciting sex life is to try new things.  Anal play is a great way to experiment, to explore the body, and to build trust and communication. Additionally, the human body has many erogenous zones, one of them being the anus. In fact, there's an abundance of tiny nerve endings located directly at the entry of the anus.  Pleasure from anal play also occurs through stimulation of the shared wall between the interior anal canal and the p-spot or g-spot, making it especially pleasurable to both men and women. Anal play is one more way to experience sexual pleasure. 
This particular area of sexual practice is still somewhat stigmatized. How are you planning on working against that?
I've worked to make our website much more than a place to buy products.  www.bvibe.com has become a resource for anyone interested in anal play.  Our team of Certified Sex Educators has written and assembled an extensive collection of tips and advice to decrease negative stigmas and ensure that anal play is pleasurable. Within the Anal Play 101 section, there is a wide range of anal play advice, product knowledge and support for retailers. We send bi-monthly newsletters filled with educational information and give away complimentary copies of our Guide to Anal Play at workshops, trade events, and at retail locations. I believe that information is power and I want to empower people to explore and enjoy their sexuality.
Then again, anal sex is becoming more popular. Which part of your target audience is more open-minded, which part needs a bit of convincing to engage with the subject?
People who believe that sexual pleasure is a birthright and those that already own sex toys are often more open minded about anal play.  Also, people that have had positive sexual experiences, in general, are more open to trying new things. On the other hand, if someone has had a negative experience with anal play such as a consent violation or pain they will be more reluctant. Also, any person that makes the association of anal play with being gay, might have a strong objection to trying it. For anyone who is considering anal play, I suggest to visit the Expert Anal Play Advice section of our website and read the many articles that specifically address these questions. 
Let's talk about your products. The spectrum of your products is obviously rather diverse, could you tell us a bit more about that?
We currently have three different products. They are all premium, rechargeable, remote control butt plugs that arrive complete with a beautiful travel case. Each plug is geared towards a different user type. 
Our Novice Plug is a small, beginner-friendly size butt plug that is about the size of a finger and features a slightly tapered design. It's an ideal product for anal play beginners because of the small size and easy to insert tip. This plug arrives with a copy of "The Guide to Anal Play". 
The Trio Plug is a flexible, medium size butt plug engineered with the strength and versatility of three powerful motors.  The Trio Plug has eight levels of vibration strength and 9 vibration patterns. The versatile vibration strengths and patterns satisfy a wide range of intensity preferences and users. Choose from gentle, soft pulsations to fast, and powerful. On the highest setting, this plug feels like it is pulsing in and out. 
The Rimming Plug is our most popular product because it is the first, and only, butt plug to incorporate rotating beads in the neck of the plug for a "rimming" sensation, with powerful vibration in the tip of the plug. The combination of rotation at the entry to the anus and vibration of the interior anal canal results in exhilarating dual stimulation. This is a large size plug that is geared for more experienced users looking to try something totally different. 
So the different toys cater to different target audiences?
Our products cater to different user types/ sizes- small, medium, and large. All b-Vibe products can be used by anyone, but it should be a product that meets the person at their comfort level. There are many different body sizes and shapes, as well as levels of experience with anal play. We encourage our fans to use the product that works best for them.  Start small and work towards a larger product- or don't. It's not a competition and there isn't an end goal aside from experiencing pleasure. Each person's journey with anal play is unique to their experience and we respect that.
Which product would you suggest for beginners? Which products are suited for which target audience?
I created the Novice Plug specifically for beginners. Quite a bit of thought went into size, shape, 6 different vibration levels, and 15 vibration patterns to make this a fantastic first-time experience for people new to anal play. This is also why the Novice Plug arrives with a copy of "The Guide to Anal Play". We encourage users to read this before playing with the plug so that their experience is 100% awesome. 
What do men and women need to pay attention to when buying an anal toy?
1. Always buy the right size product for you. Start with a smaller size product and slowly work up to larger sizes. If you try to rush too big, too fast this can lead to scratching, tearing or damage to the tissues of the anal canal that may cause scarring and loss of enjoyment.
2. It's important to get toys with a flared base to avoid losing it inside the body.    
3. When buying anal products, it's best to avoid low-grade materials including petroleum products that can irritate the lining of the anal canal.  Always buy body-safe, latex-free, and phthalate-free products.