You finally got your selfie game on point, but how about your belfie AKA butt selfie game? Yes, I said belfie!
What is a butt selfie?
If you've taken a scroll through Instagram anytime ever, you've probably seen a belfie AKA ass selfie AKA butt selfie or two (and if you follow me on IG @dirtylola, you've most definitely seen at least one). Taking pictures of one's ass has become a phenomenon that I fully support.
I love seeing so many people with different body types celebrating their booties, and I want you to celebrate yours too. I know it might seem silly to take booty pics, but I genuinely believe that there is power in self-appreciation. The only issue I have with belfies (besides the weird name) is that they can be hard to take, but don't worry. I got you! I'm going to share some tips and tricks on how to take good booty pics so that you, too, can be a part of this Summer of Buns Celebration.
How to take a butt selfie
Step 1: Get in Gear
Now I'm sure you think all you need to take a good booty pic is a smartphone, but unless you're super flexible, it's going to take more than that to make belfie magic.
I recently invested in a ring light kit for shooting videos and teaching online classes that include a phone holder and a wireless remote. The hidden bonus in this work investment was how much it stepped up my belfie game. If this seems too extreme a flex for you, you can take it down a notch and purchase a selfie stick. That is if you don't already have one lying around the house. Selfie sticks allow you to capture shots from angles you can't achieve with your arms alone.
Of course, you can keep things simple and go for the classic butt selfie in a full-length mirror, but this limits you to over the shoulder and profile shots. If you want a wider variety of poses, find a safe place to prop up your phone, and use the photo timer.
Step 2: Let There Be Lighting
When it comes to lighting, keep it soft and natural. Camera flashes and overhead lights can be harsh and create shadows that won't flatter your curves and can make them blend into the background.
Soft natural light is easier to work with, and you'll find it more forgiving of the imperfections you may not want on full display. If you're lucky enough to be in a space that gets a lot of natural light during the daytime, use it! If not, you'll want to stick to lamps and a ring light.
Play around with positioning the lights in different spots around the room until you find a lighting level that feels good to you.
Step 3: Dress the Part
When it comes to taking great butt selfies, the fewer clothes, the better! But you don't need to get nude (unless you want to).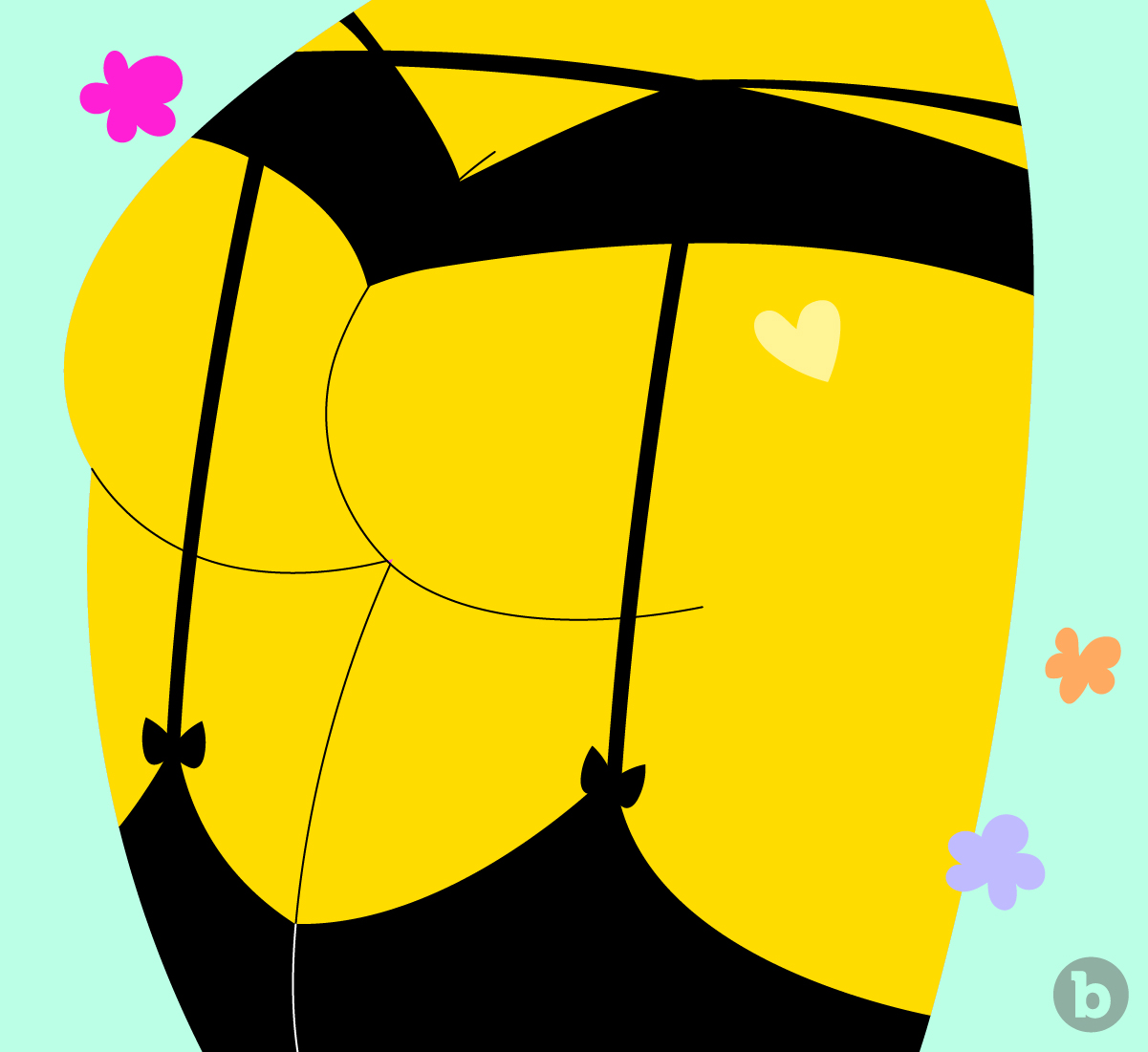 Hipster panties, thongs, and cheeky panties are all great for emphasizing the curve of your booty. If that's still too risque for you, you can always wear tight clothing that hugs your curves.
Need some lingerie inspiration? Check out these seductive bondage accessories by Le Wand.
What are the best booty pic poses?
Now there is no one-size-fits-all pose or booty pic angle that is going to make everyone's ass look amazing because butts come in so many shapes and sizes. However, I invite you to play around with different poses and camera angles until you find your backsides good side.
If you need a little encouragement, here are some classic boudoir photo poses to start with.
Booty Pic Pose #1 — The Tushy Pop
Lie on your belly, arch your back and lift your hips, so your butt pops.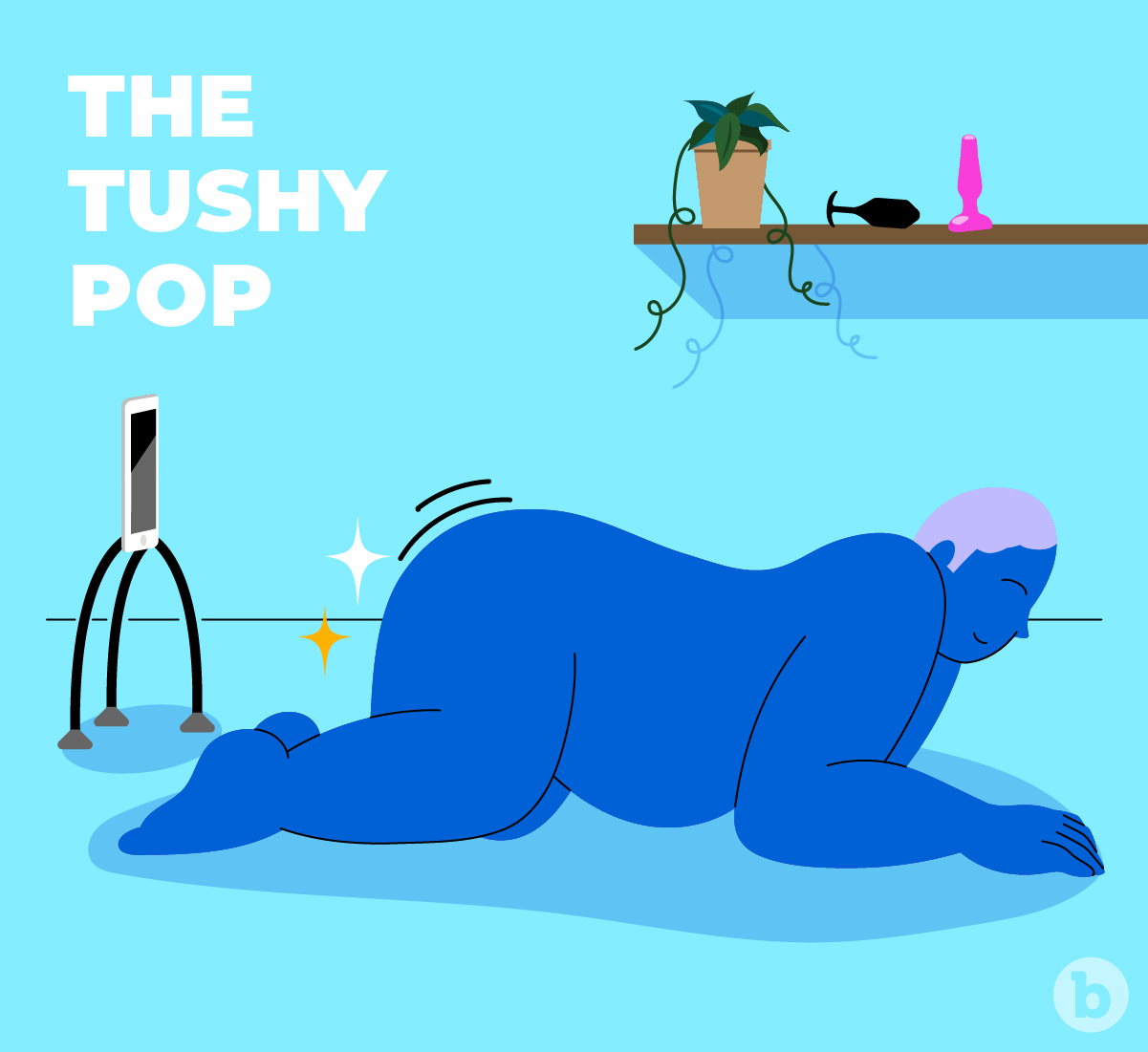 This pose helps create the illusion of roundness for folks who don't have much junk in the trunk, but it also works perfectly for those who do.
Booty Pic Pose #2 — Crossed Legs Standing
Stand with your back to the camera, and your legs crossed.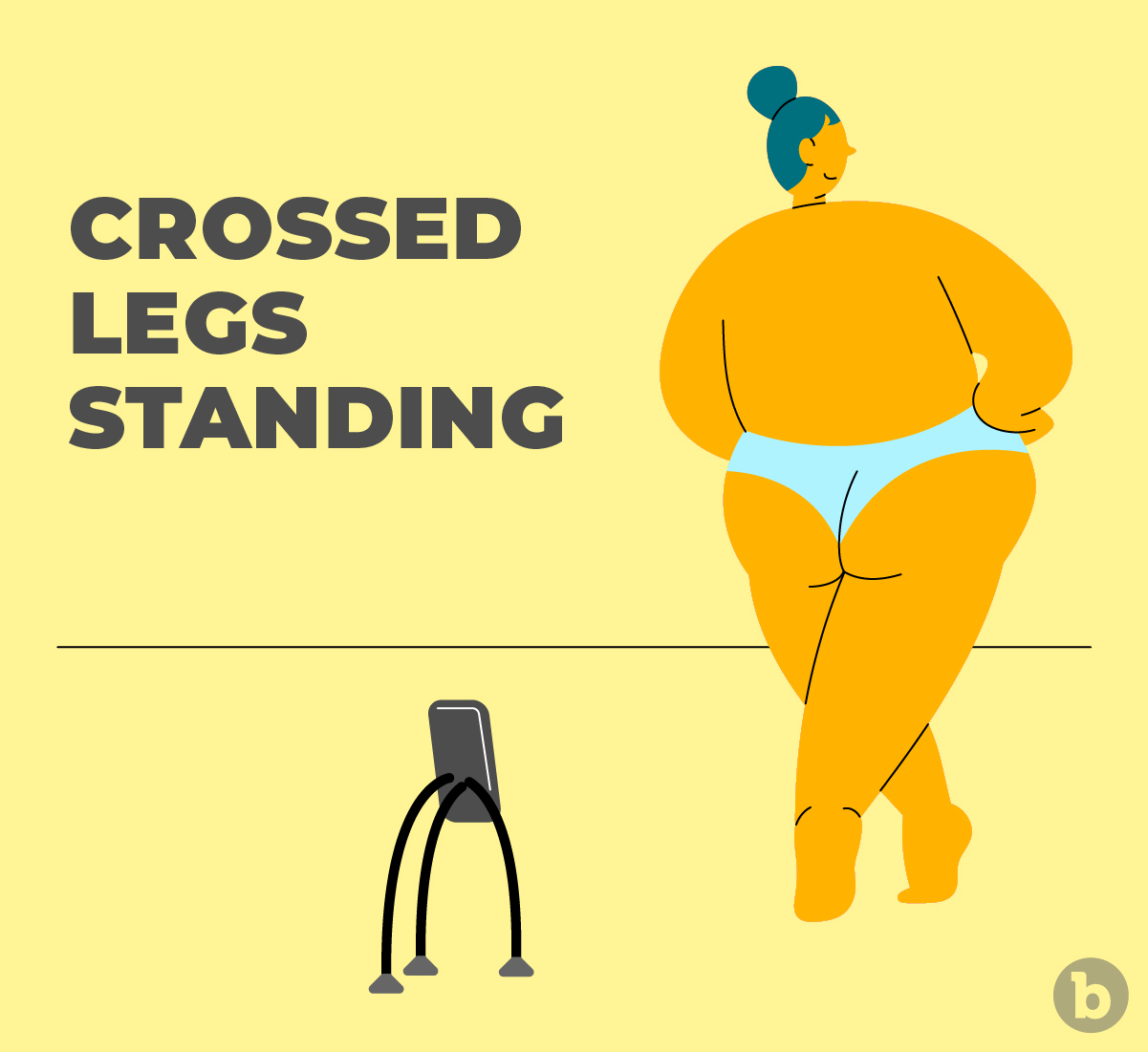 This ass selfie pose emphasizes your hips, giving you the hourglass look so many people are fond of. You can kick this pose up a notch by wearing heels or standing on your tiptoes.
Booty Pic Pose #3 — Sitting
Sit with your body angled slightly away from the camera.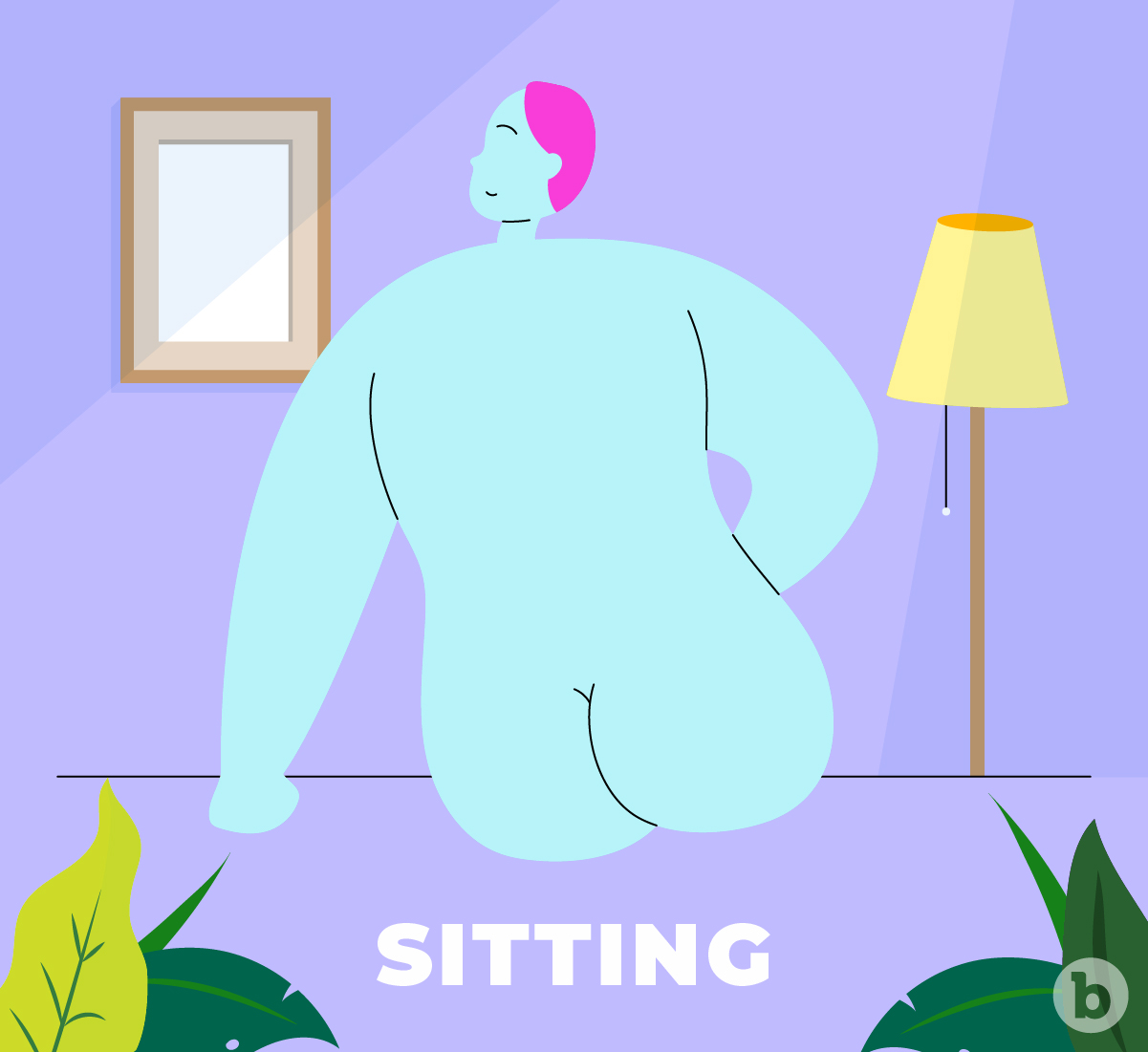 This will create a nice curve to your backside. To increase the curve, arch your back. I know it might seem counter-intuitive to sit when you're trying to take butt selfies, but it's a great pose for people with butts on the flatter side.
Booty Pic Pose #4 — From The Side
Turn to the side, arch your back, and pop your booty.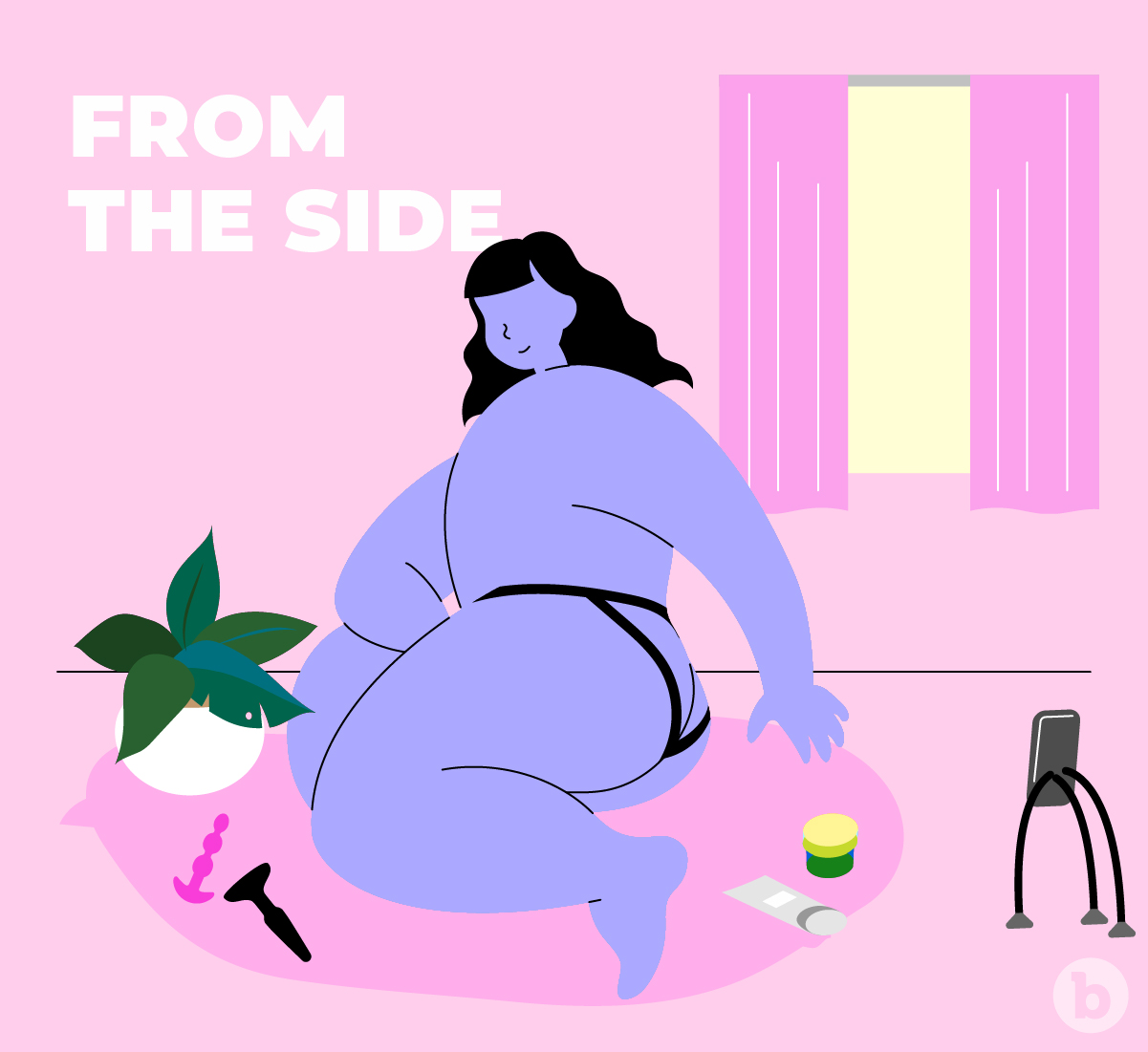 You can play around with the positioning of your legs to add more roundness to your butt. This belfie pose will give your booty a nice round heart shape.
I hope you found these butt selfie tips to be helpful! The main thing that I want you to take away from this is that you don't need to have an Instagram model perfect butt to indulge in taking belfies. The art of the butt selfie revolves around capturing the majesty of your Booty Meats no matter your body type, and most importantly, having fun while you do it.
.