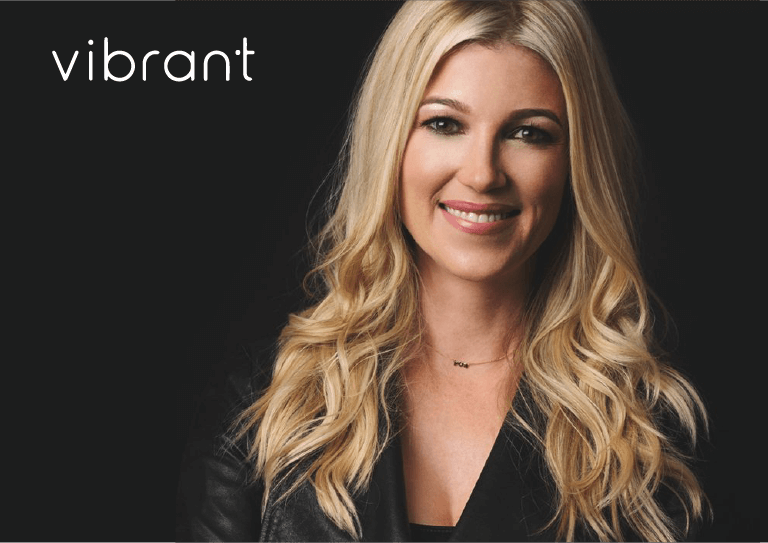 The interview 'Catching up with Alicia Sinclair – Founder of b-Vibe' by Stephanie Stone was first published on the Vibrant blog.
When it comes to anal play, there has been very little toy innovation in terms of body-safe materials, powerful motors, gender neutral packaging, and education around having the most pleasurable anal experience — until we met Alicia Sinclair, Founder of b-Vibe! After first touching the toys and talking about all the unique functions each toy has, I was convinced that these were the best anal toys on the market. Learn more about what is most important to b-Vibe, how it came to be, why education is so important to the company, and what to expect from the innovators behind b-Vibe!
1. How did b-Vibe come to be?
Alicia Sinclair: I've been selling, marketing, and branding pleasure products for over 15 years. I've visited thousands of adult stores all over the world. During my travels, I noticed that the anal play section of almost every store is the same- black products in dark packaging. I also found that there was very little innovation in the products created for anal play. Everything looked and operated in the same basic manner. This inspired me to rethink the category. My goal was to create a new, fresh approach to anal toys and to also offer exciting innovations that create a truly satisfying user experience.
2. What makes b-Vibe different?
A key differentiating factor is that we are a woman run company and that in addition to creating the best butt stuff, our mission is to provide sex positive education, decrease social stigmas, and elevate the anal play category. Also, I am a Certified Sex Educator and Sexuality Coach- so folks can feel comfortable knowing that their products have been developed from a place of sexual health and wellness. You'll see this reflected in everything from the product videos, instructional manuals, marketing, and branding.
3. Your company has a great focus on inclusivity and education. How do you maintain that core mission?
Inclusivity is such a core mission for us. In fact, I'm often asked if my company is straight or gay and I giggle because everyone has a butt. b-Vibe is for everyone, or more specifically, for anyone looking to experiment with anal play. Our first point of inclusivity is our packaging, which shows many different types of couples. Our tag line is "Premium Anal Play Products for All Couples" and our Guide to Anal Play (which comes with many of our products) is completely non-gendered. I consciously make sure to include folks of size, folks of color, as well as those who identify as male, female, straight, gay, lesbian, or queer as authors of the articles in our Anal Play 101 section of the website. We embrace inclusivity in all our marketing, branding, and education. As a Certified Sex Educator, it was important for me to create a brand that offered comprehensive sex positive information to our customers. There's a lot of scary misinformation out there. To achieve this goal, bvibe.com has become a resource for anyone interested in anal play. Our team of Certified Sex Educators have written an extensive collection of tips and advice to decrease negative stigmas and ensure that anal play is pleasurable. Within the Anal Play 101 section, there is a wide range of anal play advice, product knowledge and support for both retailers and consumers. We send bi-monthly newsletters filled with educational information and give away complimentary copies of our Guide to Anal Play with our products, at workshops, trade events, and at retail locations. I believe that information is power and I want to empower people to explore and enjoy their sexuality.
4. How did you come to value the importance of body-safe products?
My own personal experience with products that are not body-safe has resulted in irritation, swelling, and infections. Additionally, phthalates are banned in children's toys and baby bottles as they have been shown to cause cancer. I believe it's unethical to sell something that might harm people, thus all our products are body-safe.
5. What about b-Vibe are you especially proud of?
I'm proud of how well people have responded to our branding. I am so happy that inclusivity and education are important to our customers. Even folks who have no interest in butt stuff have told me how much they like b-Vibe. I think that's an amazing positive reflection of the world.
6. What does it mean to you to normalize the conversation around sex and pleasure?
Normalizing the conversation means a few things to me. Most importantly, we need to introduce sex and pleasure in sexual education programs. Abstinence-only education teaches children (especially girls) nothing about their body's potential of pleasure. The more we talk about it, the more we dispel these beliefs and reaffirm the right to pleasure. Additionally, folks should be given permission to enjoy sex. We have been socially conditioned to be embarrassed when we experience pleasure. I recall my own memory of intense shaming after being caught masturbating as a child and the terrible stomach ache that resulted. Sadly, I experienced that feeling of sickness after orgasm well into my twenties. There's no need for us to feel so bad about something so good. We should be offering people of all ages permission to experience pleasure.
7. What's next/ what can we look forward to from b-Vibe?
This Summer we'll release our first collection of non-vibrating butt plugs called Snug Plugs. I'm really excited about these as they are unique in shape, very pleasurable, and ultra-comfortable. Plus, the MSRP is US$45 and US$55 so they are fun and affordable. In November, we'll begin shipping our much anticipated Rimming Plug Petite. This is a smaller version of our original Rimming Plug, which means folks who prefer a smaller size product can now enjoy the rotation of beads in the neck of the plug along with vibration in the tip of the plug.
8. What else do you think is important for people to know about b-Vibe?
We care about our customers.