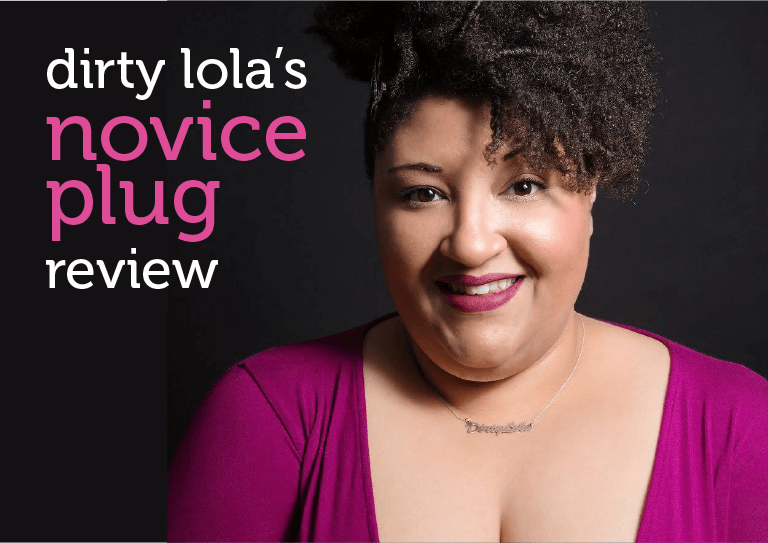 When the folks at b-Vibe asked if I wanted to test out their new Novice Plug, I hesitated. I am by no means an anal newbie. I outgrew my trusty beginner's plug long ago and replaced it with a more substantial model once it refused to stay anchored between my cheeks. So how would the b-Vibe Novice Plug fair against my well-seasoned butthole? Would it stay in place? Could I still enjoy a beginner's sized plug after all this time? I decided to give it a try.
When I opened the Novice Plug it looked tiny in its neat little box and even smaller in my hand. After pairing it to the wireless remote I washed it up with my favorite mild soap and grabbed my go to water based booty lube. It slipped in without a problem and the base nestled comfortably between my butt cheeks. It was time for testing!
I decided that a good way to test the staying power of the Novice Plug would be to wear it around the house while I did a few chores. I chose activities that involved a lot of moving around, bending over, and squatting. To my surprise, it stayed snugly in place while I scrubbed the bathtub, walked up and down stairs doing laundry and mopped the kitchen floor, even while on the highest speed. During the two hours that I wore the plug, I only had to stop once to adjust it. A definite win in my book and an interesting afternoon of chores thanks to the 6 intensity levels and 15 vibration patterns.
In the end (ha ha) I really enjoyed the Novice Plug. The powerful vibrations made up for what it lacks in size, and it's pleasing shape keeps it from slipping out of place. The base is big enough to anchor it but small enough to wear comfortably for a long period of time, unlike my large non-vibrating plug. I didn't play around with the little remote much, but I found it easy to use and it has a decent range of about 30 feet. That will definitely come in handy during partnered play.
I would definitely recommend this plug to newbies and experienced anal players alike. It's small enough for a beginner, but strong enough to give those with experience a new thrill. If you prefer more girth to go along with your vibration don't worry, b-Vibe also offers the Trio Plug and Rimming Butt Plug.
Disclaimer: The b-Vibe Novice Plug was sent to Dirty Lola in return for an honest sex toy review. This product review by Dirty Lola was written to give readers an insight of what it feels like to use the b-Vibe Novice Plug.
About Dirty Lola:
Dirty Lola started her journey into sex education by sharing her personal discoveries in the kink and polyamory worlds through the internet. From there, she became interested in the stigma, shame, and lack of accurate and accessible sex education available, and started sharing her exploits with her friends in her living room after parties. Once she amassed a following, she was encouraged to do something with her popularity and started Sex Ed A Go Go.
Lola has spent the last six years kicking ass and using her platform to encourage a warm, no holds barred approach to body and sex positivity. She has presented her brand of sex education and positivity at a variety of events and venues, including Catalyst Con, SHE, GKE, Baruch College, and UNM. When she isn't on the road and spreading the sex positive gospel, you can find her peddling chic sex toys and running workshops at Shag Brooklyn.