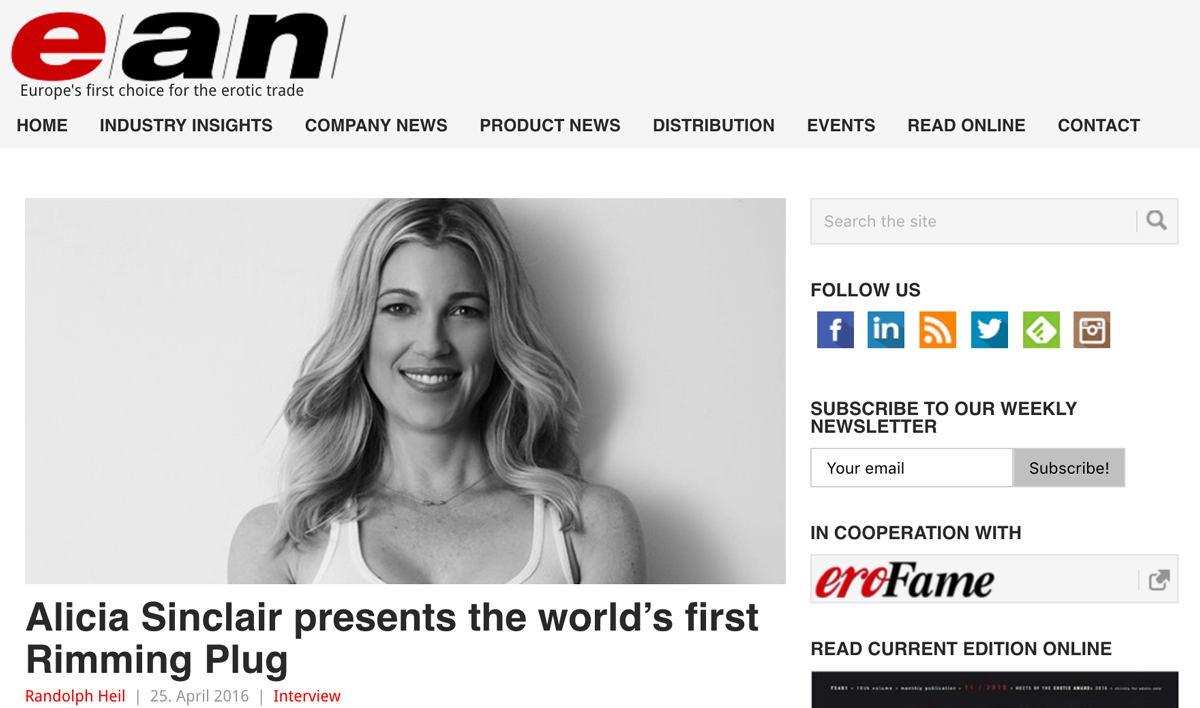 The interview 'Alicia Sinclair Presents the World's First Rimming Plug' by EAN's Randolph Heil was first published on EAN Online Erotic Industry News. 
In late January, the b-Vibe brand made its first impression on the adult market with their debut product, the Rimming Plug. Creating a "rimming sensation" by way of rotating beads, this product caters primarily, but not exclusively, to people who love oral stimulation of the anus, aka analingus. The founder of b-Vibe, Alicia Sinclair, presents her company and her product in our EAN interview.
Randolph Heil: Alicia, you are no stranger to the erotic industry, having worked for well-known companies before. Could you tell us a bit about your career so far and why you chose to found your own company, b-Vibe now?
Alicia Sinclair: 2016 is my fourteenth year in the business. I feel very blessed to have worked with well-known manufacturers. I have met so many amazing people, traveled the world, and established many deep and meaningful relationships. I've learned so much from these experiences, as they have all prepared me for what I felt was the next step in my career- launching my own brand. As you may know, I am very passionate about sex positive education. As the founder and director of b-Vibe, I have the opportunity to press my personal agenda of affecting positive change, helping to raise the bar for our industry as a whole, and present the anal category in a new light.
You recently introduced a butt plug to the market, labeling it as the "World's first rimming plug". What exactly is this plug and how does it differ from other butt plugs? 
The Rimming Plug is b-Vibe's first product — a splash proof, remote control vibrating butt plug that offers never before seen features on the market. It is the first premium butt plug to incorporate rotating beads for a rimming sensation and tip vibration for orgasmic stimulation. This product offers dual stimulation and a totally new erotic experience.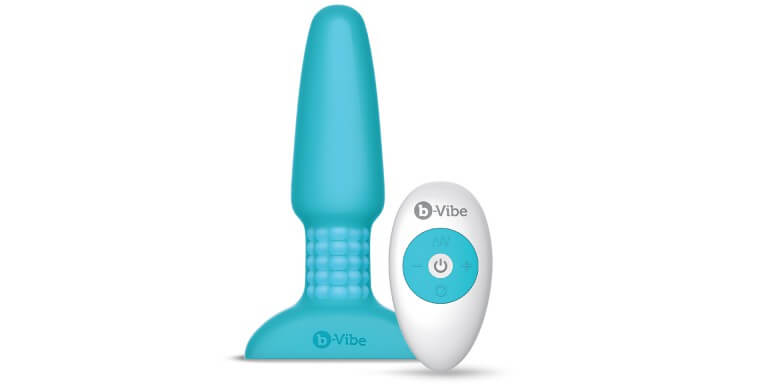 The principle of rotating beads is long-known. Why hasn't it been used in butt plugs more often yet?
My best guess is that no other manufacturer sought to create a product that stimulated this area. The idea came to me while I was studying to become a Certified Sex Educator and was completing a course titled "Sex and the Body". During the course, the lecturer mentioned several times that the highest concentration of anal nerve endings is located at the entry of the bum. Naturally, I started began researching and found that there wasn't a product out there that applied this concept.
A rimming plug addresses fans of the technique of analingus. Is that your target customer? Why should people, who are not familiar with this technique, buy your product?
The Rimming Plug was created for fans of anal play who are interested in experiencing a new sensation, those who enjoy of the rimming sensation, and people/couples in general looking to experiment with anal sex via the remote control, multiple motors, and high-end premium experience.
Do you have any tips, how retailers should present your product in order to get the most sales?
I believe strongly in retailer support because I understand how important it is to market a brand in the retail environment. B-Vibe offers complimentary eye-catching displays, testers, easel signs, shelf-talkers, web banners, and a fantastic product video. These all establish b-Vibe as a brand and additionally call attention to the product line.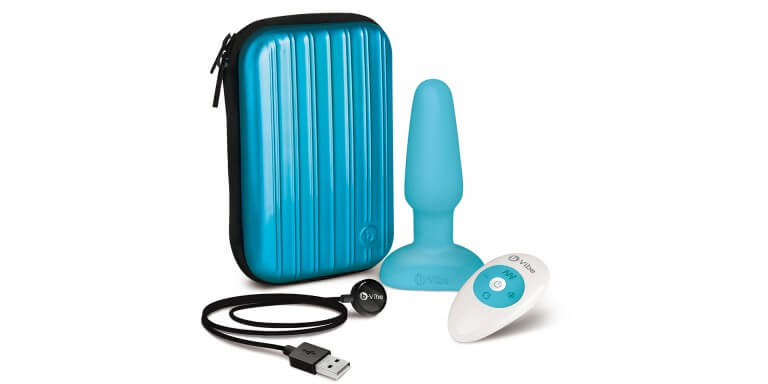 What would you say is the strongest selling point of the b-Vibe?
The strongest selling point of b-Vibe is the attention to detail in the packaging, performance, and presentation. This all results in a superior consumer experience; which is extremely important to me.
Do you have the impression, that the anal category has been getting more and more popular recently? If so, why do you think this is the case?
Yes. This category is showing very strong growth. I know this because many of my distributors and retail partners have shared their overall growth percentages.
How hard is it to stand out as a new company with a new product today, when there are hundreds of new products released every week in this industry?
Shelf space is more valuable than ever and it can be challenging to stand out in a sea of products. However, I believe that if someone has created a quality product, that features innovation and unique selling propositions, the product and company will stand out. Everyone is looking for the next best thing.
You are trying to establish b-Vibe not only as a manufacturer, but also as an informational resource about anal play. Which measures have you planned to inform the public?
There is a section on the b-Vibe website titled "Anal Play 101". This section currently offers advice about plug use and anal play. I will continue to add to this section and build it as a resource center full of sex-positive information about anal play, responsible plug use, and articles from fellow Sex Educators and Experts. Additionally, we inform the public via complimentary consumer emails subscriptions, social media, and the b-Vibe blog.
How expensive is the b-Vibe and where can European retailers get it?
The Rimming Plug is US $150 MSRP. European retailers can purchase b-Vibe products from Orion and Eropartner.
How did your background in this industry – thus your knowledge of how it works – help you in creating and launching the b-Vibe?
I have a great deal of experience and I have learned from both my success and mistakes. That's the beauty of dedicating your career to a particular industry – or maybe that's just my age catching up with me.
If you could give advice to other new companies about how to successfully launch a product, what would you say?
My suggestion to new companies is that they ask lots of questions, research their competition, and grow slowly and thoughtfully.
You already announced a second product called "Trio Plug" on your website. What will be the special feature of this plug and when will it hit the market?
The Trio Plug is an intermediate sized splash proof, remote control vibrating butt plug that features three powerful motors. It is certified body-safe, made from seamless silicone, and utilises the strength and versatility of three motors. The result is superior vibration strength and patterns that range from soft, gentle pulsations to deep and powerful rumbles. It will be available this summer.
EAN Online is Europe's first choice for the erotic trade; Read the latest News, Interviews and Information for retailers of erotic goods, lingerie and sex toys.