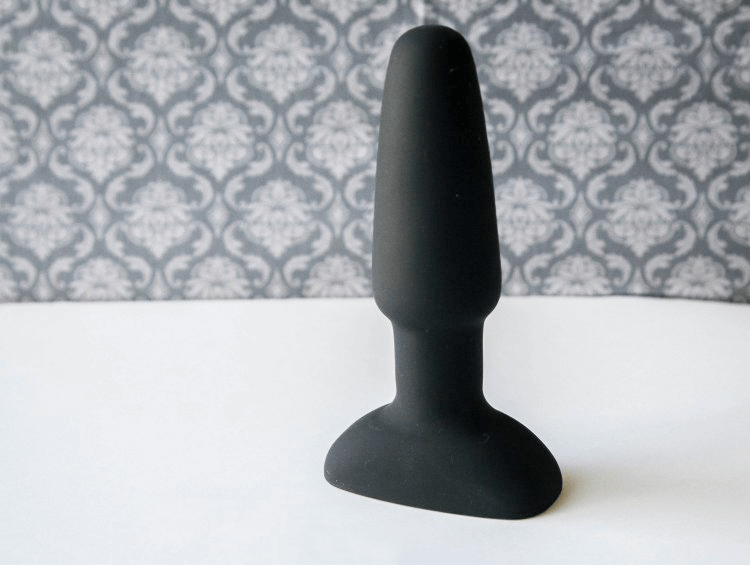 Disclaimer: The b-Vibe Rimming Plug was sent to Kinky World in return for an honest sex toy review. This product review by Mistress Kay was first published on her sex blog and is being shared here to answer any queries that one may have about the Rimming Plug.
If you're ready to experience the latest in wireless anal plug pleasure, you're ready for the B-Vibe butt plug. Available in black or blue, this plug is made from seamless silicone and is splash-proof. The toy offers wireless and on-toy control of the vibrations, and the toy is fully rechargeable via a magnetic design. This silicone plug is 6.1″ in total length with an insertable length of 4.8″ and a width of 1.5″. While the plug itself offers vibrations in the tip, the retention area is equipped with interior beads that move for a rimming sensation. It's definitely the first type of anal toy of its kind!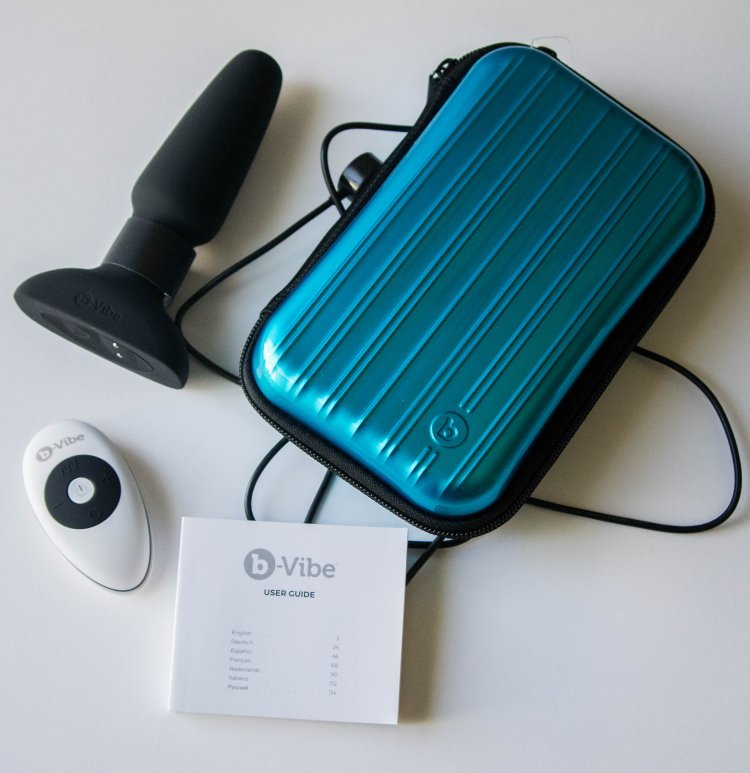 The packaging for this plug befits its luxury design. The packaging is blue and black and very modern. The interior package is a sturdy cardboard box while the exterior cardboard slipcover includes a ton of helpful information on the packaging. Opening up the packaging is where things start to be impressive, however. Unlike any other sex toy I've seen, the b-Vibe comes with a sturdy, zipper-close metallic case. It holds its shape wonderfully, looks gorgeous, and offers structured support for the plug and the plug accessories (cord, remote). As it's lacking in any type of obvious branding, it's perfect for long-term discreet storage. It's pretty much a perfect way to store this sex toy, and I'd be lying if I said that it didn't increase my opinion of the plug at first glance.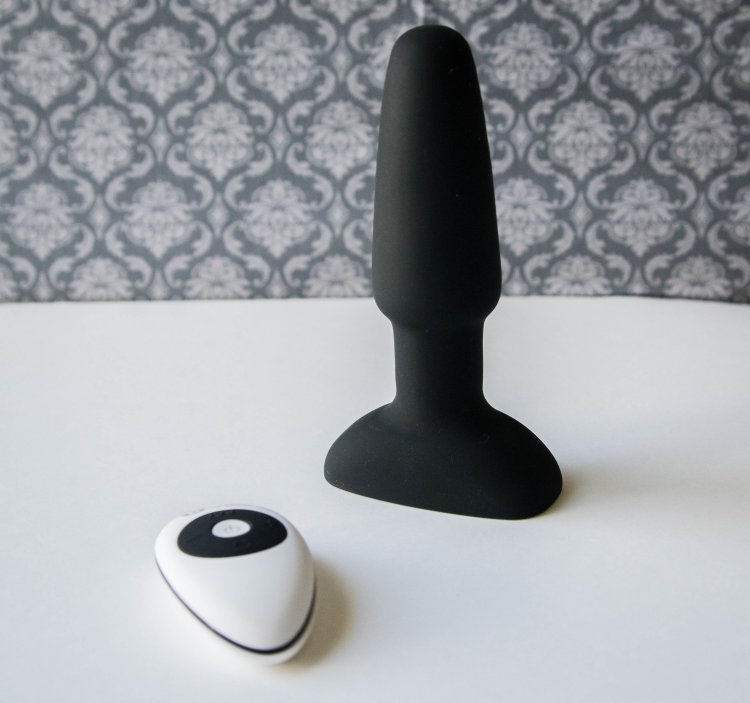 Before you consider picking up the b-Vibe rimming anal toy, make sure you have a bit of anal experience under your belt. While the b-Vibe has a nice tapered tip and a standard butt plug design, the size itself is not exactly slim. While this is a fantastic design that helps keep the plug in a bit better, probably made space for more sensations in the rimming and vibration department, it's a lot larger than a standard beginner plug. It's nothing unreasonable, but it's probably thicker than some human penises out there (but not by much). You'll want to have some experience with at-least-average anal toys before you attempt to use the b-Vibe.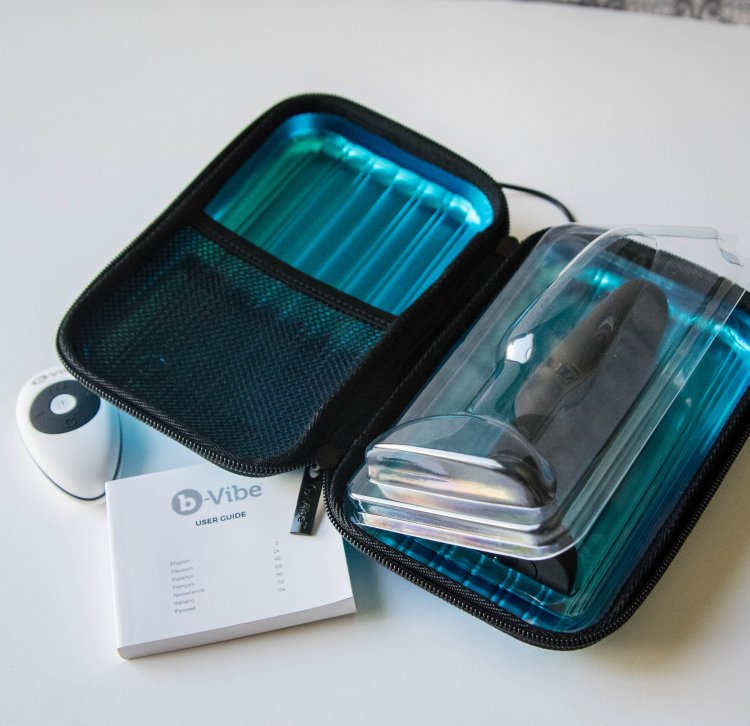 Once you have the plug, though, you'll be pretty satisfied with the standard, streamlined design. The design's clear focus was providing a filling sensation without offering anything that will distract from the rimming sensation of the base. The silicone that covers the plug is nice and smooth, and there are no aggravating seams to be concerned about. Unlike many anal plugs, however, it has virtually no flexibility to it. Expect this material to be as thick as it feels; it doesn't offer any flexibility or squishiness to it which means that sitting down with this plug in is akin to sitting down on a 5″ tall object – and yes, that's a lot of sensation.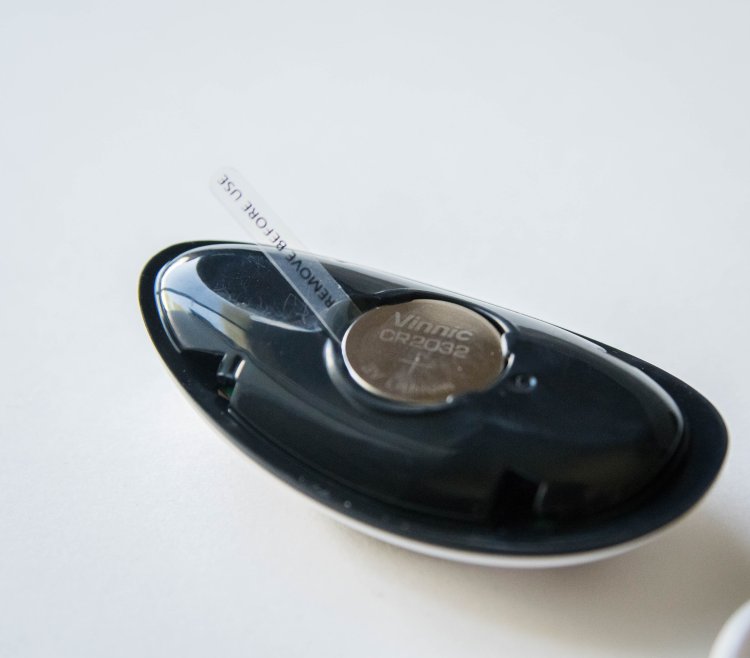 Before you do much else, you should always ensure your sex toy is fully charged and ready to go. The remote uses a button-type battery (CR2032) which is available at many stores in the battery section. The plug itself is rechargeable. There are two metal prongs on the base of the plug that magnetically connect to the magnets of the magnetic charger. They just snap together when they're near each other, and it'll charge the plug relatively quickly with no fuss. The plug comes with a plug-to-USB cable, but you'll need to either use a USB-enabled device to charge it or plug it into a USB-compatible wall outlet.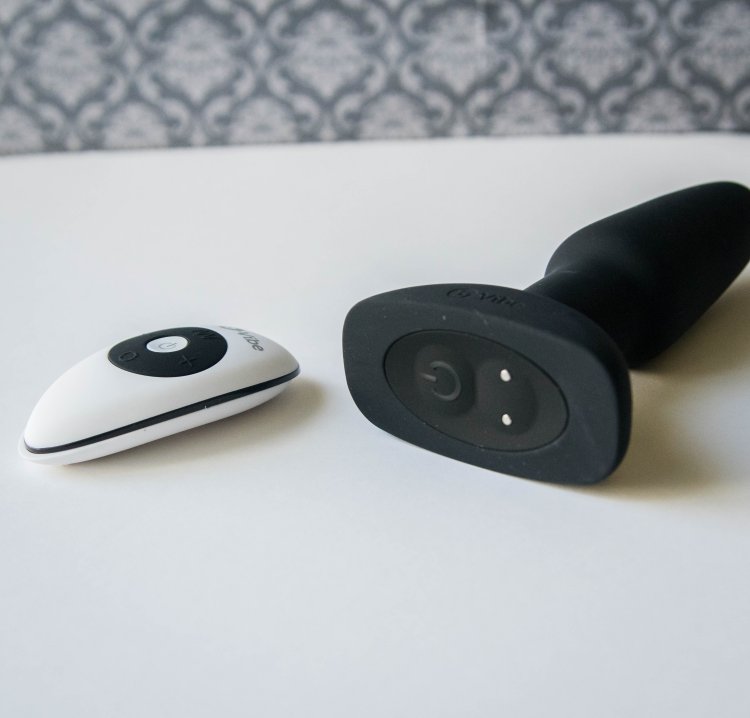 Controlling the b-Vibe was designed to be pretty simple. You'll have to turn on both the remote and the vibrator. The vibrator itself may be locked from storage, but pressing the button under the toy makes it unlock pretty quickly. Once there, they connect effortlessly. Done. As long as you leave the butt plug's power on, you can turn the vibrations and rimming feature on and off at will with the power button on the remote. The remote allows you to increase and decrease the power intensity as well as cycle through all of the available patterns (and increase and decrease the power on each one of the patterns as well).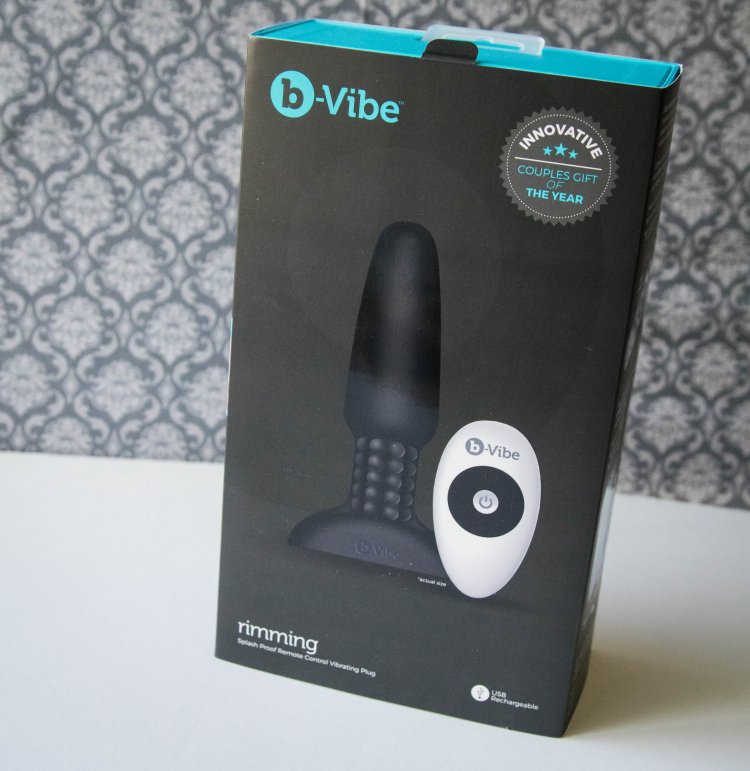 As for the range, I'm extremely impressed. This is DEFINITELY designed for use in public – you'll have no problems with it. It's fantastic and has no cut-outs when inserted and played with at home. When adding clothes, still no problem. This makes it particularly well-suited to public play. It responds really well to all button presses you do, and I had no problem controlling it while I was sitting in a separate room as my partner went into another room. It still responded wonderfully.
My only complaint with using the remote to control the plug is the fact that it leaves the remote-holder guessing as to what the plug-wearer is feeling. Some remotes offer corresponding LED lights that may blink or display to the pattern that the plug is using. This one does not. It only has a light that turns on when the plug is on – and off when the plug is turned off. This doesn't help me figure out if I'm putting him through the lowest intensity of a pattern – or the highest intensity of a steady-state vibration. That's probably my biggest complaint about the plug and remote; I'd love to have more knowledge to interact better with what he's going through.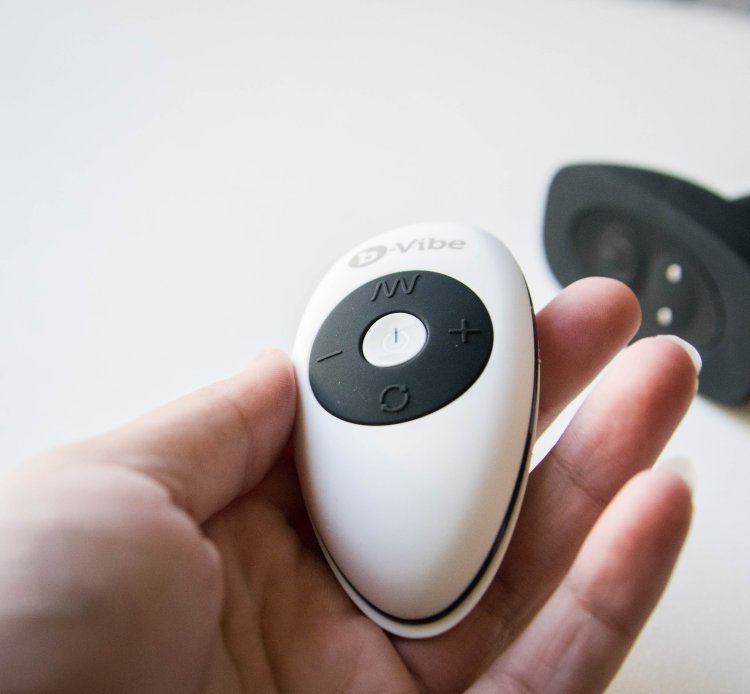 For those of you who don't always have a partner around or hate fussing with wireless, the plug was designed for manual use as well. There is a button on the base of the b-Vibe plug. Holding the button turns on the toy, and subsequent pressing will cycle through the various vibration modes – no wireless remote required! For those of you who (will remain nameless) who regularly lose the remote for things, this is a great way to still enjoy the plug without a frustrating couch search. You can access all of the regular features from the wireless remote from the base of the vibrator.
Now, as anyone who has used a rabbit vibrator with "beads" can attest, some of these beads are just known for locking up as soon as anything stronger than a breeze wraps around it. I'm happy to report that it isn't a problem for the b-Vibe. Yes, on some of the slower settings, intentionally clenching will lock up the beads and keep them from moving much. On the higher settings, though, even intentionally clenching doesn't stop the beads. It may jam them enough to produce a whining sound (if you're *trying* to stop them from moving), but it definitely doesn't stop the sensation. If using this in public, I recommend not trying to resist the pleasure – unless you want people around you to know what's going on by the whining noise. (Which is probably not what the manufacturers intended but I think it's a nice by-product). The whining noise doesn't happen under regular circumstances like the clenching of orgasm or near-orgasm spasms.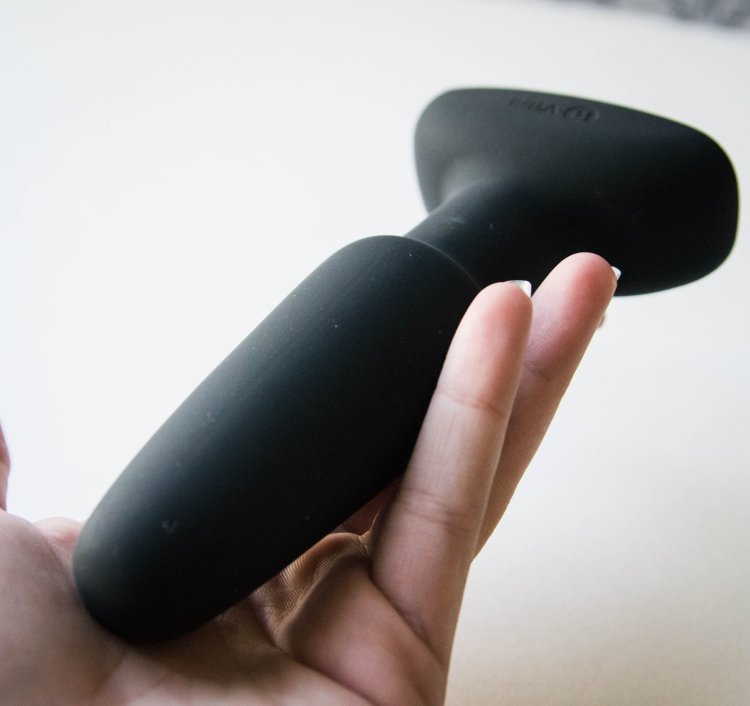 As for the pleasure it provides, the b-Vibe does a fantastic – and very different – job than most plugs. The vibrations are pretty standard. They're pleasurable – and they can be intense. As-in, they can easily be felt if someone else touches the wearer's abdomen. The rimming is really where the unique sensation is, though. It provides an intense additional pleasure to one of the most sensitive anal areas.
The "rimming" sensation, while pleasurable, may take a bit to get used to. I'd recommend at least turning at on at home before venturing outside. The "rimming" stimulates a lot of the areas that most plugs don't, and it can feel like the plug is sliding out – when it isn't. Once you're confident the plug isn't going anywhere, it's a whole lot easier to just enjoy the unique sensation.
That being said, the plug DOESN'T slide out. Depending on how experienced you are with larger toys, you might want to take it out after a bit because of the large size, but it doesn't slide out on its own. Even when dressing, undressing, walking, sitting, lounging, etc. It had absolutely no problem staying in.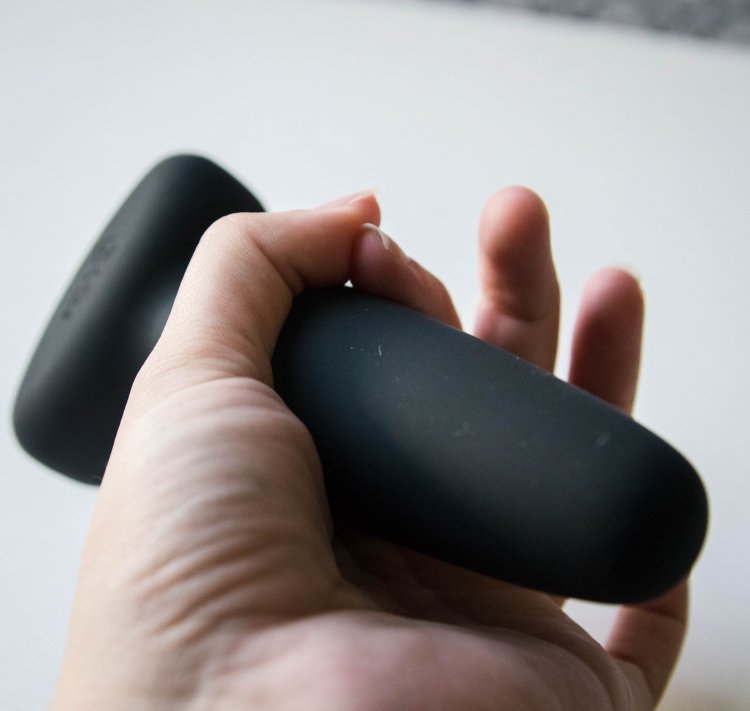 The only downside for wearing the b-Vibe is the base. Probably to help support the rimming action, the base of the b-Vibe plug is particularly large. It isn't uncomfortable during walking or other movements, but especially on hard surfaces, it can become uncomfortable to sit on – pretty awkward, really. It doesn't seem to be too much of an issue with soft materials like couches but even a barely-padded restaurant bench was enough to require regular readjustments in position.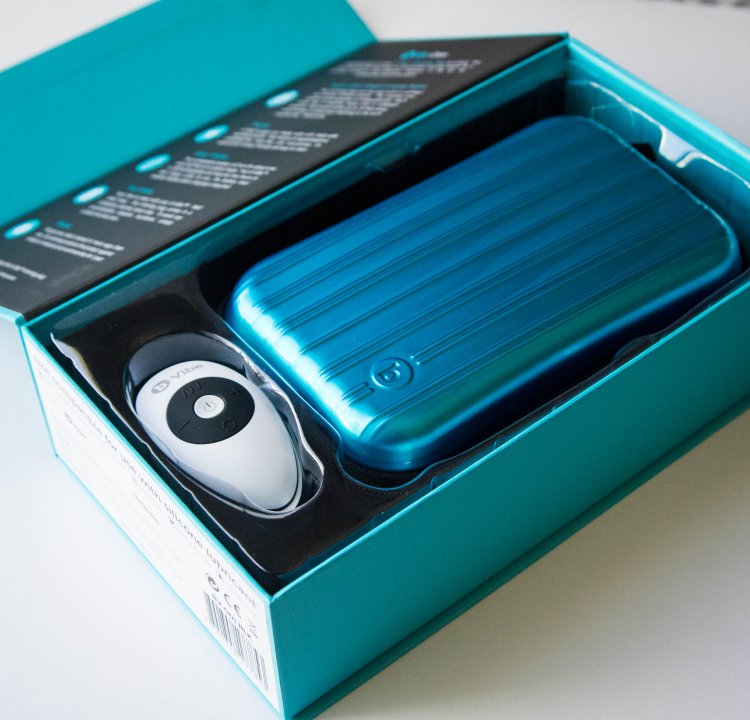 Overall, the B-Vibe rimming anal plug is a fantastic plug for those with a little bit of anal experience under their belt. The wireless controls are absolutely flawless – even with actual, practical use in public. The plug offers an intense mixture of rimming and vibrations that are bound to make this one of your favorite toys in your collection. I'm really looking forward to seeing what new toys the company comes out with next. Thanks to B-Vibe for providing this wireless rimming anal toy for my B-Vibe review.