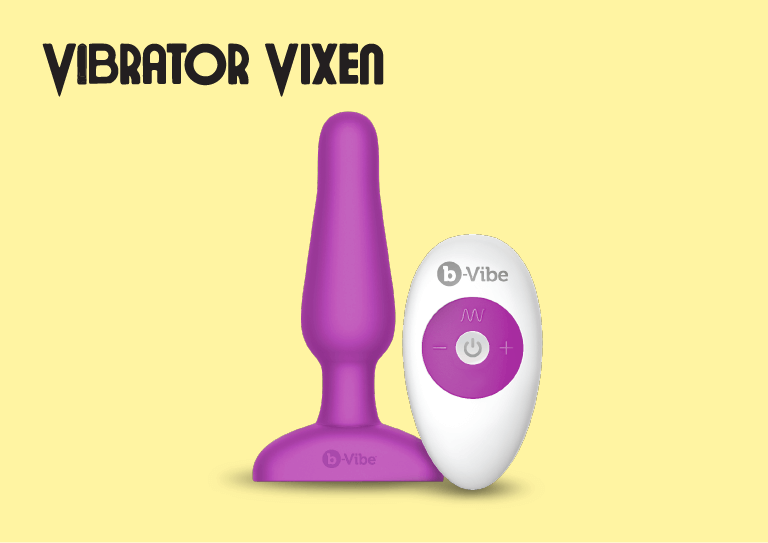 This review was first published on Vibrator Vixen's blog.
I've tried dozens of different vibrators and dildos of all kinds, have ventured into kink and some BDSM but I've had a bit of a sacred spot which I or no one else has never ventured into even though many have tried. I've never ventured into the unknown of anal play. It's something my partner was interested in so I thought to myself what hell, I don't have much to lose. There's nothing better than exploring your sexuality so some anal play was just another step in that direction, the unknown and I was excited.
Anal Play – take 1
Even though I knew that I should start off with something smaller than a penis, I also knew it was something special so my first anal experience went to my partner, I let him be the first which of course he absolutely loved. Men love nothing more than planting their flag somewhere like they're the first man on the moon or getting to the top of a high mountain. I was a bit apprehensive of what the sensation would be, would it hurt? Would it feel like I was on the toilet endlessly? I was also a bit scared of what it would smell like.
We were well prepared, we had lube, I was ready, he was ready, it was go time but then he only got a little part of his dick in and that was it, I was done. It's fair to say, it was a massive fail and I should have started off with something smaller but hey, we all make mistakes. At least he was still the first and it still counts! It was just way too uncomfortable but I decided that I still wanted to explore anal play but needed something a lot smaller than a dick so I decided I'd delve into the wonderful world of butt plugs.
Butt plug selection
Most butt plugs look cheap and nasty so I ruled them out quickly.  I wanted something classy, stylish, non-threatening, body safe and for beginners.  I searched around and asked for recommendations and finally decided I'd try the b-Vibe Novice Plug.
I'd heard of the company b-Vibe and I knew that the founder Alicia Sinclair had a great reputation within the industry so I trusted them with my anus, my precious, precious anus.
One of the things that drew me to the b-Vibe Novice Plug was that it also vibrates.  I thought, if I've just got a plug up my butt, it might be a bit boring.  Then I thought, if I've got a butt plug up my butt that vibrates, that would be more fun.
Another thing that drew me to the Novice Plug is it also comes with a remote control that either I or my partner could control and that was massive for me because I wanted my partner to be involved in the whole anal experience and be a part of my new adventure.
b-Vibe Novice Plug specs
The insertable length is 3.35" and the insertable diameter is 1inch at the widest part.  It has a wide base so there's no chance of it disappearing into a brown hole.  It tapers from the tip to the widest part so it makes it easily insertable.  It's made out of Seamless Silicone and is completely body safe which is an absolute must.  It's soft and nice to touch.  It's got all the bells and whistles you'd expect for a high-end product, USB Rechargeable, toy connects to the charger via a magnet that actually works and holds tight unlike other toys, battery life is good, splashproof, travel-friendly, comes in a nice case and comes with a 1-Year Warranty.
Anal play – Take 2
So butt play was back on.  We got the Novice Plug out, lubed up, had some foreplay and I let my partner be in complete control and he was so gentle and slow that I had nothing to fear.  It entered fairly easily surprisingly, probably because I wasn't all that nervous.  It's small enough that it's not intimidating at all which put me at ease and my partner knew that he had to take it super slow.   We didn't go past halfway with the vibrations strength, it was enough for me to enjoy having a different and fun experience.  It had a great novelty factor for me because it was my first time with a butt plug.  As I get more used to it we'll be able to crank up the vibrations to a stronger level.
Wrapping up
We've used it several times since my first experience and anal play is really growing on me, it turns out that anal play is right up my alley (pun intended lol).  We haven't used it in public yet but I look forward to it when we do.  All in all the Novice Plug was perfect for a butt plug and anal play novice like myself.