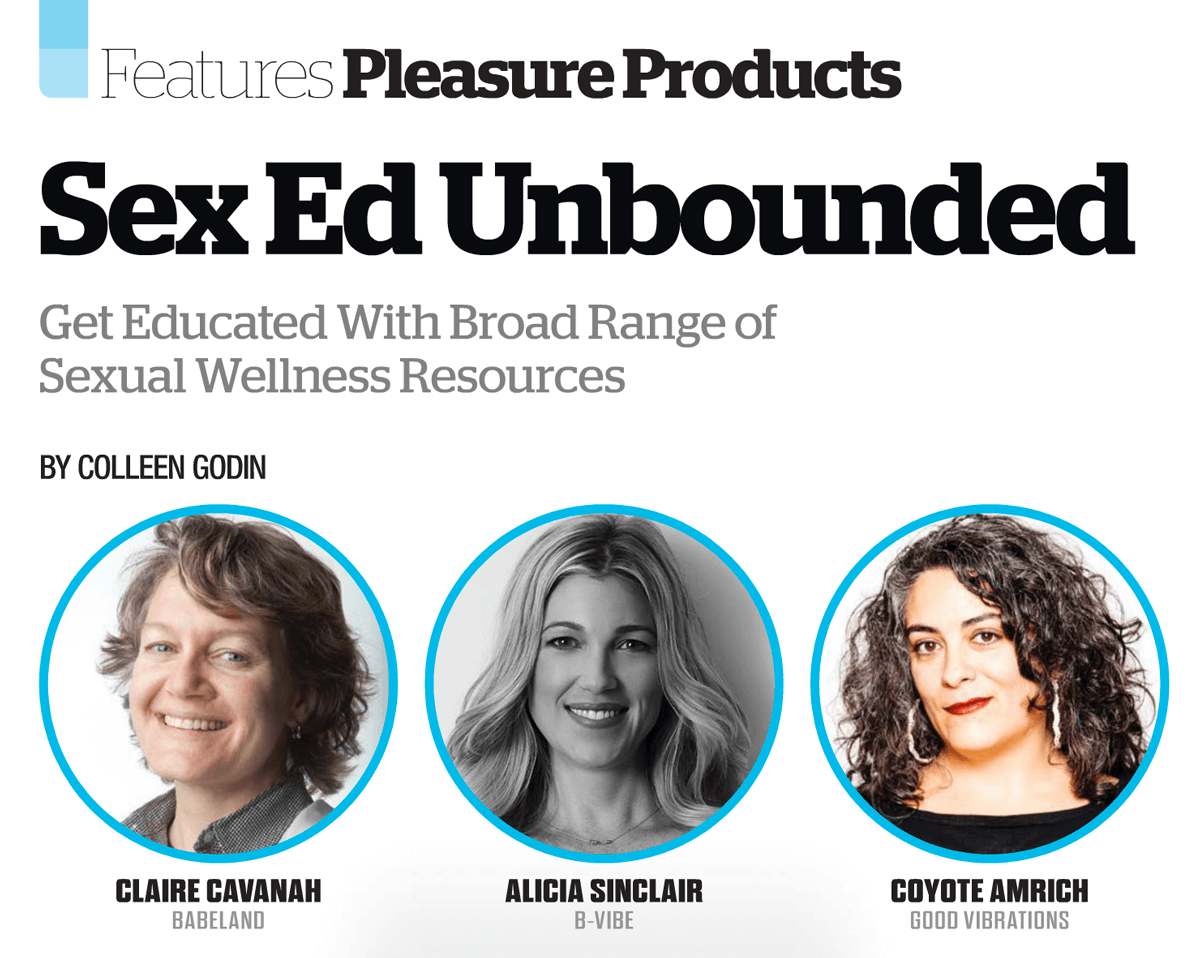 The article Sex Ed Unbounded  – Get Educated With Broad Range of Sexual Wellness Resources, written by Colleen Godin first appeared in the December 2016 edition of XBIZ Premiere. 
If you haven't yet stumbled upon a sex toy blogger, sexpert educator, or info-taining toy review, we think you may have logged onto the wrong internet. From sensual anatomy lessons to consumer shout-outs on online stores, sex education is everywhere. Just like most edu-trends, it can be overwhelming to weed through the rumors and get down to the juicy facts. Toy companies, retailers, educators and expert consumers are eagerly quenching consumers' thirst for knowledge. Here are some top picks for getting certified in improv sex toy education.
Get Your PhD in (Orgasm) Manufacturing
What better place to start your orgasmic exploration than the source? Sex toy manufacturers have taken the reigns of knowledge and provided incredible resources for the curious customer. From vibrator mechanics to self-pleasure know-how, most toy company websites offer sexpert-crafted blogs, Q&A sections, and lessons in solo and partner play. To narrow down a way-too-long sex toy wishlist, consumers can give their chosen toy's maker a virtual visit. Healthy ethics and a well-educated team are the keys to a great pleasure product pleasure.
b-Vibe, a boutique brand specializing in luxury anal vibes, wears its credentials on its sleeve. Besides getting the details on their latest toys, the company's website provides all sorts of educational resources. "We release bi-monthly newsletters filled with sex-positive advice, and our website is full of sexuality education, such as product videos," says b-Vibe founder Alicia Sinclair. As a certified sex educator, Sinclair aims to talk more than just toys, making b-Vibe's website the perfect go-to resource for all your pleasure options. "We present education about the body, rather than just product education," says Sinclair.
If the name is any hint, Fun Factory prides itself on its playful approach to sex-ed. "We use sexual statistics and advice wrapped up in humor to offer our customers a fun approach," says Fun Factory director of marketing and education Kristen Tribby. A quick browse of the manufacturer's website can easily turn into an entire evening of learning. Sex tips, toy tidbits, and free educational materials are the tip of the iceberg. Fun Factory's team also will readily interact with consumers on social media by responding to questions and sharing sex-resources.
Taking It to the Streets
The internet might make consumers' sex education journey quicker, easier and more comfortable, but when it comes to pleasure, a little adventure goes a long way. Pop into any one of the many clean and classy adult boutiques for candid, no-nonsense advice and some good-natured laughs with the world's most enthusiastic sales staff. Today's sex shop clerks are more than cash counters (or creepy pervs behind a glass booth — yuck!). These sales associate proudly don the hat of "sexpert," and will happily lend a hand in helping shoppers choose their next bedroom winner.
Good Vibrations in San Francisco has been preaching the sex-positive word for almost 40 years. In short, they really know their sex stuff! "Our education department led by Carol Queen PhD, educates all of our sales associates on anatomy as well as delving into product function, sexual responses, and everything needed to really assist our customers with their product choices," says director of purchasing and product development Coyote Amrich. Clerks at Good Vibrations aren't your run-of-the-mill cash-counters. A gig at this top-tier boutique earns the title of Sex Educator Sales Associate. Step into Good Vibes and prepare to get schooled!
If a flight to San Fran isn't in your budget, the USofA hosts several great educational retailers. Folks in Chicago, Los Angeles, and New York City can enjoy a visit to The Pleasure Chest, a premier location for toys and enthusiastic staff. If you're somewhere in the middle, Cirilla's, Ambiance and Patricia's can be found throughout the Midwest, all boasting of sex-savvy teams.
Class Is in Session
Don't walk out of the door of the friendly neighborhood sex shop just yet! Progressive retailers are offering more than good vibes these days. Sick of the bar scene on Saturday evening? Try a Ladies' or Couples Night event, or sex educator-led class hosted by a local brick-and-mortar toy store. On top of getting the latest scoop on hot topics in sexiness, most shops give away free goodies and wine while offering special, one-night-only sales. (And let's face it, the booze and sex toys sales are probably enough to win you over alone.)
Good Vibrations, Babeland, and The Pleasure Chest are famous for their post-shop hours classes and events. Seattle's Babeland was one of the first boutiques to bring customers a behind-the-counter experience. "Sex education is in our DNA," says Babeland founder Claire Cavanah. "We offer workshops and do a lot of teaching both in-store and off-site, including showing our customers how to get the most enjoyment from their toys." The Master of Ceremonies roster ranges from sex educators to pro dommes to bedroom entrepreneurs (read: people who have had copious amounts of sex). From self-love to partner-focused pleasure, sex-ed courses can be found all over the country. Chain stores like A Touch of Romance are popular for their Ladies' Nights events, which they host several times per year.
Sex on the Net
The Internet is like a magical oracle of sex. Type in a desire and a flood of people and products turn up to fulfill it. Without a little navigation know-how, it's easy to get lost in a sea of dishonest sales pitches and bad information. The right resources are out there in the form of seasoned sex toy bloggers and sex-positive websites.
Curious about bondage while eyeing the latest oral sex simulator and simultaneously wondering how to plan your next Saturday night net marathon? Kinkly's got you covered! Kinkly.com is a wild cornucopia of everything you could possibly want to know about the latest developments in pleasure. A quick browse turns up articles on the best tech sex toys, anecdotes on working in porn, and diving into electrosex. If it's sex-related and it's not on Kinkly, it probably doesn't exist yet.
If you've got a serious taste for toys, the blogging community will help you sort through the best, the worst, and the hilarious. Sex toy reviewers are the judge and jury of pleasure products. They've put our most sought-after vibes and dildos to the test, and the results make for a better Sunday read than your Facebook feed. If science is your favorite subject, DangerousLilly.com dissects the inner workings of high-end vibrators and the chemistry of toy materials. CarnalChameleon.com, run by a delightfully nerdy straight pair, explores unique fetishes and funky ways to play with your partner. Toys for men and gay couples are the highlight of LTASex.com, a blog that's home to kink, relationships, and body-safe lubricants. However you get your kicks, there's a sex blogger out there with the perfect toy to add to your collection.
Education for Life
Sex education isn't a trend. It's a movement of educators, toy creators and mindful consumers moving towards a more positive place for our bodies and minds. As more companies become wellness-aware, health is becoming a top priority for manufacturers like Chakrubs. "We care for the health as well as the fulfillment of our customers — for body, mind, and soul," Chakrubs CEO Vanessa Cuccia said. Her company bases its' crystal dildo designs on the idea that healthy sensuality goes hand-in-hand with conscious, educated living. "To be familiar with sex ed topics is to be able to offer as much support to your customers so that they can feel safe, comfortable, and have the tools they need to explore this very important aspect of our lives," says Cuccia. At the end of the day, that's what sex education is all about: safety, comfort, and exploration of your sensual self.