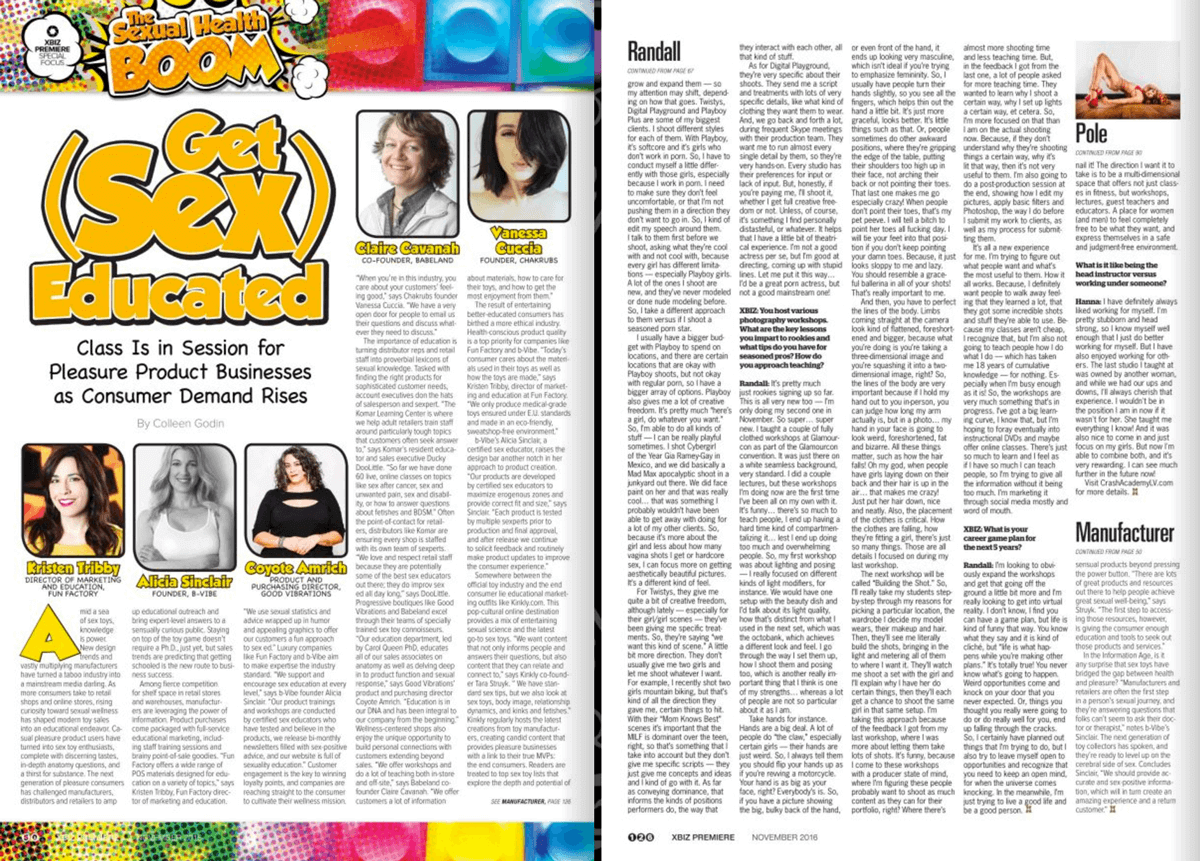 The article 'Get Sex Educated – Class Is in Session for Pleasure Product Businesses as Consumer Demand Rises', written by Colleen Godin first appeared in the November 2016 edition of XBIZ Premiere.
Amid a sea of sex toys, knowledge is power. New design trends and vastly multiplying manufacturers have a turned a taboo industry into a mainstream media darling. As more consumers take to retail shops and online stores, rising curiosity toward sexual wellness has shaped modern toy sales into an educational endeavor. Casual pleasure product users have turned into sex toy enthusiasts, complete with discerning tastes, in-depth anatomy questions, and a thirst for substance. The next generation of pleasure consumers has challenged manufacturers, distributors, and retailers to amp up educational outreach and bring expert-level answers to a sensually curious public. Staying on top of the toy game doesn't require a Ph.D., just yet, but sales trends are predicting that getting schooled is the new route to business success.
Among fierce competition for shelf space in retail stores and warehouses, manufacturers are leveraging the power of information. Product purchases come packaged with full-service educational marketing, including staff training sessions and brainy point-of-sale goodies. "Fun Factory offers a wide range of POS materials designed for education on a variety of topics," says Kristen Tribby, Fun Factory director of marketing and education.
"We use sexual statistics and advice wrapped up in humor and appealing graphics to offer our customers a fun approach to sex ed." Luxury companies like Fun Factory and b-Vibe aim to make expertise the industry standard. "We support and encourage sex education at every level," says b-Vibe founder Alicia Sinclair. "Our product trainings and workshops are conducted by certified sex educators who have tested and believe in the products, we release bi-monthly newsletters filled with sex-positive advice, and our website is full of sexuality education." Customer engagement is the key to winning loyalty points, and companies are reaching straight to the consumer to cultivate their wellness mission. "When you're in this industry, you care about your customers' feeling good," says Chakrubs founder Vanessa Cuccia. "We have a very open door for people to email us their questions and discuss whatever they need to discuss."
The importance of education is turning distributor reps and retail staff into proverbial lexicons of sexual knowledge. Tasked with finding the right products for sophisticated customer needs, account executives don the hats of salesperson and sexpert. "The Komar Learning Center is where we help adult retailers train staff around particularly tough topics that customers often seek answer to," says Komar's resident educator and sales executive Ducky DooLittle. "So far we have done 60 live, online classes on topics like sex after cancer, sex and unwanted pain, sex and disability, or how to answer questions about fetishes and BDSM." Often the point-of-contact for retailers, distributors like Komar are ensuring every shop is staffed with its own team of sexperts. "We love and respect retail staff because they are potentially some of the best sex educators out there; they do improv sex ed all day long," says DooLittle. Progressive boutiques like Good Vibrations and Babeland excel through their teams of specially trained sex toy connoisseurs. "Our education department, led by Carol Queen PhD, educates all of our sales associates on anatomy as well as delving deep in to product function and sexual response," says Good Vibrations' product and purchasing director Coyote Amrich. "Education is in our DNA and has been integral to our company from the beginning." Wellness-centered shops also enjoy the unique opportunity to build personal connections with customers extending beyond sales. "We offer workshops and do a lot of teaching both in-store and off-site," says Babeland co-founder Claire Savannah. "We offer customers a lot of information about materials, how to care for their toys, and how to get the most enjoyment from them."
The result of entertaining better-educated consumers has birthed a more ethical industry. Health-conscious product quality is a top priority for companies like Fun Factory and b-Vibe. "Today's consumer cares about the materials used in their toys as well as how the toys are made," says Kristen Tribby, director of marketing and education at Fun Factory. "We only produce medical-grade toys ensured under E.U. standards and made in an eco-friendly, sweatshop-free environment."
b-Vibe's Alicia Sinclair, a certified sex educator, raises the design bar another notch in her approach to product creation. "Our products are developed by certified sex educators to maximize erogenous zones and provide correct fit and size," says Sinclair. "Each product is tested by multiple sexperts prior to production and final approval, and after release we continue to solicit feedback and routinely make product updates to improve the consumer experience."
Somewhere between the official toy industry and the end consumer lie educational marketing outfits like Kinkly. This pop-cultural online destination provides a mix of entertaining sexual science and the latest go-to sex toys. "We want content that not only informs people and answers their questions, but also content that they can relate and connect to," says Kinkly co-founder Tara Struyk. "We have standard sex tips, but we also look at sex toys, body image, relationship dynamics, and kinks and fetishes." Kinkly regularly hosts the latest creations from toy manufacturers, creating candid content that provides pleasure businesses with a link to their true MVPs: the end consumers. Readers are treated to the top sex toy lists that explore the depth and potential of sensual products beyond pressing the power button. "There are lots of great products and resources out there to help people achieve great sexual well-being," says Struyk. "The first step to accessing those resources, however, is giving the consumer enough education and tools to seek out those products and services."
In the Information Age, is it any surprise that sex toys have bridged the gap between health and pleasure? "Manufacturers and retailers are often the first step in a person's sexual journey, and they're answering questions that folks can't seem to ask their doctor or therapist," notes b-Vibe's Sinclair. The new generation of toy collectors has spoken, and they're ready to level up on the cerebral side of sex. Concludes Sinclair, "We should provide accurate and sex-positive information, which will in turn create an amazing experience and a return customer."