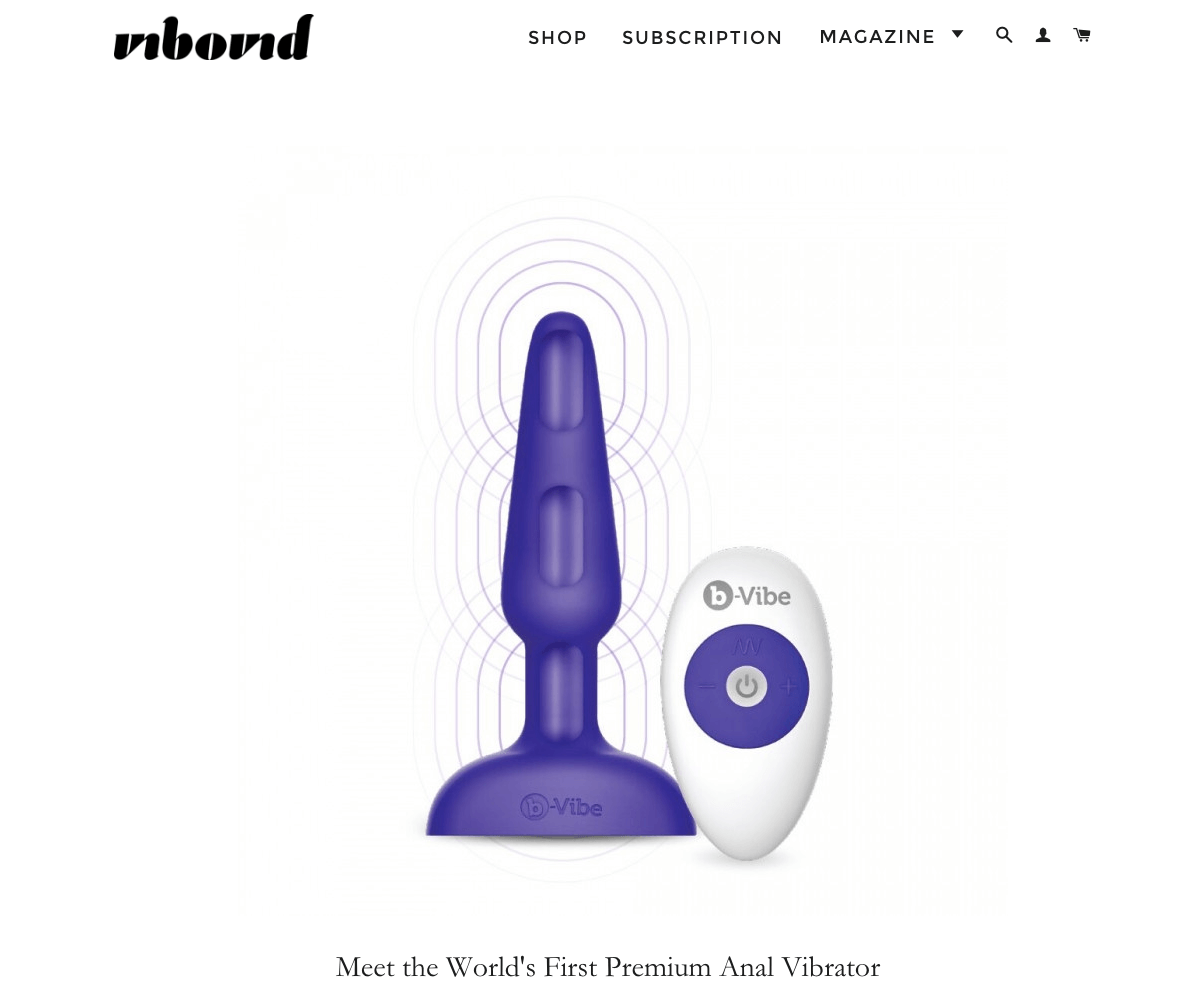 The article 'Meet the World's First Premium Anal Vibrator', featuring the b-Vibe Rimming Plug & the b-Vibe Trio Plug first appeared on Unbound.
Innovation in the sex toy space seems to come in fits and spurts (c'mon, get outta the gutter). But for all the multi-motor, induction-charged, iOS-controlled vibrators and dildos that have come on the market recently, there has been a notable lack of attention devoted to developing innovative toys for anal play. Even though the anus has an extremely high concentration of sensitive nerve endings, most butt plugs available today are inert and designed with little regard for natural anatomy or at best feature a lackluster bullet vibe for slightly improved sensation.
Enter Alicia Sinclair. After working for several years in product sales and marketing in the adult toy space, she noticed a dearth of high-quality anal products despite rapidly growing consumer demand (read: between 20-30% year on year for the last several years). Moreover, she noticed that a lot of retailers failed to marry these products with the kind of expert guidance that could ensure they would be used pleasurably and safely. Convinced of the market opportunity, Alicia became accredited as a sex educator and started b-Vibe – a company aimed at developing high quality, innovative butt plugs purveyed in tandem with expert advice on all things anal.
Alicia credits a lot of b-Vibe's ethos to her time spent working with Industrial Designer and Entrepreneur, Ethan Imboden, calling his belief that pleasure is part of everyone's birthright "inspiring". Indeed, everything about b-Vibe – from their Anal Play 101 blog (which tackles everything from how to safely insert toys to stigmas associated with enjoying the act) to their packaging (which displays couples of all ages, physiques, and orientations) seems aimed at making anal sex – something Alicia finds too often associated with "pain or a bad experience"- accessible, fun and pleasurable for everyone.
b-Vibe's debut product, the "Rimming Plug" was inspired by the rotating ball bearing mechanisms of the original Rabbit Pearl vibe (of Sex and the City fame). Beads rotate beneath the silicone exterior of the neck of the plug, mimicking the sensation of analingus.
The b-Vibe Rimming Plug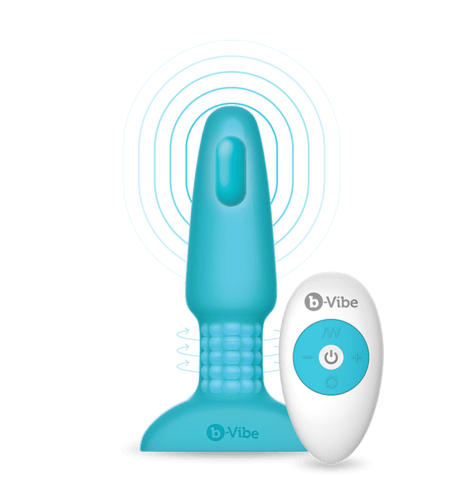 b-Vibe is also in the process of launching several other plugs including the "Trio Plug" (a medium-sized butt plug featuring three motors, see our review below!) and the "Novice Plug" (a smaller-sized butt plug with 20 different vibration functions for those just starting to experiment with anal play). b-Vibe also has aspirations to release a smaller version of the Rimming Plug (for those seeking a less intense sensation) as well as a series of non-vibrating plugs in innovative shapes slated to debut next March.
All of b-Vibe's products undergo rigorous iterative product testing and refinement, and it shows. We were fortunate enough to get our hands on a sample of the recently-launched Trio Plug. As mentioned above, medium-sized silicone plug features three motors (spaced out in the tip, body, and neck) which can each be independently controlled manually or via a remote control to deliver 8 vibration levels and 9 vibration patterns. The plug features an insert-able portion measuring 4.3" x 1.25" and is splash proof (and shower friendly), USB rechargeable, and comes with a discrete travel case.
The *all new* b-Vibe Trio Plug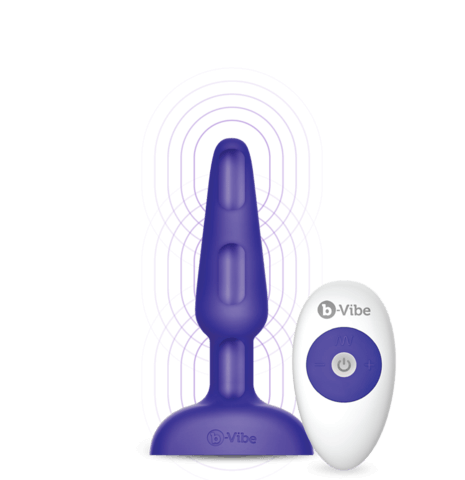 The high-grade silicone is exceptionally smooth to the touch and the ergonomic shape and size made insertion easy (facilitated by a sensible amount of water-based lube). When you first turn the plug on, only the tip motor vibrates- allowing for easier insertion from the base, while the next mode in the vibration cycle activates the middle motor, making it effective for tempting and teasing. The interface of the remote control (which has a range of 30 feet) was intuitive and didn't distract, while the range and intensity of vibrations were quite effective in stimulating my partner's prostate and (when we took turns) my g spot, while also allowing for comfortable concurrent vaginal penetration. Our only (minor and highly subjective) objection was that the base of the plug glows a rather menacing eye-of-Sauronesque bright red when activated. But one could argue that at least it helps you find the thing in the dark.