I love putting things up my butt. Penises, dildos, prostate massagers, anal beads, butt plugs—you name it—I love it. But I know I'm special. I'm not like other guys out there. (Well, I should clarify, I'm not like many other straight men out there. Gay/bi/queer bottoms definitely love things in their behind!)
Still, I think that every man who has sex with women should be pegged at least once. I'd go as far as to say that it is a right of passage. Besides, if you plan to stick your penis inside someone else, you need to know what it feels like! And while you may think you can imagine what it feels like—I guarantee you there is no way in hell you can actually know without trying it out for yourself. Trust me, I thought I knew. I thought. Oh, how I was so young and foolish!
So here are eight reasons why I believe every man should try pegging once. (Might I kindly suggest forward this article to your boyfriend/husband/partner? It could be just the push he needs if you're trying to get up in his booty.)
1. You gain a sense of empathy.
Not to belabor this point, but I think it's crucial. I guarantee you will not attempt to ram your dick inside your partner without lube. You're not going to start by immediately jackhammering. You're going to take your time to warm up your partner. You're going to slow things down. You're going to check in with them more and see how they're feeling. You're going to learn that sticking your penis in something is easy. But having a penis or dildo inside you? That's hard, my friend. (No pun intended.)
2. You learn what feels pleasurable for the receptive partner.
It's not about those hard strokes. It's about the undulation. It's a combination of shallow and deep. You'll also learn that it's not just about doggie style. Most guys—and I've sex with about 1,000 men in my life, so I feel like I have a sufficient sample size—are very quick to turn you over onto your stomach. Don't get me wrong. Doggy style is a gift from the gods to humanity. I love both topping (being the insertive partner) and bottoming (being the receptive partner) in doggy style. When I bottom, I feel like a porn star, and when I top, I love all that juicy butt bouncing on my penis, but there is more to sex than doggy style! When you bottom, I feel like you enjoy trying out more positions to find that one (or few) that hits just right.
MASTER: The 11 Best Positions for Anal Sex!
3. It leads to earth-shattering orgasms.
Maybe I should have led with this because who doesn't want to experience the most sexual pleasure as humanly possible? When you're pegged, you get that beautiful little prostate stimulated and leads to full-body orgasms—the ones where your entire body convulsed and it looks like you're experiencing an exorcism. It really does feel that good. And when you orgasm with something inside your rear end, you'll notice you ejaculate a lot more.
4. You allow your partner to experience what it's like to be a man.
You know how you like sticking your penis into things? You know how it can make you feel dominant? Be generous and let your partner experience that feeling of control.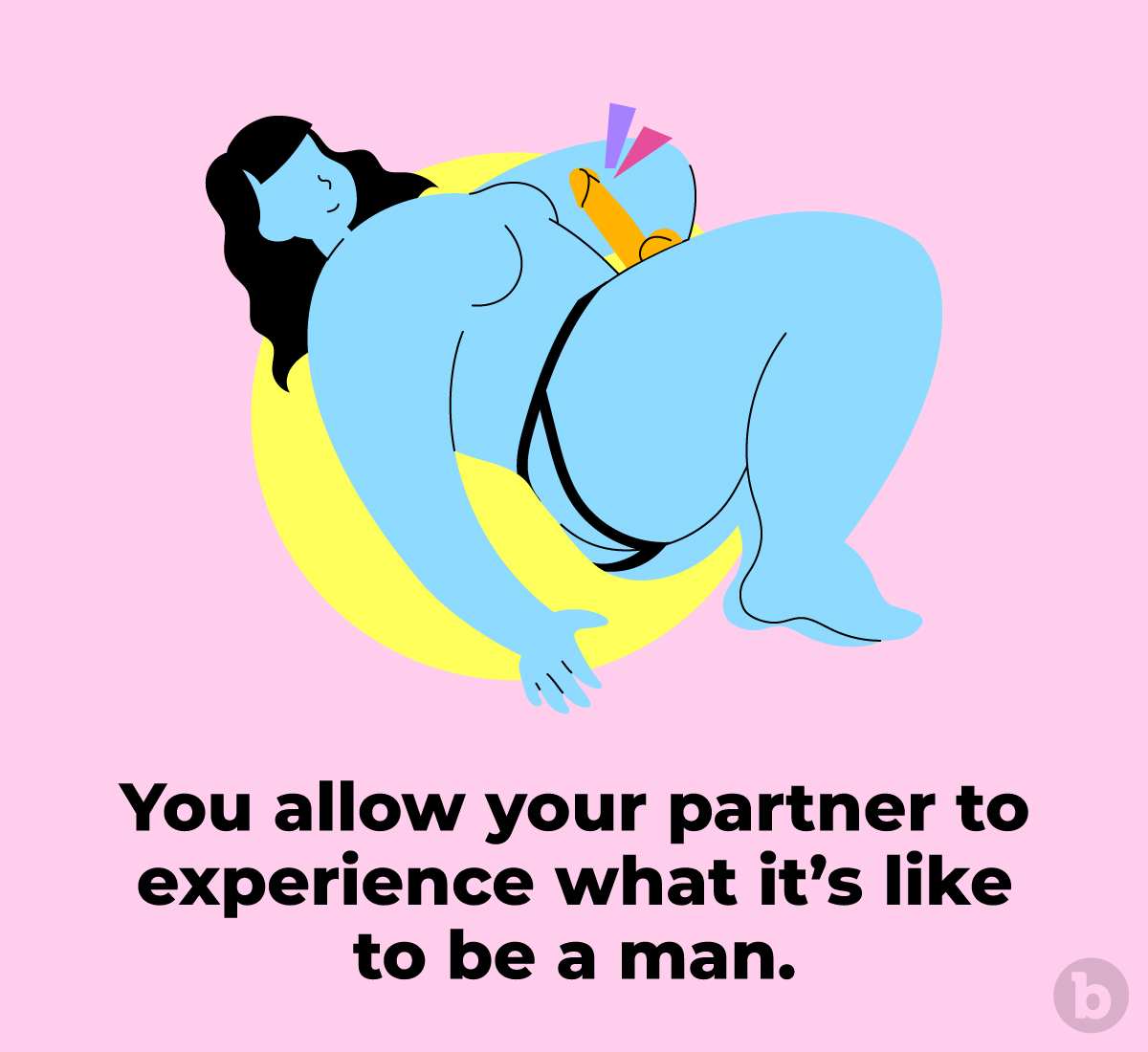 Women only get to experience having things put in them, so to put their "penis" into you can make them feel powerful. Let them enjoy this novel, dominant experience for a change.
5. It gives you a chance to explore your more submissive side.
Don't get me wrong, you can definitely be a power bottom who's running the show while getting pegging, but that's typically now how it manifests. When you get pegged, you get to explore being more submissive, which you may actually love. Many men shy away from being submissive during sex—they think it makes them less of a "man"—but that is utter bullshit. A real man's masculinity and identity are not threatened by relinquishing control and exploring new forms of pleasure.
6. It's a more emotional experience.
I remember when I first started bottoming (for penises and dildos), after sex, I'd think to myself, "Wait, do I love this person?" Obviously, I did not! But there is this intensity that comes with having something inside of you that isn't the same as sticking your penis into something else. I truly believe that there would be fewer fuccbois in the world if everyone was getting pegged. These guys would realize that sex for a bottom can be really fucking intense!
7. It's kinky and taboo.
And that is just hot! Knowing you're doing something that others find "wrong" or "deviant" is a huge turn-on and many of us like being naughty in bed. We like being dirty little kinksters!
8. What do you have to lose?
Alright, hear me out. There are so many positives to being pegged and really no major cons. (Just be careful the first time you do it and don't take anything too big too quickly—that could lead to pain or fissures.) Worse comes to worst, you don't love it, but at least you've done it. And what you learned from the experience—that empathy—you'll have for the rest of your life!
.