So, you have a cisgender man in your life, and you want to peg him? God bless! Men's butts deserve just as much love as cisgender women, trans, and nonbinary booties! All too often they're ignored—and I, for one, will not stand for it!
Your man may be a tad bit reluctant to have any form of anal play on him, especially if he's straight. Straight, cisgender men have been conditioned to believe that if anything goes near their butts, and they like it, then they must be gay or bisexual. This is fake news! Enjoying anal play has nothing to do with sexual orientation (or gender for that matter) and all to do with maximizing pleasure and having a powerful sexual experience with your partner.
* The techniques discussed in this article & video are applicable to any prostate owner regardless of gender identity. The experiences reflected are those of the author's personal experience but are not excluding of other gender identities.
Of course, if your partner has zero interest and the idea scares him half to death, then it's probably not going to happen. You can't force your partner to do anything they don't want to do. That said, some men are on the fence and can use a little convincing. I know I was the first time my girlfriend spoke about her desire to peg me all those years ago.
In fact, when she said she wanted to peg me, my response was immediate: "Absolutely fucking not."
"Whyyyyyyyy?" she asked.
I explained how I have IBS, and it sounded painful. Then I told her about the one time I tried bottoming that went disastrously. She replied by saying she understood but that she would really love to peg me, so I should keep an open mind. I agreed, and her not-so-subtle inception took. I kept thinking about her pegging me, so I tried sticking my fingers up my butt while in the shower. I wanted to see how that would feel.
I did not enjoy it. I told her that it didn't feel good, and she told me I was doing it all wrong. I was making it too clinical. Before putting anything up my rear end, I need to be aroused, and I need to use lube, not conditioner.
READ: b-Vibe Founder Alicia Sinclair Reveals the Best Anal Lube for Every Occasion
"Here, let me show you," she said. Then she started going down on me, and once I was erect and insanely turned on, she told me she was going to stick in a finger, and I agreed. Once I relaxed, it felt amazing. She gently massaged my prostate while blowing me, and when I orgasmed, my eyeballs rolled back to the head, like I was experiencing an exorcism. It was one of the strongest, most full-body climaxes I'd ever had. From there, it didn't take long until she was pegging me, and that was just—spectacular.
If it wasn't for her, I don't if I ever would have tried being pegged. (Alright, that's probably not true. Likely another partner would have convinced me. Still, though!)
I share my story to illustrate that sometimes, your boyfriend, husband, or partner might need a little push. So here are some tips that'll get your partner excited about the prospect of getting pegged.
You'll notice that this article assumes your partner is a cisgender man. I did this because 1) cis men have prostates and 2) they have been conditioned by society to think that anal play on them is "gay." That said, if your non-binary or trans partner also holds these incorrect heteronormative beliefs, then feel free to use these tips with them too!
1. Emphasize the pleasure for him.
Getting pegged is an experience. First off, it feels incredible physically. That's because cisgender men have a prostate, a walnut-sized gland located 2-3 inches inside the rectum. The prostate is jam-packed with nerve-endings, so it feels incredibly pleasurable when stimulated. When you orgasm while experiencing prostate stimulation or having something inside your rectum, it leads to massive, full-body orgasms.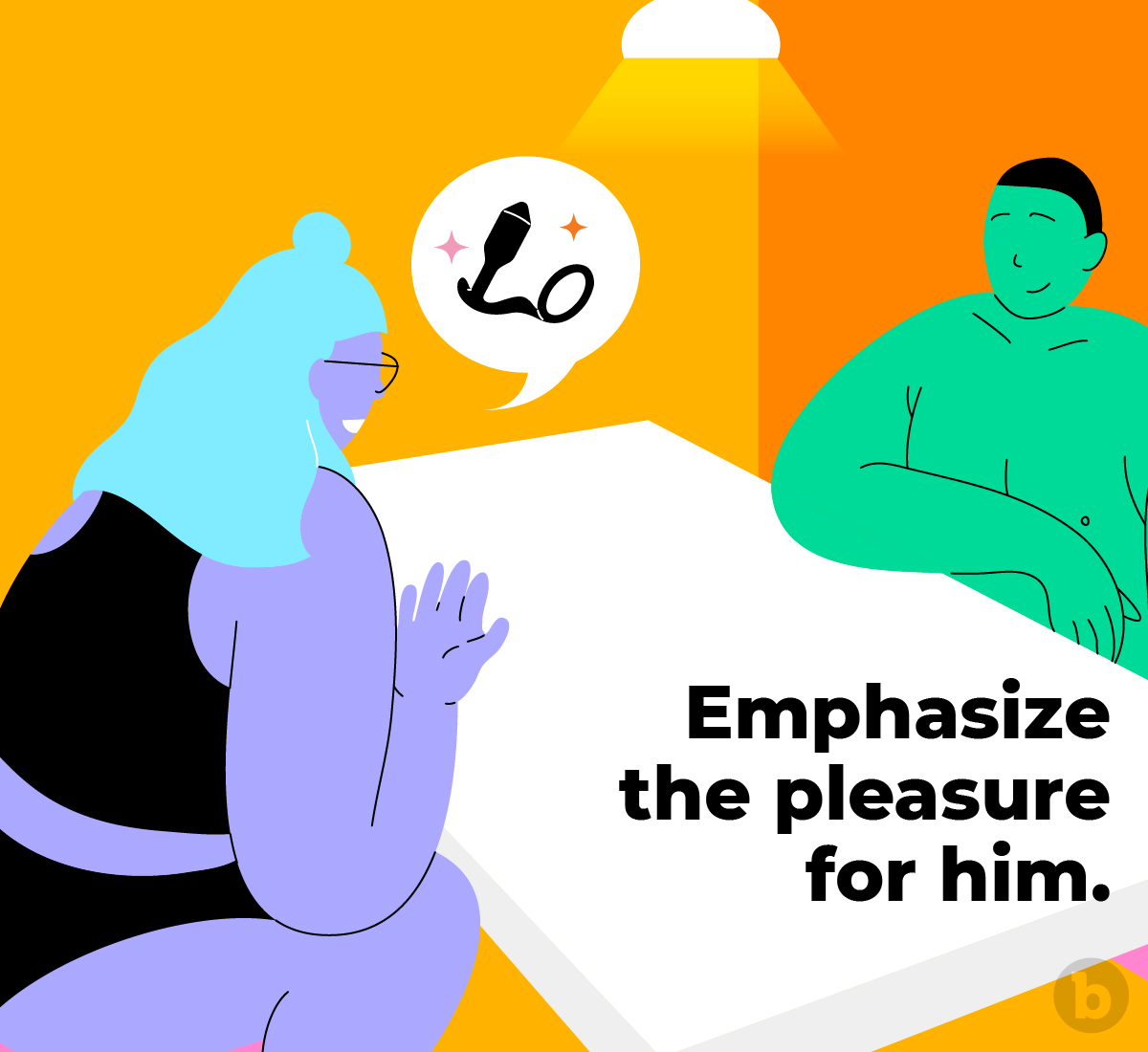 RELATED: A tried & tested guide on how to talk about anal sex with your partner!
Typically, when a man ejaculates, the pleasure is localized to his genitals. But when you have a prostate-induced orgasm, you feel the orgasm everywhere. You feel it in your left elbow and your right eyeball. You feel electricity pulse down your spine and throughout your entire body. From what I've gathered, it feels more similar to how cisgender women report experiencing orgasms. So explain how you want him to feel that pressure!
You can also note how it's a unique psychological experience. If your boyfriend has only topped (being the insertive partner), then he's never felt what it's like having something inside of him. Getting penetrated is a completely different sensation, one that clearly, most women love. Otherwise, you wouldn't be having sex! It is intense, gratifying, and something he should experience at some point in his life.
2. Express what you get out of it.
Maybe if he won't do it for his pleasure, he'll consider doing it for your pleasure. That's what got me into pegging. My girlfriend made it clear it's something she loved, and I wanted to make her happy. Explain how you want to experience the power that comes with topping and being more dominant. You want to get turned on seeing him moan in ecstasy. You want to feel what it's like having a penis (or whatever else is driving your pegging desire)!
3. Explain how pegging can be intimate.
I think there's this idea that pegging is always kinky or intense. It definitely can be, don't get me wrong. You can just go to town on the poor, innocent little behind, but that's not what you plan to do (at least not yet).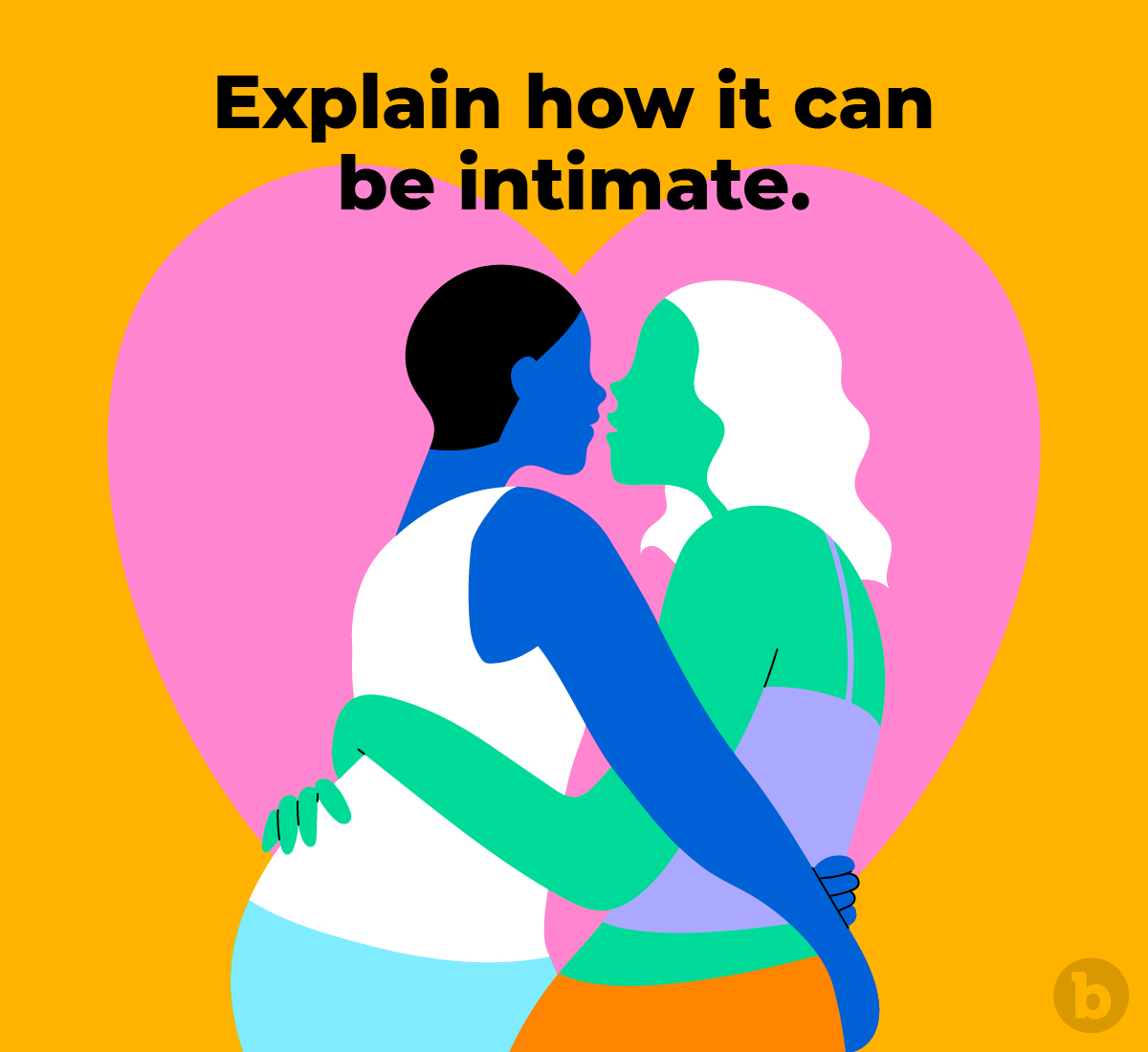 You want to have a more tender moment. You don't plan to just ram it in there. Heavens no. You plan to take it slow, look into each other's eyes, and make love. I know it sounds kinda silly. But yes, you can make love while pegging! I think making it clear that this will be a loving, intimate experience where you two feel more connected afterward can lay some of his worries to rest.
4. Plan to start small.
Make it clear that you're not going to start with pegging. That is way too much if he's never had anything in his rectum before. Honestly, I think it's effective to do what my girlfriend did.
Start with an anal massage or some anal fingering when you go down on him, and then put in a little pinky. Get him to orgasm while your finger is inside of him. If he allows himself to relax, he'll likely love it. From there, you can slowly work your way to bigger and better things before eventually whipping out the strap-on.
EXPLORE: A sex educator's guide on analingus (AKA eating ass!)
5. Then he doesn't get anal on you!
Alright, I am not a fan of withholding sex as a form of punishment or motivation. That's really unhealthy behavior; it causes stress, pushes your partner away, and creates a harmful and imbalanced power dynamic. But in this one situation, I think it's okay to illustrate his hypocrisy. If he loves having anal sex with you, you can say that he doesn't get to be up in your booty again until you get to put a pinky in his! It's only fair, am I right? This needs to be expressed playfully, and of course, don't punish yourself. I mean, you still want anal, too! But I think you can point out the hypocrisy.
At the end of the day, your partner may not want to have anything up his rear end. Sad, I know, but if he really doesn't want to, you can't pressure him. That said, there's no harm in asking and expressing how much it would mean to you if he gave it an old college try. Who knows? He may eventually come around to it.