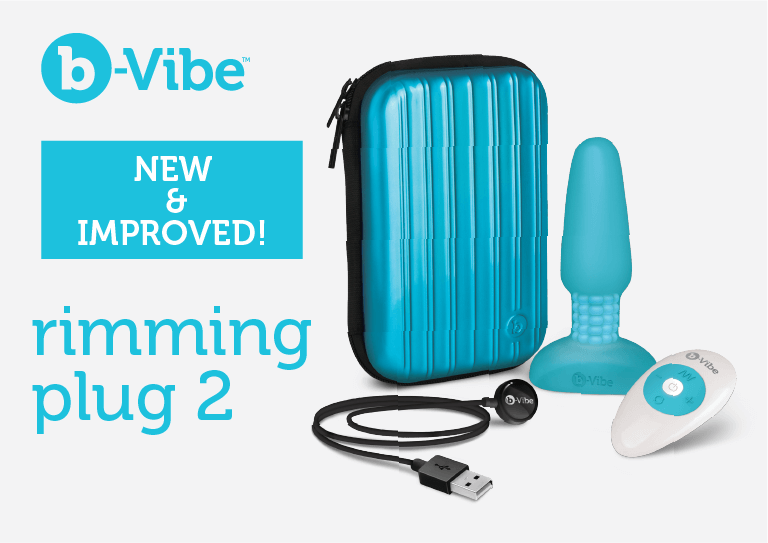 LOS ANGELES, May 16, 2017 — b-Vibe has rolled out the latest rendition of the bestselling b-Vibe Rimming Plug, which now offers 7 titillating rotating modes.
The revolutionary butt plug has gained international fame as the only plug with rotating beads. The b-Vibe Rimming Plug has been featured in and recommended by mainstream media such as BuzzFeed, Cosmopolitan, Refinery29 and Vice.com's Motherboard channel, which called the b-Vibe "the Apple of Anal."
The b-Vibe Rimming Plug has also gained the support of the sex educator community with a slew of glowing reviews and recommendations, including being hailed as "life-changing" by renown sexpert Tristan Taormino, and landing on Jessica Drake's Top 10 list of favorite toys. 
"We're elated that the b-Vibe Rimming Plug has been so well-received among consumers, in the media and by sexual wellness experts, however we are always focused on how we can make the user experience even better," b-Vibe founder and Managing Director Alicia Sinclair said. "Product innovation and improvement has always been our main motivation behind our designs. We're pleased to bring consumers even more options for anal play with the Rimming Plug 2's newly added rotation modes."
The b-Vibe Rimming Plug 2 is the first premium plug to incorporate rotating beads for a rimming sensation that can be enjoyed through the plug's seven modes.
Similar to all of b-Vibe's remote controlled plugs, the Rimming Plug 2 can be operated with or without the included wireless remote control, which works from up to 30 feet away. It is USB-rechargeable, and comes in a convenient, discreet case for easy storage and traveling.
The b-Vibe Rimming Plug 2 is available for the same MSRP of the original Rimming Plug. Based on the success of the original b-Vibe Rimming Plug, the revamped b-Vibe Rimming Plug 2 is poised to be a hit for retailers. The b-Vibe Rimming Plug 2 is slated to begin shipping to retailers soon. 
b-Vibe is a premium, certified body-safe collection of healthy anal sex products founded by Certified Sex Expert, Alicia Sinclair. b-Vibe's high-end designs are combined with engaging branding and marketing, which is focused on conveying sex positive education with a fun, friendly approach.
Stay tuned to https://www.bvibe.com/ for the latest company news! For sales, email customerservice@bvibe.com.