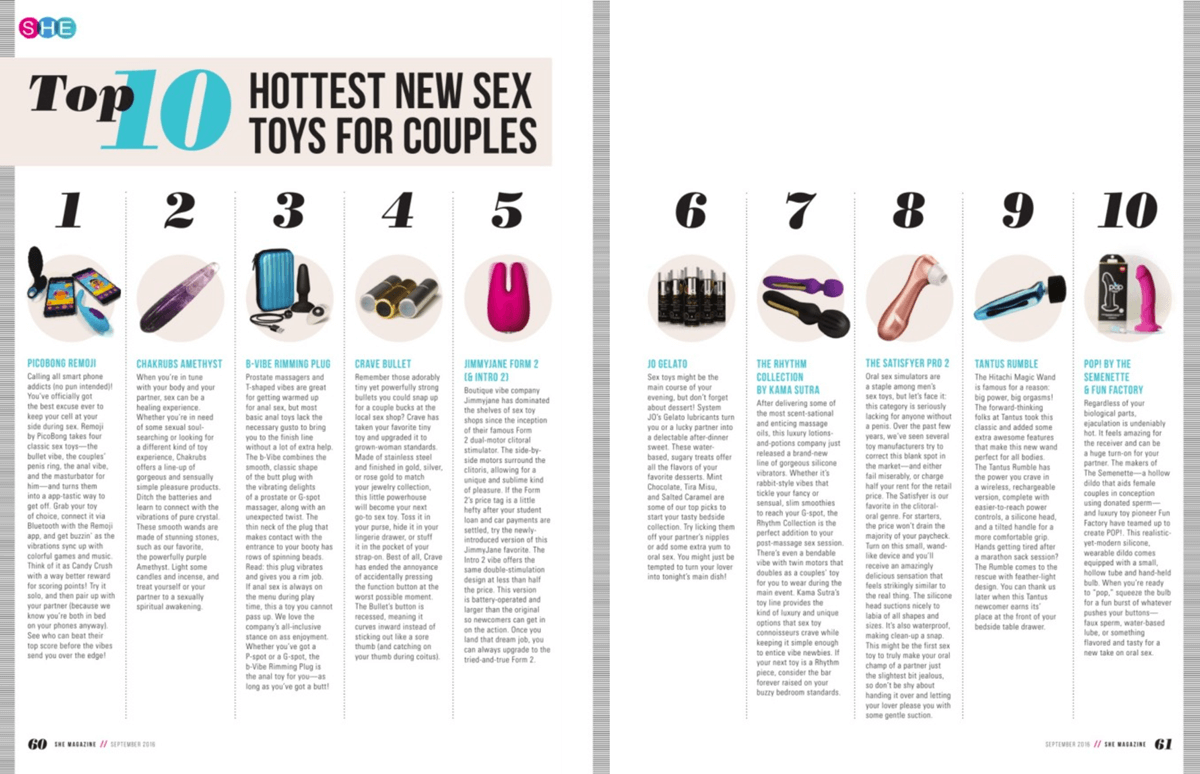 The article on the 'Top 10 Hottest New Sex Toys for Couples' by Colleen Godin, which included the b-Vibe Rimming Plug was first published in the September 2016 issue of SHE Magazine.
Prostate massagers and T-shaped vibes are great for getting warmed up for anal sex, but most basic anal toys lack the necessary gusto to bring you to the finish line without a lot of extra help.
The b-Vibe Rimming Plug combines the smooth, classic shape of the butt plug with the vibrating delights of a prostate or G-spot massager, along with an unexpected twist. The thin neck of the plug that makes contact with the entrance to your booty has rows of spinning beads. 
Read: this plug vibrates and gives you a rim job. If anal sex is always on the menu during play time, this is a toy you cannot pass up. We love the company's all-inclusive stance on ass enjoyment. Whether you've got a P-spot or a G-spot, the b-Vibe Rimming Plug is the anal toy for you—as long you've got a butt!
Also included in the inaugural issue of SHE Magazine is a glowing review by renowned sex & relationship coach, Charlie Glickman. "I'm a big fan of the Trio Plug by b-Vibe. It's a slim anal plug, so it's great for folks who are new to anal play, it's remote-controlled (perfect for combining with other kinds of sex or going out to dinner), and if a woman wears it during intercourse, her partner will definitely feel the buzz. Plus, it's rechargeable and made from body-safe silicone. It's an amazing toy."
SHE Magazine is the must-read quarterly guide to sexual wellness for every walk of life. From the latest news and product reviews to progressive op-eds and interviews with today's sexual wellness experts, SHE Magazine is focused on exploring new ideas and advance conversations around sex topics and trends through engaging, compelling content that balances education and practicality.