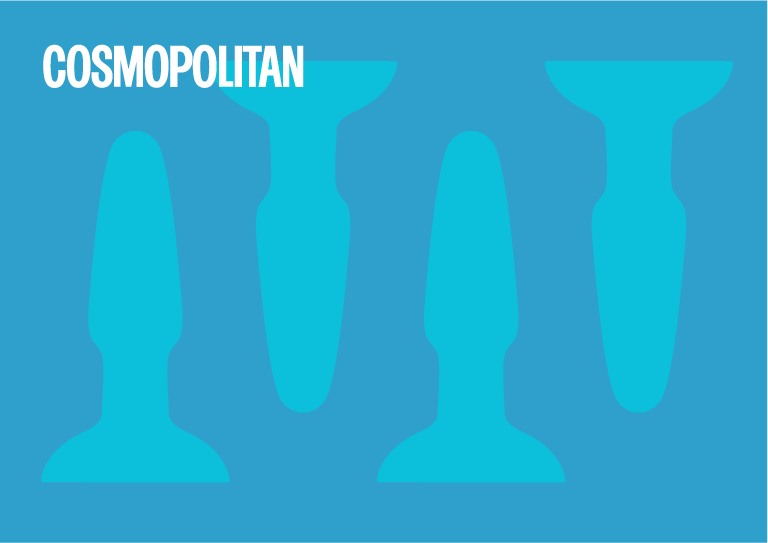 Paisley Gilmour's article — Everything You Need to Know Before Using Anal Toys for the First Time — was first published in Cosmopolitan UK. Image courtesy of Getty Images, Cosmoplitan and Lovehoney.
Using anal toys for the first time can see a teeny bit scary, and there are definitely some things to keep in mind – both mentally and physically. Often, the reason behind someone having a negative first time experience is because they dive right in, rather than taking it step by step.
Sex experts at b-Vibe explain there are some things to consider before, during, and after using anal toys for the first time that will help make your experience as fun and pleasurable as possible.
1. Get your brain on board
The thought of using anal toys for the first time can be daunting. There are a lot of taboos, tall tales and a good deal of misinformation that can confuse people and cause fear. The most important part to making the experience pleasurable is education. Education will empower your experience and allow you to know what to expect, which is a determining factor in how much fun you'll be able to have. Take some time to research any subject about which you might be nervous or anxious. Remember – it's not a race. The right pace is the one that works for you.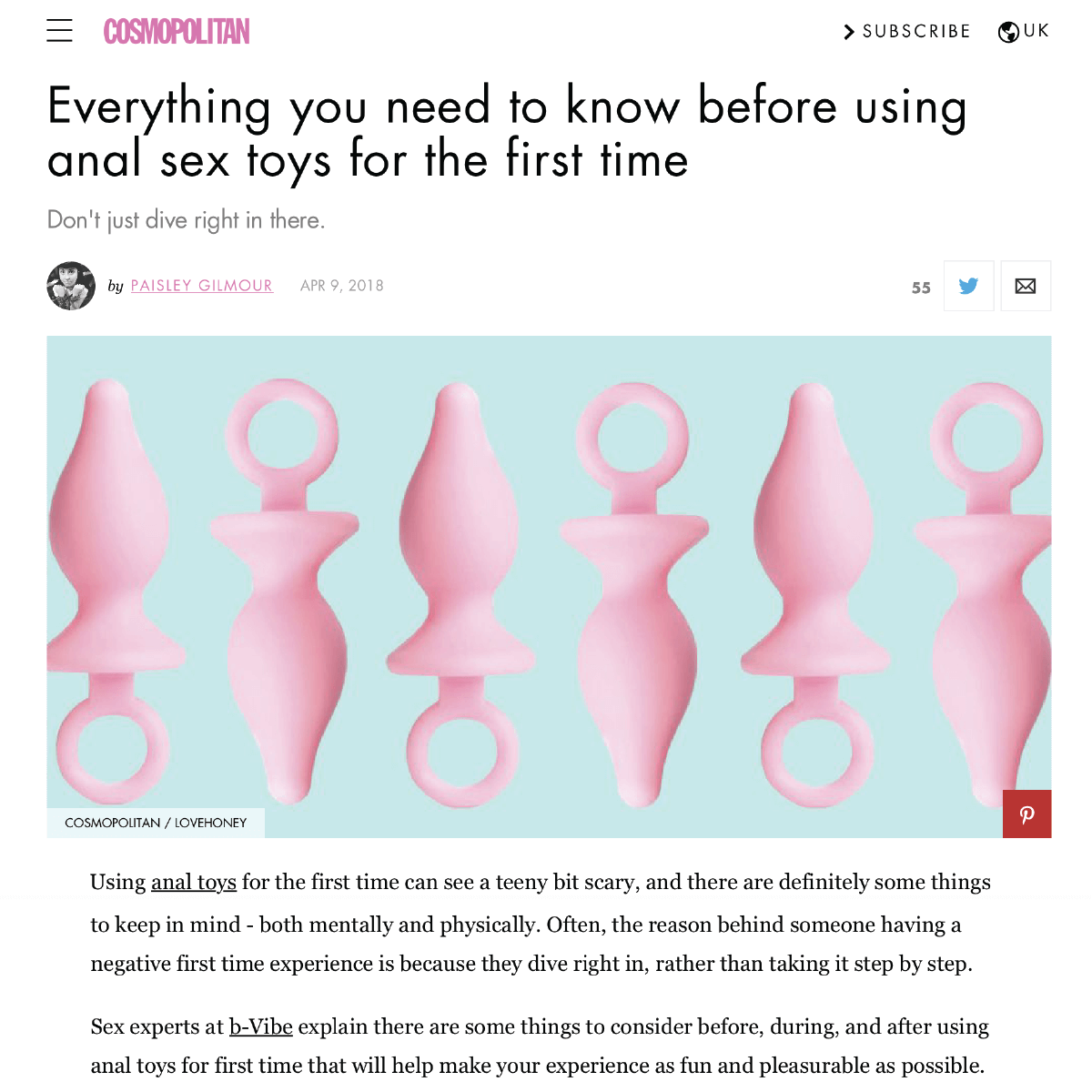 2. Try it alone first
Masturbation is often seen as a key way to understand your body and your preferences so that you feel empowered and informed when experimenting with a partner. When it comes to anal play, it's no different. Solo anal play is one of the best, and most comfortable, ways to get started with anal pleasure.
Exploring a new anal sex toy with a partner is definitely a lot of fun, and there's nothing wrong with that, but starting on your own allows you a safe space for experimentation. You can try out different types of products, attempt different pleasure options and stop and start anytime you want, without needing to navigate the (sometimes complicated) ins and outs of sex with another person.
Your first experience with anal toys might result in some surprising sensations. Practicing solo gives you the chance to be both the giver and the receiver, which is super helpful when you do eventually add another person to the mix.
3. Hygiene is key
When it comes to "mess", what cleaning decisions you make really depend on how well you know your body, especially your digestive system. You are, of course, inserting something into your anus, so sometimes, people prefer to clean up before anal play. If you're in a rush, you can use alcohol-free or baby wipes for a quick clean. If you're looking for another easy cleaning option, go to the bathroom 30-60 minutes before you begin anal play. Empty your bowels and wash the anal area with regular soap and warm water. Unscented, hypoallergenic baby wipes are a great alternative.
If you want to take extra precautions, you can use an enema. For the very best experience, make sure to do any type of enema one to two hours before anal play. You can try a reusable one, or you can use a disposable enema (available at any pharmacy).
When it comes to clean-up after anal play, gentle baby wipes can easily clean up, while an Epsom salt bath can feel purifying, pampering, and practical for sore muscles. It's also worth noting that anus contains specific bacteria that shouldn't be shared thoroughly wash your toys in soapy hot water.
Read our article, "Anal Hygiene: How to Prep for Anal Play" for the top 5 anal hygiene tips.
4. Don't double dip
Another hygiene element to make sure to keep in mind is the notion of double dipping. Basically, this means that you shouldn't ever touch the anus and vagina with the same hand or sex toys. The anus and the vagina are two very distinct ecosystems, and you don't want to spread bacteria from the anus to the vagina.
5. Choose the type of toy
When it comes to deciding which type of anal toy is best for you, take some time to consider what use and sensation you're most interested in. It's also worth understanding the baseline differences between different types of anal products.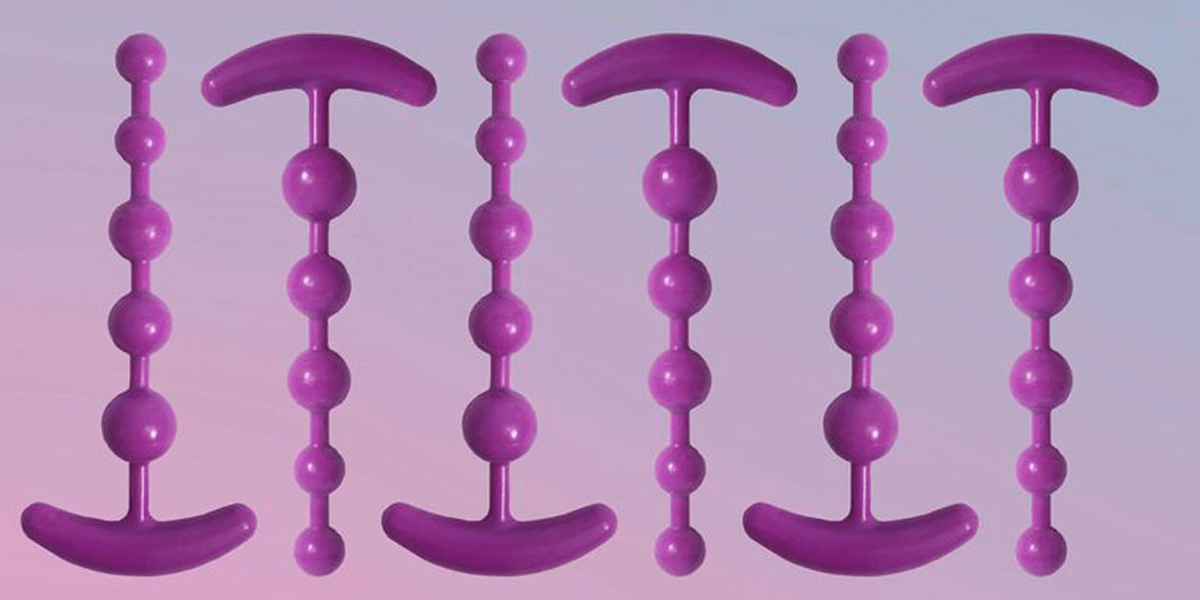 Butt plugs
There's a common misconception that a butt plug is solely used as a tool to prepare for anal sex. However, butt plugs are an amazing sex toy on their own. One key benefit is that they allow you to focus on other pleasure centres while simply staying in. In fact, a comfortably positioned butt plug should not be pushed in or pulled out until plug play is over.
Butt plugs facilitate sexual pleasure, because they apply pressure to erogenous zones and create the feeling of fullness. When it comes to sex, pressure is greatly underestimated and overshadowed by the "in and out motion". In fact, pressure is what enables many people to climax and experience great pleasure, both vaginally and anally.
When starting off, try something about the size of finger, that is easy to insert, and follows a teardrop shape or bulb, has a neck, and a narrow flared base for a comfortable fit between the butt cheeks. One great option is b-Vibe's Novice Plug.
Anal beads
Unlike a butt plug – which is only meant to go in and stay in – anal beads were designed to stimulate inside the body AND move in an out of the bum. The beads are inserted into the anus one at a time creating a sensual feeling of fullness. They are then pulled out at varying speeds, depending on the desired effect. As the beads are removed, they arouse the sensitive nerve endings of the double-ringed sphincter muscle. This stimulation creates a series of pleasurable sensations, like having a muscle massaged.
When starting off, I suggest choosing something small and preferably with beads that graduate in size. This allows the user to start with the smallest beads and then work towards larger beads as they become comfortable with the sensation.
6. Consider the size of the toy
It's important to consider size when you start looking into anal toys. This is especially important when choosing butt plugs, because they vary hugely in size depending upon your experience level and needs. Start with smaller sized products, and slowly work up to larger sizes. Graduating in size can be done over the course of weeks, months, or not at all – stop whenever you feel comfortable.
Start training your anus with our anal training guide.

7. Be safe
Since butt plugs and anal beads can be enjoyed hands-free, they should always have a flared base. Otherwise, there's a significant risk of the product slipping too far into the anal canal and traveling up the colon – which may cause serious bodily harm. A flared base prevents the toy from being inserted entirely and makes retrieval not only easy but possible.
If you are new to anal sex toys, start off by wearing it for short periods of time. It's never a good idea to take a brand new toy for a spin outside in public, say during a long dinner or a concert.
8. Never forget the lube
When it comes to any kind of anal play, using lubricant is essential. The anus does not lubricate naturally like the vagina, so you need to help it out a bit. Since a butt plug can stay in the body for long periods of time, you should always apply enough lubricant to ensure the easy and pleasurable removal of the plug. Our motto is 'Slow and Slippery'.
9. Think about materials
This is often a topic that people pass up in favour of convenience or price, but it's imperative to consider the material makeup of your products when selecting your anal toys. Avoid low-grade materials, including petroleum products that can irritate the lining of the anal canal. Always buy body-safe, hypoallergenic, latex-free, and phthalate-free products.
Different materials can also provide different types of sensations.
• Stainless steel toys can be used for temperature play (hot/cold) and it feels very smooth and doesn't drag the skin (but is obviously heavier and completely non-flexible).
• Crystal or glass butt plugs are really beautiful and usually lighter in weight than metal toys, but it's important to make sure that they're made by responsible brands and that they're reinforced enough to stay intact and not break at their weakest point – the neck of the toy.
• Silicone is one of the most common body-safe materials. Silicone butt plugs are body-safe, can easily be sanitized and they have a good amount of flexibility, which is particularly important for beginners to anal play.
10. You can add vibration
Vibration is a feature of butt plugs that can bring new dimensions to anal pleasure. The amazing thing about vibration is that it's not only a pleasurable sensation, but it also relaxes muscles — which is really helpful when you're first starting off.
Butt plugs like b-Vibe's Trio or the Rimming plug, have a motor at the tip. This means that they can easily transfer vibration to the prostate in men, or the perineal sponge and the anterior fornix erogenous zone (also known as the A-spot) in women.
11. There are many ways to enjoy anal toys
It's a common misconception that butt plugs are just a warm-up for anal intercourse. Of course they can be, but they can also be the main course. You can wear them for solo pleasure, as part of your masturbation routine, just because they make you feel naughty, or even during a date in public. Each partner can be wearing them during vaginal sex, or during the entire intimate time together. However, the best thing about butt plugs, is that can be enjoyed by everyone, regardless of age, gender or sexual orientation.
Wondering what makes for a good anal toy? Let us walk you through all you need to know about choosing the right booty goodies for yourself and how to use it for maximum orgasmic awesomeness with our Complete Guide to Anal Toys.